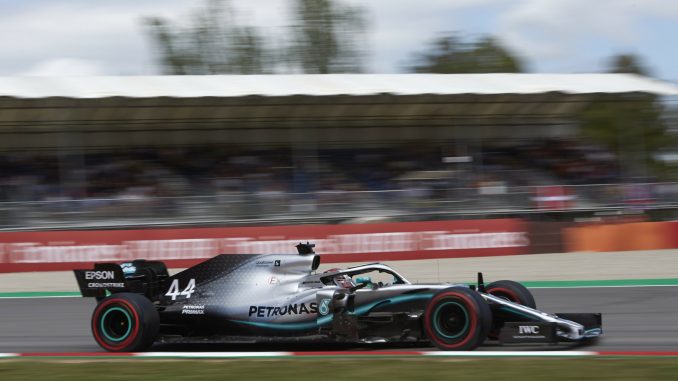 Lewis Hamilton is back at the top of the drivers' standings following victory at the Spanish Grand Prix, finishing ahead of teammate Valtteri Bottas as Mercedes took their fifth 1-2 finish from from five races so far this season.
Hamilton got the better start to move ahead of the pole sitter, while Max Verstappen was able to get the jump on Sebastian Vettel, who soon fell behind his teammate, with Charles Leclerc having the stronger pace early on.
Vettel was the first of the cars in the top five to come in for new tyres, and immediately set a fastest lap, forcing Red Bull to bring Verstappen in early. The team put the Dutchman on another set of softs, committing him to a two-stop strategy, while Leclerc switched to hards a couple of laps later, going for a one-stop.
As the leaders began coming in for their second stops, Lando Norris and Lance Stroll of came together as the McLaren driver attempted to overtake the Racing Point, resulting in a safety car.
After the restart, the Haas drivers came close to wiping each other out as Kevin Magnussen forced his way in front of his teammate, before Carlos Sainz and Romain Grosjean almost collided a couple of laps later.
Despite the safety car having bunched up the field, Hamilton never really faced a challenge at the front of the field, and took the fastest lap for the first time this season to secure a bonus point.
Alexander Albon put pressure on Grosjean for the final points place in the last couple of laps, but the Frenchman defended well to hold on to 10th, giving Haas a double points finish after their big car upgrade for this race.
Provisional classification
1 Lewis Hamilton (Mercedes)
2. Valtteri Bottas (Mercedes)
3. Max Verstappen (Red Bull)
4. Sebastian Vettel (Ferrari)
5. Charles Leclerc (Ferrari)
6. Pierre Gasly (Red Bull)
7. Kevin Magnussen (Haas)
8. Carlos Sainz (Renault)
9. Daniil Kvyat (Toro Rosso)
10. Romain Grosjean (Haas)
11. Alexander Albon (Toro Rosso)
12. Daniel Ricciardo (Renault)
13. Nico Hulkenberg (Renault)
14. Kimi Raikkonen (Alfa Romeo)
15. Sergio Perez (Racing Point)
16. Antonio Giovinazzi (Alfa Romeo)
17. George Russell (Williams)
18. Robert Kubica (Williams)
DNF:
Lance Stroll (Racing Point)
Lando Norris (McLaren)