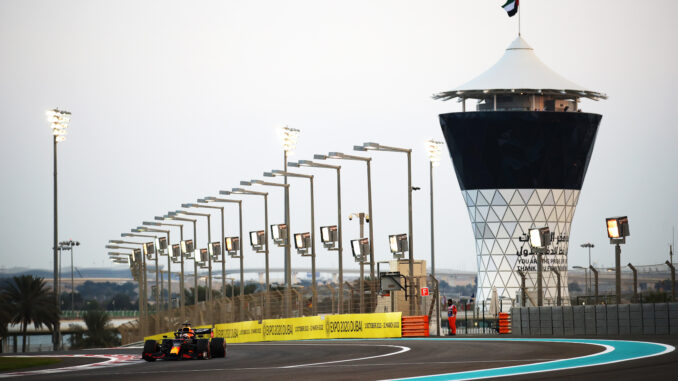 Max Verstappen ensured Mercedes-powered cars wouldn't take all the pole positions in 2020 as he set the fastest time in qualifying for the Abu Dhabi Grand Prix.
It's the first time Mercedes haven't started at the front of the grid in Yas Marina during the hybrid era, with the Dutchman finishing just 0.02s ahead of Valtteri Bottas.
Champion Lewis Hamilton has to settle for a spot on the second row, where he lined up alongside Lando Norris. The British McLaren driver's grid position means he finishes the year with a better qualifying record than teammate Carlos Sainz.
Hamilton had to work harder than usual in Q1 as his first lap time was deleted when he exceeded track limits, with the car roughly bouncing over the kerb.
Antonio Giovinazzi also lost a lap time for running wide at the start of qualifying, but he was able to put in a quick time towards the end of the first session at the expense of his teammate, knocking Kimi Raikkonen out as he secured the final spot in Q2. The Italian's efforts mean he'll finish the season as the better qualifier for Alfa Romeo, having beaten the Finn on Saturdays in nine of the 17 races this year.
There was an odd moment for Verstappen, as the Red Bull driver got his hand stuck outside the cockpit, costing him a clean lap early on, but he recovered to comfortably progress.
Nicholas Latifi's hopes of outqualifying teammate George Russell were dealt a blow as he tried to warm his tyres up ahead of a flying lap, only to spin the Williams and leave himself briefly stranded sideways in the middle of the penultimate corner.
Track limits continued to catch drivers out in Q2, with Alexander Albon and Daniel Ricciardo both seeing their efforts deleted, with the latter missing out on a place in in the top 10 as a result, with both Renault drivers knocked out in the second part of qualifying, despite looking quick in practice.
It looked like it was going to be a straight shootout between the two Mercedes drivers in Q3, with little separating Bottas and Hamilton after the first flying laps in the final part of qualifying, but Verstappen saved his best until last to better both of them.
Albon and Sainz occupy the third row, while Daniil Kvyat's strong finish to the season in qualifying continued, as he outqualified teammate Pierre Gasly.
Provisional qualifying result:
1 Max Verstappen (Red Bull)
2. Valtteri Bottas (Mercedes)
3. Lewis Hamilton (Mercedes)
4. Lando Norris (McLaren)
5. Alexander Albon (Red Bull)
6. Carlos Sainz (McLaren)
7. Daniil Kvyat (AlphaTauri)
8. Lance Stroll (Racing Point)
9. Charles Leclerc (Ferrari)**
10. Pierre Gasly (AlphaTauri)
11. Esteban Ocon (Renault)
12. Daniel Ricciardo (Renault)
13. Sebastian Vettel (Ferrari)
14. Antonio Giovinazzi (Alfa Romeo)
15. Sergio Perez (Racing Point)*
16. Kimi Raikkonen (Alfa Romeo)
17. Kevin Magnussen (Haas)*
18. George Russell (Williams)
19. Pietro Fittipaldi (Haas)
20. Nicholas Latifi (Williams)
*Perez and Magnussen will start at the back of the grid due to engine penalties
**Leclerc has a 3-place grid penalty for causing a collision at the Sakhir Grand Prix