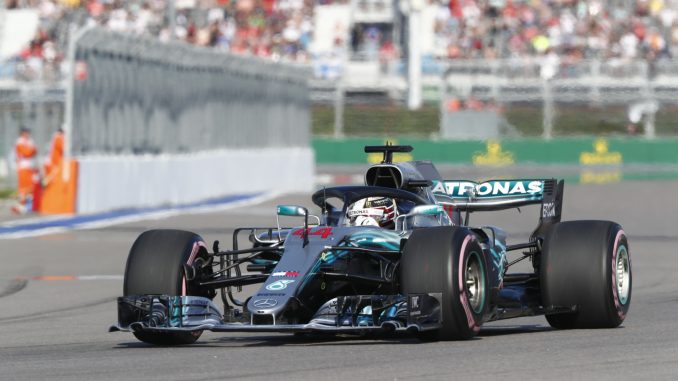 Lewis Hamilton benefited from team orders to take victory at the Russian Grand Prix, finishing ahead of teammate Valtteri Bottas in Sochi.
Max Verstappen started on the back row after taking an engine penalty and a further penalty for not slowing under yellow flags in qualifying, but he quickly made up ground at the start of the race, making the soft tyre work to get into the top 10 within a few laps.
Toro Rosso had problems early on as both drivers spun, resulting in the team pulling both out of the race due to braking issues.
Bottas maintained the lead after starting on pole and was the first of the front-runners to stop for new tyres, with a quick outlap from the Finn ensuring he kept Sebastian Vettel behind when the Ferrari driver stopped one lap later.
Vettel briefly jumped Hamilton in the pitstops after the Briton got held up by traffic on his inlap, but the reigning champion found a way past his championship rival a few corners after coming out of the pitlane, leaving him just behind his teammate.
Verstappen inherited the lead after the Mercedes cars and the Ferraris stopped, and started to back Bottas and Hamilton into the path of Vettel. Mercedes asked Bottas to let Hamilton through just over half way into the race, which he dutifully did to let Hamilton have a go at getting past Verstappen.
Verstappen continued to lead until 10 laps to go, when he finally came into the pitlane for fresh tyres, coming back out in fifth and adrift of Raikkonen. The Dutchman, who was also celebrating his 21st birthday today, was unable to close the gap to Raikkonen and challenge for fourth on fresher tyres.
Bottas queried whether he would be allowed to pass Hamilton in the final stages having let his teammate past earlier on the defend the challenge from the Ferraris, but was told to hold his position, allowing Hamilton to extend his lead at the top of the drivers' championship, with Vettel completing the top three.
Charles Leclerc finished best of the rest for Sauber, getting past Kevin Magnussen early in the race, while both Force India drivers finished in the top 10 after also obeying team order to fend off a challenge from Nico Hulkenberg, who went long on his first stint.
Provisional result:
1 Lewis Hamilton (Mercedes)
2. Valtteri Bottas (Mercedes)
3. Sebastian Vettel (Ferrari)
4. Kimi Raikkonen (Ferrari)
5. Max Verstappen (Red Bull)
6. Daniel Ricciardo (Red Bull)
7. Charles Leclerc (Sauber)
8. Kevin Magnussen (Haas)
9. Esteban Ocon (Force India)
10. Sergio Perez (Force India)
11. Romain Grosjean (Haas)
12. Nico Hulkenberg (Renault)
13. Marcus Ericsson (Sauber)
14. Fernando Alonso (McLaren)
15. Lance Stroll (Williams)
16. Stoffel Vandoorne (McLaren)
17. Carlos Sainz (Renault)
18. Sergey Sirotkin (Williams)
DNF:
Pierre Gasly (Toro Rosso)
Brendon Hartley (Toro Rosso)