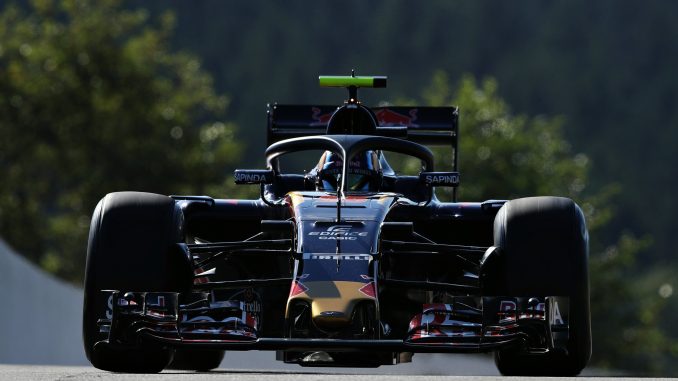 Toro Rosso technical director James Key believes the Halo will look more visually refined by the start of the 2018 Formula 1 season.
The Halo is new to F1 this year, sitting around the cockpit to deflect debris away from the driver's head and give added protection.
While increased protection for the driver is a good thing, the Halo has been criticised for the way it looks,  as well a the impact it has on aerodynamics.
In an interview with Racer, Key revealed he expects the Halo to look "slightly more Formula 1" once it's had aero pieces added, while more time to optimise the aerodynamics will have allowed teams to make them less visually intrusive.
Toro Rosso's 2018 car underwent crash testing last week ahead of the start of pre-season testing. Key admitted this year's test was harder than usual because of the addition of the Halo as there's no historic reference. Despite this, Toro Rosso passed all the mandatory tests.
A number of drivers tested with the Halo during practice sessions in 2017. An alternative design known as the Shield was also tested by Sebastian Vettel at the British Grand Prix, but the Ferrari driver found looking through the curved windscreen made him feel dizzy.
The FIA has been pushing to introduce more head protection since 2009 when 18-year-old Henry Surtees – the son of 1964 F1 champion John Surtees – died after being hit by a wheel in a Formula 2 race, just one week before Felipe Massa was hit in the head by a spring at the Hungarian Grand Prix. The death of IndyCar driver Justin Wilson in 2015, which was also as a result of being hit by debris, brought further attention to the need for added head protection in open cockpit racing, resulting in the first on-track tests for the Halo the following year.
Not every current F1 driver is a fan of the Halo. Max Verstappen and Kevin Magnussen are among those who think there should be an element of risk, while Carlos Sainz and Lewis Hamilton raised concerns about the addition of an extra 10kg to the car, fearing this means drivers will have to slim down to make sure their car isn't overweight. There are also worries that the Halo increases the amount of time it takes a driver to get out of the car in the event of fire or traps them after a crash that leaves the car upside-down, like Fernando Alonso's accident at the 2016 Australian Grand Prix. Despite all the concerns, Key believes drivers, teams and fans will quickly get used to the Halo and start focusing on racing again.