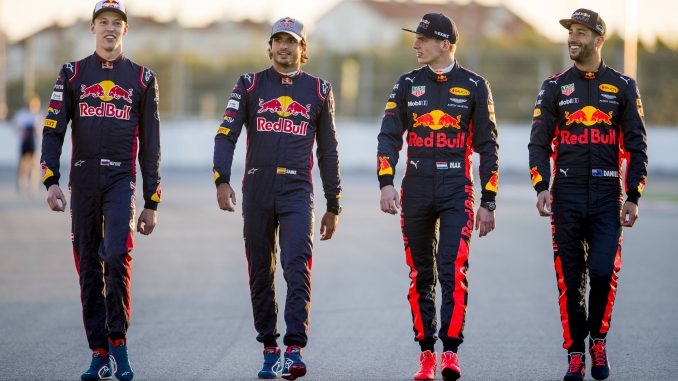 It was all going so well for most of the flying drinks cans up to this weekend at their own circuit in Austria and now both RedBull owned teams are on the verge of imploding!
First Carlos Sainz makes it clear that he doesn't want to be in the Toro Rosso team by telling the media that he won't be racing for them next year and he wants to be either in the senior team or somewhere else entirely for 2018. That was quickly shot down by RedBull team principle Christian Horner "Carlos Sainz is under contract. We've exercised his option so he's under contract and we have an option on him for next year and the year after. He'll be in a Toro Rosso again next year" and Helmut Marko "We sent him a letter saying that we take the option. As far as I know, and as long as I have been in Red Bull, the driver doesn't decide what they are doing with the contract. It is up to the boss and they make the decisions. I think he should focus on driving." So in short… shut up and drive the car you're in
Next up was the rumour that Max Verstappen has told RedBull that he's leaving the team at the end of 2018 to move to Ferrari, Sky reported this on Friday and credited the story to the infamous "Pit Lane Sources." We know that Max has been unhappy with the performance of the car with 4 retirements in the last 6 races, but wanting a move seems a bit extreme.
Now there are apparently stories are coming out of the Netherlands from F1 Commentator Olav Mol claiming that the pit lane source that is making the Verstappen claim is actually Carlos Sainz (snr) trying to unsettle Verstappen and the RedBull team.
This one's going to run (for at least another 18 months) so have we started the 2018 silly season a year early? Looks like we'll have plenty to talk about on the next few Podcasts!