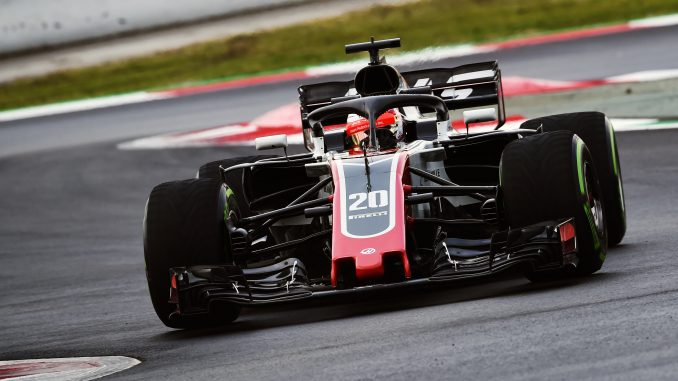 Kevin Magnussen has described the halo as "awkward and annoying" after driving with the device in place at last week's pre-season test in Barcelona.
The Dane has been a long-time critic of the halo – which is designed to increase head protection – and driving the 2018 car for the first time hasn't changed Magnussen's opinion.
The Haas driver claims the device makes getting in and out of the car difficult as well as making it harder to get the steering wheel on and off. According to Autosport, Magnussen has branded the device "very annoying, "ugly" and "just awkward". Toro Rosso's Pierre Gasly proved how hard it is to get out of the car during testing last week when he ripped his race suit on the device, admitting he doesn't think it will be the only time that happens this year.
Magnussen also still has concerns about how the halo will affect a driver's view in certain corners. He believes drivers won't be able to see the car in front through corners with a significant elevation change like Eau Rouge at Spa or Turn One at Circuit of the Americas. Chicanes will also be trickier with the halo in place according to Magnussen, as drivers will have to move their vision across the pillar during the corner.
18 months ago, Magnussen revealed he didn't think the halo would ever be introduced, insisting F1 would have to find something better. He repeated his criticism in a press conference at the Hungarian Grand Prix last year, claiming the halo would make F1 too safe to be exciting, adding F1 cars aren't meant to be ugly. Magnussen wasn't the only driver to speak out, with Max Verstappen, Romain Grosjean and Nico Hulkenberg all raising concerns at the same time.
F1 decided to go with the halo after Sebastian Vettel tested the shield design – a polycarbonate screen designed to deflect debris over the driver's head. The Ferrari driver found it affected his vision and made him dizzy, but IndyCar has recently carried out trials with a similar design, which drivers have welcomed. Magnussen admits he prefers the windscreen-style device, but would rather F1 cars are left without either option. He believes cars should be open, and that this is the wrong move for Formula 1.
The opinions of fans have been split by the halo. Some believe they'll get used to the new look of the cars with the halo after a couple of races, while others side with Magnussen – believing the device makes cars ugly and sanitises F1.