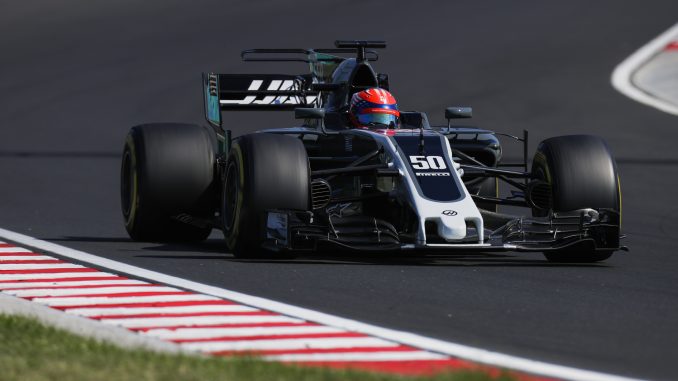 Haas have announced Arjun Maini and Santino Ferrucci will continue as development drivers with the team during the 2018 season.
The pair are also teammates at Trident Racing in F2 this year, having both stepped up from GP3 for 2018.
Ferrucci has been part of the Haas team since 2016 and took part in the Hungary test last year, finishing the year by making the move into F2 for the final 10 races of the season and securing points in the feature races at the Hungaroring and Spa. When the 19-year-old took part in a two-day test at Silverstone in July 2016, he became the first American to drive a Formula 1 car for an American team since 1977.
Maini joined Haas in May last year on the same weekend he took his first race win in GP3 with Jenzer Motorsport, finishing the year ninth in the drivers' standings. The Indian driver will make his F2 debut in Bahrain next month, but made a promising start by setting the fastest time on day two of the recent F2 test at the Sakhir circuit.
On top of their F2 duties, the team says the young drivers will be attending F1 races and tests throughout the year and be embedded within Haas at every opportunity.
In a statement confirming Maini and Ferrucci's re-signing, team principal Guenther Steiner said: "Arjun enjoyed a breakout season in GP3 last year and we're keeping a close watch on his progress this year in F2. He has a history of finding success at every level in which he's competed and we're supportive of his efforts as he steps up to F2.
"We're pleased to have Santino back with Haas F1 Team and we look forward to his continuing development in F2. Santino is a young, American driver with plenty of potential and we're very supportive of his desire to make it for Formula One."
Ferrucci said: "I said when I first became part of Haas F1 Team – my goal since I began racing is to become a Formula One driver, and to be an American who is part of an American team is something I take a tremendous amount of pride in. My time with Haas F1 Team has really prepared me for my first full F2 season with Trident, and between the two teams I feel like I'm in the best position to succeed and, ultimately, get to Formula One."
Maini added: "Being involved with an F1 program has really accelerated my learning in terms of what I need to do on the racetrack and with my engineers. In fact, it's already helped me transition from GP3 to F2. I'm one step closer to my goal of competing in Formula One thanks to Haas F1 Team's support."
It's unclear whether either driver will get a chance to drive the Haas during the F1 season. Ferrari Driver Academy products Charles Leclerc and Antonio Giovinazzi have both carried out Friday practices for the team, which uses Ferrari engines, in the last two years instead of the development drivers, although those two are both tied up with Alfa Romeo Sauber this year. There are in-season tests lined up for after the Spanish Grand Prix and Hungarian Grand Prix, which could give Maini or Ferrucci a chance to prove themselves in an F1 car.