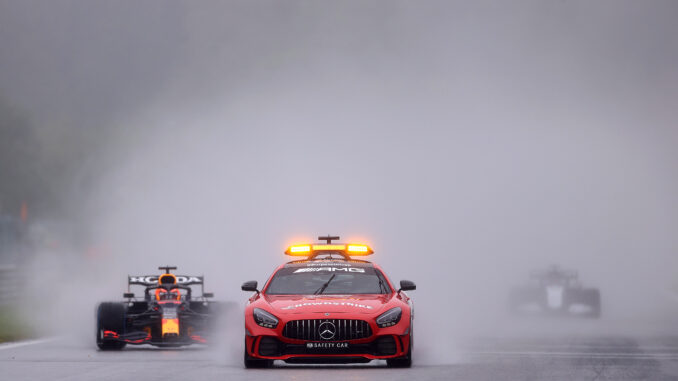 Max Verstappen is officially the winner of the Belgian Grand Prix, despite no action taking place under green flag conditions as heavy rain curtailed the racing at Spa-Francorchamps.
It also means George Russell secures his first F1 podium after his impressive qualifying performance, while Lewis Hamilton completes the top three.
The conditions proved difficult before the race got underway as Sergio Perez crashed on his way to the grid, leaving him with suspension damage and unable to take the start.
After a few delays, the field eventually got away behind the safety car for the formation lap, but conditions proved too difficult, and proceedings were red flagged.
The delay meant Red Bull were able to repair Perez's damaged Red Bull after an appeal to the stewards, with the cars held in the pitlane for more than three hours while the FIA waited for conditions to improve.
The rain continued to fall as the cars filed back out on track behind the safety car, but after two laps it was determined conditions were still too bad to race in, resulting in another red flag.
With just two laps covered, the result stands, but the drivers in the top 10 receive half points.
Nikita Mazepin recorded the fastest lap of the race, but as he finished 17th he won't receive the additional point for doing so.
Provisional classification:
1 Max Verstappen (Red Bull)
2. George Russell (Williams)
3. Lewis Hamilton (Mercedes)
4. Daniel Ricciardo (McLaren)
5. Sebastian Vettel (Aston Martin)
6. Pierre Gasly (AlphaTauri)
7. Esteban Ocon (Alpine)
8. Charles Leclerc (Ferrari)
9. Nicholas Latifi (Williams)
10. Carlos Sainz (Ferrari)
11. Fernando Alonso (Alpine)
12. Valtteri Bottas (Mercedes)
13. Antonio Giovinazzi (Alfa Romeo)
14. Lando Norris (McLaren)
15. Yuki Tsunoda (AlphaTauri)
16. Mick Schumacher (Haas)
17. Nikita Mazepin (Haas)
18. Lance Stroll (Aston Martin)
19. Kimi Raikkonen (Alfa Romeo)
20. Sergio Perez (Red Bull)