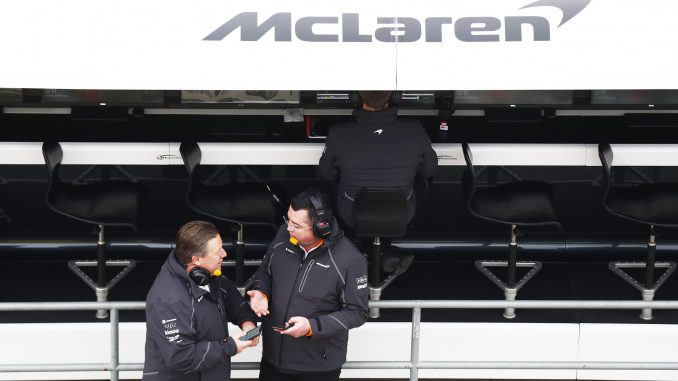 The McLaren Group has announced new roles for Zak Brown and Jonathan Neale as part of a management restructure.
Brown, who has held the title of executive director since joining the team in 2016, becomes Chief Executive Officer of McLaren Racing, making him directly responsible for the team's on-track performance.
A statement from the Group says Racing Director Eric Boullier will now report directly to Brown. Neale has been given the new title of Chief Operating Officer of the McLaren Group. Boullier didn't speak to the media after qualifying at the Bahrain Grand Prix, which saw both cars miss out on Q3. A spokesman for the team revealed he was attending an emergency debrief instead.
Group executive chairman Shaikh Mohammed bin Essa Al Khalifa said in the statement: "The work of the past year at a corporate level has been focused on structuring and positioning McLaren for growth. These latest developments are a natural consequence of that work and are designed to bring greater simplicity and clarity to the structure and leadership of the group."
Brown was originally brought in to run the commercial operations, with Boullier in charge of what happens on track. Since Brown's arrival, McLaren has merged McLaren Automative and McLaren Technology Group, resulting in three different areas withing the Group – Applied Technologies, Automotive and Racing.
McLaren's statement about the changes implies the new roles are a natural update to the structure following the changes over the last couple of years. However, stories emerged throughout the Bahrain Grand Prix weekend that the shareholders aren't happy with the team's start to 2018. McLaren have scored points in both races so far, but they've benefitted from cars ahead of them retiring. More than 50% of the McLaren Group is owned by the Bahraini royal family's investment fund, and they were reportedly unhappy with the qualifying pace at what is considered a second home race for the team.
McLaren's switch to the Renault engine for 2018 was supposed to make them more competitive, with Fernando Alonso recently revealing he hopes to be racing the Red Bulls in the near future. However, McLaren have only outqualified one Renault-powered car so far this season, and that was due to Max Verstappen's crash in Bahrain. Brown will have little time to make his mark before the cars are back on track, as the Chinese Grand Prix takes place this weekend. However, there's a two-week gap before the Azerbaijan Grand Prix, which gives the team time to work on upgrades for the start of the European season.