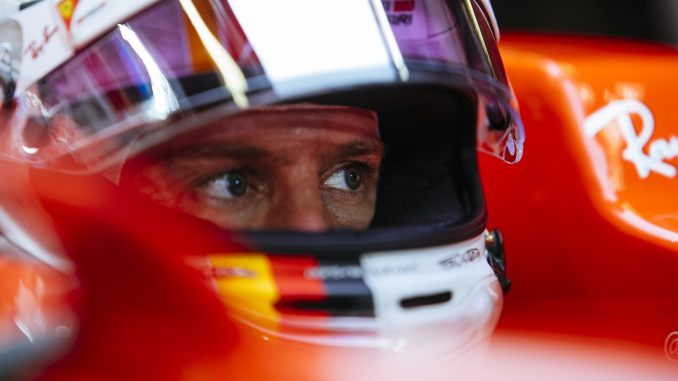 In the final on-track action of the 2017 Formula 1 season, it was Sebastian Vettel who set the pace, posting the fasting time on day 2 of the Pirelli tyre test at Abu Dhabi.
Vettel set a time of 1:37.551, beating teammate Kimi Raikkonen's time from Tuesday, and completed 118 laps, finishing the day almost a second faster than Sunday's race winner Valtteri Bottas in the Mercedes.
Charles Leclerc had the heaviest workload of the day, putting in 148 laps for Sauber. Following the announcement at the start of the day that Sauber will be in partnership with Alfa Romeo from next season, it seems certain the Ferrari-owned F2 champion was getting familiar with the team that he'll be driving for in 2018.
As well as putting in the laps, Leclerc's pace was impressive, setting a time of 1:40.066 in a car the more experienced Marcus Ericsson could only manage 1:41.661 in yesterday, which put him above McLaren's Lando Norris and both Toro Rosso drivers on today's leaderboard.
Another driver who will be hoping today's performance is enough to secure him a race seat for next year is Robert Kubica. The Polish driver was back in the Williams for a second straight day as he looks to show his arm is strong enough for a full-time return to F1.
After 100 laps yesterday, it was a shorter spell for Kubica – with Sergey Sirotkin also out on track for Williams – with 28 laps completed. His fastest lap (1:39.485) was quicker than his and Lance Stroll's times from Tuesday, and put him seventh in the standings, while all those quicker than him are full-time drivers.
It was something of a surprise when Williams announced Sirotkin would also take part in this test last week. When Kubica tested a Renault at Valencia earlier in the season, it was widely reported that he was significantly quicker than the young Russian, who was also at Renault at the time. Despite only having a few days to prepare for the test, Sirotkin was less than 0.5 seconds off Kubica's best time.
Red Bull's Max Verstappen was third fastest, followed by the two Force India drivers, who split tracktime. Carlos Sainz completed 109 laps for Renault with a fastest lap of 1:39.444, marginally quicker than Kubica, while Haas's Kevin Magnussen was slightly slower than teammate Romain Grosjean on Tuesday, setting a time of 1:39.810.
At the bottom of the timesheets were the Toro Rosso drivers. Both Brendon Hartley and Pierre Gasly were in the car, each completing over 60 laps. Gasly finished the day propping up the timesheet with a fastest lap of 1:44.827, while the New Zealander was almost 1.5 seconds quicker.
McLaren continued to run two cars to make up for the test that had to be cancelled in Brazil earlier this month. Stoffel Vandoorne caused a red flag in the morning session when he ran wide and hit the barriers, but finished the day with 105 laps and a time that put him just behind Kubica in the standings. Young test driver Lando Norris was in the other car conducting a blind test for Pirelli. His 118 laps on unknown compounds left him 12th of the 14 drivers taking part in today's test.
Pirelli gave each team 12 sets of tyres per day for the test, while the teams were allowed to pick a further eight. It's the first time the teams have experienced the pink-banded hypersoft tyre, which is being introduced for 2018. After running on it yesterday, world champion Lewis Hamilton was full of praise for the new compound, describing is as the best tyre Pirelli have made since returning to F1. Fernando Alonso also praised the degradation of the new tyre, but Kimi Raikkonen admitted he couldn't feel a big difference.
Abu Dhabi tyre test classification – day 2:
Sebastian Vettel (Ferrari) 1:37.551 – 118 laps
Valtteri Bottas (Mercedes) 1:38.490 – 141 laps
Max Verstappen (Red Bull) 1:38.736 – 132 laps
Sergio Perez (Force India) 1:38.818 – 52 laps
Esteban Ocon (Force India) 1:39.148 – 72 laps
Carlos Sainz (Renault) 1:39.444 – 109 laps
Robert Kubica (Williams) 1:39.485 – 28 laps
Stoffel Vandoorne (McLaren) 1:39.782 -105 laps
Kevin Magnussen (Haas) 1:39.810 – 124 laps
Sergey Sirotkin (Williams) 1:39.947 – 86 laps
Charles Leclerc (Sauber) 1:40.666 – 148 laps
Lando Norris (McLaren) 1:41.714 – 118 laps
Brendon Hartley (Toro Rosso) 1:43.345 – 61 laps
Pierre Gasly (Toro Rosso) 1:44.827 – 63 laps