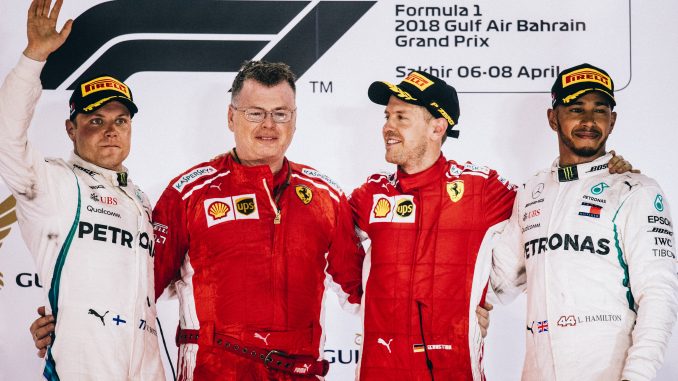 Podcast: Play in new window | Download
Subscribe: Apple Podcasts | RSS
So where was the party mode on the Mercedes then? After a dominant performance by Ferrari all through the weekend, the Bahrain Grand Prix was topped off with a Sebastian Vettel victory, Ferrari were expecting a 1-2 finish, but of course we all know what happened there (get well soon Francesco Cigarini) Which leads us on to the question, what's going wrong with pit stops at the moment?
This week on the podcast we look back at the Bahrain GP where once again we saw a few surprises and possibly the biggest one being the chance of Honda getting things right! We do our usual team by team review (RedBull fans, there's other stuff you'll enjoy at least) And go through a few bits of news to come out in the week between 2 races, so there's a preview of China as well this weekend too!
There's the usual features as well with this week's Who's A Total Shunt from Luke Nipper and the results of the Bahrain Formula Lee challenge and don't forget to check your team in the fantasy league over at Gridrival.com as well.
And thanks as always for your Tweets, Emails & Facebook messages and don't forget there's an extra show that you can get access to by pledging on our Patreon Page too and we've now have a range of merch that you can order by clicking the link at the top of the page or here.
Enjoy
As always, you can listen here or on Sticher and iTunes and most other podcast apps too along with TuneIn Radio (which means we now play on Alexa devices!)