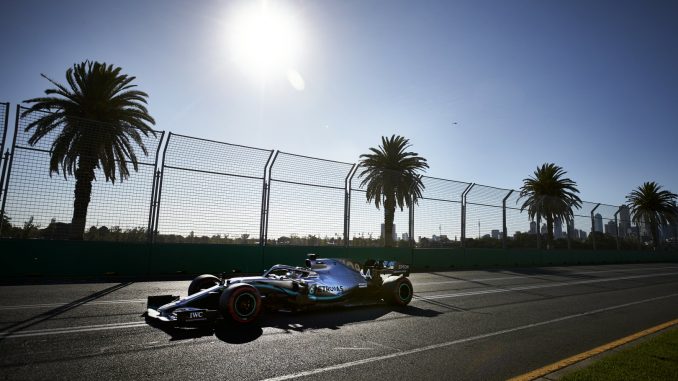 Lewis Hamilton edged out teammate Valtteri Bottas as Mercedes locked out the front row for the season-opening Australian Grand Prix with a dominant performance in qualifying.
The reigning champion broke the previous lap record in Q2, but it was the Finn who looked set for pole after initially going 0.4s quicker than Hamilton with the first timed laps of Q3.
However, Hamilton hit back with a lap of 1:20.486, 0.112s faster than Bottas's effort, which he was unable to improve upon.
Ferrari couldn't get close to their rivals, but Max Verstappen managed to split the red cars, pushing Charles Leclerc back to the third row on his debut for the Italian team.
Pierre Gasly was the big casualty in Q1 on his Red Bull debut, as track evolution towards the end of the first session saw the Frenchman tumble down the order.
Both Williams cars were also out at the first hurdle, with Robert Kubica picking up a puncture while pushing to improve his time in the final moments, leaving him at the back of the grid.
Lando Norris, who is taking part in his first Grand Prix, immediately had the upper hand on his more experienced teammate Carlos Sainz, comfortably progressing to the second part of qualifying while the Spaniard couldn't do better than 18th.
Norris and Sergio Perez, who also saw his teammate drop out in Q1, made it through to the top 10, along with both Haas, Mercedes and Ferrari cars, plus Verstappen and Kimi Raikkonen.
Renault looked to improve in the final moments of Q2, but were unable to find the pace to make it into the final part of qualifying. Alexander Albon was just over 0.11s off a spot in Q3 on his debut, ensuring all three rookie drivers outqualified their teammates.
Haas appear to be leading the midfield battle, with Romain Grosjean starting sixth, while Kevin Magnussen starts on the fourth row alongside rookie Norris.
Magnussen is facing a stewards investigation for an unsafe release in the pitlane in Q1, which impeded Perez, but any punishment would likely come in the form of a fine for the team rather than impacting the Dane's grid position.
Provisional qualifying result:
1 Lewis Hamilton (Mercedes)
2. Valtteri Bottas (Mercedes)
3. Sebastian Vettel (Ferrari)
4. Max Verstappen (Red Bull)
5. Charles Leclerc (Ferrari)
6. Romain Grosjean (Haas)
7. Kevin Magnussen (Haas)
8. Lando Norris (McLaren)
9. Kimi Raikkonen (Alfa Romeo)
10. Sergio Perez (Racing Point)
11. Nico Hulkenberg (Renault)
12. Daniel Ricciardo (Renault)
13. Alexander Albon (Toro Rosso)
14. Antonio Giovinazzi (Alfa Romeo)
15. Daniil Kvyat (Toro Rosso)
16. Lance Stroll (Racing Point)
17. Pierre Gasly (Red Bull)
18. Carlos Sainz (McLaren)
19. George Russell (Williams)
20. Robert Kubica (Williams)