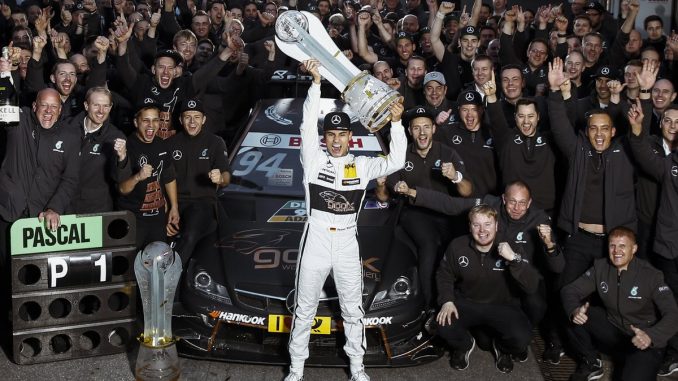 Former Sauber and Manor F1 driver Pascal Wehrlein will return to DTM in 2018.
Mercedes has announced the 2015 champion will drive its Mercedes-AMG C 63 in the team's final season in the German touring car championship.
Wehrlein had been strongly linked with a return to DTM after missing out on a race seat at the rebranded Alfa Romeo Sauber for the coming F1 season, despite scoring more points than teammate Marcus Ericsson last year.
In a statement released by Mercedes announcing the move, Wehrlein said: "I've got some terrific memories of the DTM, not least because of my title win in 2015, but also because of the strong team spirit and the many amazing experiences I've had with the guys. I've followed the DTM closely during my time in Formula 1 and have even been to a couple of races to see the team and support them. A lot has changed in the DTM since my last race in the DTM season finale at Hockenheim back in 2015, but I like a challenge and can hardly wait to try out our new car on track for the first time. The first tests can't come soon enough for me."
This time last year, Wehrlein had been viewed as a potential future Mercedes F1 driver after impressing with Manor, and had even been mentioned as a candidate to fill Nico Rosberg's hastily vacated seat before the team opted to sign the more experience Valtteri Bottas. However, fellow Mercedes young driver programme racer Esteban Ocon overshadowed Wehrlein in 2017 with a series of strong drives for Force India, while George Russell has been impressing in GP3 while juggling a Friday drive with Force India towards the end of the 2017 campaign, earning him a place in F2 for 2018. While Wehrlein hasn't done anything wrong, it's hard to see where he could still fit into Mercedes's F1 plans. Wehrlein has been a test driver for Mercedes's F1 team in the last two years, but it's not been confirmed whether he'll continue this role in 2018.
The 23-year-old, who is the youngest ever DTM champion, joins Paul di Resta, Gary Paffett, Lucas Auer and Edoardo Mortara at the team, with a sixth driver still to be announced. His 2015 performances in the series were enough to earn him a spot on the F1 grid two years ago – he'll be hoping for similar results this time around.