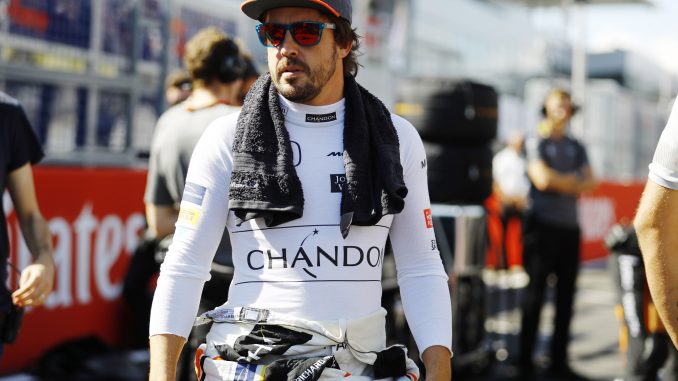 Former Formula 1 and World Endurance Championship driver Mark Webber hopes Fernando Alonso's commitments with Toyota won't affect his F1 results.
The two-time F1 champion will juggle the F1 calendar with racing in WEC in 2018, including at the 24 hours of Le Mans in June.
Webber ended his F1 career in 2013 to switch to WEC for the start of the 2014 season. He raced at Le Mans five times, driving for Mercedes AMG early in his career before returning with Porsche, but never raced at the day-long event during his F1 career.
The Australian hopes Alonso's duties with Toyota won't stop him securing a good result in F1 by trying to race in too many events. Alonso's schedule means he'll be racing 25 times in a 36-week period this year, and that could increase to 26 if the 6hrs of Fuji event is successful is moving its race a week earlier, avoiding a clash with the United States Grand Prix. Webber told Autosport he expects Alonso to enjoy racing at Le Mans, but isn't sure how McLaren will feel about him competing at multiple WEC events.
However, Webber believes less testing in F1 has given drivers the opportunity to take part in other events throughout the year. Webber thinks Alonso wants to race at every opportunity, but that it wasn't an option three or four years ago because of the testing schedule. The former Red Bull driver doesn't think Alonso would be taking part in WEC if he was in a competitive McLaren and challenging for a world championship, but the team's results during their partnership with Honda left Alonso looking elsewhere. It will be interesting to see whether Alonso's commitment to Toyota wavers later in the season if McLaren's new relationship with Renault results in a strong car for 2018.
It's not just his racing schedule that's busier than usual for Alonso. He's already been on the racetrack this year while most of his F1 rivals have been taking a break, competing of the 24hrs of Daytona. Immediately after that event last month he flew to Aragon to test the 2018 Toyota, spending three days at the Spanish circuit.
Webber has competed in F1 and WEC in the last six years. However, there were nine events in WEC when Webber last raced in the championship in 2016, while just five take place in 2018, including one that Alonso currently isn't scheduled to race at because of its clash with Austin.