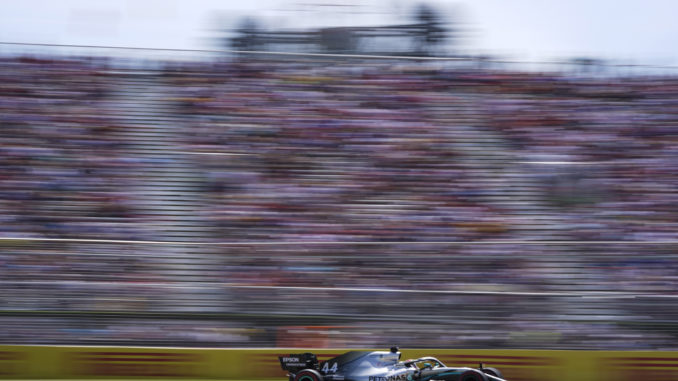 Sebastian Vettel crossed the line first at the Canadian Grand Prix, but it was Lewis Hamilton who took the win after the Ferrari driver picked up a time penalty at Circuit Gilles Villeneuve.
Charles Leclerc completed the top three, making this the first race of the season not to feature both Mercedes cars on the podium.
Alexander Albon sustained damage on the opening lap when he was squeezed by Sergio Perez and Antonio Giovinazzi, costing the Toro Rosso driver his front wing. The incident also caused problems for Romain Grosjean, whose halo collected some of the broken carbon fibre.
Lando Norris was the first driver to retire from the race though, with his rear brakes dramatically catching fire and causing suspension failure, forcing the rookie to pull into the pitlane exit.
Daniel Ricciardo capitalised on his strong qualifying performance, keeping Pierre Gasly behind him in the early laps before surviving Red Bull's attempts to undercut by pitting the Frenchman a lap earlier. Gasly got stuck in traffic, allowing Nico Hulkenberg to also pass him after his pitstop.
Gearbox issues started to cost Hulkenberg time though, meaning Valtteri Bottas came out ahead of the German after his stop, while Ferrari elected to keep Charles Leclerc out longer than the rest of the front-runners, coming out in front of the battle between Bottas and Ricciardo.
Despite being on newer tyres, Bottas needed a few laps to get past the Renault, but he soon started setting fastest laps as he closed the gap to the podium places, while teammate Hamilton cut Vettel's lead.
Hamilton almost got in front when Vettel's rear end stepped out, but the Ferrari just got back on the track ahead of the Mercedes. The stewards investigated as Hamilton complained the German's return to the track was dangerous, resulting in a five-second time penalty for Vettel.
The penalty meant Vettel needed to keep his Ferrari five seconds ahead of Hamilton to hold on for the win, but the lead soon dropped from 2.9 to 1.7s after the two drivers were notified of the penalty, giving the reigning champion the net lead.
Verstappen was the last driver the top, rejoining just behind the Renault duo, but the Dutchman got past both quickly on much newer tyres, moving back up to fifth, despite having failed to make Q3 yesterday.
Albon became just the second driver to retire with just a few laps remaining after the Toro Rosso engineers spotted an issue with his car, although he never really recovered from his early incident.
Bottas made a late pitstop with a big gap behind him, allowing the Finn the brake the lap record and pick up the extra point for setting the fastest lap of the race.
In protest at the penalty, Vettel initially refused to attend the podium ceremony, parking his car up in parc ferme and going straight to the Ferrari motorhome before being persuaded to return to collect his trophy.
Provisional classification:
1 Lewis Hamilton (Mercedes)
2. Sebastian Vettel (Ferrari)*
3. Charles Leclerc (Ferrari)
4. Valtteri Bottas (Mercedes)
5. Max Verstappen (Red Bull)
6. Daniel Ricciardo (Renault)
7. Nico Hulkenberg (Renault)
8. Pierre Gasly (Red Bull)
9. Lance Stroll (Racing Point)
10. Daniil Kvyat (Toro Rosso)
11. Carlos Sainz (McLaren)
12. Sergio Perez (Racing Point)
13. Antonio Giovinazzi (Alfa Romeo)
14. Romain Grosjean (Haas)
15. Kimi Raikkonen (Alfa Romeo)
16. George Russell (Williams)
17. Kevin Magnussen (Haas)
18. Robert Kubica (Williams)
DNF:
Alexander Albon (Toro Rosso)
Lando Norris (McLaren)
*Vettel crossed the line 1st but dropped to 2nd due to a five-second time penalty