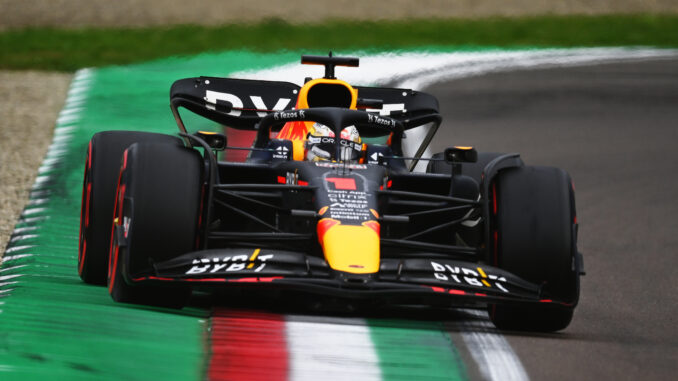 Max Verstappen has taken his second win of the weekend, following up yesterday's sprint victory with a win in the Emilia Romagna Grand Prix at Imola.
The reigning champion came home ahead of teammate Sergio Perez, while Lando Norris benefitted from a late mistake from Charles Leclerc to secure the final spot on the podium.
There was disappointment for the Tifosi on the opening lap as Carlos Sainz and Daniel Ricciardo tangled, leaving the Ferrari driver beached in the gravel, bringing out the safety car.
Leclerc also lost places off the line, as Perez and Norris found more grip in damp conditions to power past the championship leader, while Mick Schumacher spun, dropping him towards the back of the field.
Schumacher's spin saw him clatter into Fernando Alonso's Alpine, and while the contact didn't cause the two-time champion and immediate problems, his sidepod broke a few laps later, forcing the Spaniard to retire from the race.
Having been running towards the back of the field, Ricciardo was the first driver to switch onto slick tyres, and with his pace looking good teh rest of the drivers soon followed.
With the pitlane busy, there was contact between Lewis Hamilton and Esteban Ocon as the Alpine came out of the pit box right in front of the seven-time champion's car, resulting in a five-second time penalty for the Frenchman.
Red Bull brought Perez in before Verstappen, with Leclerc also stopping a lap later. Initially, it looked like Leclerc had managed to get ahead of the Mexican, but with Perez's tyres up to temperature, he was able to get back ahead of the Ferrari driver a few corners later.
Struggling on his tyres, Leclerc came in for a second pitstop with less than 15 laps remaining, briefing falling behind Norris, but he quickly moved back up to third.
Red Bull responded, bringing both of its drivers in as well, but the pitstops left Leclerc much closer to Perez than he was beforehand, but in pressuring the Mexican, Leclerc made a mistake, spinning his Ferrari and crashing into the wall. He was able to keep the car going, but damage to his front wing forced him to come into the pits again.
Leclerc recovered a few places, but couldn't get near to the podium places again, while George Russell held off late pressure from Valtteri Bottas to hold on for fourth place.
Provisional classification:
1 Max Verstappen (Red Bull)
2. Sergio Perez (Red Bull)
3. Lando Norris (McLaren)
4. George Russell (Mercedes)
5. Valtteri Bottas (Alfa Romeo)
6. Charles Leclerc (Ferrari)
7. Yuki Tsunoda (AlphaTauri)
8. Sebastian Vettel (Aston Martin)
9. Kevin Magnussen (Haas)
10. Lance Stroll (Aston Martin)
11. Alex Albon (Williams)
12. Pierre Gasly (AlphaTauri)
13. Lewis Hamilton (Mercedes)
14. Esteban Ocon (Alpine)*
15. Guanyu Zhou (Alfa Romeo)
16. Nicholas Latifi (Williams)
17. Mick Schumacher (Haas)
18. Daniel Ricciardo (McLaren)
DNF:
Fernando Alonso (Alpine)
Carlos Sainz (Ferrari)