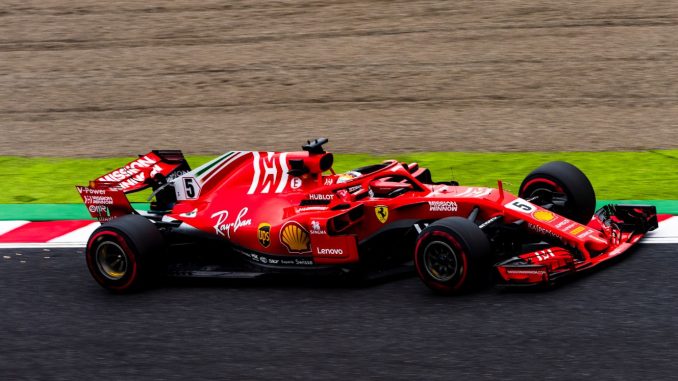 Pirelli believes recent typhoons in Japan have resulted in higher than expected tyre wear at Suzuka.
Ferrari, who have brought more sets of supersofts to this race than any other team, suffered noticeable blistering problems with their tyres during FP1 and FP2 ahead of this weekend's Japanese Grand Prix.
Formula 1's tyre supplier suspects the track is rougher than usual for this time of year due to two recent typhoons washing away rubber from other events, increasing the wear on the tyres.
Pirelli's Mario Isola revealed the heavy rain has resulted in a big step in macro roughness at the circuit. According to Autosport, the tyre manufacturer's racing chief said that the recent conditions are having an impact on grip and wear, and that Ferrari aren't the only team to face issues.
Teams have to select their tyre sets for a fly-away race 14 weeks in advance, so teams wouldn't have known the typhoons would be a factor when picking their Japan tyres. Higher than expected tyre wear will likely favour Mercedes and Max Verstappen in the battle at the front of the grid between the top three teams, as they have the fewest sets of supersofts. Verstappen could be in a particularly strong position as he has the most softs. The situation could also bring McLaren into play in the midfield battle, as the team opted for more mediums and fewer supersofts than any other team. Fernando Alonso and Stoffel Vandoorne would potentially be able to burn through their supersofts in qualifying and leave themselves with plenty of harder tyres for the race, although dry compounds might not be needed much tomorrow!
Renault team principal Cyril Abiteboul was asked about tyre wear by Sky Sports during today's practices, and insists they're still aiming to make just one pitstop during the race. Everyone who finished in the points at last year's race needed just one change of tyres on Sunday, but with heavy rain forecast on Saturday, there's little chance the track will rubber in before race day, which could cause problems for those who only have new sets of supersofts left on race day.
Tyre wear isn't the only thing to have been affected by the weather conditions. Renault and McLaren both had to break curfew overnight as their oil was late arriving to the track as storms meant Osaka airport had to close, resulting in their BP/Castrol consignment being diverted to Tokyo, where it was then delayed in customs. The two teams sent their garage crews the circuit early to wait for their lubricants so they could go through their firing up procedures ahead of this morning's first practice session.
While the weather looks likely to play a role in qualifying tomorrow, the race looks like it won't be affected by rain, with the current forecast suggesting the track will be cloudy but dry on Sunday.