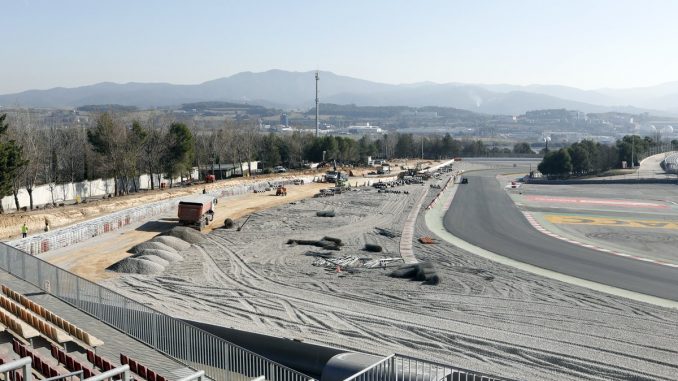 Pirelli believes there will be a lot of track evolution during the first pre-season test at Barcelona next month.
Circuit de Catalunya is currently undergoing work to ensure it meets MotoGP's standards, including resurfacing of the entire track and an extended run-off area at Turn 13. The track's Director of Infrastructure and Conservation Carles Fradera told MotoGP.com that seven centimetres of surface has been removed, and will be replaced with two layers, while three grandstands have been moved to make way for the additional 25-metre gravel run-off at Turn 13.
With the 2018 Formula 1 cars due on the track in Barcelona in just four weeks, Pirelli racing manager Mario Isola has revealed to Autosport that the work will likely mean track conditions evolve over the first couple of days.
The circuit is aiming to make the new surface as similar as possible to the previous one, but Pirelli will be sending officials to the track next week once the works are finished to measure to tarmac's roughness and compare it to the old surface.
Isola says the circuit will be running cars on the newly-laid surface to stabilise it ahead of F1 testing. Fresh tarmac tends to be greasy with oil and bitumen staying on the surface until it's been used, which will impact how the tyres work for F1 teams next month. Pirelli haven't decided which tyre compounds they'll make available for the Spanish Grand Prix in May, which also takes place at the circuit, with testing being used to inform the decision. Pirelli faced a similar problem last year when Jerez was resurfaced just a couple of weeks before a round of F2 and GP3 was staged there in October. The new tarmac was much smoother than the previous surface, resulting Pirelli moving the tyre allocation one step softer.
MotoGP requested changes to Turn 13 following the death of Moto2 rider Luis Salom in 2016. MotoGP previously used a different configuration of the track to F1, but switched to the car layout for the 2016 race following Salom's crash, and a chicane was installed on the motorbike layout for last year. However, riders found the chicane more dangerous than the previous layout, making more changes necessary in order for Barcelona to remain on the MotoGP calendar.
Despite the changes, Isola hopes conditions will be consistent during testing after the first couple of days. Pirelli have two new tyre compounds for 2018, so the teams will be hoping for consistency in order to gather useful data on this year's tyres.