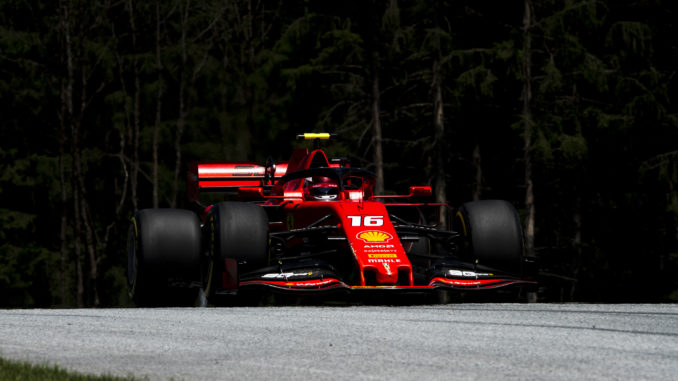 Charles Leclerc put in a commanding performance in qualifying to secure pole position for the Austrian Grand Prix, setting a new lap record at the Red Bull Ring in the process.
The Ferrari driver's lap of 1:03.003 was over a quarter of a second faster than nearest rival Lewis Hamilton, while mechanical issues cost teammate Sebastian Vettel.
Max Verstappen completed the top three, but his teammate was the slowest of the cars to set a time in Q3.
Daniil Kvyat was out early, but felt he'd been impeded, having come round a corner to find a queue of slow-moving cars trying to find space for a flying lap, forcing the Toro Rosso driver to take evasive action.
Lance Stroll's qualifying woes continued as he dropped out in Q1 again, but his teammate also struggled with his single-lap pace, with both Racing Point drivers eliminated in the opening session.
Kevin Magnussen made it through to Q3 at the expense of his teammate, but the Dane will drop back due to a gearbox penalty. Romain Grosjean's progress was hindered by damage to a front wing while running wide, while Magnussen narrowly avoided a similar issue while running through the gravel late on in Q2.
Vettel missed the end of Q2 and looked to be in jeopardy in Q3 as the Ferrari mechanics assembled around the left side of his car, with an apparent leak preventing the German from taking to the track at the start of the final part of qualifying. The mechanics continued to work, but with just four minutes left in the session, the four-time champion stepped away from the car, unable to set a time.
Lando Norris backed up his strong qualifying performance in France, setting the sixth fastest time. However, he'll start at least 5th with Magnussen's penalty and Hamilton under investigation for blocking Kimi Raikkonen in Q1.
Despite Raikkonen's issue with the reigning champion, it was a strong qualifying session for Alfa Romeo, with both cars inside the top 10.
Provisional qualifying result:
1 Charles Leclerc (Ferrari)
2. Lewis Hamilton (Mercedes)
3. Max Verstappen (Red Bull)
4. Valtteri Bottas (Mercedes)
5. Kevin Magnussen (Haas)*
6. Lando Norris (McLaren)
7. Kimi Raikkonen (Alfa Romeo)
8. Antonio Giovinazzi (Alfa Romeo)
9. Pierre Gasly (Red Bull)
10. Sebastian Vettel (Ferrari)
11. Romain Grosjean (Haas)
12. Nico Hulkenberg (Renault)***
13. Alexander Albon (Toro Rosso)*
14. Daniel Ricciardo (Renault)
15. Carlos Sainz (McLaren)*
16. Sergio Perez (Racing Point)
17. Lance Stroll (Racing Point)
18. Daniil Kvyat (Toro Rosso)
19. George Russell (Williams)
20. Robert Kubica (Williams)
*Alexander Albon and Carlos Sainz will start at the back due to taking new engine parts
**Kevin Magnussen has a five-place grid penalty for a gear box change
***Nico Hulkenberg has a five-place grid penalty for taking a new ICE