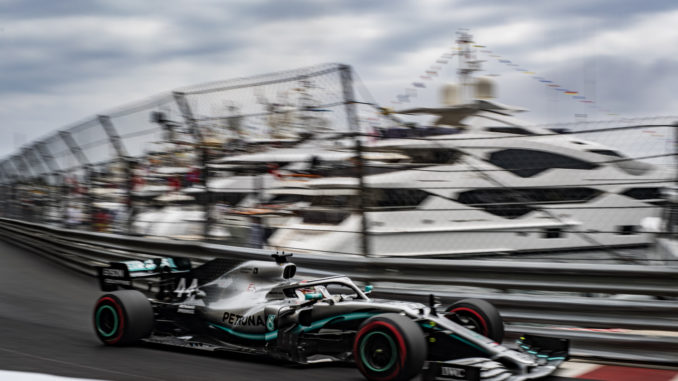 Lewis Hamilton narrowly beat teammate Valtteri Bottas to pole position at the Monaco Grand Prix, setting a new lap record in the process.
The current champion's time of 1:10.166 was just 0.1s faster than the Finn, who was also inside the previous outright record.
Max Verstappen had looked like the closest challenger to the Mercedes cars, but he couldn't match their pace at the end of Q3, while Sebastian Vettel pushed too hard, clipping the barrier to hinder his efforts.
Charles Leclerc was the big casualty in Q1, staying in the garage for the final couple of minutes, with Ferrari seemingly thinking his time was quick enough to go through. However, as the track evolved, times started to get quicker, pushing him down the order.
Nico Hulkenberg was one of the drivers to move ahead of the Monegasque racer late in the session, despite the Renault driver having been blocked by Antonio Giovinazzi earlier in Q1. The incident is being investigated by the stewards.
Both Alfa Romeos dropped out in Q2, along with Nico Hulkenberg, Romain Grosjean and Lando Norris, who all saw their teammates make it through to the top 10 shootout. Grosjean was particularly unhappy on the radio afterwards, having locked up his tyres while having to suddenly brake to avoid a slow moving Pierre Gasly.
Last year's winner Daniel Ricciardo starts 7th alongside his former Red Bull teammate Daniil Kvyat, with both of the Toro Rosso drivers progressing to Q3. Kevin Magnussen is the highest placed driver from outside the top three teams, as he claimed sixth position.
Provisional qualifying result:
1 Lewis Hamilton (Mercedes)
2. Valtteri Bottas (Mercedes)
3. Max Verstappen (Red Bull)
4. Sebastian Vettel (Ferrari)
5. Pierre Gasly (Red Bull)
6. Kevin Magnussen (Haas)
7. Daniel Ricciardo (Renault)
8, Daniil Kvyat (Toro Rosso)
9. Carlos Sainz (Renault)
10. Alexander Albon (Toro Rosso)
11. Nico Hulkenberg (Renault)
12. Lando Norris (McLaren)
13. Romain Grosjean (Haas)
14. Kimi Raikkonen (Alfa Romeo)
15. Antonio Giovinazzi (Alfa Romeo)
16. Charles Leclerc (Ferrari)
17. Sergio Perez (Racing Point)
18. Lance Stroll (Racing Point)
19. George Russell (Williams)
20 Robert Kubica (Williams)