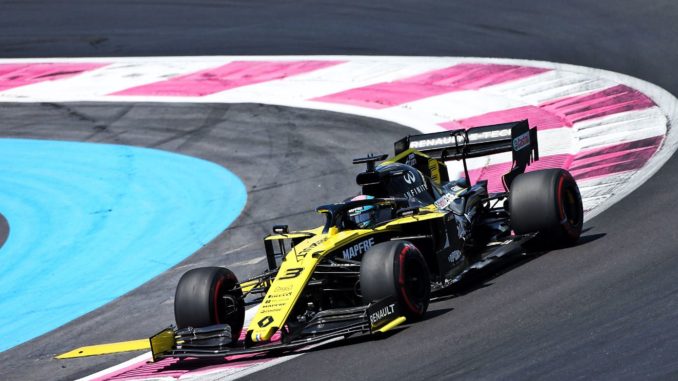 Daniel Ricciardo has been penalised by the race stewards for his last-lap move on Lando Norris and Kimi Raikkonen at the French Grand Prix, dropping him out of the points.
The Renault driver was summoned to the stewards after his move to pass the McLaren forced Norris off the track, before he had all four wheels off the track while battling with the Finn.
The Australian received to 5-second penalties, dropping him 10 seconds back, as well as a total of three penalties points, taking his total to five.
The penalties mean Ricciardo is now classified 11th, having initially crossed the line seventh. Raikkonen, Nico Hulkenberg, Norris and Pierre Gasly all move up one spot as a result.
In his move on Norris, Ricciardo was found to have left the circuit and rejoined unsafely, forcing another driver off the track. At that time, Norris had been running 7th, but he fell to 10th as a result of the incident. Ricciardo told the stewards he found it difficult to regain control of his car as he locked a tyre and was going over the rumble strips on the turn, however he was found to have rejoined the track in an unsafe manner, forcing Norris off the track and taking the position from him.
Ricciardo subsequently lost a place to Raikkonen while tangling with Norris, but forced his way back past the Finn moment later. The stewards summary said he left the track and gained a lasting advantage passing another car in order to overtake the Alfa Romeo. Raikkonen was found not to have crowded Ricciardo off the track or move while any part of Ricciardo's Renault was alongside him, but Ricciardo drove off the track and completed the pass. He was found to have regained control of the car following the incident with Norris, and this was judged as a separate incident.