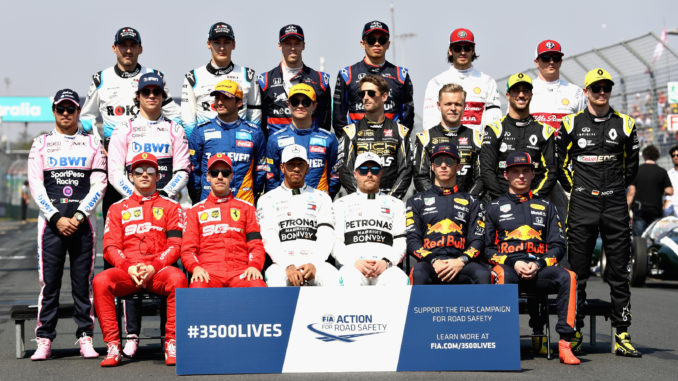 With Renault announcing that they "will consider options beyond Nico Hulkenberg" for the 2020 season, this could herald the start of the the annual silly season for wild speculation about who is going to be racing where next year. This is an annual tradition that everyone seems to think starts earlier every year. So as things stand at the moment (the morning of the 2019 French Grand Prix) let's have a look at how the grid could shape up next season.
(Remember this is purely Paul's speculation and there's no basis in fact whatsoever at the moment!)
Mercedes:
Why change a winning formula? Valtteri Bottas has show a return to his 2017 form with a couple of race wins this season so far and that he's a solid number 2 driver to his 5 time world championship winning team mate. He's only been on 12 month contracts since his move to Mercedes in 2017 and there's no reason to think that Toto & co won't offer him another 12 months after this one to take him up to the point where the new Concorde agreement comes into force and the F1 rules get re-written (yeah, right).
On the other side of the garage, Lewis Hamilton isn't going anywhere else. He's never driven an F1 car in anger that wasn't powered by a Mercedes engine and although he keeps getting linked with a seat a Ferrari that's not gong to happen for the foreseeable future while Mercedes are sweeping the board. So basically it's as you were again.
2020 lineup
Lewis Hamilton
Valtteri Bottas
Ferrari:
Bit of a tricky one here, Sebastian Vettel right now is at his lowest ebb and seems convinced that the world is out to get him. He lost the Canadian Grand Prix in controversial circumstances, the car hasn't show the performance that was hinted at in winter testing (with all the accolades that winning the winter championship gets you) and he's making throw-away comments about F1 not being the sport he fell in love with and even retirement. Ferrari are going to have to lift the mood of their number 1 driver somehow, but as always seems to happen, they're not great at doing what they need to do and as things stand (and don't forget this is all speculation) we could see the 4 time world champ walk off the grid and into the sunset at the end of this year. So what do Ferrari do?
One thing is certain with the is that Charles Leclerc is going to be there next year, he's stepped up a level since his move from Sauber, ok he's prone to the occasional mistake, but don't forget that he's only in his 2nd season in Formula 1 and by his own admission still has a lot to learn, but he seems to be learning quickly. We've seen his pace and his racecraft this season and while he's not the finished article quite yet, he looks like he's going to be a dominant force for a long time when he finally is.
If Vettel does walk, then I think Ferrari could spring a surprise on us all by coaxing Fernando Alonso back into F1 after his year out of the sport. It looks like there could have been a change in relations between the Spaniard and McLaren since the Indy 500 debacle and McLaren have announced this weekend that Sergei Sirotkin will be their reserve driver for the rest of this season (sharing him with engine suppliers Renault) and that Alonso won't be taking part in any more testing for them. He's also finished his WEC commitments with Toyota and doesn't have anything concrete on his racing calendar except for managing his karting/junior racing team, so will we see a Ferrari logo on a Kimoa hat in 2020? It's not out of the question.
2020 lineup
Sebastian Vettel (if he doesn't retire) / Alonso (if Vettel does go)
Charles Leclerc
RedBull:
The joint (with Toro Rosso) most meat-grindery of teams is having what we've called on the podcast "a binary year." In the "1" corner is Max Verstappen, he's quick, he wins races, he brings Dutch fans to fill stands at every circuit, the list goes on of reasons to keep him around for many years to come. The only thing he's not done is get a pole position, but with the way that the Honda power lump has improved since the McLaren days means that it might not be out of the question next year if they keep on the same track that they're on right now. In short, he aint' going anywhere. But here's where the meat-grinder kicks up a gear; Pierre Gasly looks on the surface to be doing the right things, sometimes the 6th fastest driver on the gird in the 3rd fastest car, so that's all he's meant to do right? Well you'd think so but something tells me that that's not enough for Herr Marko. The team have been playing about with his qualifying tyre strategies to make sure that he can get through Q2 on a couple of occasions, which can compromise his race pace and potentially his result. That's not what RedBull is about and at the moment I'd probably say that his condition has been downgraded from Gnarly to A Bit Bogus and knowing the Austrian/Milton Keynesian outfit's propensity for making snap driver decisions we may well see him cast adrift by the end of the year. So who to replace him with?
When RedBull have been in this situation before, they've just reached into the well and pulled out a driver from the Toro Rosso bucket that's floating at the top of it and that's what they'll probably do again in 2020. Daniil Kvyat is on his 3rd stint with the junior team, but this time it won't be him that's (to coin a phrase nicked from baseball) brought up to the majors, instead I think it'll be Alex Albon that will make the step up and this could be another bad move. He's only in his first year in the sport and while he's shown good performance and great potential, I still think he's got a fair bit to learn before making the step to one of the big teams. There's no doubt that he deserves to get there based on what he's shown this season, but it may be too much too soon for him. But when's that ever bothered that team before when they've got the meat grinder to fall back on?
2020 lineup
Max Verstappen
Alexander Albon
McLaren:
It was all change for 2019 for the Woking brigade and while this is usually a massive risk, it's certainly paying off so far. At the moment they're currently sitting 4th in the Constructor's championship and won the best of the rest front row in the French GP. Lando Norris is a star in the making and as soon as he learns to start races without losing places then they could take the Formula 1.5 title at the end of this year and in 2020 as well.
Both drivers are under contract for 2020 and going on what we've seen so far there's no reason for either side to back out of that agreement and we'll get 100% continuation for them, just without as many Kimoa logos on the car (see Ferrari)
2020 lineup
Carlos Sianz
Lando Norris
Renault:
The team that kicked the whole idea for this feature off. They've got a strong lineup, but there's something that just not gelling with the whole operation, Daniel Ricciardo has taken nearly a third of the season to get used to the car and Nico Hulkenberg seems to be having struggles as well. Hulk is only under contract until the end of 2019 and with Cyril Abiteboul's announcement that they may look at other options for next year.
They were on the verge of signing Esteban Ocon for this season before Danny Ric shocked everyone by swapping Austrian blue for French yellow, not least his 2018 employers who'd just started a video series about him doing a world tour that was meant to conclude with him arriving at the factory to sign his new deal (that was hastily pulled from the schedules and never talked about again), so could they bring him in a year late? I don't think so and the reason is Sergio Perez. Checo has been having a bit of a torrid time with Racing Point this year with an uncompetitive car in the 1st part of the season and after saving the team formally known as Force India last year with his court action, I think his backers (he always mentions his backers whenever contracts are talked about) will want him in a higher profile team next year and Renault is going to be the best option for a factory team drive. Where does this leave Hulk? You'll have to read on.
2020 lineup
Daniel Ricciardo
Sergio Perez
Racing Point
There's only ever going to be one seat available at the Anglo-Canadian team while Lawrence Stroll is controlling the purse strings, Lance Stroll is going to be there as long as his dad's consortium owns the team and the only driver questions will be based round who's going to be in the other car. People have said that this is a bad situation for F1, but it's no different from some of the dire pay drivers that have stunk up the grid over the years, Taki Inoui, Sakon Yammamoto, Ricardo Rossett all spring to mind, in fact Lance Stroll could be the new Pedro Diniz, yeah he's bought his way into F1, but there's a spark of potential there sometimes, so while he's not a complete embarrassment then he might as well stick around.
So the other seat then? We've already said that Perez will be taking his funding to another French speaking country next year (France) and that leaves a seat free and who better to fill it than someone that's already been there before? Welcome back Esteban Ocon, he comes with the Mercedes seal of approval (and possibly a discount on engines too), knows the team well (things haven't changed personnel wise that much in the last 18 months since he left) and has been a team mate of Junior Stroll before back in their karting and lower formula days. So he's the ideal fit.
2020 lineup
Lance Stroll
Esteban Ocon
Toro Rosso:
Meat Grinder 2 – Grind Harder. The RedBull young driver program was in a bit of a mess at the start of this year, they only had one driver (Dan Ticktum) that was old enough to be in F1 and thanks to a 12 month ban for ramming a team mate, he didn't have anywhere near the number of Superlicence points to make it onto the grid (and not even enough to take part in Friday practice either), so they had to reach back into the bucket of left over parts and bring back Alexander Albon who they'd got rid of a few years ago when it looked like his career wasn't going to plan (or theiir plan anyway).
After finally ditching Brendan Hartley, another former reject, at the end of the 2018 season they put Albon in the Toro Rosso along with yet another returnee, Daniil Kvyat and it seems to have worked for them this season. But we all know that the whole point of Toro Rosso is that they're an incubator where they try to grow a fully formed RedBull driver, like they did with Pierre Gasly last year. Sometimes it works (Sebastian Vettel, Danny Ric, Max Verstappen) but most of the time it doesn't (practically everyone else that's made the jump) and it's not worked again with Gasly and as we've already discussed, it's Alex Albon that's going to make the step up, leaving a space in the junior team, which I think will be filled by current IndyCar driver and latest addition to the young driver program, Patricio o'Ward, that is if they can convince the FIA that his 2018 Indy Lights championship is equivalent to taking the F2 title. We're going to see him in FP1 more than once this season and if he passes the audition then he'll be the latest on the conveyor belt.
2020 lineup
Daniil Kvyat
Patricio o'Ward
Haas:
Time to hit the reset button Guenther. It's not working with your current lineup. You've got 2 drivers that either try and take each other out, like in Spain, or spend most of the race complaining about anything that's going on around them. Everyone thought Grosjean was on borrowed time last year when he didn't score a point for the first half of the season and that he was about to become the new Esteban "11th place" Guittierez. K-Mag is starting to get the whinging bug as well and after the radio message in Canada from Guenther Steiner telling him to shut up after the team had been up all night rebuilding the car he'd wiped out in Q2 can't have increased his stock in the slightest.
So a whole new lineup is needed, the first driver should be Nico Hulkenberg. If Renault are already publicly saying they're looking at what to do without him there he should call their bluff and get the hell out of Dodge before they get chance to act on it and this would be a great landing slot for him. He can get a lot out of a car and with the problems that Haas have had with the last 2 cars there's plenty for him to work with. Of course this means that he'll probably never get that podium that's he's been trying to land on for 160+ races, but don't forget, he won Le Mans!
For the 2nd car then Pierre Gasly would tick a few boxes, It would be one for their title sponsors Rich Energy, as well, as they like to try and bait RedBull at every available opportunity and taking one of their drivers would give them more ammunition. Also we'd probably get to see a better side of Gasly's racecraft as the pressure in a midfield team would be a hell of a lot less than what he's currently suffering from the RedBull organisation
2020 lineup
Nico Hulkenberg
Pierre Gasly
Alfa Romeo.
The former Sauber team pulled off a massive coup at the start of the year by getting Kimi Raikkonen back to drive for the team that brought him into F1 in the first place 18 years ago (man alive is it that long?) and his 2 year arrangement looks pretty set to go the distance, he's got the car into Q3, he's scored points and he's racing with cars in front of him, could you have even imagined this when it was Marcus Ericsson and Felipe Nasr pootling round at the back and trying to wipe each other out at every available opportunity?
The deal with Ferrari also gave them access to Ferrari's young driver pool, which seems to have entries in every other series below F1 and from this Ferrari put Anonio Giovinazzi in the car this season after Charles Leclerc filled the role with aplomb in 2018. The young Italian isn't nearly ready to drive for Ferari, although the Tifosi would love to see another italian in the car, but he's good enough to be in F1 and this is the best bet for all parties concerned and I think it'll be as you were at Hinwil in 2020
2020 lineup
Kimi Raikkonen
Antonio Giovinazzi
Williams:
What a mess, there's no other (polite) way to describe the decline and fall of one of the most successful teams in the history of F1, they've been slipping backwards for a couple of years and this must be the low point for them now. The car was late being finished and they missed vital testing time, their major backers pulled out last year (Lawrence Stroll and Martini), they took a gamble (and several million dollars) taking on a returning Robert Kubica and they started the 2019 season with their Technical Director Paddy Lowe taking a "leave of absence" from the team (don't expect him to come back) and if that's just what's in the public domain, what's happening behind the scenes must be even more terrifying.
One bright spot in the gloom of 2019 is that in George Russell they've got a driver that's one of the best prospects for the future, but he only comes on loan from Mercedes for 2 years, so in 2021 they're back to square 1 unless they turn things round quickly. Will they still be on the grid next year? Probably. Will it be in the form and identity that we know and love? Probably not. They need investment for next year and they need it quick. They need a huge shake up and soon otherwise this is a death spiral that they can't come out of.
If we do see them on the grid next year they need a driver that can bring in funding and fortunately they have one in reserve that might do a better job than Kubica is doing this season, step forward Nicholas Latifi to fill the next gap, he's got the backing of his dad's company and he's got a few years in lower series under his belt, along with spending some testing time in the car where his performance more than matched what Robert Kubica could do. They've nothing to lose and quite a bit to gain from this, so they may as well chance it.
2020 lineup
George Rusell
Nicholas Latifi
That's my take on it at the moment (French Grand Prix weekend 2019) let's see how right or wrong I am as the season goes on…