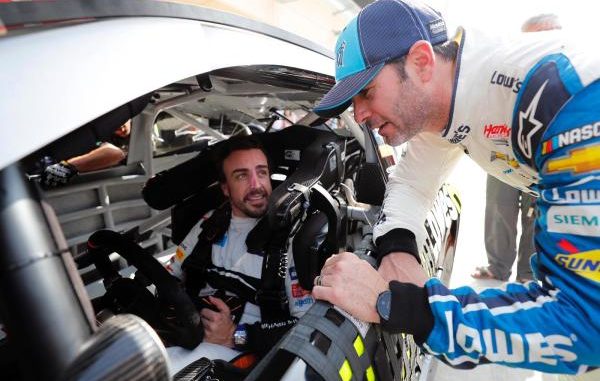 Even though there's still 7 weeks to wait until F1 starts again in Melbourne, there's a lot of racing between now and then and this weekend we've got the Rolex 24 Hours of Daytona to look forward to, and there's a lot of interest for F1 fans when you look at the driver lineup.
Daytona has been staging a 24 hour race at the start of the US Sports Car season since 1966 (except for 1972 and 1974) and going back to the beginning, there's been some high profile names that will be familiar to fans of F1. with previous winners such as Chris Amon, Jo Siffert, Marton Brundle Mario Andretti and more besides.
The profile of the race has been raised for Formula 1 fans in the last couple of years with Fernando Alonso's participation as he attempts to seemingly drive in as many different series as possible and this year he leads the charge for the #10 Konica Minota Cadillac team alongside the former Dutch A1GP driver Renger van der Zande and Kamui Kobayashi who raced in F1 for Toyota, Catherham and Sauber.
But Alonso and Kobayashi aren't the only names F1 fans will recognise in this year's 47 team lineup, there's also 2 time (2008 and 2013) winner Juan Pablo Montoya in the #6 Accura Team Penske car who, like Fernando, has won 2 legs of the "Triple Crown" of racing, in his case it's the Indy 500 and the Monaco Grand Prix, along with other F1 winners Rubens Barrachello in the #85 JDC-Millar Cadillac and Pastor Maldonado also taking part in the #18 Dragon Speed car for the team he races for in the LMP2 class in WEC.
But there are a few more names driving this weekend that you'll have seen on the F1 grid before with Alexander Rossi (#7), Felipe Nasr (#31), Jan Magnussen (#3), Alex Zanardi (#24), Sebastien Bourdais (#66), Christian Fittipaldi (#5), Markus Winklehock (#19), Pedro Lamy (#51) and former Safety Car driver Oliver Gavin (#4) all lining up this year.
There are 4 categories of car that take part in this race, with the 11 top level Daytona Prototypes which feature 5.5 litre engines and must comprise a full professional driver lineup being the quickest cars on the grid. There are also 4 LMP2 entries this year which is exactly the same as the WEC LMP2 class with a 5 litre Gibson engine and feature a split pro-am driver lineup. The other 2 classes are for GT cars with the first one bring the 9 GT Le Mans class for cars which you would see in the GT Pro class in the WEC with 5.5 (naturally aspirated) or 4.0 litre (turbo) engines and the 23 strong GTD class for the lower spec GT cars from a variety of manufacturers.
The circuit for the race is about two thirds based round Daytona's "Tri-Oval) with a chicane, known as the Bus Stop on the back straight between the 2 long oval turns with an infield section featuring the first 6 corners with a couple of slow, almost hairpin turns before the tight left hander to bring the cars back out onto the oval itself.
The race itself starts at 2:30PM EST / 7:30PM UK and  is being shown on various platforms with US viewers being able to  watch NBC Sports Network and on the NBC Sports app for parts of the race along with IMSA providing full coverage on their website which will also feature select in-car cameras alongside the full race coverage and will be available worldwide.
If you're watching tonight, let us know on Twitter (@3legs4wheels) and some of us will try to stay up for at least some of the race.