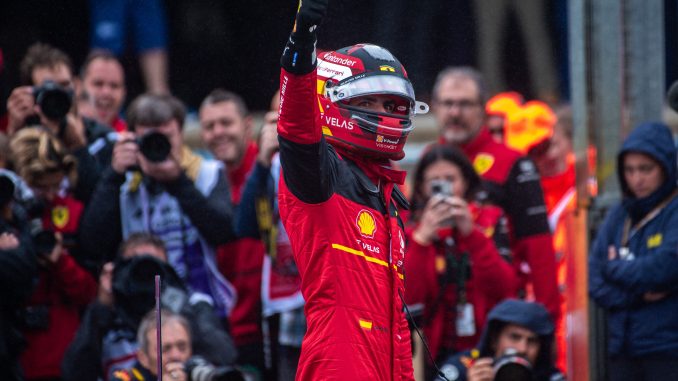 A dramatic race at Silverstone has seen Carlos Sainz secure his first win in Formula 1, passing his teammate late on to take victory at the British Grand Prix.
An action-filled final few laps saw Sergio Perez move up to second, recovering from early damage, while Lewis Hamilton secured the final spot on the podium.
The race was red flagged on the opening lap after a huge incident going into turn one, which left Guanyu Zhou flying upside down into the catch fence, with his Alfa Romeo bouncing straight over the tyre wall.
The collision started after Pierre Gasly clipped the rear wheel of George Russell's Mercedes, sending the Briton into Zhou, who immediately flipped upside down.
Meanwhile, there was a separate incident going into turn one as Sebastian Vettel when into the back of Alex Albon's Williams, sending him into the wall and clattering into Esteban Ocon and Yuki Tsunoda, both of whom made it back to the pits, albeit with damage.
When the race started for the second time, both Ferraris and both Red Bulls looked to take the lead, with the cars going four abreast before Leclerc and Verstappen made contact, with Leclerc picking up minor damage after running over a sausage kerb, while Sergio Perez came away with a broken front wing, but Sainz did enough to keep his car in front.
Lando Norris made a better start second time around, jumping ahead of Lewis Hamilton before closing in on the back of Perez, who pitted one lap later for a new front wing.
Sainz through away his lead when he made an error on lap 10, running wide and over the grass to allow Verstappen to move ahead, but it was a short-lived lead for the reigning champion as he ran over a piece of debris a couple of laps later, leaving him with a suspected puncture.
Verstappen continued to report issues with his car when he came back onto the track, with his team confirming damage to the rear of his car, but he was able to continue.
Both AlphaTauris lost places when they went head to head, with Tsunoda picking up a time penalty for causing the incident.
Hamilton started to close the gap to the two Ferraris out front, with Leclerc frustrated that he was being held up behind his teammate, but Ferrari didn't switch the order of their drivers.
Sainz was the first of the front runners to come in for new tyres, with Leclerc coming in five laps later, while Hamilton felt his tyres still had life left in them, remaining out at the front of the field.
As Ferrari tried to prevent Hamilton undercutting both of their cars, they swapped the order, moving Leclerc in front of his teammate with 20 laps remaining.
Hamilton eventually pitted from the lead with 18 laps to go, but a slow tyre change by the Mercedes crew left him three seconds adrift of Sainz in second, albeit on much newer tyres.
The field was bunched up again late on through when Ocon's Alpine lost power and ground to a halt, bringing out the safety car.
The majority of the field came in for new tyres, but Ferrari left Leclerc out at the front. The timing also worked out well for Perez, who had worked his way back up to fourth after his earlier front wing damage, managing to change tyres without losing a position.
Leclerc's older tyres cost him on the restart as his teammate made the most of his extra grip to retake the lead, while Hamilton struggled to switch his tyres on, gifting Perez third.
Hamilton tried to regain the position while Perez put Leclerc under pressure for second. As the Ferrari and Red Bull drivers both ran wide, Hamilton briefly moved up second, but Perez battled back to regain second.
Leclerc managed to get back ahead of Hamilton, but after a series of wheel to wheel corners, the pressure eventually forced an error from Leclerc, allowing the seven-time champion to move back into the final podium place.
Fernando Alonso put Leclerc under pressure late on, but the Monegasque driver just held off the Alpine's challenge, while Mick Schumacher pressed Verstappen hard, but the championship leader held off the German's charge. However, Schumacher's performance was enough to give him his first points in F1.
Provisional classification:
1 Carlos Sainz (Ferrari)
2. Sergio Perez (Red Bull)
3. Lewis Hamilton (Mercedes)
4. Charles Leclerc (Ferrari)
5. Fernando Alonso (Alpine)
6. Lando Norris (McLaren)
7. Max Verstappen (Red Bull)
8. Mick Schumacher (Haas)
9. Sebastian Vettel (Aston Martin)
10. Kevin Magnussen (Haas)
11. Lance Stroll (Aston Martin)
12. Nicholas Latifi (Williams)
13. Daniel Ricciardo (McLaren)
14. Yuki Tsunoda (AlphaTauri)
DNF:
Esteban Ocon (Alpine)
Pierre Gasly (AlphaTauri)
Valtteri Bottas (Alfa Romeo)
Alex Albon (Williams)
George Russell (Mercedes)
Guanyu Zhou (Alfa Romeo)