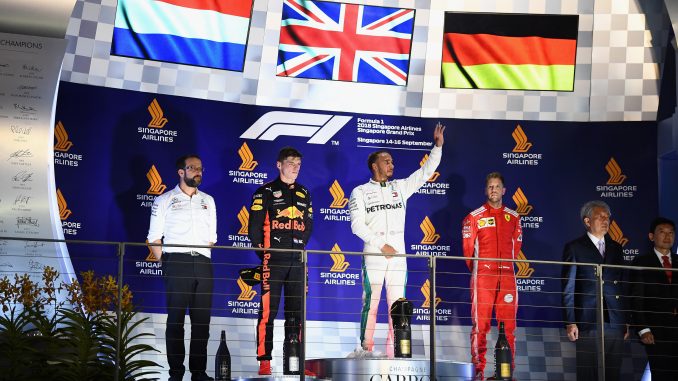 Lewis Hamilton has opened up a 40-point lead over Sebastian Vettel in the drivers' championship following his victory at this year's Singapore Grand Prix.
Max Verstappen joined the two title contenders on the podium in a race where much of the action happened further down the order.
Sergio Perez, Romain Grosjean and Sergey Sirotkin all picked up penalties during the race, which saw a safety car on the opening lap.
Here's what the drivers and teams thought after the events at the Marina Bay Street Circuit.
Lewis Hamilton (Mercedes – 1st):
"I'm so excited. I came here knowing that Singapore is a hard one for us. But I'm always optimistic, thinking that if we're really diligent and do our work, we can create some chances. Then Friday was already a good day for us. Saturday didn't start off well, but then all of the sudden that special lap came in. Knowing that we would start on pole, I knew that it was a great opportunity for us to capitalise on. I had a great start and from then I was able to manage it.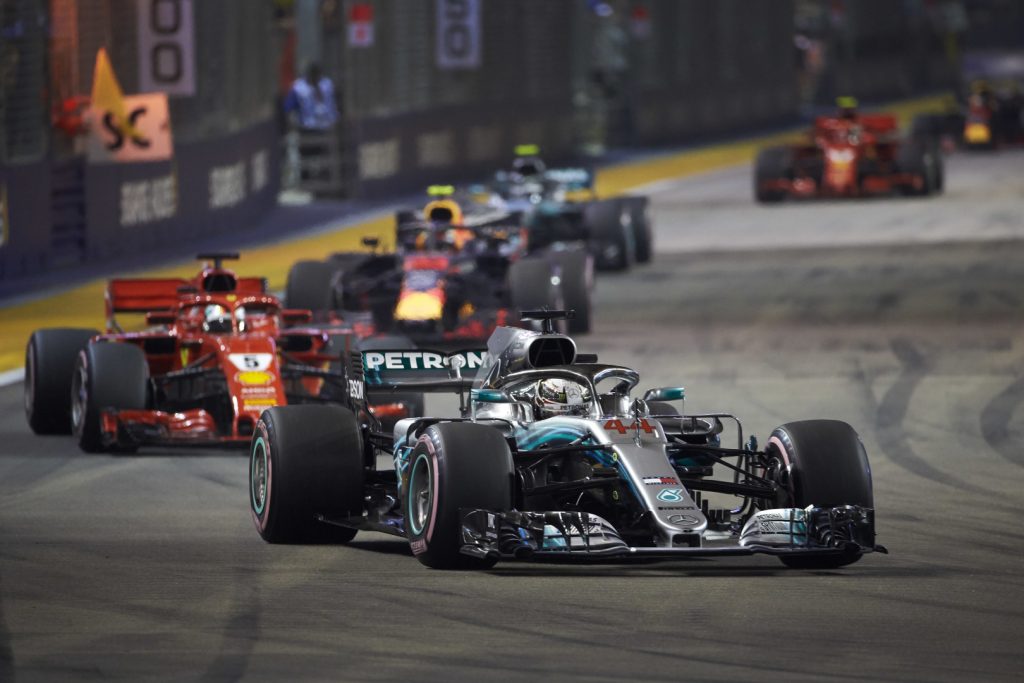 "When I hit the traffic, I was just mindful not to take any risks. When you start to get closer to another car, you start losing grip and start sliding around more, so there's a higher chance of mistakes. If you're lucky you catch the cars at the right point and they let you by so you don't lose any time, but today I always caught them at an unfortunate point. So when Max was right behind, I had to go on the defensive, and I thought to myself 'Bro, you're not getting by – not today!' It was physically such a demanding race, so I'm relieved that it's over now – it felt like such a long night, but I'm super grateful for the result."
Toto Wolff (Mercedes – Team Principal):
"Singapore has been our bogey track for several years, so it is a special feeling to come here and win this race on pace. The entire team has worked so hard to understand the car and take steps forward, especially since our defeat in Spa, and this result is an indication that our work is paying off. We prepared well for this weekend, came here determined to make a step and we delivered. It was a weekend of many parts: a stardust lap from Lewis in qualifying, a chess game of tyre management this evening, and some nervous moments with traffic and backmarkers during the race – but in the end, we outscored our rivals for both championships and delivered a really satisfying result. There will be many discussions about backmarkers, who had a big influence on both drivers' races; I think this is a topic for the drivers to discuss among themselves, but perhaps there is a way to optimise those blue flag rules on street circuits like this. From our side, we can be pleased with a very solid weekend. We have leads in both championships but they change nothing in the mind-set of this team. We have six weekends to go and we know how quickly the situation can swing back against us. We will take it weekend by weekend, feet on the ground and determined to maximise our potential every time."
Max Verstappen (Red Bull – 2nd):
"It was a shame to lose a position to Sebastian so early on but there was not a lot I could do as we were both flat out. I should have been able to hold the line but I just couldn't match his speed. My only real chance to win was at the start, unfortunately it was a bit all over the place and I knew my chance had gone. Luckily the team had me on a great strategy and therefore managed to get me back into second place with a brilliant pit stop. When I got close to Lewis due to back markers I never really thought the pass would be possible. It's hard to overtake here so I didn't want to take the risk. It was also slightly unfair how he had been held up by drivers not getting out of the way. I had a few driveability issues again behind the Safety Car and pulling away from the pit stop was dreadful, but in the end we managed it well and got the result we wanted. After the way the car has felt at certain points this weekend, qualifying on the front row and taking second place today is an amazing result."
Really happy finishing 2nd, despite technical difficulties! A great @redbullracing team result: hard work pays off 👊🏻 #KeepPushing #SingaporeGP pic.twitter.com/8J4U31v3Fk

— Max Verstappen (@Max33Verstappen) September 16, 2018
Sebastian Vettel (Ferrari – 3rd):
"It's never easy to come and win even if, obviously, that was our target. Yesterday the qualifying didn't go the way we wanted and we couldn't extract the best out of ourselves. Today, starting from third position, we had to try something different, but it didn't work out and we finished where we started. We were running second after a good start which allowed me to get past Max, I was happy and confident when I got the call to box, I knew I needed a mega out lap to try and challenge for the lead but it didn't work. I lost time behind another car and the brakes got a little too hot, it was close but we got the worse of it. I fully support the team's decision because, as I am sitting in the car, I can't be aware of everything that goes on, so I rely on them. Our target was not to finish third, but today we just did not have enough speed."
Valtteri Bottas (Mercedes – 4th):
"There was not a whole lot happening in the race, I was hoping for more variables to come into play and shake the race up a little. There was only one Safety Car in the very beginning, but it came out too early to trigger any pit stops. It's very difficult to follow and overtake on this track, so once the Safety Car was back in, it was a fairly uneventful race. The first stint on the HyperSoft tyres was very straightforward. We knew that the second stint on the Soft tyres would be more difficult because it was so long and towards the end the tyres were pretty much gone. I can't be happy with P4, but a better result today was made very difficult by the qualifying result yesterday. However, we still got a good result for the team, which is great because everyone has been working so hard to improve the car and the set-up for Singapore."
4th in the Singapore GP 2018 🇸🇬🏁

Not very eventful race, but I gave everything I had. Keeping strong and looking ahead to the coming races!

Top job by @MercedesAMGF1 to have a strong car here this weekend. All down to hard work by each team member!#VB77 #F1 #SingaporeGP pic.twitter.com/BPAkVzF0f1

— Valtteri Bottas (@ValtteriBottas) September 16, 2018
Maurizio Arrivabene (Ferrari – Team Principal):
"Today's winner deserved the victory. After Sebastian overtook Verstappen, we went for an aggressive strategy, trying for the undercut on the Ultrasoft tyres. Unfortunately, during the one lap that would prove to be crucial, we found ourselves behind another car and so we were unable to run at a fast enough pace. Despite today's result, not all is lost. Now, calmly and with determination, we will tackle the remaining six races, fighting all the way to the end."
Kimi Raikkonen (Ferrari – 5th):
"Not much happened today in the race; the car was behaving well and we had a fair speed, but most of the time we were stuck behind somebody and taking care of the tires. On this track it's impossible to overtake, unless the guy in front makes a massive mistake. I could see Bottas struggling with his front right tire and locking it sometimes, I could get closer to him but not enough to pass. Through the middle part of the track it was even difficult to follow him because we were losing downforce. In the first stint we stayed out longer hoping for a Safety Car, but it did not happen. The qualifying here is the key and obviously, when you start behind, your race ends up being a bit boring, getting stuck behind other cars. There was no way we could use our speed. Obviously we wanted more, we did what we could, but this is what we have got today."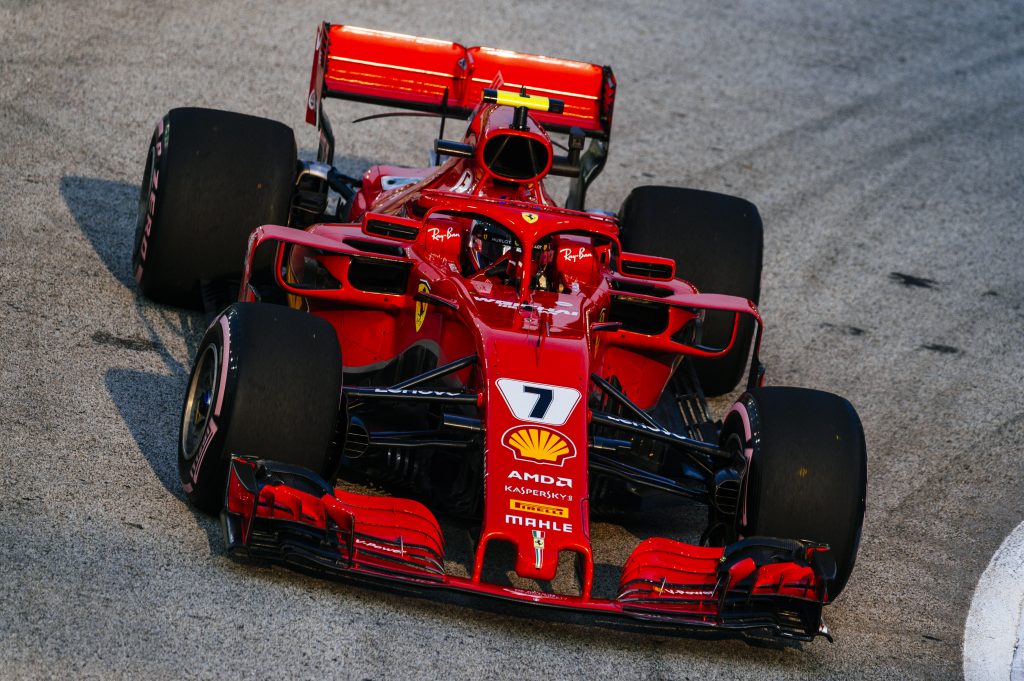 Daniel Ricciardo (Red Bull – 6th):
"In the end, the race was a bit as we expected but we hoped for some sort of ultimate strategy. We tried something different by going long on the Hypersoft and we had good pace but a street circuit is only really great if you are on pole, otherwise it's not only hard to overtake but even to follow. Qualifying is so important here and the race was really lost yesterday. I could catch Kimi, I would stay close to him for a couple of laps and then I would have to back-off. I had the pace to get back on his gearbox but I was never quite close enough to make a move. I really had to hope for a mistake or that Kimi and Valtteri would start tangling and I could capitalise. I got close at Turn 13 on the last lap, but it wasn't close enough. Street circuits are my favourite tracks to drive but they can also be frustrating. In Monaco I listened to Lewis in seventh place complaining about following closely and now I understand what he was complaining about. I think everyone was in the same boat. I would have loved to fight for something more today but I couldn't. Last night we spent quite a few hours here trying to figure it all out and I hope in Russia everything will fall into place. We'll keep fighting, try to get better and maybe we can get a win at a circuit where we don't expect it. Now I'll jump into the ice bath and cool down."
Fernando Alonso (McLaren – 7th):
"I'm really happy with seventh position. Normally something happens in front of us, but today all six cars ahead finished the race, so P7, behind the top six cars, is a small win for us. We executed the race to perfection with a good strategy, we maximised the tyre advantage starting on the purple [Ultrasoft] tyre and then switching to the yellows [Softs], and scored good points for the team, in the end. At some point in the race we were also the fastest car on track, and on such a demanding circuit this makes me even happier. It was no boring race for me, as we still needed to open some gaps in case of a Safety Car, and we didn't know when people behind us would stop. So, even though we were alone, it was about controlling the gaps. We knew coming here that the characteristics of this track would suit our package. I think it's going to be up and down for the remainder of the season, as at some races we're expecting to be competitive and at some others not so much. The target will be scoring points on Sundays and helping the team in the Constructors' Championship."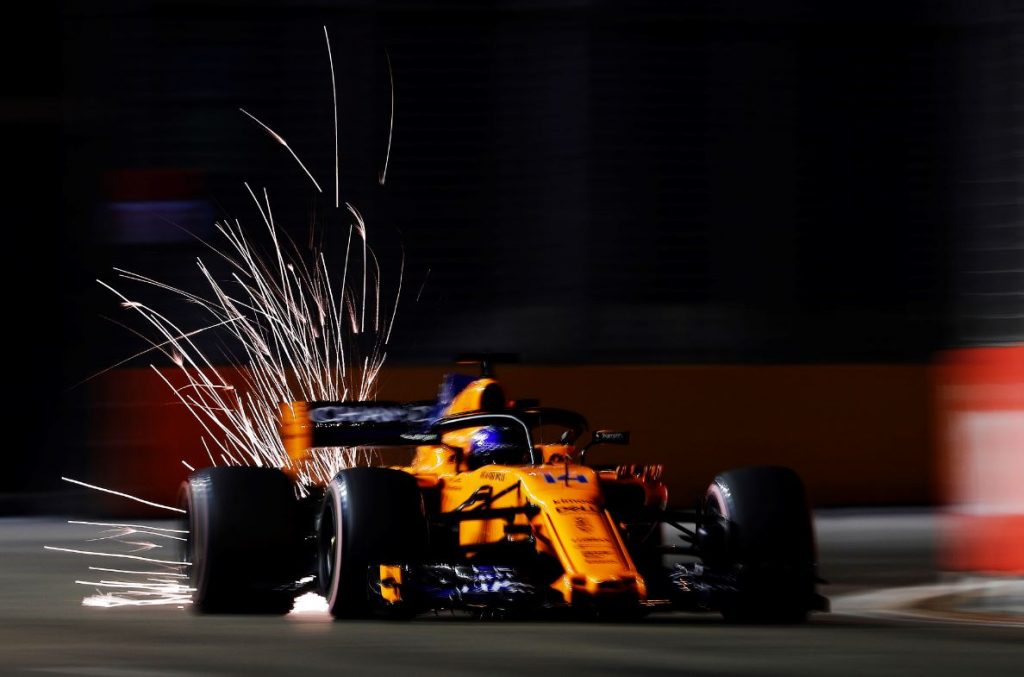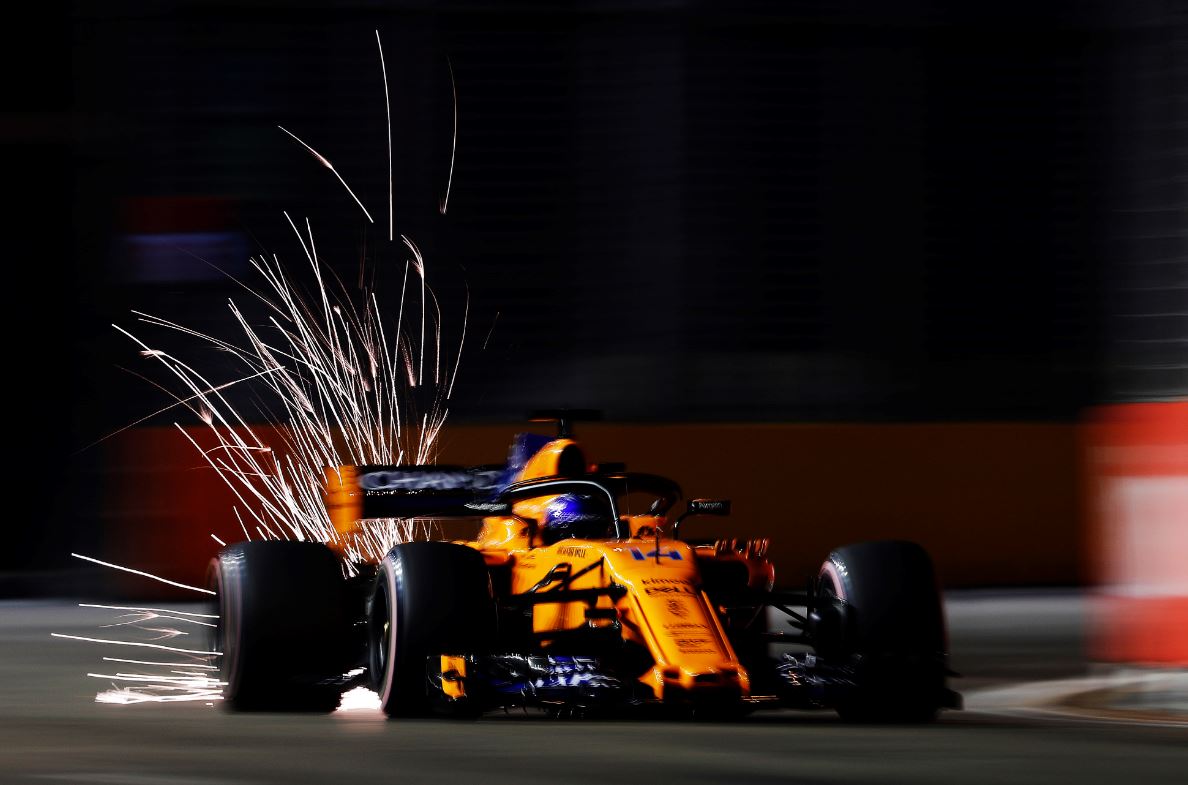 Otmar Szafnauer (Force India – Team Principal):
"An extremely disappointing race. It's unacceptable for teammates to hit each other and it has cost us dearly. They didn't leave each other enough room and the contact put Esteban into the wall. We will therefore reinstate the rules of engagement we operated last year after similar incidents, which means they cannot race each other. This disastrous race is all the more frustrating when you consider the speed we showed in qualifying and the opportunity that has passed us by. These painful lows are part of racing and it's fair to say that there are very few positives to take from tonight apart from the car pace. We will have some discussions behind closed doors and will learn from what happened so that we can become stronger as a team."
Carlos Sainz (Renault – 8th):
"I'm very satisfied with the result today. I wasn't happy yesterday, but I woke up knowing we had a really good chance in the race. We had an advantage with tyre strategy starting in twelfth and we made a good start to boost our possibility of getting into the top ten. Eighth isn't bad for today, but I would have preferred to finish higher up the order. Five points for the team are important for the championship and we keep distance to our rivals. In general, I'm happy with today as we executed a good race."
Good start, good strategy and good points. Thanks @f1nightrace for another great race! See you next year! // buena salida, buena estrategia y buenos puntos! Gracias #singaporegp por siempre portarte bien conmigo! 😘 pic.twitter.com/IHeYACMdAV

— Carlos Sainz (@Carlossainz55) September 16, 2018
Esteban Ocon (Force India – DNF):
"It's a huge disappointment to be out of the race early when we had such strong pace. The car felt great this weekend and we knew a strong result was possible, but instead we're leaving Singapore with zero points. I am not going to analyse what happened at the start. All I will say is that I got off the line well and I saw an opportunity to go past Sergio. I had good grip on the outside, but then I felt a hit and I was in the wall. The only positive from tonight is that we have a strong car and we can be back scoring well in Russia. There are still six races remaining to score as many points as we can, so we will turn the page and keep working hard for the next race."
Charles Leclerc (Sauber – 9th):
"What a race – it was quite close to being perfect. We had strong lap times, and the balance of the car felt good from the beginning to the end. We made a great recovery this weekend, after having a weaker race pace on Friday. With our strategy, we were able to fight our way to the front of the midfield and finish in the points again. Achieving this after the past few weekends feels good and shows our potential. I look forward to the next one."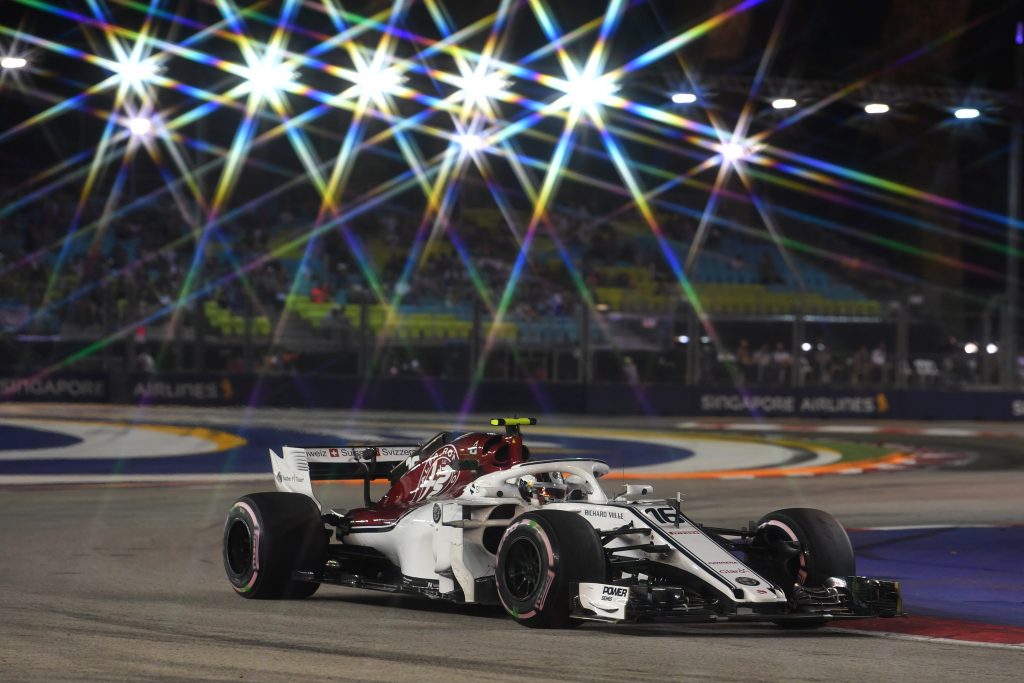 Nico Hulkenberg (Renault – 10th):
"I'm not quite happy with the result, as I know it could have been better. I lost two positions at the start and from there we were on the back foot, which was costly. We pitted early, going for an aggressive undercut and that initially played out well, but we were caught up in traffic after that. I benefitted from the collision in front of me to get into the points, but it could have been more today, so it's mixed feelings for me in the end."
Marcus Ericsson (Sauber – 11th):
"It was a pretty good race today. The pace was good and there were no mistakes made. Despite that, it is a bit frustrating to have finished in P11, so close to the points. We gave a strong performance, but could not fight for P10 anymore after coming back out onto the track behind the leading cars following our pitstop. Nevertheless, we did a good job as a team and will fight back in Sochi."
Cyril Abiteboul (Renault – Team Principal):
"Overall, we're satisfied with this evening's race as both cars finished in the points. We didn't qualify as well as we could have yesterday so we needed a strong performance today and both drivers and the engineers on the pit wall delivered what was required. Five points is a useful benefit to our battle in the Constructors' Championship, as we know it will be very tight in the next six rounds. On a broader note, we saw Red Bull and Max Verstappen on the front row and finishing second for the second time this season, which is a good reward for the C-spec engine, demonstrating our progress on that front. But, on the power unit, like on every other area of the car, we can measure this weekend once again the work we have ahead of us."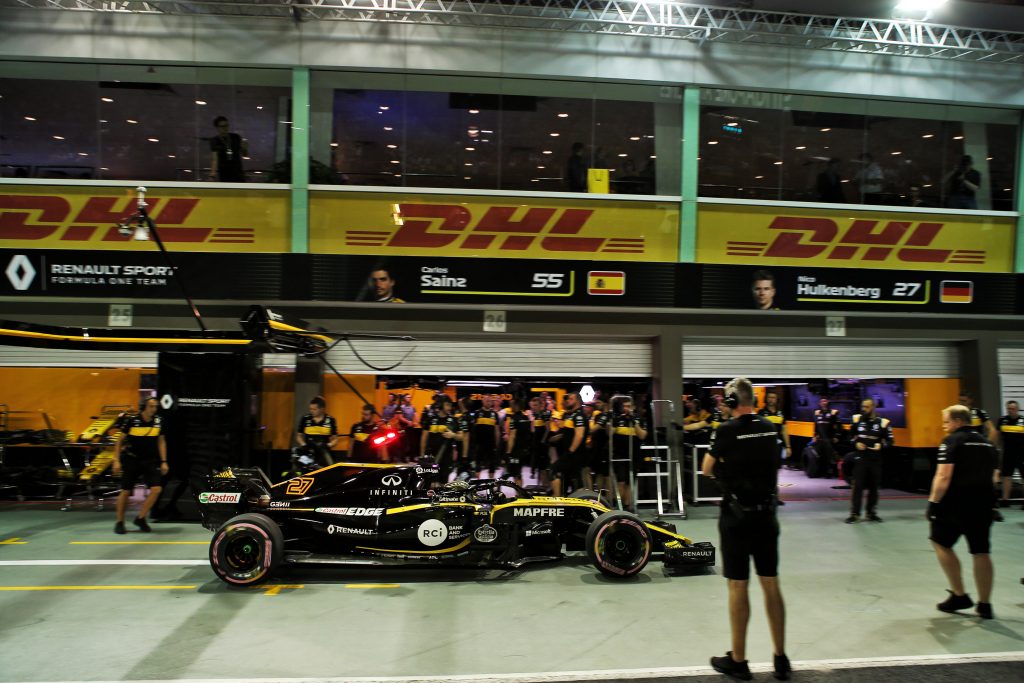 Federic Vasseur (Sauber – Team Principal):
"We are satisfied with our result today. After a tricky start to the weekend, we recovered well and qualified in decent positions. Our strategy was good and both drivers gave a strong and consistent performance in a very demanding race. Charles finished in P9 adding two more points to our tally, and Marcus was also close to finishing in the top ten. We have to stay focussed and continue improving this way, and I look forward to the next Grand Prix in Russia."
Stoffel Vandoorne (McLaren – 12th):
"I think it was a decent race today considering not a lot of action happened during the race and there were no Safety Cars after the start. There was just that one incident on the first lap, but we couldn't really benefit from that. We were quick and actually had good pace when it mattered in that first stint, especially when the pit window opened. We decided to go long on the first stint, and that's how we recovered a few places. The tyres didn't feel so great by the time we pitted, but we more or less had the pace to maintain that same rhythm. The others were getting blue flags so they were losing a lot of time, and that's what mattered. It's always been known that we're better on a Sunday than a Saturday, but on street circuits like Singapore it's all about qualifying. It's a shame not to score any points."
Pierre Gasly (Toro Rosso – 13th):
"It was a bit of a strange race today. I had a good start, recovered three positions and was P12 after the first lap. We gambled with the tyres and started with the Hypersoft, but in the end it was much more difficult than we thought and I really struggled to make them last at the end of the stint. After the first pit stop, I was in the mess with Sirotkin and Grosjean, and with all of the blue flags I lost quite a bit of time. I tried to do the maximum inside of the car, but I didn't have the pace to fight for points all weekend."
See you next year Singapore. 👋
Amazing city & track! 13th yesterday, pretty difficult first stint on hypers, trying to survive, and not such a great pace all weekend for us. We gotta work for the coming races, next Sochi. 🇷🇺 pic.twitter.com/7oU6wtHEQG

— Pierre Gasly 🇫🇷 (@PierreGASLY) September 17, 2018
Lance Stroll (Williams – 14th):
"I will have to watch the race, as I don't really know what happened around me, but I think there was quite a bit of chaos, so probably I benefited from that. I am really happy with the end result as 14th was a great result for the pace we had yesterday, and throughout the weekend. It wasn't easy – I would say more mentally than physically. I felt pretty good in the car as physically I had prepared. Mentally I am on the edge with no room for error. It wasn't easy as every millimetre counts round here and one millimetre too much is contact with the wall. I was trying to get everything out of the car on every lap, as for sure 61 laps round a track like this are very challenging. I pulled it off, so I am happy."
Romain Grosjean (Haas – 15th)*
"I think it was a frustrating race for everyone who qualified between seventh and 10th on the hypersofts. It was such a poor tire in the race. We did 10 laps and they completely went, while the ultrasofts did, I don't know how many laps, 40? So, it's almost better not to qualify in the top-10. Maybe we need to think about that a little bit because I felt like I pushed really hard in qualifying and in the race every single lap. I did the best I could but, in the end, I had no chance of being in the top-10. I'm sorry if I blocked anyone, it was not my intention. I believe I did my best. I was fighting with Sergey (Sirotkin), who was doing a little bit of go-kart racing out there. I couldn't really slow down. Pierre (Gasly) was on my gearbox and Sergey was on my front wing. I passed him, then as soon as I passed him, I let Lewis (Hamilton) by."
*Grosjean crossed the line 13th but dropped back two places due to a penalty.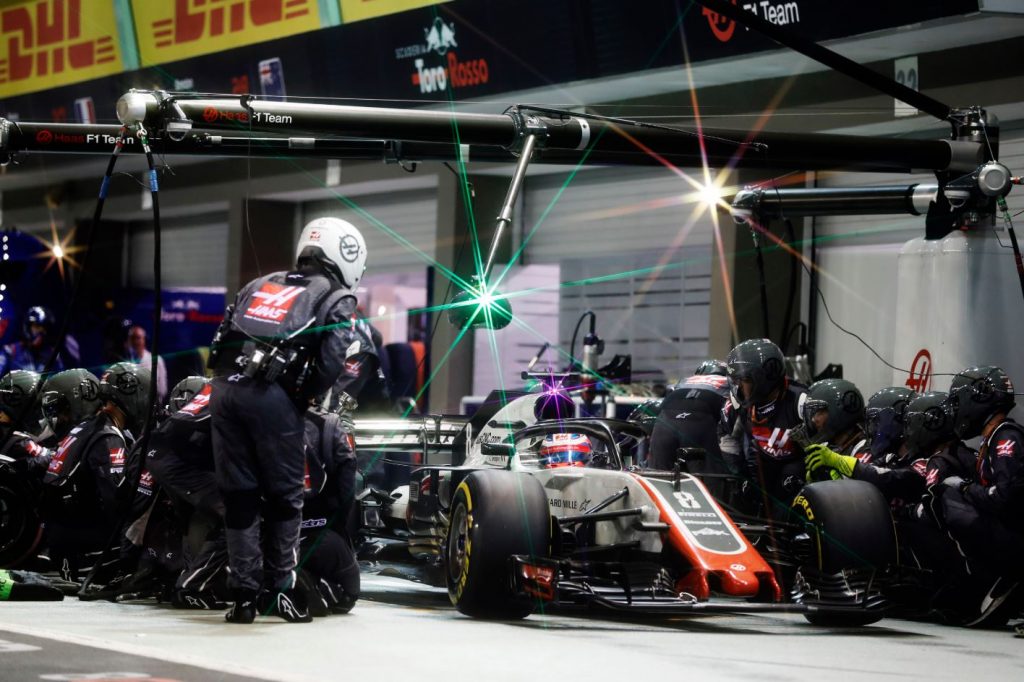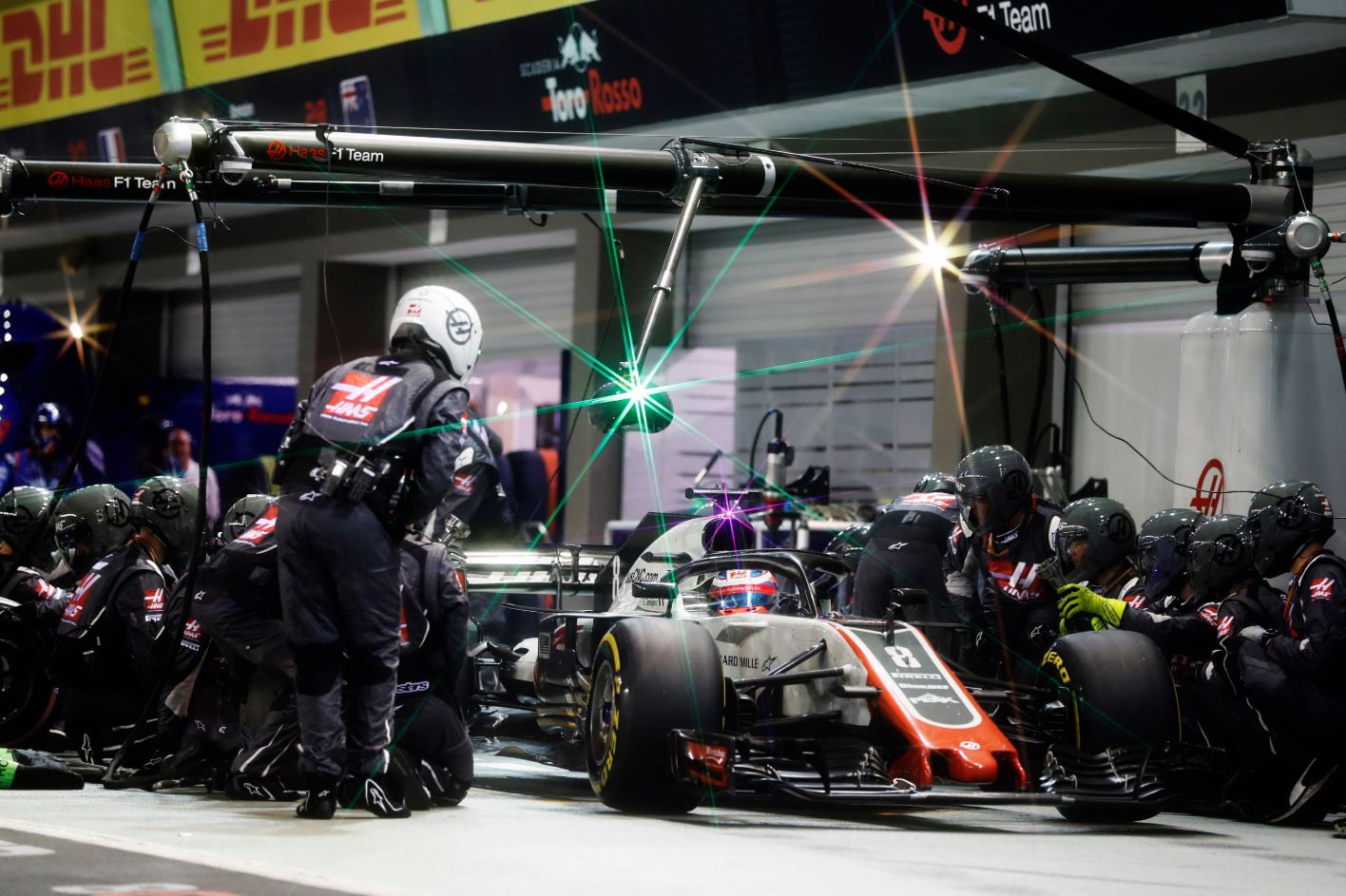 Franz Tost (Toro Rosso – Team Principal):
"We were quite optimistic arriving in Singapore that we could score some points because we have been quite competitive here in previous years. However, we didn't show the pace required to finish inside the top 10, so we need to analyse why we didn't perform as expected, and what we have to change to increase our performance for the next races. Pierre made a very good start, he was able to gain a couple of positions and he defended well until his pit stop, while Brendon gained a position and avoided the incident at Turn 3. At the beginning we thought we could bring Pierre close to the top 10, but as the race went on the pace was not there which meant we were unable to achieve a points position."
Sergio Perez (Force India – 16th):
"I feel very sad about the lost opportunity today. On lap one I was coming out of turn three, picking up the power and all of a sudden I felt a hit. I didn't know who it was and then the team told me it was Esteban. I feel so bad for the team because we really need to be scoring points at every race and it should have been a great day for us. After that the race became quite tricky and I soon realised it was going to be difficult to score points. I think we underestimated how difficult it would be to overtake the Williams and Sirotkin was defending very hard and moving around under braking. When I finally got alongside him, I tried to close the door a bit too early and we made contact. It's a weekend to forget and I am really sorry for what happened and the points we have lost today."
Brendon Hartley (Toro Rosso – 17th):
"We rolled the dice today and decided to pit early, I was quicker than the guys in front being on the Hypersoft. We changed to the Ultrasoft and a lot of people covered us which put us back in traffic, so it didn't really work out. We decided to do another pit stop and I got stuck behind the Williams and lost a place to Magnussen, there was a couple of good scraps out there but we didn't have the pace for points today. It's disappointing as we had high hopes for Singapore. It was a tough race, we got to the end but there's no celebrations today. We chose to start on the Hypersoft because we knew we potentially had better tyre life than others around us, and we hoped we could make ground on the first lap. It was a bit tricky because Ocon went into the wall, but we were very competitive in the first stint on the Hypersoft. We tried to do something different to move up the field, but it didn't work out."
Kevin Magnussen (Haas – 18th):
"It was a long day at the office. Obviously, it was a tough day for the team. I guess a slight highlight was getting the track record. It's not really worth anything but perhaps a smile. Let's move on, reset, and get ready to attack again in Russia."
Sergey Sirotkin (Williams – 19th):
"It was a fight. I fought all my way through, I was fighting and squeezing every single moment. We were in a good position at the beginning of the race, and up to the point of contact with the Force India car. This caused a lot of damage to my car and after that it was more about survival. It's a difficult track to overtake, so I still fought as hard as I could to protect the car and keep my position, but lap after lap, it was becoming more difficult and the car was falling apart. I gave everything in terms of myself and with the car to bring the best performance home."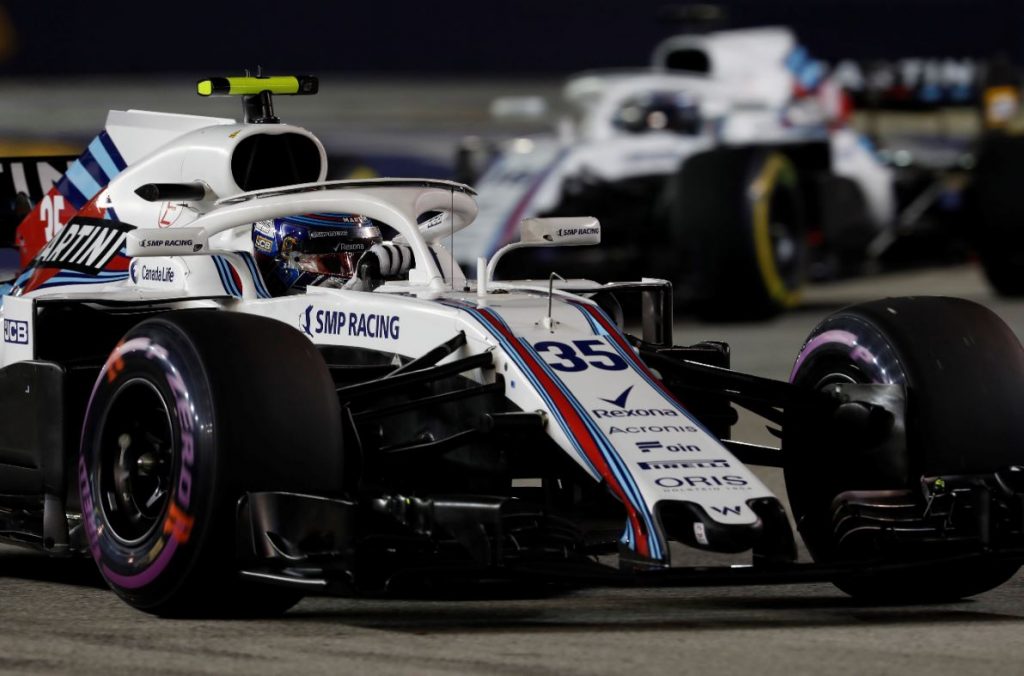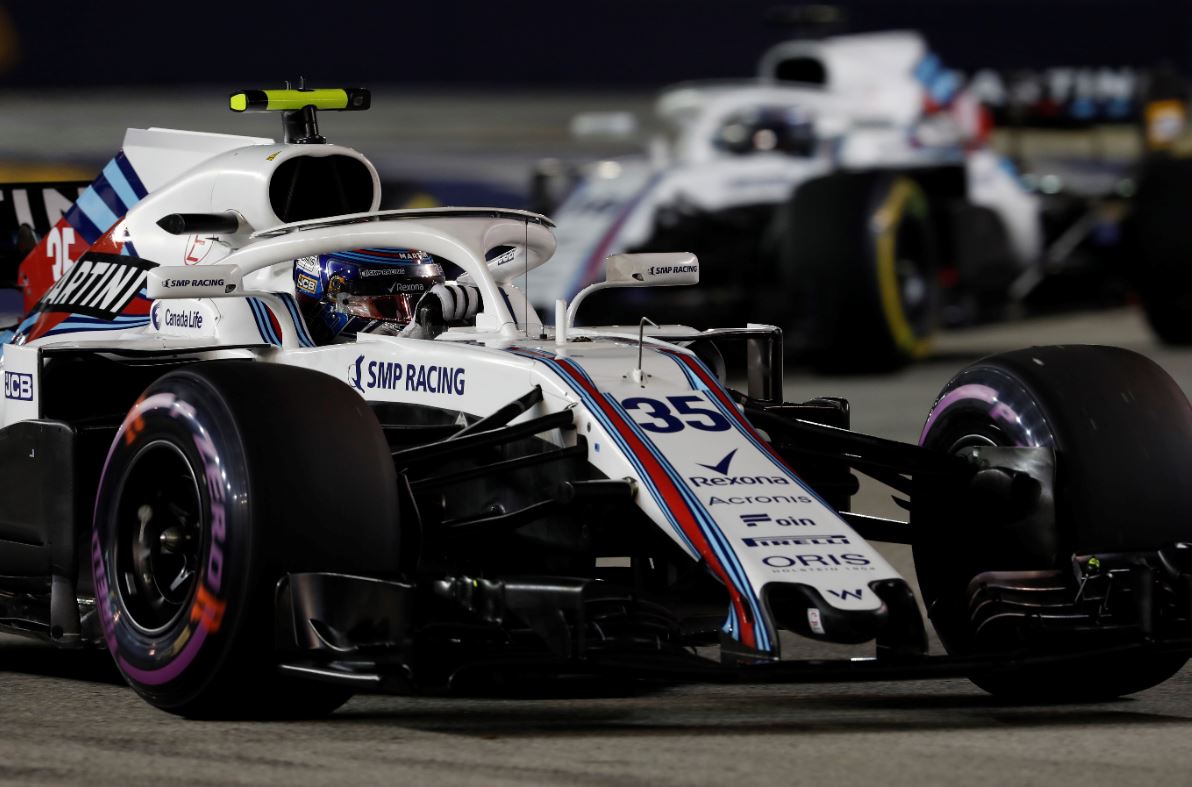 Guenther Steiner (Haas – Team Principal):
"Not the weekend we wanted. We fought hard. If you have to start on these tires, and the other ones are so much superior, if you qualify outside of the top-10, you have such an advantage, which you cannot make up in the race. Then we got stuck behind the Williams, which didn't move out of the way, one thing went to another, and that's where we ended up. Nevertheless, I think we tried to do our best. We are not as bad as it looks like."