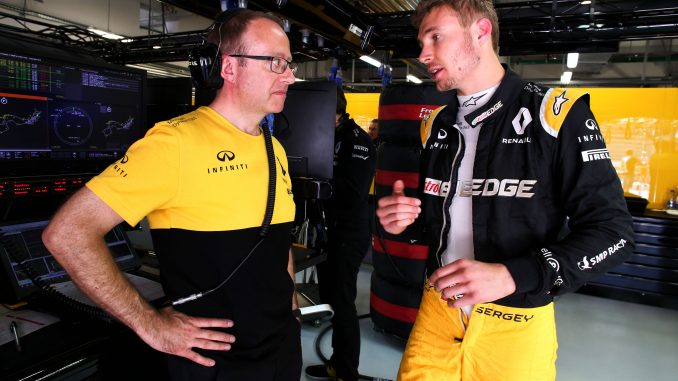 Sergey Sirotkin is reportedly the favourite to secure the final remaining seat on next year's F1 grid with Williams.
The former GP2 and F2 driver tested with Williams at Abu Dhabi last month, putting in strong lap time in comparison to Robert Kubica and Lance Stroll, with Autosport now claiming this makes the Russian the preferred driver.
Sirotkin comes with around £15m worth of financial backing from SMP Racing – the team set up by the founder of SMP Bank. Williams already relies on the funding brought in by Stroll, so another driver that can boost the budget could be attractive to the team.
Kubica was considered the front-runner after the Abu Dhabi test, but the lack of announcement points to Sirotkin's bid being taken very seriously. Sirotkin reportedly visited Williams' factory last week, possibly for work in the team's simulator. The more time passes, the more likely it is Williams have been carrying out further assessments of Sirotkin's potential, having only brought him in late on for the Abu Dhabi test after he was released by Renault. Kubica had already done a couple of tests for Williams before the Pirelli test, meaning the team will already have plenty of data on him.
Something Sirotkin would offer Williams that's been missing this year is consistency. In two seasons in GP2, the Russian won just three of his 44 races, but finished third in the championship twice. Lance Stroll's form in his rookie season was up and down, so having someone solid and reliable in the other car would help Williams in the midfield battle.
Another sign that Williams are increasingly likely to opt for Sirotkin is their interest in Oliver Rowland, although the British F2 driver seems a little confused about the situation himself. Rowland's team put out a statement saying he was in talks over a race seat last week, something which was quickly denied by Williams. It appears Rowland is in fact being considered for a reserve or development role. If Kubica gets the drive, Sirotkin would be an obvious choice for this kind of role, having already been a test driver with Renault.
It's also being claimed that if Williams don't get a deal done with Sirotkin, then former Toro Rosso and Red Bull driver Daniil Kvyat is their second choice, despite having never driver a Williams machine. This seems an odd choice, as Kvyat could have driven in the tyre test if Williams wanted to see what he could do in their car, but he has raced in F1 more recently than Kubica and Paul di Resta, who had also been linked to the seat.
Taking on a rookie might seem a strange move with experienced drivers like Kubica and Di Resta available, but with lingering concerns over Kubica's arm injuries, and Di Resta's time away from the grid, Sirotkin genuinely could be the strongest option. Renault, Nico Hulkenberg and Kubica have all spoken highly of Sirotkin in recent weeks, insisting he deserves a chance in F1. It looks like he may have done enough to earn it.