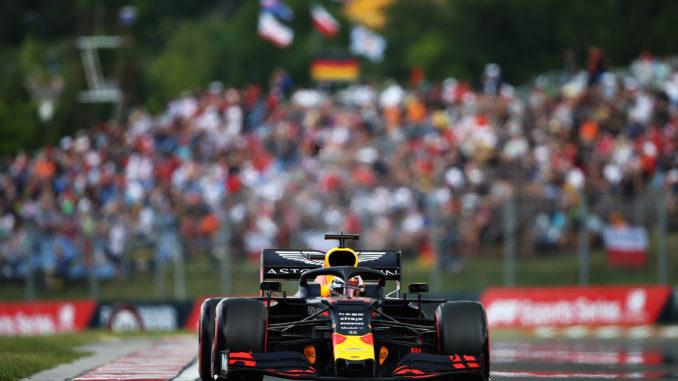 Max Verstappen will start a race from pole position for the first time in his Formula 1 career after setting a new lap record at the Hungaroring.
He'll start alongside Valtteri Bottas on the front row at the Hungarian Grand Prix after posting a time of 1:14.572, just 0.018s faster than the Finn.
The result makes Verstappen the 100th different driver to take pole position in F1.
There were issues for Ferrari in Q1 when Charles Leclerc spun and clattered the barrier, damaging his rear wing, but the Monegasque had already gone quick enough to secure a spot in the second part of qualifying.
George Russell challenged for a place in Q2, finding himself on a hot lap as the track started to evolve, but the Briton narrowly missed out on progressing from the bottom five for the first time in his career, although his best time was 1.3s quicker than teammate Robert Kubica's fastest lap.
Daniel Ricciardo's chances of getting through were hampered when he caught a train of slow-moving cars vying for track position. He attempted to overtake in order to make sure he crossed the line before the chequered flag, but Sergio Perez accelerated out of the last corner, holding track position and preventing the Renault driver from getting a clean lap in.
Ferrari managed to get Leclerc back onto the track for the remainder of the session, but the Ferrari cars never looked like challenging Verstappen and the Mercedes drivers.
Both McLarens qualified in the top 10 while Romain Grosjean appears to favour the changes Haas have made to their car, making it through to the top 10 while teammate Kevin Magnussen struggled.
Provisional qualifying result:
1 Max Verstappen (Red Bull)
2. Valtteri Bottas (Mercedes)
3. Lewis Hamilton (Mercedes)
4. Charles Leclerc (Ferrari)
5. Sebastian Vettel (Ferrari)
6. Pierre Gasly (Red Bull)
7. Lando Norris (McLaren)
8. Carlos Sainz (McLaren)
9. Romain Grosjean (Haas)
10. Kimi Raikkonen (Alfa Romeo)
11. Nico Hulkenberg (Renault)
12. Alexander Albon (Toro Rosso)
13. Daniil Kvyat (Toro Rosso)
14. Antonio Giovinazzi (Alfa Romeo)
15. Kevin Magnussen (Haas)
16. George Russell (Williams)
17. Sergio Perez (Racing Point)
18 Daniel Ricciardo (Renault)
19. Lance Stroll (Racing Point)
20. Robert Kubica (Williams)