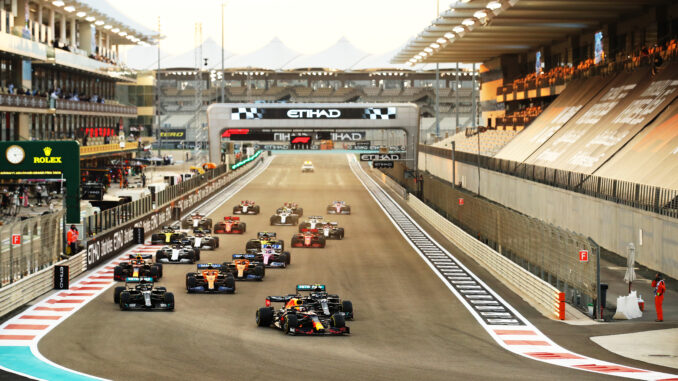 Max Verstappen rounded off the 2020 Formula 1 season with victory at the Abu Dhabi Grand Prix, never looking like losing the lead after starting from pole position at Yas Marina.
Valtteri Bottas was unable to challenge the Red Bull driver off the line, but was comfortably faster than teammate Lewis Hamilton to ensure he took second place, leaving the Briton in third.
There was little change at the front of the field early on, but Alexander Albon managed to fight his way past Lando Norris to move into fourth, looking to close the gap to the Mercedes drivers ahead.
Last week's winner, Sergio Perez, started on the back row after receiving an engine penalty, but the Mexican made early progress, clearing the Haas, Williams and Alfa Romeo drivers in the opening 10 laps to leave him just behind the Ferraris.
The Racing Point drivers' early progress came to a swift halt though, as his car lost power, forcing him to pull to the side of the track. Initially, that resulted in a virtual safety car period, with the majority of the front runners coming into the pits for fresh tyres. The marshals weren't able to shift the stricken Racing Point though, so a full safety car was needed, bunching up the field.
Having started on the hard tyres, Daniel Ricciardo was the highest placed driver not to stop, moving him up to fifth, while the Ferrari duo also stayed up, elevating them to seventh and eighth respectively.
Ricciardo made it to the 40th lap before coming in to get rid of the hard compound tyres he started the race on, leaving him just behind the McLarens on fresher tyres with 15 laps remaining.
Albon started to close the gap to Hamilton in the final few laps as the Thai driver was consistently among the fastest drivers on the track, while the champion struggled with well-worn tyres and traffic, but he couldn't get close enough to the Mercedes to challenge for the final spot on the podium.
Ricciardo never looked like challenging the McLarens after his stop, but the Australian did get a clear run on the final lap to set the fastest lap of the race.
Provisional classification:
1 Max Verstappen (Red Bull)
2. Valtteri Bottas (Mercedes)
3. Lewis Hamilton (Mercedes)
4. Alexander Albon (Red Bull)
5. Lando Norris (McLaren)
6. Carlos Sainz (McLaren)
7. Daniel Ricciardo (Renault)
8. Pierre Gasly (AlphaTauri)
9. Esteban Ocon (Renault)
10. Lance Stroll (Racing Point)
11. Daniil Kvyat (AlphaTauri)
12. Kimi Raikkonen (Alfa Romeo)
13. Charles Leclerc (Ferrari)
14. Sebastian Vettel (Ferrari)
15. George Russell (Williams)
16. Antonio Giovinazzi (Alfa Romeo)
17. Nicholas Latifi (Williams)
18. Kevin Magnussen (Haas)
19. Pietro Fittipaldi (Haas)
DNF:
Sergio Perez (Racing Point)