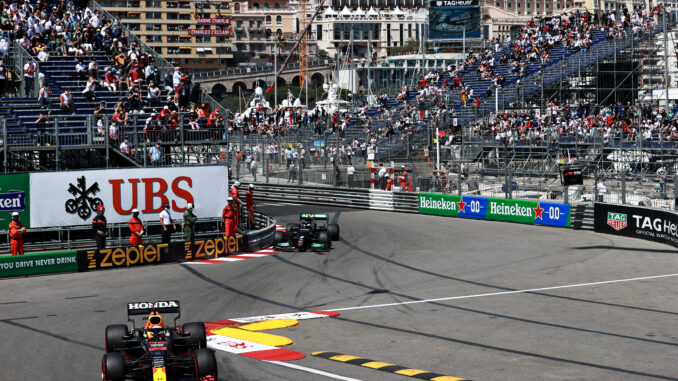 Max Verstappen leads the Formula 1 drivers' championship for the first time in his career after victory at the Monaco Grand Prix this afternoon.
The Dutch driver was untroubled at the front of the field, with Carlos Sainz finishing second, and McLaren's Lando Norris completing the podium.
There was drama before the race got underway as Ferrari announced Charles Leclerc wouldn't need to change his gearbox after his crash at the end of qualifying, ensuring he'd be able to start the race from pole position.
But, when the Monegasque racer attempted to drive to the grid, he reported a problem with the gearbox over the radio. The team brought him back into the garage, but there wasn't enough time to fix the problem, meaning Leclerc was out of the race before it started.
The opening lap saw Fernando Alonso pick up three places after a difficult qualifying, while Mick Schumacher forced his Haas down the inside of teammate Nikita Mazepin at the hairpin to gain a spot, but there was little other action early on.
Bottas started to struggle with his tyres, while Sainz closed the gap to the Finn, complaining he had better pace, but the Ferrari man couldn't get close enough to find a way past.
Lewis Hamilton was the first to stop, with his teammate coming in one lap later. It was a disastrous stop for Bottas though as the Mercedes mechanic couldn't get his front right tyre off. The wheel nut was cross threaded, making it impossible for the crew to remove the tyre, ending Bottas's race.
Sebastian Vettel and Pierre Gasly stopped later than Hamilton, allowing both to overcut the current world champion, while Sergio Perez went longer than all three, ensuring he rejoined the track ahead of the trio.
Verstappen was the last of the front-runners to come in for new tyres, and had a comfortable lead over Sainz to ensure his lead didn't come under threat.
Perez closed down the gap to Norris in the closing laps of the race, attempting to take the final place on the podium from the McLaren driver, but the Briton found enough pace to pull away from the Red Bull driver.
While a weekend to forget for Hamilton, the Mercedes driver did secure a bonus point for setting the fastest lap of the race, while Vettel and Antonio Giovinazzi secure their first points of the season.
Provisional classification:
1 Max Verstappen (Red Bull)
2. Carlos Sainz (Ferrari)
3. Lando Norris (McLaren)
4. Sergio Perez (Red Bull)
5. Sebastian Vettel (Aston Martin)
6. Pierre Gasly (AlphaTauri)
7. Lewis Hamilton (Mercedes)
8. Lance Stroll (Aston Martin)
9. Esteban Ocon (Alpine)
10. Antonio Giovinazzi (Alfa Romeo)
11. Kimi Raikkonen (Alfa Romeo)
12. Daniel Ricciardo (McLaren)
13. Fernando Alonso (Alpine)
14. George Russell (Williams)
15. Nicholas Latifi (Williams)
16. Yuki Tsunoda (AlphaTauri)
17. Nikita Mazepin (Haas)
18. Mick Schumacher (Haas)
DNF:
Valtteri Bottas (Mercedes)
DNS:
Charles Leclerc (Ferrari)