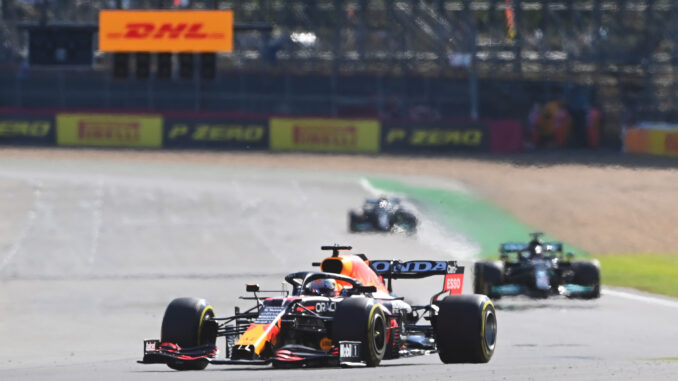 Max Verstappen will start the British Grand Prix from pole position after winning the first sprint at the British Grand Prix.
Verstappen made the better start at the front of the grid to take the lead going into the first corner, despite his brakes being on fire on the grid.
Fernando Alonso started brightly, picking up six places on the opening lap, but there were early issues for Carlos Sainz, as he banged wheels with George Russell, sending the Spaniard tumbling down the order.
Sergio Perez made a mistake while following Alonso and Lando Norris, spinning his Red Bull at high speed, but the Mexican just did enough to keep the car out of the wall, rejoining the track in 19th place.
Having started on softs, Alonso started to come under pressure from the McLarens, with Norris passing just after Perez's spin, before Daniel Ricciardo followed a couple of laps later.
The damage Perez sustained meant he had to retire the car, finishing the sprint in the pits, but Sainz recovered well from his earlier
Sprint classification:
1 Max Verstappen (Red Bull):
2. Lewis Hamilton (Mercedes)
3. Valtteri Bottas (Mercedes)
4. Charles Leclerc (Ferrari)
5. Lando Norris (McLaren)
6. Daniel Ricciardo (McLaren)
7. Fernando Alonso (Alpine)
8. Sebastian Vettel (Aston Martin)
9. George Russell (Williams)
10. Esteban Ocon (Alpine)
11. Carlos Sainz (Ferrari)
12. Pierre Gasly (AlphaTauri)
13. Kimi Raikkonen (Alfa Romeo)
14. Lance Stroll (Aston Martin)
15. Antonio Gioinvazzi (Alfa Romeo)
16. Yuki Tsunoda (AlphaTauri)
17. Nicholas Latifi (Williams)
18. Mick Schumacher (Haas)
19. Nikita Mazepin (Haas)
DNF:
Sergio Perez (Red Bull)