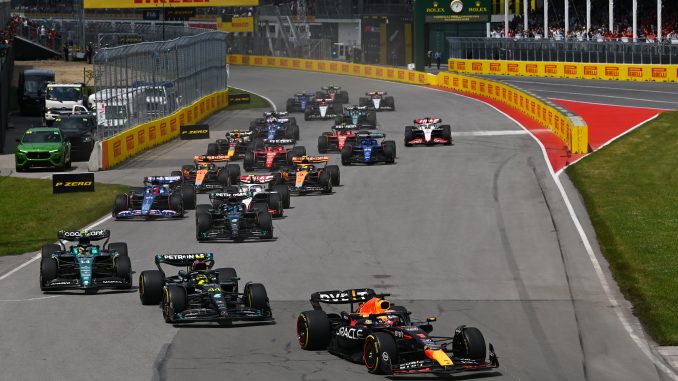 Max Verstappen has extended his lead in the drivers' championship following a comfortable victory at the Canadian Grand Prix.
The Red Bull driver never came under pressure at the front of the field as he crossed the line ahead of Fernando Alonso, with Lewis Hamilton completing the podium at Circuit Gilles Villeneuve.
Alonso's hopes of challenging for the lead were dealt a blow at the start as Hamilton got the better start, moving up to second.
Sergio Perez tried to make up for a disappointing qualifying as he powered ahead of Carlos Sainz, but as the Spaniard fought back, the paid nearly collected Kevin Magnussen, who had to take to the escape road to avoid a collision.
Logan Sargeant's day came to an early finish, as the Williams rookie was instructed to pull to the side of the track due to an issue with his car, resulting in a brief virtual safety car.
The safety car was needed a couple of laps later when George Russell took too much kerb and slid into the wall, leaving debris across the track, although the Briton was able to get his car back to the pits and stay in the race, albeit having to retire due to the damage later on.
The majority of the front runners came into the pits under the safety car, but the Ferraris and Perez stayed out.
Magnussen was involved in another tangle when Nyck DeVries tried to overtaken the Haas, but they came together and both had to use the runoff, with DeVries further held up as Magnussen struggled to get his car into reverse.
The Ferraris eventually stopped just less than 40 laps into the race, with the front runners starting to come in for their second set of new tyres a couple of laps later.
Lando Norris was given a five-second time penalty for driving too slowly through turn 10, so pushed hard in the final stages to build a gap behind him in a bid to finish in the points, but was unable to gain enough time.
Alex Albon found himself running seventh with 10 laps to go, but had four cars on newer tyres behind him, including Norris.
The Williams driver fought hard to keep the quartet behind, despite Norris and Esteban Ocon both getting close to the back of his car in the closing moments of the race.
Provisional classification:
1 Max Verstappen (Red Bull)
2. Fernando Alonso (Aston Martin)
3. Lewis Hamilton (Mercedes)
4. Charles Leclerc (Ferrari)
5. Carlos Sainz (Ferrari)
6. Sergio Perez (Red Bull)
7. Alex Albon (Williams)
8. Esteban Ocon (Alpine)
9. Lance Stroll (Aston Martin)
10. Valtteri Bottas (Alfa Romeo)
11. Oscar Piastri (McLaren)
12. Pierre Gasly (AlphaTauri)
13. Lando Norris (McLaren)
14. Yuki Tsunoda (AlphaTauri)
15. Nico Hulkenberg (Haas)
16. Guanyu Zhou (Alfa Romeo)
17. Kevin Magnussen (Haas)
18. Nyck DeVries (AlphaTauri)
DNF:
George Russell (Mercedes)
Logan Sargeant (Williams)