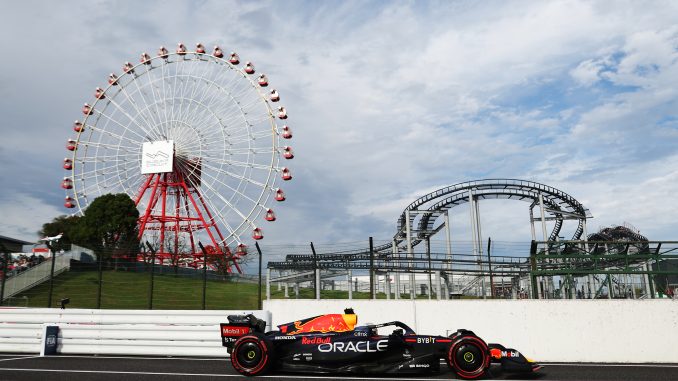 Max Verstappen will be on pole position for tomorrow's Japanese Grand Prix as he attempts to secure his second Formula 1 world championship.
The Red Bull driver set his best lap of the session at the start of Q3, with Ferrari unable to respond. Charles Leclerc starts from second, while Carlos Sainz is on the second row alongside Sergio Perez.
Verstappen tried to go faster with his second attempt in the final part of qualifying, but ran wide over, costing him time, while a piece of his car also broke off.
There was a near miss between Verstappen and Lando Norris when the McLaren driver was getting ready to start a flying lap, but came across a slower Verstappen warming his tyre. Norris had to get on the grass to avoid a collision with the reigning champion, while the stewards will investigate the incident.
Yuki Tsunoda and Mick Schumacher also clashed as the pair tussled to get out the pitlane before Tsunoda almost hit the back of the Haas while the German was weaving on the straight.
On his final appearance at Suzuka, Sebastian Vettel had one of his best qualifying sessions of the season, ensuring he'll start from ninth place.
Provisional qualifying result:
1 Max Verstappen (Red Bull)
2. Charles Leclerc (Ferrari)
3. Carlos Sainz (Ferrari)
4. Sergio Perez (Red Bull)
5. Esteban Ocon (Alpine)
6. Lewis Hamilton (Mercedes)
7. Fernando Alonso (Alpine)
8. George Russell (Mercedes)
9. Sebastian Vettel (Aston Martin)
10. Lando Norris (McLaren)
11. Daniel Ricciardo (McLaren)
12. Valtteri Bottas (Alfa Romeo)
13. Yuki Tsunoda (AlphaTauri)
14. Guanyu Zhou (Alfa Romeo)
15. Mick Schumacher (Haas)
16. Alex Albon (Williams)
17. Pierre Gasly (AlphaTauri)
18. Kevin Magnussen (Haas)
19. Lance Stroll (Aston Martin)
20. Nicholas Latifi (Williams)*
*Latifi has a five-place grid penalty for causing a collision in the last race.