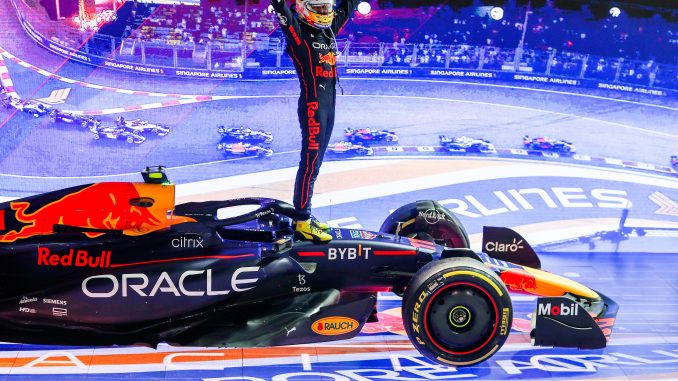 Podcast: Play in new window | Download
Subscribe: Apple Podcasts | RSS
After 3 years F1 returned to the original home of the night race around the streets of Marina Bay in Singapore. And to welcome it back the weather decided to dump an entire marina's worth of water on the circuit on Saturday & Sunday.
This week on the (returning, thanks to Paul's diabetes struggles) podcast we look back at the first officially wet race to take place under the lights. One of those races where RedBull were completely ones and zeros from forgetting to put enough fuel in Max's car in Q3 to Checo taking a well deserved lights to flag victory.
There's a boatload (see what we did there) of our usual tangents and of course any podcast at this time of the year wouldn't be complete without a healthy dose of silly season musings and speculation.
Sorry again for the unscheduled break over the last few weeks, but we're all fighting fit and raring to go again for the climax of what's proved to be an interesting season so far.
Also don't forget to check out our Discord server where you can sign up for our iRacing league as well as joining in with all the chat on there (and put your suggestion in for podcast titles too) and you can keep in touch on Facebook & Twitter as always.
Enjoy
As always, you can listen here or on Stitcher iTunes Amazon and most other podcast apps too along with Spotify, Acast and TuneIn Radio on your smart speakers.