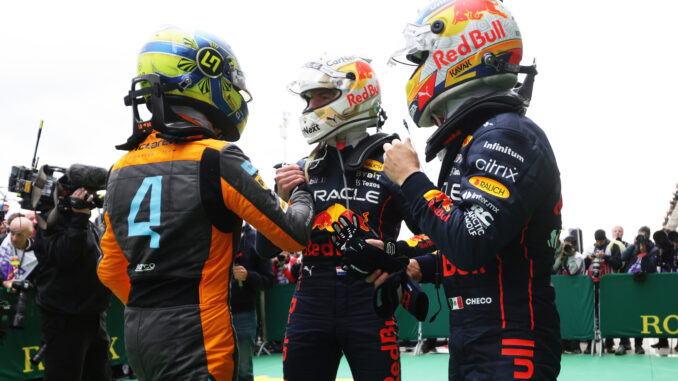 Imola may be a track for Ferrari fans, but there was little for the Tifosi to cheer as Red Bull claimed the top two steps on the podium at the Emilia Romagna Grand Prix.
Max Verstappen never looked troubled at the front of the field, while Sergio Perez was holding off Charles Leclerc when the Ferrari driver spun, gifting Lando Norris the final place on the podium.
The championship leader had to settle for sixth, while teammate Carlos Sainz crashed out on the opening lap.
Here's what all the drivers said after the race:
Max Verstappen – 1st (Red Bull):
"To have a weekend like this for both of us with a one-two for the Team is just incredible. It was a very lovely Sunday! Everything today was well executed, coming into the weekend I didn't expect it to be like this. It was more or less a perfect weekend, everything went well for us and we'll of course enjoy today. I scored the maximum amount of points this weekend and we can be really proud of that as a Team, it's a great boost. Today was all about judging the conditions, making the right calls and staying very focused and I think we did that very well. We need to keep focused and we know that at the next race we need to be up there again and keep this going."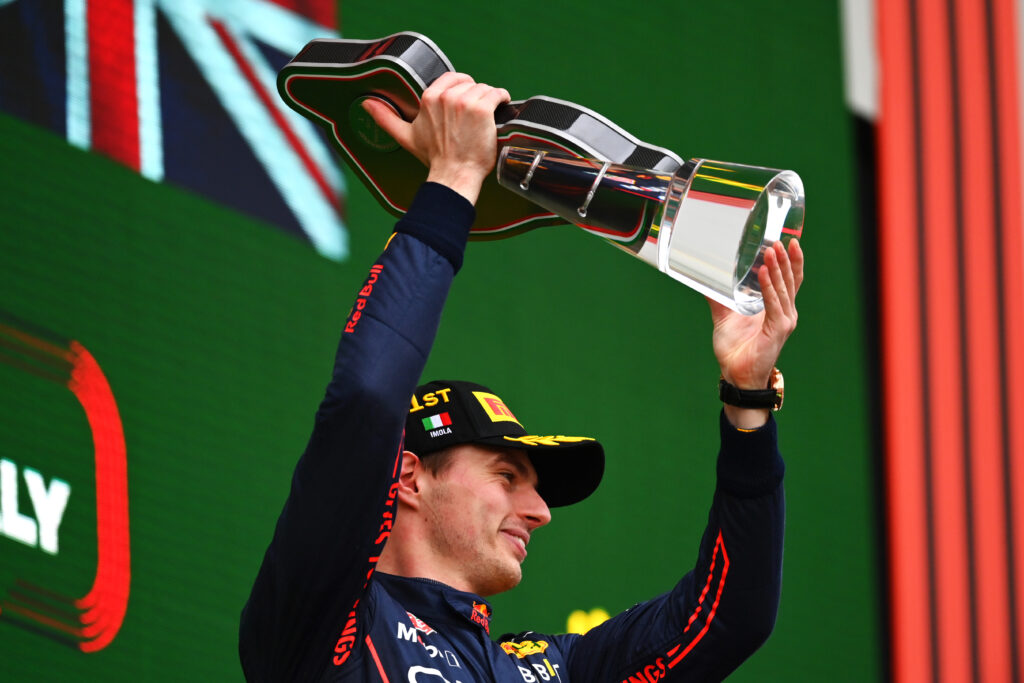 Sergio Perez – 2nd (Red Bull):
"It was a tough race but an enjoyable one. Rule number one in these conditions is to finish. It was difficult because in these conditions it is easy to make a mistake and put a foot wrong but we managed a clean race and kept out of trouble, which was pretty important. I got a great start and the restart was good too, then I think the Team did a great job with strategy out there. On the intermediates I was really thinking to save the tyres but the degradation was high and Charles was really fast towards the end of that stint so I was happy to just keep him behind. The race was pretty intense with Charles, he was always within an undercut range and when we thought we had him under control he boxed and made things a lot harder for both of us. We were both pushing with cold tyres and, in fairness to Charles, it was easy to make mistakes. We have had such a difficult start to the season with reliability concerns and DNFs, so it was really important we brought it home today – it is a great result for the Team."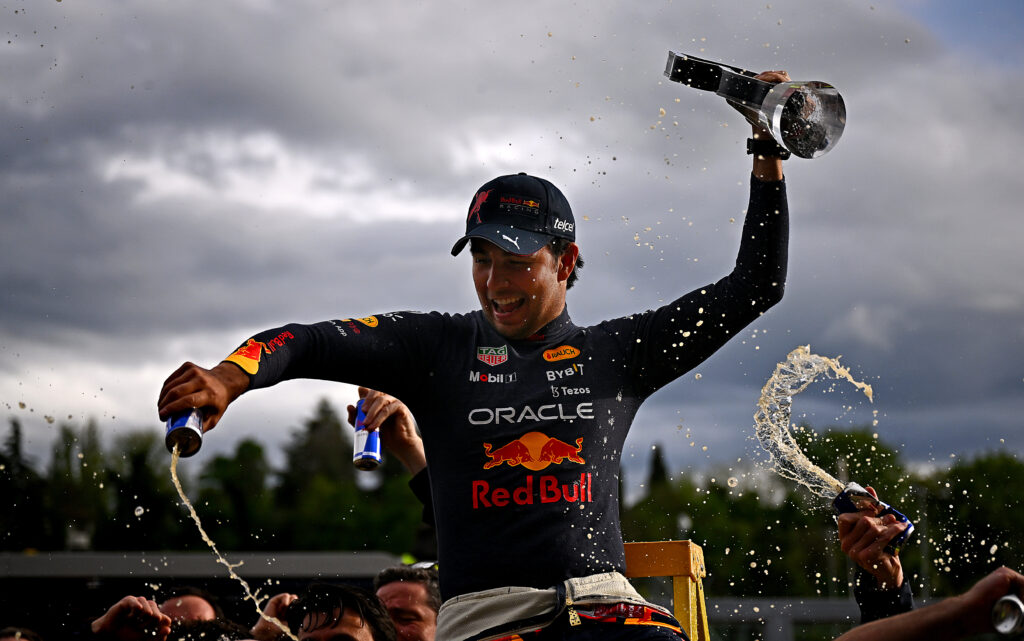 Lando Norris – 3rd (McLaren):
"P3, what a result! We certainly didn't expect that coming into this weekend, so I'm happy to be leaving with a podium. It's been a tricky weekend, but the team recovered well to put me in a good position for today's race. I had a good start and was managing my tyres to the end. At that point we were on for a P4, which would still have been a great result. We got a bit lucky with the issues ahead, but we did what we needed to do to be in a position to take that opportunity. Great work by the team at track and back at the factory, great pit-stops and a great result. On to Miami!"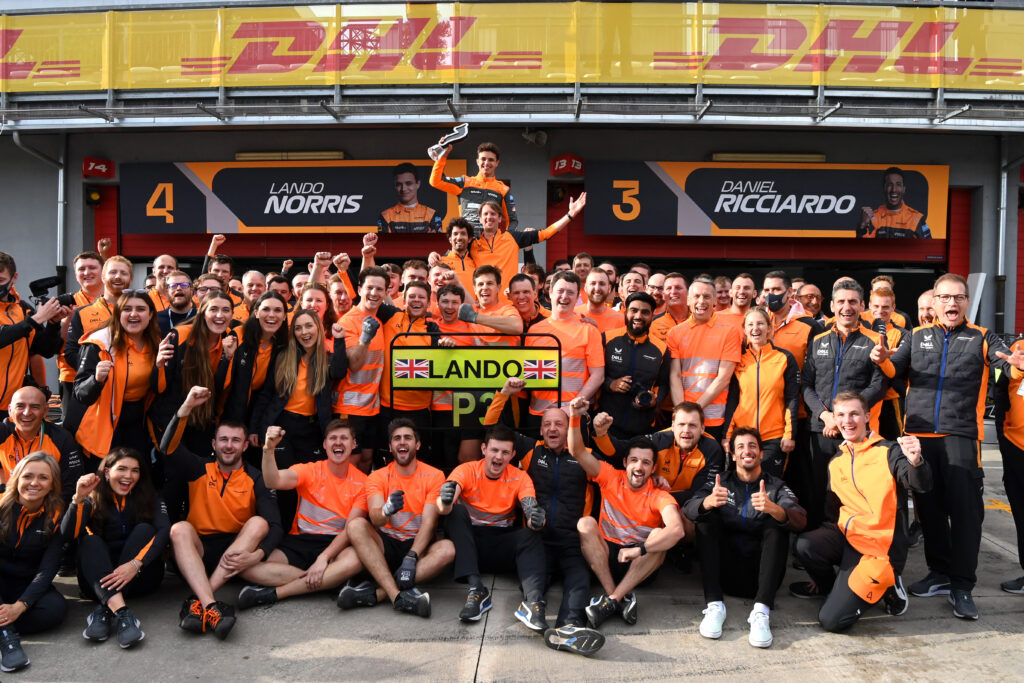 Christian Horner – Team Principal (Red Bull):
"This has to be one of our best ever results, to take the maximum points across the whole weekend, bar one, was incredible. Both Max and Checo have driven brilliantly to secure our first one-two finish since Malaysia in 2016. I'm very proud of the entire team, from everyone at the track and those back in the factory at Milton Keynes, they delivered a phenomenal performance, it's just what we needed to rebound from Australia. It's a long season and we'll take a lot of confidence from this result and try to build on it in Miami in a couple of weeks' time."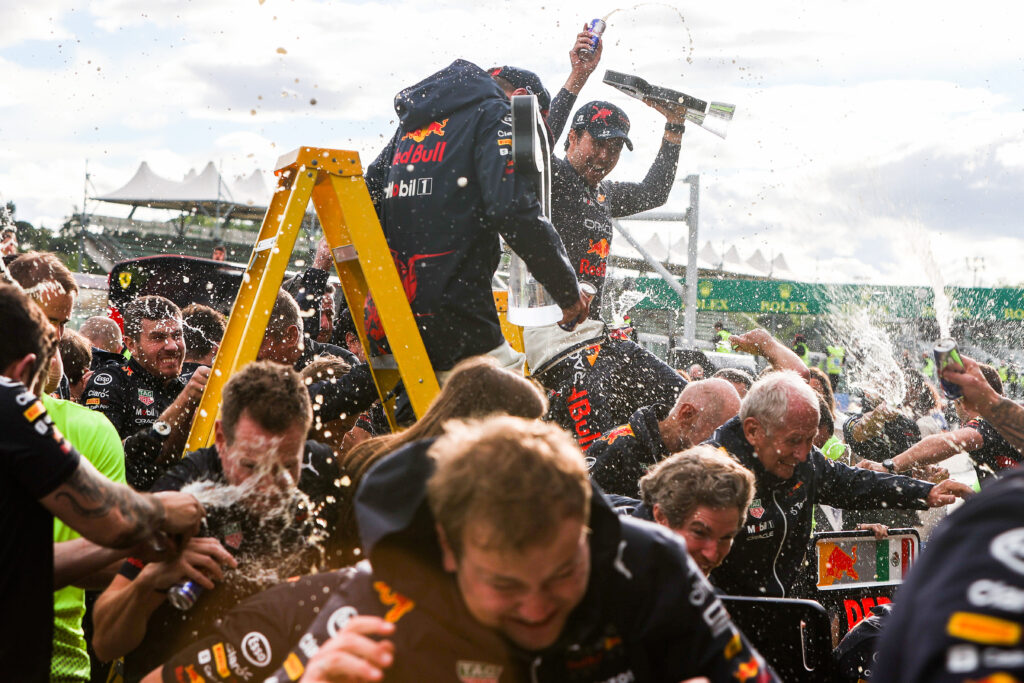 George Russell – 4th (Mercedes):
"I'm relatively pleased to maximise the points available this weekend. Whether we're getting the most out of the car is a different story and I do think things have fallen slightly in our favour with these first four races. I'm really happy with this P4, but if we want to sustain this position in the championship, we need to find more pace. We've got these overall limitations with the car with the bouncing, and we know that we are struggling with the tyre warm up and this is the coldest race weekend we've had by far this year. I think it's been a bit of a trend since Bahrain, we've progressively gotten a bit slower in qualifying, and I think that's because Bahrain is the hottest we've experienced so there was no problem with tyre warm up. Then we want to Jeddah, and it was still hot, but the track was a bit smoother. Melbourne, a bit cooler. Here, very cold. And that's when you see the McLarens, Alpines, and Haases coming into their own but then struggling a bit more in the race. We need to find a better compromise because we were fortunate today, we had a decent result, but ultimately, we were starting far too low on the grid."
P4 out of nowhere today. Pleased with the result but we won't stop pushing for more. Good little battle with KMag & VB too, enjoyed that. Thanks for all the support. 👊👊 pic.twitter.com/K9WiNLlK2s

— George Russell (@GeorgeRussell63) April 24, 2022
Valtteri Bottas – 5th (Alfa Romeo):
"It was a fun race for me today! It's always good to get points, we had a strong race in a car that felt really good. I am happy with how everything went, even though we lost a bit of time in the pit-stop, but we bring home ten points today so we'll take it. I had a bit of a scare at the beginning of the race, when I couldn't avoid Ricciardo when he tangled with Sainz, but luckily we didn't have any damage. The car had good pace, especially once we went on the mediums, and only at the very end, when I caught George [Russell] I had some graining on my rear right that cost me performance. The team is working really well, there's a good atmosphere and it's nice to see the upgrades we brought to the track worked. There's still a lot of work to do and many races ahead of us, so we can still improve and have some fun weekends."
Charles Leclerc – 6th (Ferrari):
It was a very tricky race. Third was the best result we could have secured today, as our competitors were very strong. I struggled on the Soft tyres but when I saw an opportunity to overtake Perez for second, I went for it, pushing a bit too much, when I should have stayed put to secure those points. We will analyse all the data and come back stronger.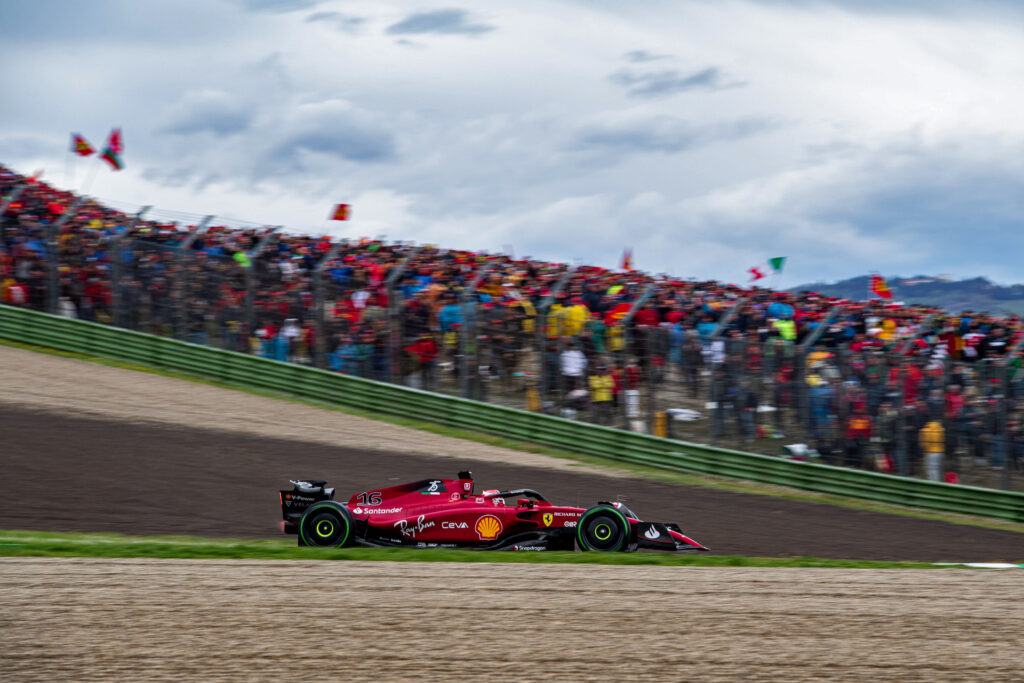 Andreas Seidl – Team Principal (McLaren):
"P3 for Lando today comes as the result of hard work and a well-managed strategy. He drove a great race today. After a good start, he worked very hard, looked after his tyres, managed the gap to the cars we were racing and put himself in the best position to take advantage of any opportunity that came his way. Unfortunately Daniel had a first lap collision with Carlos [Sainz] which damaged the car and his race was pretty much over, but he was able to provide useful information to the team to maximise our result. The performance we saw this weekend on a different track and in a variety of conditions confirms the potential of the MCL36 that we have been unlocking race by race. That said, we remain realistic about the work we have to do to close the gap to the front of the field. Also our pit-crew again delivered good pit-stops. My thanks today to the entire team, here at the track and back home at the factory, together with our colleagues at Mercedes HPP. It's been an intense first Sprint weekend of the 2022 season. We head home now to reset, analyse what we have learnt here and prepare for our first visit to Miami."
Yuki Tsunoda – 7th (AlphaTauri):
"I'm super happy with today, especially to score points at our home track. There are a lot of people from the factory watching here in the grandstands today, every lap I could see the AlphaTauri flags being waved and it gave me a great boost, so it feels like a big thank you to everyone that works so hard in the team. The pace of the car has been really good today, I didn't expect it to be quite that strong heading into the race, but we've made progress through the week and I'm pleased with the performance we showed this afternoon."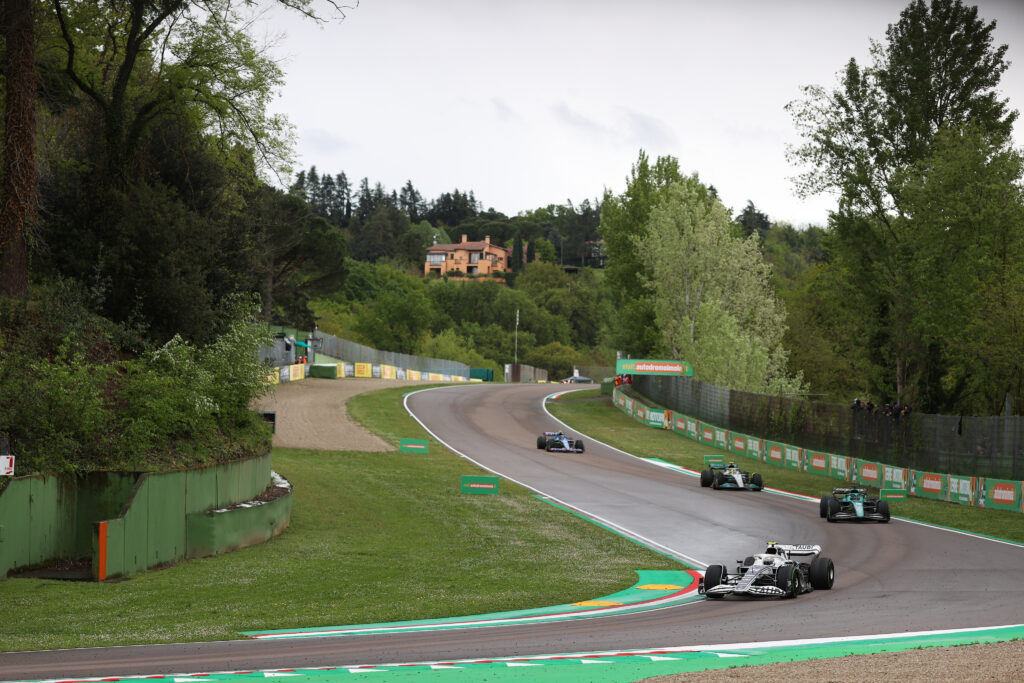 Mattia Binotto – Team Principal (Ferrari):
"Of course we are disappointed as we wanted a better result than this in front of all our fans. It was a difficult race. Our drivers did not get perfect starts, possibly being on the worse side of the track. Charles' first pit stop was not the best either, which meant he was back out on track without the gap that might have allowed him to fend off Perez and then he made a mistake trying to overtake him. Carlos was very unlucky at the start and for the second time in a row, he was unable to finish the race. It's a real shame, not just because of the points lost, but also because he's completed very few kilometres in the last few Grands Prix. Nevertheless, we will not lose heart and we will continue to work calmly. We wanted to give the fans something to cheer about, as they packed out the grandstands and the fields with a sea of red to support us here at Imola. Naturally, we are disappointed not to have managed that, but there will be other races and opportunities to put a smile on their faces. Now we look forward to Miami and a new track, which makes it an even more compelling prospect. We will continue to work hard to extract all the potential out of the F1-75 and to optimise the updates that we will be introducing in the coming races."
Sebastian Vettel – 8th (Aston Martin):
"The team did really well today and we maximised everything to finish P8. It is an important result for the team because they have worked so hard in a challenging season so far. It is clear that we benefitted from the cooler and damp conditions on Friday and Sunday, but we still needed to capitalise on the opportunities that came our way. We also achieved that through good strategy, making our pitstop for dry tyres at the right moment. We may not have had the pure pace in this race, but we managed the tyres well and we got both cars into the points. It is nice to get off the mark and get points in the bag and now we are looking forward to Miami."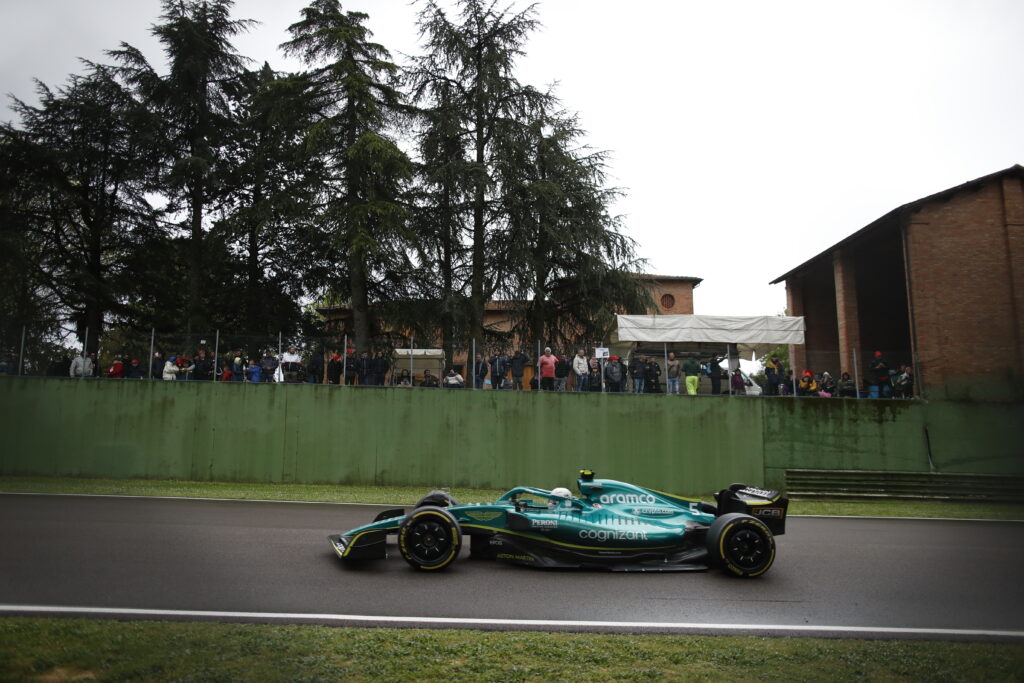 Kevin Magnussen – 9th (Haas):
"We scored points again – both yesterday and today – so that's a good weekend. When we qualified P4, hopes were very high at the beginning, but we've got to be realistic as well and getting away with points in both the sprint and the main race, that's a decent weekend. At the beginning of the race, I was on intermediates and got up to P5 and the pace was pretty good. Then the track dried up and we were a bit late to come in for slicks, so we got undercut by a couple of people. We came out and fought for points – got two today, three points over the weekend – so it was pretty decent."
We scored points in both sprint race and main race. We're still in a solid position in the midfield, and I'm really excited for the next race in Miami in two weeks. Good job by everyone at @HaasF1Team 👊 #HaasF1 #F1 pic.twitter.com/zru0zcga18

— Kevin Magnussen (@KevinMagnussen) April 24, 2022
Lance Stroll – 10th (Aston Martin):
"It has been a positive weekend for the team and it is great to see both cars in the points. It was a well-earned point for us today because there was intense pressure throughout the race, not to mention the changeable weather conditions. At the beginning of the race, we performed strongly. Everyone was battling overheating tyres and a drying track, but we kept [Lewis] Hamilton behind and pressured [Yuki] Tsunoda ahead. Once we switched to the Medium tyre, we continued to show good pace and pulled away from the train of cars behind us. I am happy that we performed better this weekend and made the most of the opportunities that came our way. Qualifying and the race were in cooler and wet conditions, which may have suited us. We will enjoy today but will continue to keep pushing for more in the coming races."
Toto Wolff – Team Principal (Mercedes):
"What is clear from the entire weekend is that we have work to do to deliver our drivers a quick enough car. We saw with George what our car can do in clear air but it's still not good enough. We missed out on adjusting George's front flap at the pit stop due to an issue which meant he had a car that was setup for wet for the majority of the race so a great drive from him to hold on the P4 at the end. For Lewis, it was a simple case of us not giving him the tool he needs. He was squeezed by the Alpine, and undercut at the pitstop, which left him in a DRS train where it was impossible to overtake with our car. We are not producing a car good enough or worthy of a World Champion like Lewis so we need to look at things for Miami, make a step forward in our understanding and bring development to the car to fix our issues."
💬 "We saw with George where the car can be in free air, but it's not good enough. Not good enough for a World Champion, not worthy of a World Champion and we just need to fix the car." pic.twitter.com/zVzLpsaOKN

— Mercedes-AMG PETRONAS F1 Team (@MercedesAMGF1) April 24, 2022
Alex Albon – 11th (Williams):
"I'm really happy with the result today. We maximised the opportunities and overtook some cars on track with the pace we had. We had a new rear wing configuration for the weekend which really helped us hold position, and was particularly important in the second half of the race when battling with Gasly. It's a shame that we missed out on points by one place, but we are taking opportunities, doing things differently and showing that we can battle higher up despite not having the fastest car. I was hoping DRS would be enabled a little earlier; we had six or seven laps where we were faster than the cars ahead and, with our downforce levels, we could have got past straight away if we'd had DRS. By the time it was enabled I was wishing it hadn't been! Overall, another weekend with plenty of positives for the team to take onwards to Miami."
Pierre Gasly – 12th (AlphaTauri):
"It was a frustrating race, we were all stuck in a DRS train and with the top speed we had we weren't able to do much. We've had really great performances in Quali up until this weekend, where sadly we didn't perform well, which meant we were on the back foot from Friday. We need to go away and work out how to get back to a stronger Qualifying performance for the next race. I'm really excited for Miami, the track looks really good and I'm looking forward to race there."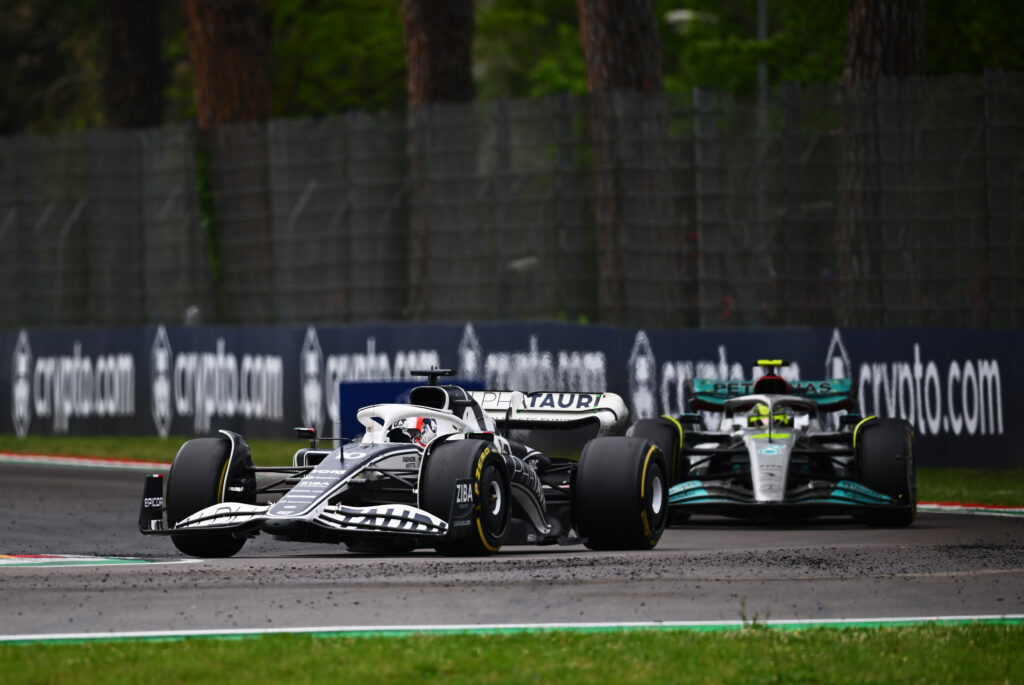 Lewis Hamilton – 13th (Mercedes):
"This was a weekend to forget, that's for sure. Behind Gasly, we both had DRS so it was impossible to overtake, and I lost a few places in the pit stop. This weekend, everything that could go wrong did go wrong. We live and we learn, and there's not much else to say. I'll keep working as hard as I can to try and pull it back together, somehow. I hope for a better weekend in Miami, it will be difficult but I'll try and get myself in a positive headspace for the next one."
Esteban Ocon – 14th (Alpine):
"It was a frustrating race for us in the end where we've not scored any points. For me, it's been a tricky one since the beginning and the Qualifying result compromised the rest of my weekend so if you think about it, where we ended up today before the penalty is not too bad. We lacked a bit of race pace and in the end we were not quick enough to get into the points even without the five second penalty. It's a really tight pit-lane but we'll be looking at exactly what happened in the debrief tonight to see if it could've been avoided. We'll learn and move on from this one, and I'm already looking forward to Miami."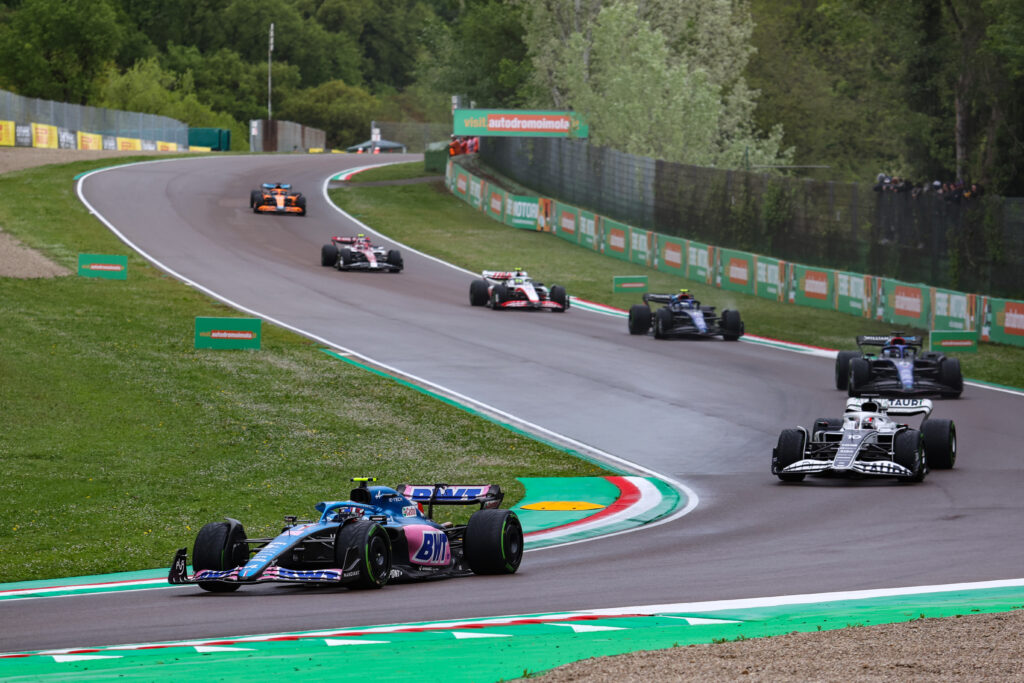 Guanyu Zhou – 15th (Alfa Romeo):
"Not the result I wanted today, but there are still a lot of positives from me to take out of this weekend: not just the performance I showed over the three days, but also how I got up to speed quickly in my first Sprint race. The weekend started better than expected and I had a good qualifying, but yesterday really compromised our final result. It was always going to be hard to make it into the top ten from the pit lane, especially as today it was quite difficult to pass, and once I got past the Williams, the gap to the cars ahead was too big. The rest of my race was quite uneventful, but I can still look at the things I learned in difficult conditions and make sure I get back stronger in the next races."
Grazie 🇮🇹 Tough weekend overall but lots learned. Congrats to @ValtteriBottas for securing that P5!🙌 #ImolaGP pic.twitter.com/6SZRVzBwXt

— 周冠宇 | Zhou Guanyu 🇨🇳 (@ZhouGuanyu24) April 24, 2022
Nicholas Latifi – 16th (Williams):
"It was very similar conditions to the start of the race here last year so I'm pleased we managed to get to the end of the Grand Prix this year! It was important for me to get that experience and continue to build my confidence in the car, as I still feel that it's not quite where it needs to be yet. I think we made some steps doing that though which is positive, and our pace at the end on the medium tyre was relatively strong."
Mick Schumacher – 17th (Haas):
"Unfortunately, I lost our position right at the beginning and then had to recover from there. It was quite difficult, the Williams was very quick in the straights, so no chance for me there to get by. We were hoping we had more pace. It was quite unfortunate, but we live and we learn, we try to look ahead and do it better next time."
Fernando Alonso – DNF (Alpine):
"It was another unfortunate race for us this season. We made a decent start and moved up to eighth but there was a lot of damage on the right side of my floor and on the sidepod, so we had no choice but to retire. It's unlucky as a small brush with Mick [Schumacher], which wasn't intentional, destroyed our car and race. After Australia I feel that I could have scored 20 or 30 points in the championship, and I have only two. It's unlucky! It's a long season and there are plenty of points still to score."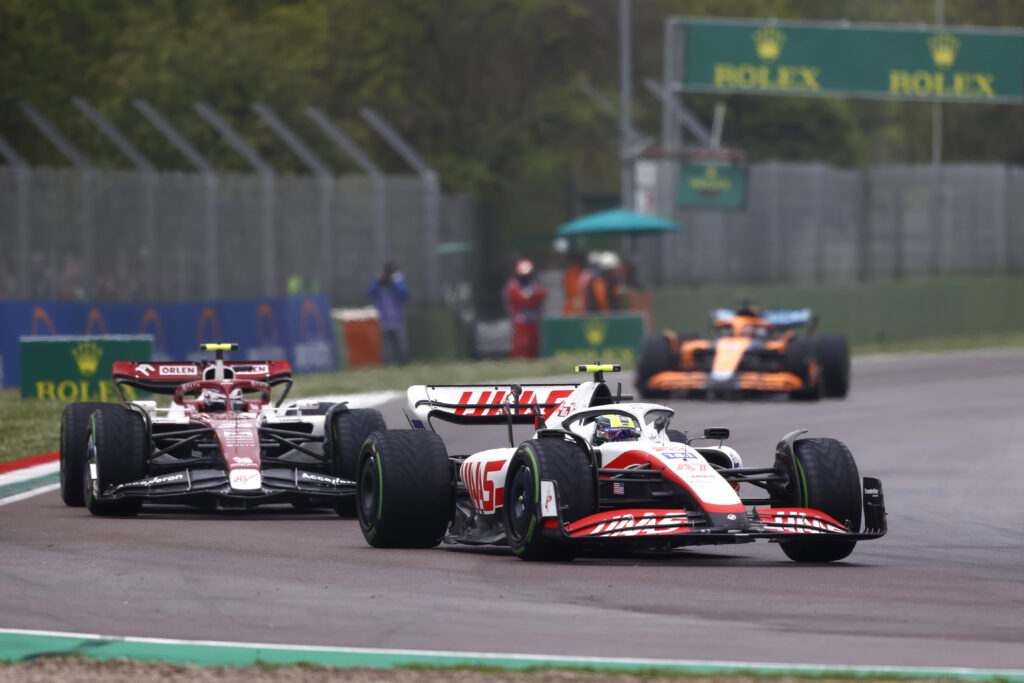 Daniel Ricciardo – 18th (McLaren):
"It was a great result for Lando! However, it was one of those Sundays for me unfortunately. At Turn 1, I thought I got hit but it was actually me getting on the kerb. I then slipped off it and went into Carlos [Sainz], before being bumped by Bottas. We had a bit of damage and struggled for the rest of the race. It's a painful one and it's never nice to be involved in incidents. There's not much more to say. Just one of those Sundays. We'll celebrate Lando's podium and learn what we can as we head to Miami."
Carlos Sainz – DNF (Ferrari):
"This was an unlucky day. I braked well into turn 1, leaving enough space to my left, but unfortunately Daniel (Ricciardo) lost control of his car a bit and hit me from behind, throwing me into a spin and into the gravel. It's a big shame because we were up for a good race, but there is nothing else I could have done differently at that point to avoid it. It's tough to take, as today I wanted to have a good race in front of our fans. For the last two races things haven't gone our way at all, but I'm still confident we can turn it around. There are many races ahead of us and you can be sure we will keep pushing. On to Miami."
🇮🇹 Unlucky day. I braked well into turn 1, leaving enough space, but unfortunately Daniel lost a bit the car and hit me from behind. Pity, we were up for a good race. I'm confident we can turn it around. On to Miami.

–#Carlossainz pic.twitter.com/WBuUxcrVNK

— Carlos Sainz (@Carlossainz55) April 24, 2022