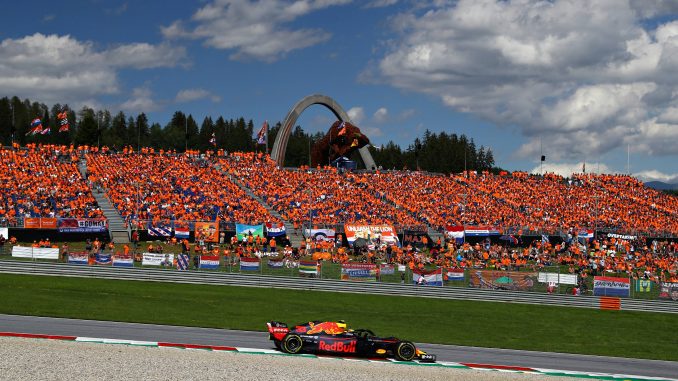 Max Vestappen secured his first victory of the 2018 Formula 1 season at the Austrian Grand Prix at the Red Bull Ring this afternoon, while Sebastian Vettel returned to the top of the drivers' championship.
The Dutch driver survived a race which saw his teammate and both Mercedes cars retire with mechanical issues, finishing ahead of the two Ferrari cars.
Hamilton jumped ahead of pole sitter Valtteri Bottas at the start to lead the race while Verstappen also made up places at the start.
Nico Hulkenberg was the first retirement of the race when his engine blew along the pit straight, while Bottas was out shortly after with a gearbox problem which brought out the virtual safety car.
Most of the leaders pitted for new tyres during the VSC period, but Mercedes left Hamilton out, keeping him in the lead but leaving him less than a pitstop ahead of Verstappen.
Hamilton dropped to fifth after putting on new tyres, promoting Verstappen to first, while Raikkonen jumped up to second when Daniel Ricciardo's tyres started to blister, costing the Australian time and eventually forcing him in for a second pitstop.
Hamilton soon started to suffer similar tyre degradation to Ricciardo, resulting in Mercedes bringing the Briton in for another stop. He didn't stay behind the Red Bull for long though as Ricciardo suffered a gearbox failure, promoting Hamilton back to fourth just a couple of corners after returning from the pitlane.
There were further retirements when Brendon Hartley appeared to have a hydraulic issue, before Hamilton lost power, forcing the reigning champion to pull to the side of the race track, and allowing Romain Grosjean to move up to fourth.
The Haas driver was able to hold the position until the end of the race, claiming his first points of the season just ahead of his teammate, while both Force India cars were also in the points, along with Fernando Alonso and the two Saubers.
Raikkonen and Vettel did push to close the gap to Verstappen into the final laps, but the Red Bull managed the tyres to stay ahead and clinch the win.
Ferrari's double podium and Mercedes's DNFs mean the Italian constructor replaces Mercedes at the top of the teams' standings, while Vettel will head to Silverstone with a one-point lead over Hamilton.
Provisional result:
1 Max Verstappen (Red Bull)
2. Kimi Raikkonen (Ferrari)
3. Sebastian Vettel (Ferrari)
4. Romain Grosjean (Haas)
5. Kevin Magnussen (Haas)
6. Esteban Ocon (Force India)
7. Sergio Perez (Force India)
8. Fernando Alonso (McLaren)
9. Charles Leclerc (Sauber)
10. Marcus Ericsson (Sauber)
11. Pierre Gasly (Toro Rosso)
12. Carlos Sainz (Renault)
13. Lance Stroll (Williams)
14. Sergey Sirotkin (Williams)
DNF:
Stoffel Vandoorne (McLaren)
Lewis Hamilton (Mercedes)
Brendon Hartley (Toro Rosso)
Daniel Ricciardo (Red Bull)
Valtteri Bottas (Mercedes)
Nico Hulkenberg (Renault)