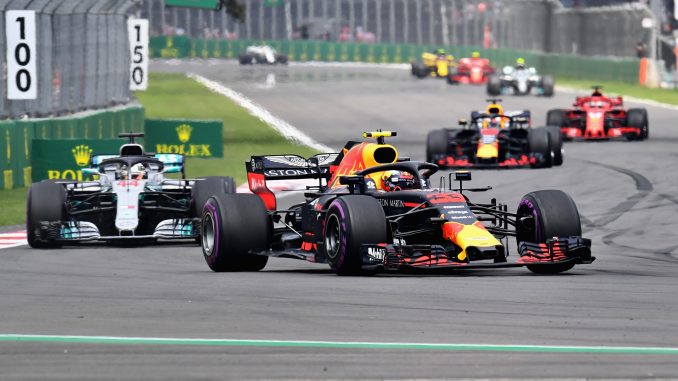 Max Verstappen has won the Mexican Grand Prix for the second year in a row, while Lewis Hamilton secured his fifth drivers' title despite finishing fourth.
Daniel Ricciardo made a slow getaway from pole position, allowing his teammate and Hamilton to get ahead by the first turn, with Verstappen coming out in the lead.
Esteban Ocon sustained front wing damage on the opening lap, with some of the carbon fibre from his Force India getting stuck on Fernando Alonso's McLaren. The debris forced the Spaniard to retire just a few laps into the race, resulting in a virtual safety car.
Hamilton was the first of the front-runners to stop, with the Red Bulls coming in soon after. Ferrari tried to keep their cars out longer, but it wasn't enough to move Sebastian Vettel up the order.
Carlos Sainz's race came to an end when he broke down in the baseball stadium section, resulting in another VSC period. Vettel closed the gap to Ricciardo once the racing resumed and managed to get past his former teammate to move up to third.
Hamilton struggled with graining on his second set of tyres, allowing Vettel to reel him in and move up to second, while Ricciardo also starting to gain on the Mercedes. Under pressure from the Australian, Hamilton locked up and ran wide, moving Ricciardo back up into a podium position, and forcing Hamilton to make his second pitstop of the race.
Vettel also changed tyres for the second time, while Verstappen made another stop with a lead of 25 seconds, ensuring he remained ahead of Ricciardo.
There was disappointment for the home fans just over halfway through the race as Sergio Perez suffered a brakes failure, forcing the Mexican to retire his Force India.
Ocon had more front wing damage after coming together with Brendon Hartley, causing damage to the side of the Toro Rosso, although both drivers were able to continue.
Ricciardo continued to keep Vettel behind him as Red Bull looked to take a one-two, but smoke started to come from the back of his car inside the final 10 laps, leading to Ricciardo's eighth retirement of the season.
Verstappen turned his engine down over the final few laps to ensure his Red Bull lasted the distance, but Vettel couldn't close the gap, preventing him from keeping the title race alive going into the final two races, while Kimi Raikkonen completed the podium.
Provisional result:
1 Max Verstappen (Red Bull)
2. Sebastian Vettel (Ferrari)
3. Kimi Raikkonen (Ferrari)
4. Lewis Hamilton (Mercedes)
5. Valtteri Bottas (Mercedes)
6. Nico Hulkenberg (Renault)
7. Charles Leclerc (Sauber)
8. Stoffel Vandoorne (McLaren)
9. Marcus Ericsson (Sauber)
10. Pierre Gasly (Toro Rosso)
11. Esteban Ocon (Force India)
12. Brendon Hartley (Toro Rosso)
13. Lance Stroll (Williams)
14. Sergey Sirotkin (Williams)
15. Kevin Magnussen (Haas)
16. Romain Grosjean (Haas)
DNF:
Daniel Ricciardo (Red Bull)
Sergio Perez (Force India)
Carlos Sainz (Renault)
Fernando Alonso (McLaren)