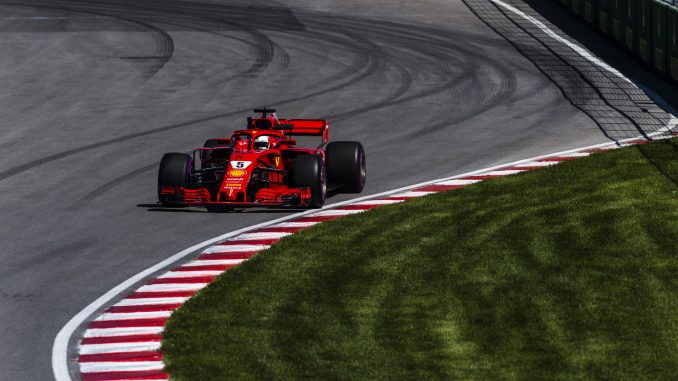 Sebastian Vettel has returned to the top of the drivers' standings after taking a comfortable victory at the Canadian Grand Prix.
The German led throughout the race at Circuit Gilles Villeneuve, finishing ahead of Valtteri Bottas, while Max Verstappen claimed the final place on the podium.
The safety car was needed on the opening lap of the race when Lance Stroll and Brendon Hartley collided heading into turn six, with the Toro Rosso driver ending up on two wheels against the wall before he and the Williams car came to rest in the gravel.
Daniel Ricciardo gained a place before the safety car came out, getting past Kimi Raikkonen at the start of the race, before moving ahead of Lewis Hamilton in the pitstops.
Sergio Perez dropped down the order on the safety car restart when he tangled with Carlos Sainz. The Force India driver claimed Sainz pushed him wide, but the stewards put it down to a racing incident.
Vettel and Bottas both went further into the race than their rivals before coming in for new tyres, but were able to open up a big enough gap over the rest of the field to remain ahead.
Fernando Alonso was forced to retire for the second race in a row just over half way through the race with a mechanical problem.
Bottas appeared to be closing the gap to Vettel in the final 15 laps, but the Finn ran wide onto the grass, costing him time, ensuring Vettel had a big enough gap to remain ahead.
There was confusion in the final lap of the race when the chequered flag appeared to be waved a lap early, but the incident didn't appear to change the race result.
Provisional result:
1 Sebastian Vettel (Ferrari)
2. Valtteri Bottas (Mercedes)
3. Max Verstappen (Red Bull)
4. Daniel Ricciardo (Red Bull)
5. Lewis Hamilton (Mercedes)
6. Kimi Raikkonen (Ferrari)
7. Nico Hulkenberg (Renaulu)
8. Carlos Sainz (Renault)
9. Esteban Ocon (Force India)
10. Charles Leclerc (Alfa Romeo Sauber)
11. Pierre Gasly (Toro Rosso)
12. Romain Grosjean (Haas)
13. Sergio Perez (Force India)
14. Kevin Magnussen (Haas)
15. Marcus Ericsson (Alfa Romeo Sauber)
16. Stoffel Vandoorne (McLaren)
17. Sergey Sirotkin (Williams)
DNF:
Fernando Alonso (McLaren)
Lance Stroll (Williams)
Brendon Hartley (Toro Rosso)