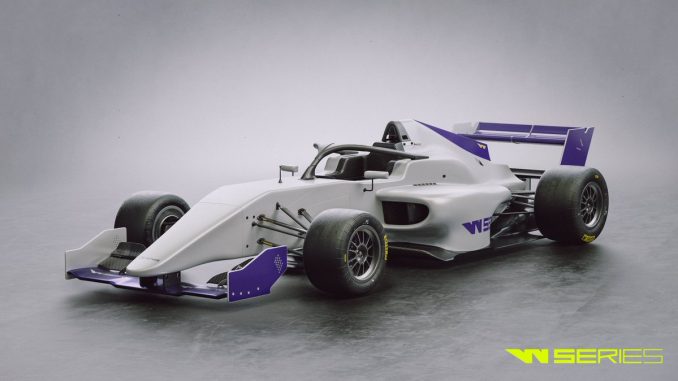 A new racing series exclusively for women racing drivers will make its debut next year. The W Series was unveiled earlier this week, and will see around 20 drivers compete over six European rounds in a Tatuus F3 T-318 – the latest FIA F3 spec car.
The organisers of the series hope it will raise the profile of women in motorsport, create more sponsorship opportunities for women drivers and give women a path to Formula 1, but the announcement has divided opinion.
Another platform to go racing ✔️
Opportunities for top female talent ✔️
Development and progression ✔️ @JamieChadwick55 is excited by what's to come. 👌 pic.twitter.com/CCeLOTXo5o

— W Series (@WSeriesRacing) October 10, 2018
Many in racing have welcomed the news, believing that giving more drives in single-seat open wheel series to female drivers can only be a good thing, but some have raised concerns about segregating women from their male counterparts.
British Formula 3 driver Jamie Chadwick is one of those to speak out in support of the series. She became the first woman to win a race in British F3 earlier this year, and believes any opportunity to race is a good one. She wrote on Twitter: "Many divided opinions, but personally I feel that any additional opportunity to race is positive. As long as I can continue to live my dream and fulfil my ambition to race at the highest level of motorsport, then I'm happy!"
Sophia Floersch, who races in European Formula 3 disagrees though, she wrote: "I agree with the arguments – but it totally disagree with the solution. Women need long term support and trustful partners. I want to compete with the best of our sport. Please compare it with economics: Do we need separate Women Management / Advisory Boards? No. Wrong way." Chadwick's British F3 rival Billy Monger is also against the idea. He continued his racing career after a crash resulted in amputations to both of his legs, and tweeted: "Seen [W Series] a lot today and personally I'm not a big fan. What I love about motorsport is when I'm in the car some people might not realise that I'm different. It's one of only a few sports that lets anyone and everyone to compete against each other, the BEST end up winning. SIMPLE."
I agree with the arguments – but it totally disagree with the solution. Women need long term support and trustful partners. I want to compete with the best of our sport. Please compare it with economics: Do we need separate Women Management / Advisory Boards? No. Wrong way. https://t.co/91ThfcGJNX

— Sophia Floersch (@SophiaFloersch) October 10, 2018
One of the big plus points for the series is the prize fund. The six race season will have a $1.5m prize fund, including $500,000 for the champion. Women racers have often spoken of the difficulty of finding sponsors. Abbie Eaton, who is the test driver on The Grand Tour, admitted she had to sit out a season because she didn't have enough funding, while British GT driver Jade Edwards risked missing the end of her season this year after one of her sponsors turned out to be a scammer. Motorsport is expensive to compete in, particularly in lower formula where the prize funds are smaller and sponsorship is hard to come by, and giving women more opportunities to fund their dream can only be a good thing.
But, could the money be used differently? Former Williams test driver Susie Wolff has previously spoken of the need for more women to race in mixed-gender series. Those who get their opportunities in F1 do so because they've shown they can beat their peers, but if women are only racing against other women, they won't get the chance to race those who would be reaching F1 at the same time as them. Separating male and female racers would potentially make it harder for F1 teams to determine who is really the fastest. IndyCar driver Pippa Mann is calling for the money to be used to back women as they make their way up the motorsport ladder. She's been one of the more vocal critics of the series, labeling it as the Handmaids Racing Series and claiming the announcement was a sad day for motorsport, although she said she'd support those who race in the series. Transgender driver Charlie Martin has also hit out against the series, insisting segregation is not the answer as all drivers want to prove they're the best, and they can't do that if they're in a separate series.
So, support talent. Help racers race in F4, F3, GP3, GP2, sports cars, touring cars. Help talented racers keep racing at appropriate levels for their experience, in real championships, where they can get real results. Don't force them into segregation for your own ends. https://t.co/WoOgLyPT43

— Pippa Mann (@PippaMann) October 10, 2018
So will the series work? Well, there are plenty of talented women racers who struggle to find seats, so it will certainly give more opportunities to female drivers. Whether or not it actually creates a path to F1 remains to be seen. The recent changes to the FIA Superlicence points system mean drivers aiming for F1 really need to be racing in F2 and GP3 (or F3 as it will be known from next year), and straying away from that path could be a risk. However, it could give women an opportunity to showcase themselves to earn a spot in one of the feeder series, which would them put them on the F1 radar. Personally, I think women aiming for F1 need to race against those who they'll be competing with when they get there – drivers who will be their future rivals, and they can only do that by racing against men and women, but if the series helps some drivers continue their careers and potentially catch the eye of a team or driver programme that could help them towards F1 then it could be a success.