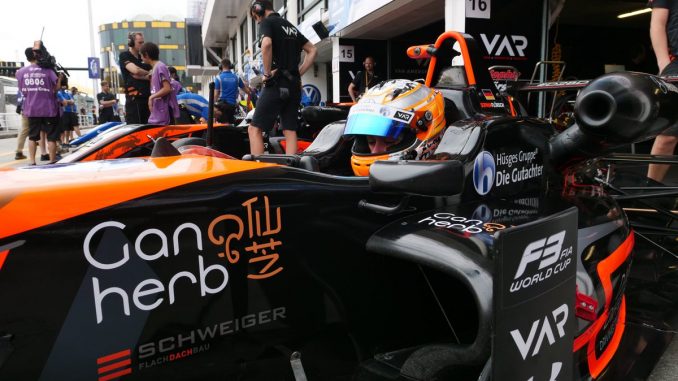 German F3 driver Sophia Floersch has revealed that she's hoping to be ready to return to racing towards the end of February.
The teenager was left with a spinal fracture after a high-speed collision at the Macau Grand Prix, which saw her car launched off the track and into a photographer's area.
Van Amersfoort Racing has already confirmed Floersch will drive for the team in the 2019 Formula European Masters championship, which is replacing FIA European Formula 3. The first round of the competition will be held at Hockenheimring in May.
In an interview with Motorsport-Magazin.com about the crash, Floersch said: "It took me a few days to come round, because I was heavily dosed with painkillers. I didn't watch the video until the Friday after my accident, which was five days later. In the meantime, I've put the accident behind me, because I'm just so happy that I can move all my limbs and start convalescence so soon. The doctors say that I had millions of guardian angels that day. They are very upbeat about me being fit enough towards the end of February or early March to get back in a racing car again.
"At first, I didn't know that other people had been injured in the crash. I found that out later in the evening when my dad told me that everyone else involved had survived. I burst into tears. I think that would have been the worst thing for me if something very bad had happened to other people because of the accident. There were, of course, questions about whether I would carry on and what my long-term plans would look like. I have always been very frank about my desire to continue and that I'm not going to let an accident get me down. Most people I speak to understand that. I mean, I've been in this sport for the past 13 years, it's my life, and I want to get into F1. Giving up that dream because of an accident like this just doesn't make sense to me.
"The accident was at 15:30 local time, and they handed me my mobile phone at 20:30 that evening. I had hundreds of messages on WhatsApp and suddenly 155,000 followers instead of 38,000 on Instagram. I thought: "What's going on?!" My experience of the accident was quite different. I had no idea at the time that it looked so bad and would feature so prominently in the news. I didn't know what to make of the whole situation, because I hadn't seen the accident. I also didn't understand why even the teachers at my school were writing to me. I thought: "How do they know about the accident?". I still haven't read all the reports from around the world because there were just so many of them. I only realised on the Friday, Saturday, Sunday after the operation that famous racing drivers such as Fernando Alonso had also written to me."
Fellow F3 driver Sho Tsuboi, two photographers and a marshal were also injured in the incident. Floersch underwent a 17-hour operation following the crash, which included a bone graft from her hip to help repair her spine.