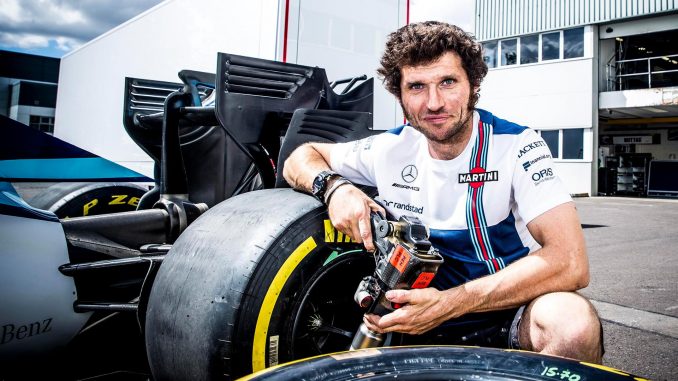 Eagle-eyed TV viewers that were watching the Belgian Grand Prix back in August might have noticed that there was something different about one of the Williams Pit Crew, was it the different safety helmet? Was it the Go-Pro on top of it, was it the fact there was a camera crew following him round all weekend or could it have been the massive amount of tea that the team had to order to keep him going?
TT racer, engine "nut" and TV Presenter Guy Martin was on duty during the weekend with the Williams team both in the garage and during the pit-stops where he was actually quick enough to be the "left rear wheel off" man during the race. This was part of his UK Channel 4 series Speed with Guy Martin where he attempts various speed based challenges in his own style!
We've managed to get hold of an official pic of Guy in his Williams Team kit and thanks to Extreme Art & Gadgets, Guy has promised to personally sign the photo to the winner of this competition.
All you have to do to enter is predict what you think the combined fastest times, to the 1/000 of a second, will be for the 2 Williams' cars of Felipe Massa and Lance Stroll in Q1 of the 2017 Brazilian Grand Prix on the 12th of November.
Rules:
You can put 2 entries in, 1 for dry weather times and one for wet weather times
The closing time for entries is the start of the first Free Practice session at  10:00AM Sao Paolo time (UTC-2). No entries will be considered after this time
All entries must be emailed to

[email protected]

Should either or both cars not take part or set a legal time in Q1 (as per the official FIA timesheets) then their fastest time from the last practice session they took part in will count towards the competition
Winner will be informed on Monday the 13th Of November
Simple eh? Guy will sign the photo sometime during November and we will post it out to the winner as soon as we can.
You can find out more about Extreme Art & Gadgets at their website or on their Facebook page