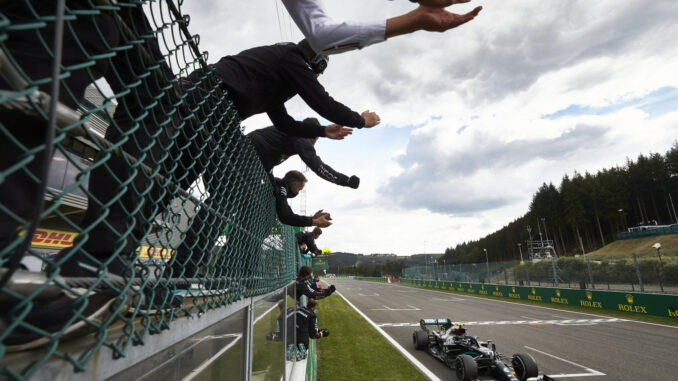 Lewis Hamilton made it five wins from seven races in 2020 with victory at Spa-Francorchamps.
The reigning champion led from start to finish at the Belgian Grand Prix, with teammate Valtteri Bottas and Red Bull's Max Verstappen also on the podium.
Renault's Daniel Ricciardo finished strongly, crossing the line less than 4 seconds behind Verstappen, as well as setting the fastest lap of the race.
Here are the drivers' reaction following the race:
Lewis Hamilton – 1st (Mercedes):
"Spa is such a special circuit, I could just drive around here for lap after lap. It's not always been an easy one for me, so to come here and get pole and the win this weekend is fantastic. The first lap can be a nightmare, because of the huge tow down the big straight, but I managed to keep Valtteri behind me on lap one and from there I had a strong race. Of course, I'd love to be able to win every race wheel to wheel, but today was a different kind of race, it was all about managing the tyres and the gap to the cars behind. I was slightly nervous at the end that we might see a repeat of the tyre issue we had in Silverstone, but thankfully it held in there. Huge credit to the team, both here and back home in Brackley and Brixworth. No matter how much success we've had over the years, everyone just keeps their heads down and focuses on trying to improve. It's an incredible mentality to have and it's inspiring to be working in that kind of environment."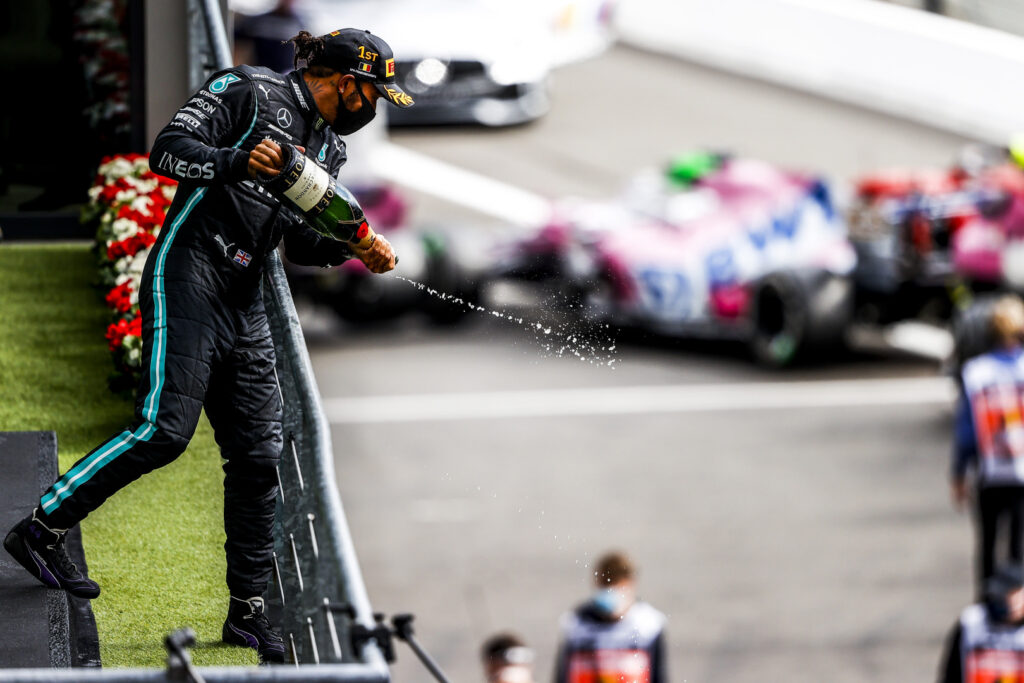 Valtteri Bottas – 2nd (Mercedes):
"The race was pretty straight-forward today; I was hoping to really get some good opportunities today in the first lap and at the Safety Car restart, but I couldn't use the tow going up to Turn 5 enough today. I was actually really close to Lewis out of the first corner, but the tow effect was much smaller today than it was in previous years. I'm not quite sure why, maybe that's because we had a tail wind going into Turn 5. I don't think there was really any other opportunity to catch Lewis; he was on pole, drove a good race and deserved the win today. Towards the end of the race, we had to really manage the tyres quite a bit; I was starting to get the same kind of vibration that I felt before the end of the race in Silverstone when I suffered the puncture. I had to reduce the pace quite a bit to save the tyres, but it worked out and I'm happy that this time I didn't lose the points. I was just told that this was my 51st podium – the same number of podiums that Mika Häkkinen scored in his career. He was my idol growing up, so it's great to equal him in that way, although he is obviously mostly known for his two titles."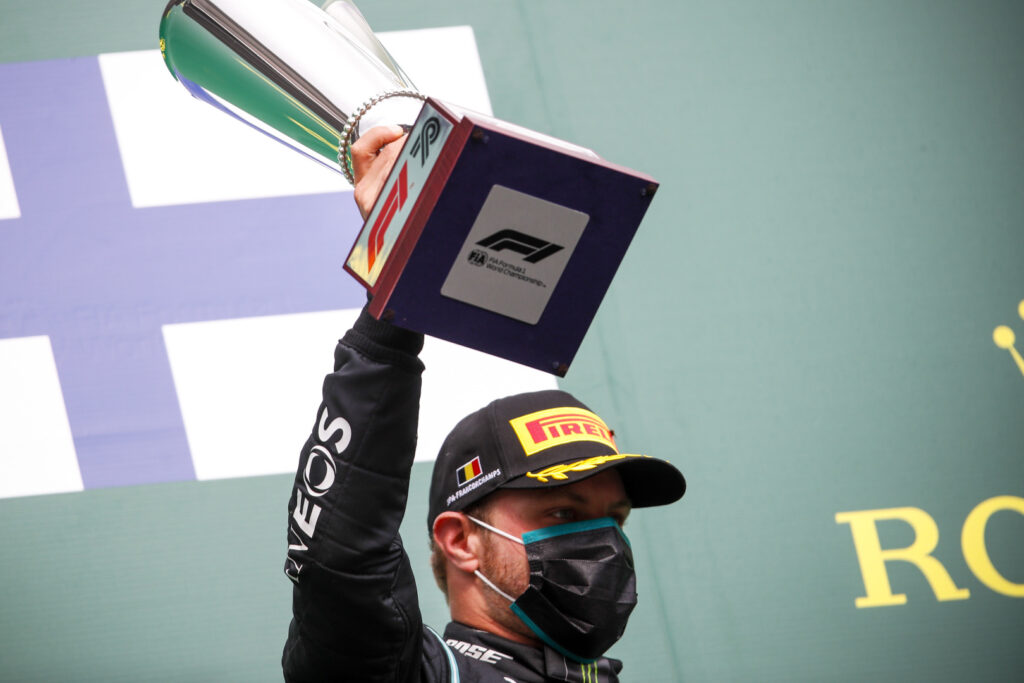 Toto Wolff – Team Principal (Mercedes):
"That was a great race. We had not won in Spa since 2017, so to come back with such a strong performance and very good pace on a track that troubled us before makes me really happy. The race was relatively straight-forward after the start, but it ended up getting very tricky towards the end, because the tyres were almost at the end of their life. We could see the same on Verstappen's car and at that point it was really about bringing our cars home safely. So we told our drivers to stay off the kerbs and lose quite a bit of pace. It gave us a bit of a headache because the memory of the punctures in Silverstone was still fresh and that's obviously what we wanted to avoid at all cost. So for us, the race wasn't over until both cars had really crossed the line – but luckily they did and secured this great one-two. We're really looking forward to go to Monza next week and then to Mugello – the races keep coming thick and fast and it just doesn't stop."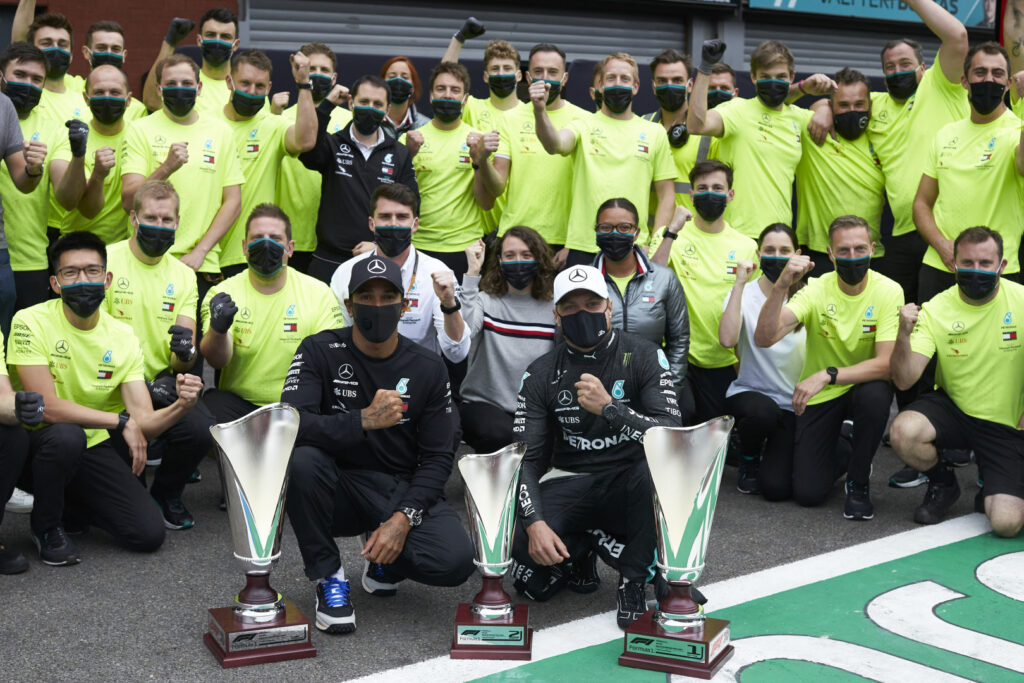 Max Verstappen – 3rd (Red Bull):
"I love this track but the race was not really the most exciting from my side. It wasn't really much of a fight and I just tried to do my own race and maximise the result. On the medium tyre I didn't have a lot of grip and then on the hard I was initially trying to put pressure on Valtteri but he was told to speed up and was able to build a good gap, so after that it was a bit lonely. There was not much action up front unfortunately and the tyre wear was quite high so we couldn't really push. Overall, we had a good weekend and the car balance was nice so we can be pleased with that. We are not here to finish third and we want more but it is always good to be on the podium."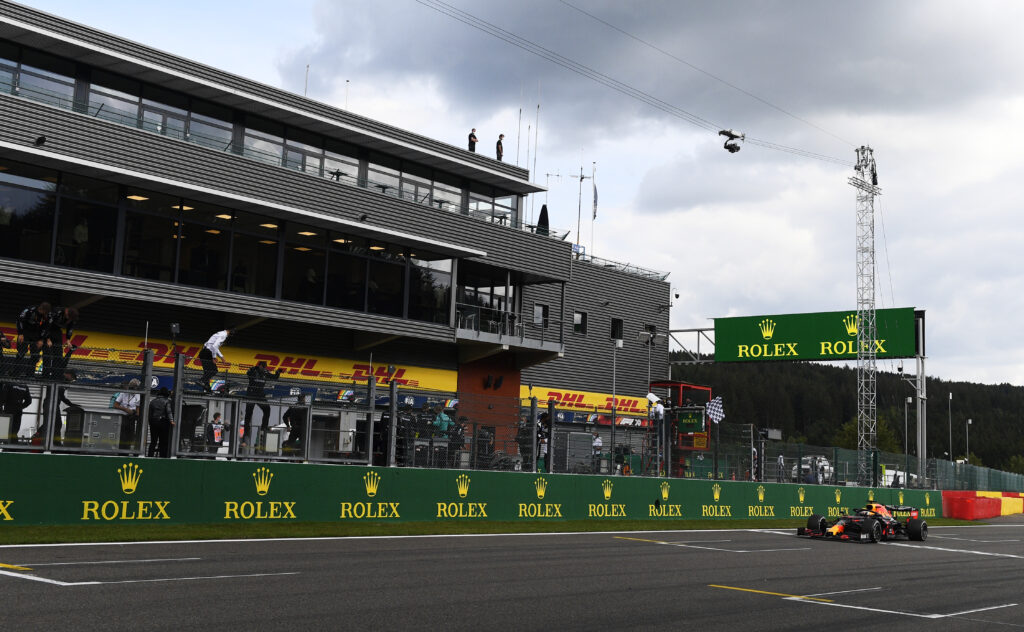 Daniel Ricciardo – 4th (Renault):
"What a race and definitely an excellent result for the team. We had a lot of pace today and fourth is a strong result. It's been a while since I've had the fastest lap of the race, so that was also nice. My engineer told me what the current fastest was and I thought 'I got this'! It was a proper big lap; I used all the track and went for it. Maybe it was better than my qualifying lap yesterday! This was a good track for us last year and Monza was even better. We'll see what happens, but we can go there with a lot of confidence."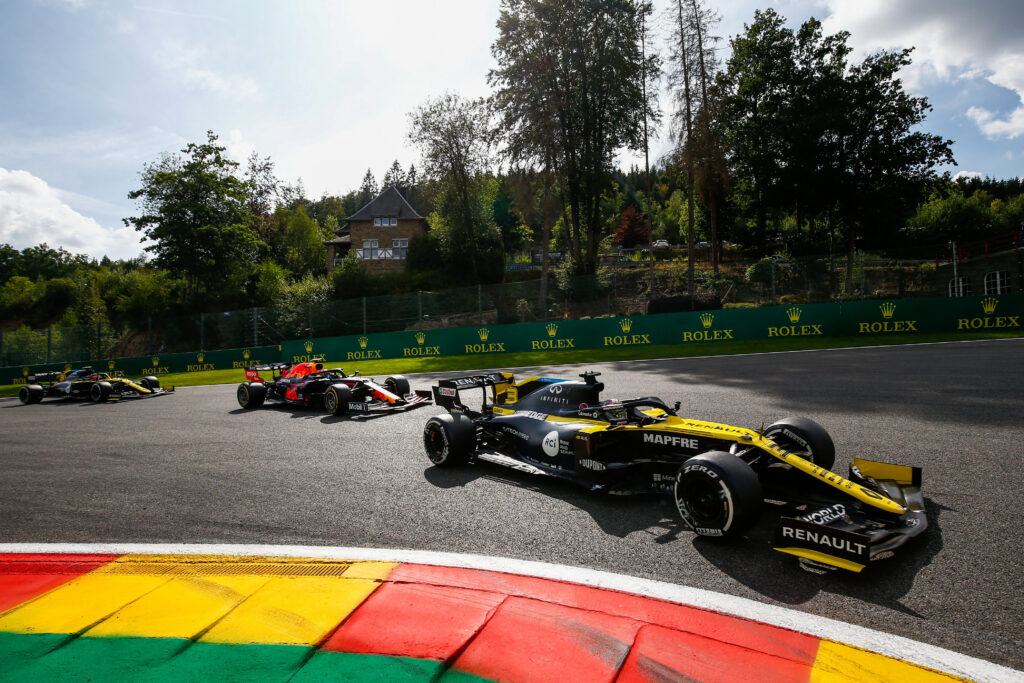 Christian Horner – Team Principal (Red Bull):
"It was a tricky race today with tyre management but we managed to get solid points on the board with both cars. Max didn't quite have the pace to fight the Mercedes with tyre degradation in the second half of the race proving to be significant, so we were weighing up whether to one or two stop. Daniel's straightline speed was obviously very strong so we opted to stick with a one stop and Max managed to bring the car home for his sixth podium in a row. Meanwhile, Alex lost a place at the start to Ocon but managed to get it back through his pit stop when we elected to put him on the medium tyre which we thought was the best compound to attack the Renaults. He did a good job today defending hard throughout the Grand Prix but unfortunately the Renaults were just too fast on the straights with their lower downforce configuration and he lost P5 on the final lap. Alex is now up to fourth in the Drivers' Championship and he's had a very solid weekend so now we'll continue to work hard as a Team before we arrive in Monza next week."
Esteban Ocon – 5th (Renault):
"That fifth place was ours today, so I'm very happy to secure it on the last lap. It's fantastic for the team to have fourth and fifth today, we've been quick all weekend and fighting with the top cars. The race was pretty solid, we got Albon at the start and then lost it at the pit-stop. The guys did a great job on the stop, so we'll see where we missed out there. From there we had to keep working hard, close the gap and then find a pass at the end. It's positive that the car is performing well at these tracks, so we can go to Monza feeling ready to go again."
P5 Yes!!💥 well done team, until the last lap👊🏻 can't wait for next week😎! #BelgianGP #EO31 #AH19 pic.twitter.com/Figb0T4imy

— Esteban Ocon (@OconEsteban) August 30, 2020
Alexander Albon – 6th (Red Bull):
"It was a frustrating race and it was pretty tricky to do anything. We knew before the race that the Renaults would be hard to overtake with their low downforce and straightline speed and that proved to be the case. I felt pretty good at the start on the soft tyre and then we managed to jump Ocon in the pits when we changed to mediums, thanks to a good stop from the boys in the garage. I don't think we expected as much degradation as we got on that compound and maybe they weren't the right choice in the end but I pushed as hard as I could to try and do the overtakes and the tyres just dropped off. We'll have a look at it to see what we can learn before our focus shifts towards Monza in a few days but it's nice to move up to fourth in the championship which is a sign we're making progress."
Lando Norris – 7th (McLaren):
"A good race in the end: P10 to P7, so I'm pretty happy. It was a tricky start – I don't know what happened at the end of the back straight, there was some water or a bit of oil on track or something and I completely lost the rear. It put me down a few positions more than I wanted and set me back – but the rest of the race was really good. I controlled my pace when I had to, knowing that the Racing Points and Renaults were quick when we had a similar tyre life. I knew I might've been able to overtake and that's what I did. I felt the car came on strong – it got better and better towards the end of the race and we managed to push forward a bit with some good pace. One more lap and I could've done something to get P6, but I'm still happy with P7."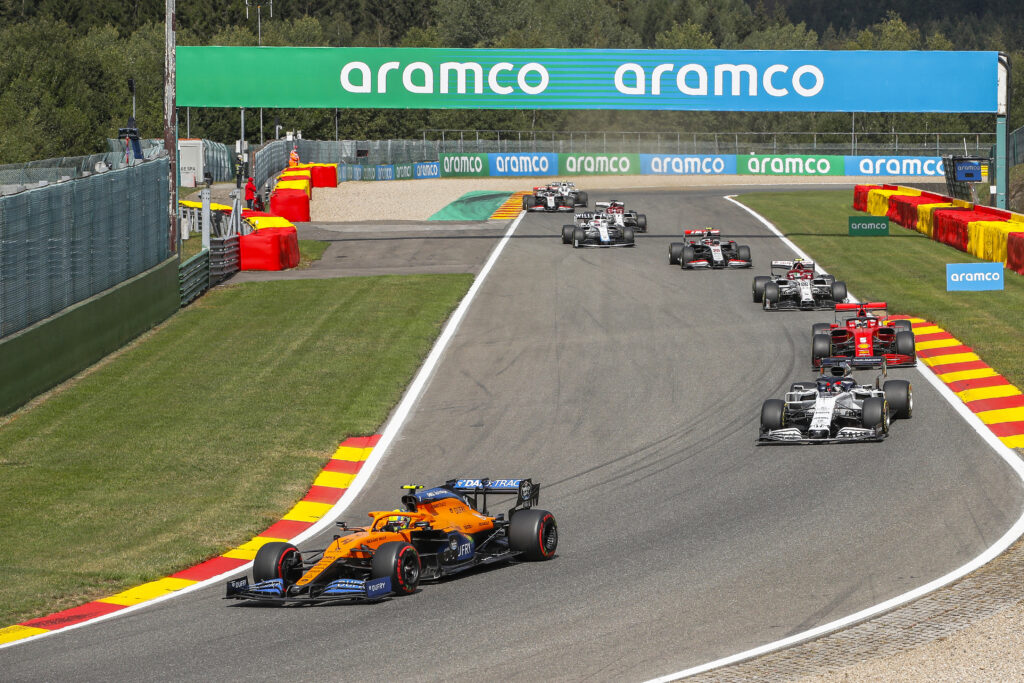 Cyril Abiteboul – Team Principal (Renault):
"Today's result is dedicated to Anthoine Hubert who we think of on this particular weekend. We knew Spa would suit our package and there were big points at stake. We executed our plan all the way through the weekend. While we're satisfied with today, we have to stay focused. It's the same car that failed to be in the top ten in Barcelona and that shows a lack of consistency for competitiveness and improving this will have to be our priority. In addition to the strong finishing positions that brings us closer to the teams ahead in the championship, the fastest lap today by Daniel rounds off in style the result and I see that as a reward to everyone in Viry who has been working so hard for several years to get on top of the complexity of the power unit. We'll celebrate a little bit to give us the energy to attack what's coming next, but our focus is already on Monza and the milestone of the change to the qualifying mode that we must prepare with the highest possible care."
Pierre Gasly – 8th (AlphaTauri):
"We decided to go for a different strategy, starting on the hard compound. It was better than expected and I was able to attack and overtake quite a few cars. The move on Perez was especially intense but very enjoyable! We knew a safety car between the start of the race and lap 20 would be a killer for us, but unfortunately, that's what happened and gave the other cars a free pitstop. We didn't give up because we had a great car, good pace, so I pushed as hard as I could. After our pitstop, we exited almost last and we had to fight back through the field, but I enjoyed it and to recover to P8 was just great! I reckon the safety car cost us a potential P5 today because I think we lost around 20 seconds there and finished seven seconds behind Ocon in P5. I'll try to put this kind of performance again and again in the coming weeks."
Thank you guys for electing me Driver of The Day on such a day. It was a tough weekend emotionnaly. Today was a very important race personnaly, and I gave everything I had. I wanted to do very well for Anthoine, and honored him the best possible way. (1/2) pic.twitter.com/w4RNUH66vj

— PIERRE GASLY 🇫🇷 (@PierreGASLY) August 30, 2020
Lance Stroll – 9th (Racing Point):
"It was a difficult race today. We made a good start and gained a place, and we were looking comfortable in the first stint, but we had degradation in the second on the hard tyre and it was difficult to manage. We were running in P7 late on and I'm disappointed to have finished in P9 – but there was nothing I could do to hold onto a higher position. The positive is that we were able to score points on a challenging day regardless, and we've got a chance to improve and score more points next weekend at Monza. I think the circuit should suit our car, but we need to go away and analyse everything that happened today to find some solutions to ensure we hit the ground running at Monza."
Sergio Perez – 10th (Racing Point):
"It's important we go away and review the strategy, but I don't think it had a big bearing on the race as we were able to get both cars into the points – which is the positive from today. The task now is to go away and understand why we weren't able to maintain the pace we had at the beginning of the weekend through qualifying and the race. We were able to make up places after our pitstop and get back into the points, and it was nice to be able to make a few overtakes out there! But overall, we just didn't have enough pace today, so we need to make sure we come back stronger at Monza next weekend. It's a track that should suit us, and I'm hopeful we can score good points there."
Yo tampoco entendí la estrategia. ¡Tuve que remontar desde el último lugar! Rescatamos un punto para el campeonato.
En una semana estaremos de vuelta peleando de nuevo y con muchas ganas.#BelgianGP pic.twitter.com/zqnvLbW9Ke

— Sergio Pérez (@SChecoPerez) August 30, 2020
Franz Tost – Team Principal (AlphaTauri):
"After qualifying, Daniil and Pierre finished in P11 and P12 – which is quite a good position because you can decide which tyres to begin the race – so we opted to split the strategy. Daniil started on the Prime, while Pierre started on the Base. Both had a really good start; Pierre immediately started to overtake the cars in front, moving up to P8 and he did a very good job defending his position until, later on, other drivers managed to overtake him on fresher tyres, so we pitted him for Prime on lap 26. He then started a competitive comeback to close the gap and was able to overtake the Haas, Ferrari and the Racing Points to finish in eighth position. It was a fantastic drive from Pierre and without the safety car I think Pierre could have finished higher up the order. Like many other drivers, Daniil suffered with the tyres at the end of the race, therefore he wasn't able to score points and finished in P11. Now we are looking forward to going to our 'first home race' out of three in Italy, it's always nice to be back in Monza, where we have very good memories."
Daniil Kvyat – 11th (AlphaTauri):
"I think that we didn't choose the right strategy today, so we will have to review our race. We couldn't have known it before the race, so we split the cars and unfortunately, I was on the wrong side of the strategy call. It would have been better to start on the harder compound, and I felt I was always in the wrong place at the wrong time today, because at a track like Spa, it's very hard to keep cars behind on old tyres."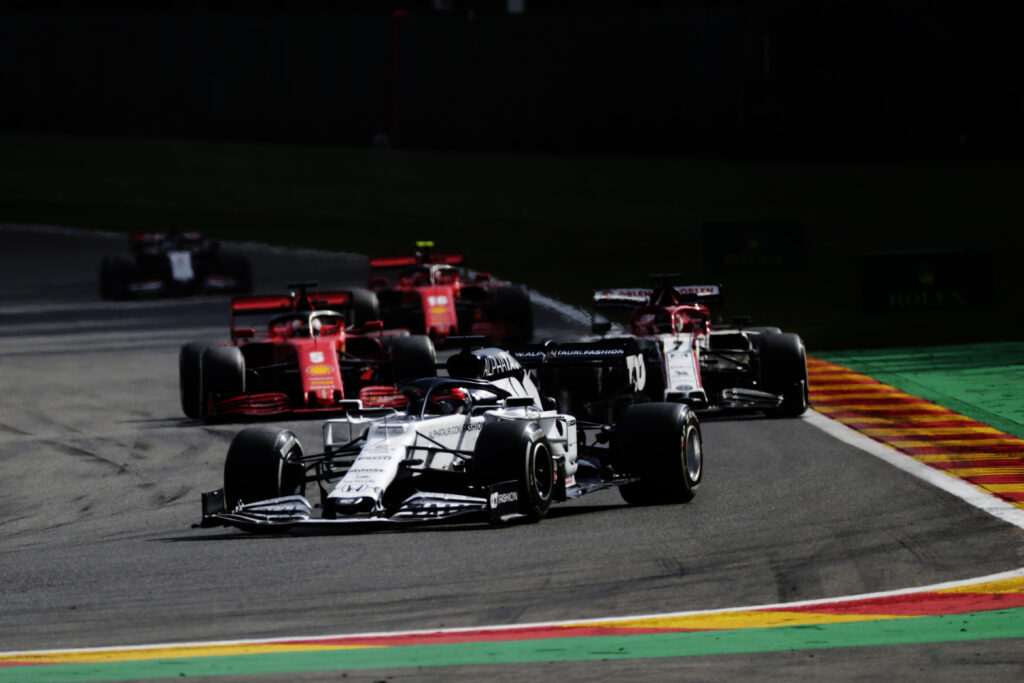 Kimi Raikkonen – 12th (Alfa Romeo):
"I feel the result today is as good as it could have been. The car felt good but P12 is the most we could get, and that gives you no points: it's disappointing as we really gave everything we had. The start was bad, the car went into antistall at turn one and it put me at the very back. After that we had good speed but sadly not enough to make it into the top ten. I got stuck behind Kvyat, I felt I was quicker than him in the middle sector but couldn't get a run on him where I could try a pass. We'll try to make more progress in Monza."
Sebastian Vettel – 13th (Ferrari):
"It was not an easy race. We finished in the same place in which we started. We tried everything with both cars, but we were just too slow. I hope the situation on this circuit doesn't repeat itself. I think this track maybe exposed our weaknesses a bit more than others.
I believe we can do a bit better next week. We must work to make sure that we take everything we can from this weekend, learn all there is to learn and go forward."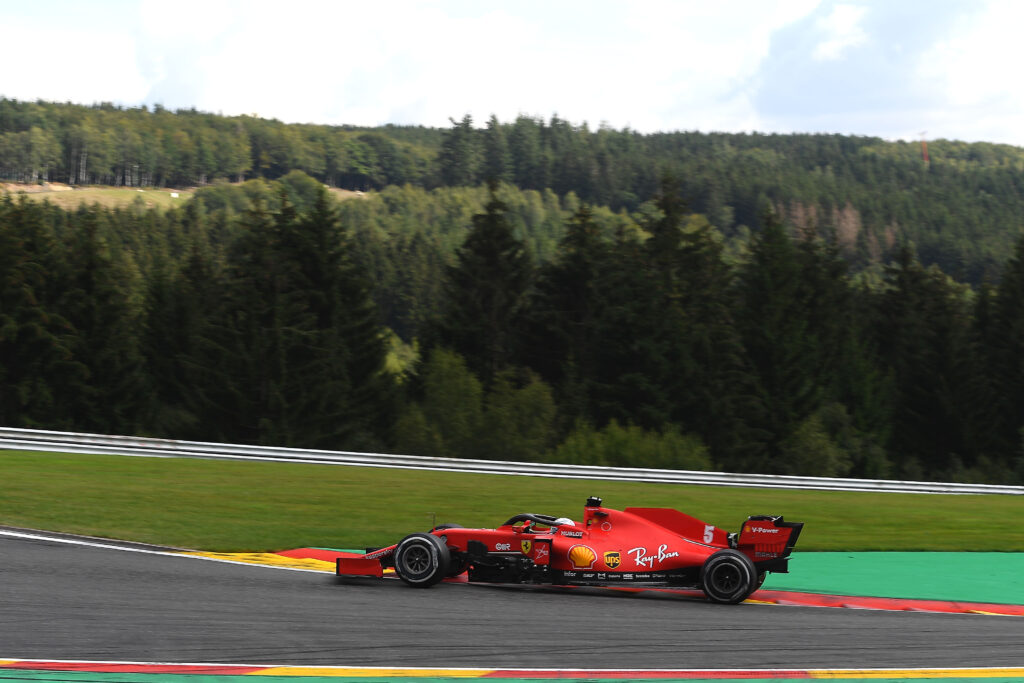 Charles Leclerc – 14th (Ferrari):
"It has been a very difficult day. I had a very good start and managed to make up several positions thanks to a good tow up to turn 5, but after that things started to get worse. First of all, we lost time during both pit stops due to some issues. During the second stint, we knew that we couldn't make any miracles happen so, seeing the position we were in, with a train of cars ahead and no possibility to overtake, we decided to try something different and go for a second stop. It's a shame that it didn't work out, but ultimately, today we just didn't have the pace we needed. The next race will be a difficult one for us, but hopefully from Mugello, it could get better. We have to stay united, react and work hard to come back to where we were before."
Romain Grosjean – 15th (Haas):
"We wouldn't necessarily haven taken P15 this morning, if offered it, but what we would have taken is to be able to fight with Ferrari. For us, that's a benchmark, and in that aspect we did well. I thought I could keep Charles (Leclerc) behind me, but sadly on the last lap I had a bit of a lock up at turn one – anyway the tires were running out of life. It was fun in that aspect. We did the best behind Vettel and Leclerc; Alfa Romeo did a good job being in front of them."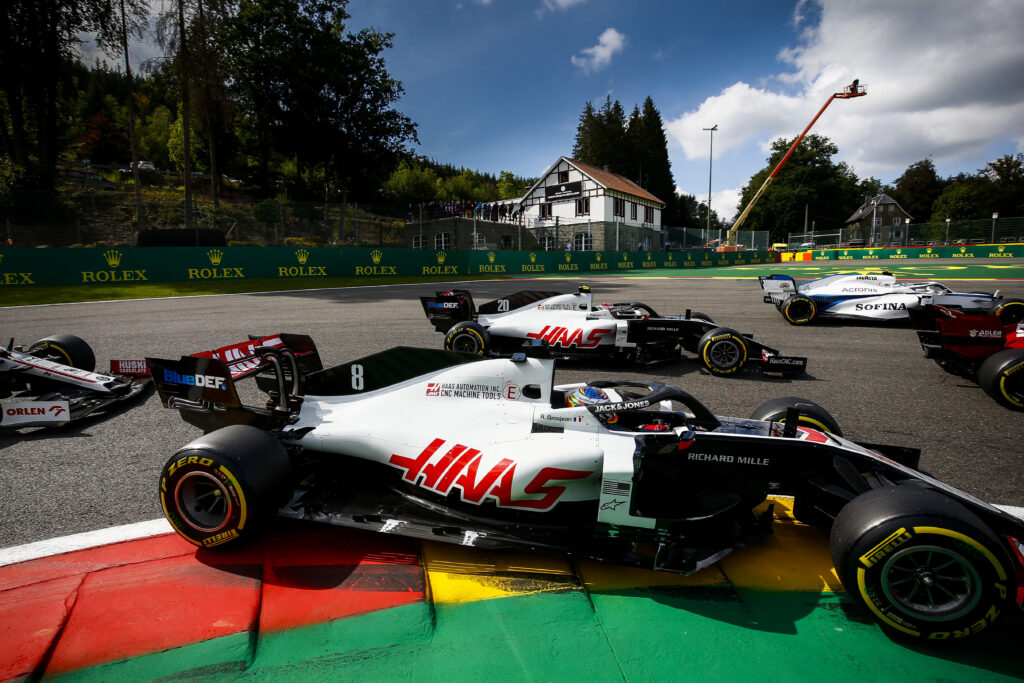 Mattia Binotto – Team Principal (Ferrari):
"On a track that requires aerodynamic efficiency and power, we were severely lacking in both. Charles and Sebastian did their very best, both yesterday in qualifying and today in the race, but we couldn't even get into the points. We are disappointed and angry, as indeed are our fans and with good reason. It's a difficult moment in a season that we knew from the start would be a tough one, but it's at times like this that we need to stand firm and look ahead in order to get over this difficult period. It's the only way we will get out of this situation."
Nicholas Latifi – 16th (Williams):
"Straight from the formation lap and the start of the race I didn't have a good feeling with the car, there was quite an imbalance. The conditions were different compared to the previous days and it was a real challenge out there. I enjoyed the last stint pushing flat out on the edge, chasing Romain and the Ferraris. Overall, it was a very tough race today."
Difficult race throughout today struggling with the balance of the car. Had a fun last stint though pushing flat out to the end trying to chase down the Haas and Ferraris! Quick turn around before Monza next week!😬 #NL6 #F1 #WeAreWilliams pic.twitter.com/T4LM2RrhEk

— Nicholas Latifi (@NicholasLatifi) August 30, 2020
Kevin Magnussen – 17th (Haas):
"We needed something to help us today, weather or something, but we didn't get any. I had another good first lap though, I'm really happy about that. But from there we just didn't really have the pace, especially on the first stint on the C3 tire. At the beginning of that stint I was very slow, just overheating the tires. I got that under control later on, then we pitted onto the C2 and it was a little bit like that again – just struggling a bit on the first part of the stint but getting better towards the end. I lost a position at the end when we pitted again. It's been a tough day but there was not much we could do."
We needed something special to happen, like some rain, but unfortunately didn't get it. Good first lap again though! pic.twitter.com/nLF2WNgq1y

— Kevin Magnussen (@KevinMagnussen) August 30, 2020
Antonio Giovinazzi – DNF (Alfa Romeo):
"A disappointing ending to my race: I was pushing a lot to keep within DRS range of Sebastian [Vettel] and the car just snapped on the exit. I was on the limit and when you're there, sometimes mistakes can happen. I feel sorry for the team as they deserved a good result this weekend, and of course also for George [Russell] as his race was compromised as well, although I couldn't do anything about that. There are still some positives I can take from this race: I had another really good start, I made up a few places and I was able to be in a fight with the Ferraris, so we can build on that. Next race up is my home race in Italy, I'll need to reset and be in a better shape for next weekend."
George Russell – DNF (Williams):
"It is frustrating, I was in the wrong place at the wrong time and there was nothing we could do. I went to the left to avoid Antonio's car and then his wheel came from nowhere and hit the front of my car which pushed me into the wall. It was quite a big impact, but I am ok. I feel very fortunate to have the halo on the car as it could have gone quite near my helmet. It was a very unfortunate set of circumstances, but that's just racing sometimes. Up until that point I was in a good rhythm. I had overtaken the Haas, but it would have been a long and difficult race out there for us."
Feeling unlucky and lucky right now. Gutted, as we were having a great race – but really glad we have the halo on these cars now or it could have been much worse. Thanks for the messages – I'm all good 👍 pic.twitter.com/JrQ8VN9iHl

— George Russell (@GeorgeRussell63) August 30, 2020
Carlos Sainz – DNS (McLaren):
"I'm extremely disappointed not to race for a second-consecutive year here in Belgium. Having started from P7 and seeing how the race unfolded, we definitely missed a very strong chance to score big points and get a good result. So, I'm very far from happy. It's the second engine with issues this year and the frustration of losing points again is very tough. I strongly feel this is not the season we deserve so far. However, we'll put it behind us and switch our focus to Monza tomorrow. We move on."