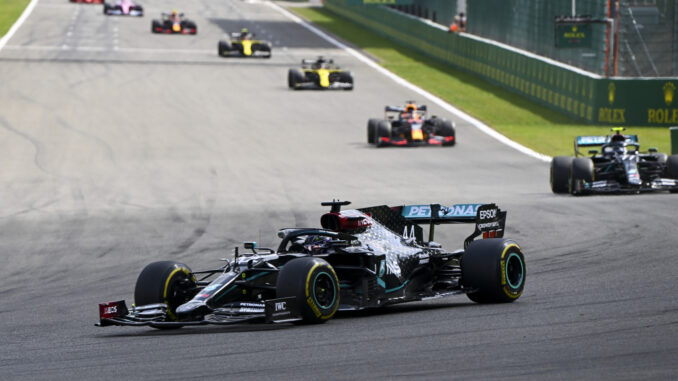 Lewis Hamilton extended his lead at the top of the drivers' championship after a commanding victory at the Belgian Grand Prix.
The reigning champion never lost the lead at Spa-Francorchamps, finishing ahead of teammate Valtteri Bottas, while Red Bull's Max Verstappen completed the podium.
Verstappen pressured Bottas in the opening corners, but the Finn defended against the Red Bull, who then had to hold off a challenge from Daniel Ricciardo.
After a disappointing qualifying, Charles Leclerc made a good start, finding himself running in the top 10 by the end of the first lap, although he was easily passed by Pierre Gasly in the AlphaTauri, who also showed strong early pace. The Ferrari driver's success was short-lived, as he was soon overtaken by several other cars, dropping him back to 12th.
The safety car was needed after Antonio Giovinazzi spun, hitting the barrier and bouncing back across the track. The impact broke one of his wheels off, which struck the front of George Russell's Williams, sending the Briton into the barrier as well, and creating lots of debris on the track.
Most of the front runners came in for new tyres during the safety car period, but Gasly and Sergio Perez stayed out, leaving them fourth and fifth.
Alexander Albon lost out to Esteban Ocon at the start of the race, but Renault had to double stack their drivers under the safety car, allowing the Thai driver to come back out ahead of the Frenchman. The rest of the field switched onto hard tyres, but Albon came back out on the mediums.
The early safety car meant the majority of the front runners started to struggle on well worn hard tyres towards the end of the race, with Bottas in particular being advised to stay off the kerbs to ensure he reached the end of the race.
Albon's mediums also seemed to be wearing towards the end of the race, putting him under pressure from Ocon behind, while Ricciardo in fourth also seemed to have managed his tyres well, preventing those ahead of him coming in for a second pitstop.
Ocon's better tyres gave him enough to pass Albon on the final lap, but the Red Bull driver just kept Lando Norris behind to hold on to sixth.
Leclerc had to make a second pitstop as his engine needed a pneumatic pressure top up, while Sebastian Vettel had tyre degradation issues towards the end of the race, while Kimi Raikkonen as the leading Ferrari-powered driver.
Ricciardo's strong pace continued until the end of the race as he finished with the fastest lap of the day, wrapping up the extra point and finishing the race just 3.4s behind Verstappen.
Provisional classification:
1 Lewis Hamilton (Mercedes)
2. Valtteri Bottas (Mercedes)
3. Max Verstappen (Red Bull)
4. Daniel Ricciardo (Renault)
5. Esteban Ocon (Renault)
6. Alexander Albon (Red Bull)
7. Lando Norris (McLaren)
8. Pierre Gasly (AlphaTauri)
9. Lance Stroll (Racing Point)
10. Sergio Perez (Racing Point)
11. Daniil Kvyat (AlphaTauri)
12. Kimi Raikkonen (Alfa Romeo)
13. Sebastian Vettel (Ferrari)
14. Charles Leclerc (Ferrari)
15. Romain Grosjean (Haas)
16. Nicholas Latifi (Williams)
17. Kevin Magnussen (Haas)
DNF:
Antonio Giovinazzi (Alfa Romeo)
George Russell (Williams)
DNS:
Carlos Sainz (McLaren)