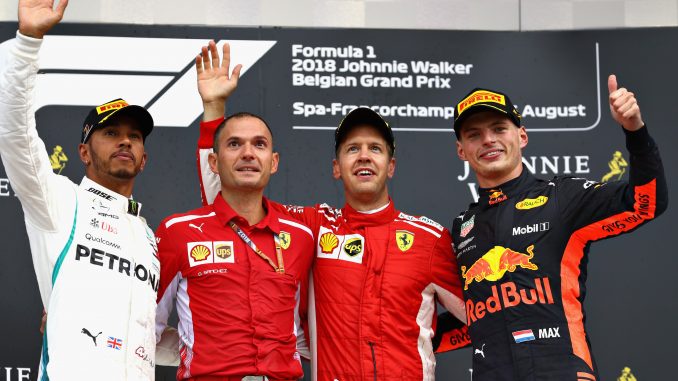 The 2018 Formula 1 season resumed this weekend after a four-week break with the Belgian Grand Prix at Spa-Francorchamps.
Championship leader Lewis Hamilton started from pole position, but Sebastian Vettel claimed the win after overtaking the Brit early in the race.
The race also saw a huge first-corner crash which took three drivers out of the race.
3Legs4Wheels takes a look at what the drivers and teams had to say following the race.
Sebastian Vettel (Ferrari – 1st):
"I'm very happy because we had a great race, the car now has proved to be robust on all tracks and this weekend we got a little more power from the new engine, which I think also helped us down the straights. At the start I tried to stay close to Lewis, getting a good exit out of Turn 1 and then taking advantage of the slipstream to get past. After the Safety car pulled out, it was just the other way round, so I looked after the exit of Turn 1 to stay ahead. The first stint was very close, only a couple of seconds between us; but then the guys did a fantastic pit-stop, I could not believe the light had turned green so fast, and that gave our rivals no chance. The second stint was ore about managing the car and the tires for both of us. This is a great win for the whole team and hope in Monza it will be the same, but we need to keep fighting to be always up there."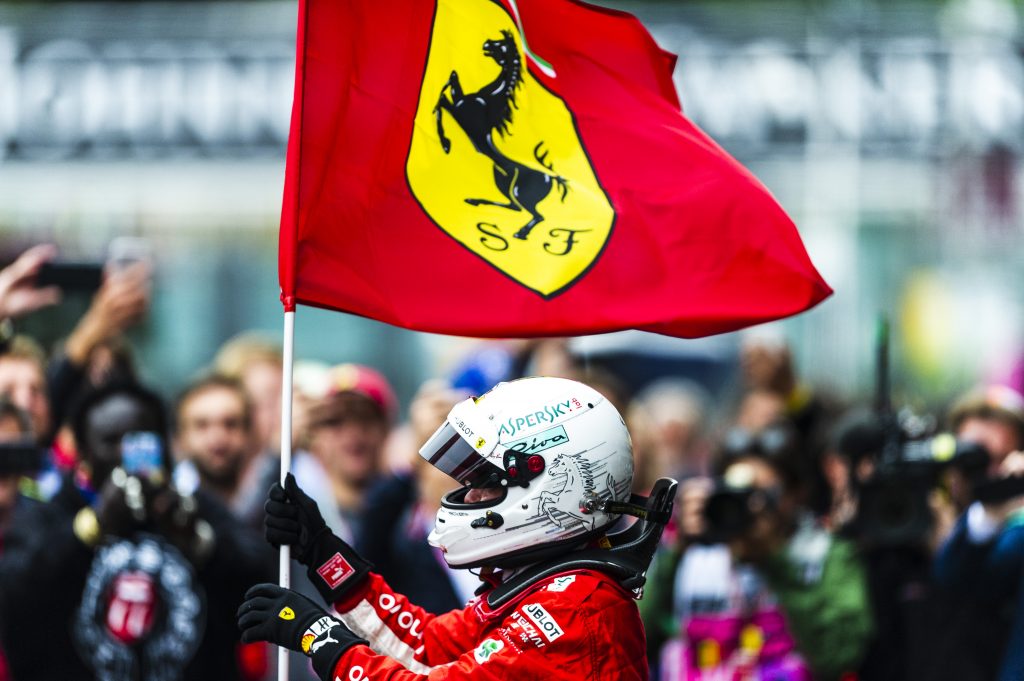 Lewis Hamilton (Mercedes – 2nd):
"We gave it everything today but Ferrari just outperformed us and it was hard to match their times. I think we lost the race in the first lap and at the Safety Car restart. After that, it was done. They were just faster on the straights and there was nothing we could do. We came here with an upgrade, but unfortunately Ferrari were able to match us and even go faster. We've got to find more performance and improve on the areas where they're currently stronger than us. But the battle continues and for the sport this is really exciting. We will keep pushing."
Max Verstappen (Red Bull – 3rd):
"After a bit of bad luck here in Spa in the past I'm very pleased to finally be coming away with a podium. There was a bit of first lap chaos to contend with but we made it through cleanly and managed to settle into a good pace right away. From there on I managed to pass Grosjean up the hill and concentrate on chasing the Force Indias. I knew I would have to be patient and in the end I got close enough. I was surprised by their pace, I thought with DRS I would be able to get by easily but they were very strong. This made it a bit more enjoyable to try and pass. After this little battle it was quite a lonely race, it was good to push the car and learn from it but there wasn't a lot more action for me. Seb and Lewis were once again too quick for us but in terms of balance the car felt really good. It is always good to be on the podium but being on it here in Spa with so many Dutch fans is really special. On the last lap I was able to take in the orange crowd and enjoy it."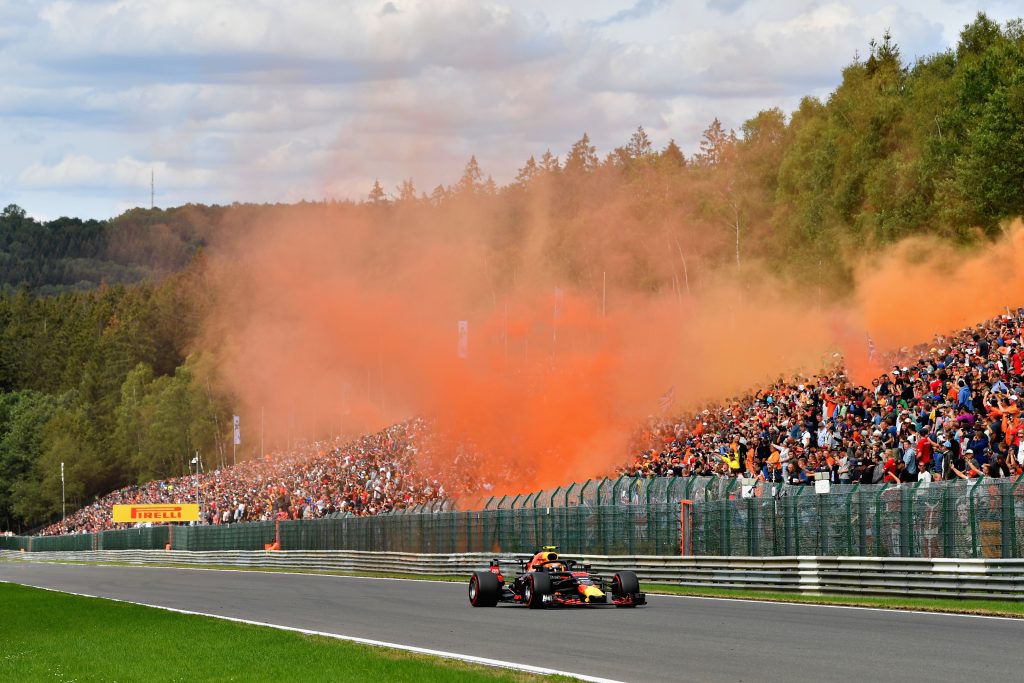 Valtteri Bottas (Mercedes – 4th):
"Our goal for today was damage limitation and we've had a good recovery drive. I was hoping to maybe get the chance to be on podium, but I had a collision going into Turn 1 which damaged my front wing. After that P4 was the maximum we could get and it's not a bad result given the fact that we started from P17. I actually quite enjoyed the drive today, as I got to overtake a lot of cars. My favorite moment was probably the pass in Eau Rouge – that was a lot of fun. Unfortunately, we couldn't win the race today, but we scored more points than Ferrari, so that's one positive. They looked really strong this weekend, both in qualifying and in the race. We made a step forward with our engine for this weekend, but the Ferraris are still quicker so we need to keep pushing."
Nico Hulkenberg (Renault – DNF):
"When I hit the brakes, it locked up the front wheels and I slid. These cars are aerodynamically sensitive, especially with cars bunching up ahead as you lose a lot of grip and load. I have to admit it caught me by surprise today. It was probably a misjudgement from my side as I was a bit late on the brakes, so it's frustrating for me, the team, and the other drivers caught up in the incident. That's racing and unfortunately these things happen. We have Monza next weekend, so I want to get this out of the system as soon as possible and focus on that."
Sergio Perez (Force India – 5th):
"It's a great performance by the team today and I think we executed an almost perfect weekend. My only disappointment is from yesterday because I think pole position was within reach, but we can definitely be happy about the points we have scored. We just couldn't have kept the top teams behind us in the dry so to be 'best of the rest', with Esteban right behind me, is the most we could have done. My start was really good and I was able to place myself in the right positions during the first few corners. After that, my pace was strong and consistent. I opened a gap and after that I was able to control my race. There was nothing I could do to keep Valtteri [Bottas] behind me – sometimes you just need to pick your fights and think of the bigger picture. I am happy with what we have achieved; we have scored some important points for the team and sent a strong message for the next few races. It's a nice start of a new era for the team."
Very happy to have break the milestone of 500 points in my F1 career, it's been a great weekend to celebrate my first 150 GPs! Let's go for 150 more! Great job by everyone at the team @forceindiaf1, these points will be super important in the championship!!! pic.twitter.com/euJq5t8hs0

— Sergio Pérez (@SChecoPerez) August 26, 2018
James Allison (Mercedes – Technical Director):
"There's no way of dressing it up today: we were well beaten by a quicker team, who were able to stretch away from us on both tyres throughout the stint. It was very disappointing after yesterday's qualifying performance and what we believed our performance would be in the dry, to find today that we did not have the pace that we thought. Both drivers delivered good performances but neither of them had the car under them to do more today; we have some work on our hands in order to take the fight to Ferrari in Monza and the remaining races this year."
Esteban Ocon (Force India – 6th):
"I am satisfied with today's race and I think we finished where we deserved to with the pace we had. I made a good start and I was on the inside of Sebastian [Vettel] at turn one. He had better traction, but I was very quick on the straight and tried to get the lead on the Kemmel straight. I had a good run down, slipstreaming both Vettel and Lewis [Hamilton] and I tried to find a way on the inside, but in the end I lost a place to Sergio. It was good, fair racing all around. It's a good start to the "new" life of the team; we scored a lot of points which is important for our championship comeback. We showed good pace all weekend and hopefully this is going to continue in the final part of the season."
It didn't work this time, no regrets I've tried… Happy with the week end P6☺️!
Ça n'a pas fonctionné cette fois ci, pas de regrets j'ai essayé… Content du week end P6☺️! #EO31 #BelgianGP pic.twitter.com/oFiDHmnrdA

— Esteban Ocon (@OconEsteban) August 26, 2018
Romain Grosjean (Haas – 7th):
"That was about what we expected today. We knew the Force Indias had the same pace, if not a bit quicker, so it was difficult to stay with them. They were quick on a straight line. I'm pretty happy with how the race went, and I'm happy Kevin was there as well. We did the best we could. Two cars in the points – in seventh and eighth – that's really good for the constructors' championship. It was a lot of points for us and zero for some others, so that's a positive from this race."
Fernando Alonso (McLaren – DNF):
"I'm disappointed. We made a good start. There were a couple of possibilities of overtaking in Turn One – you play it cautious, you brake at the same point, then you look in the mirrors and see the guys behind you behaving as if this was the last corner of the championship. I saw Nico in the mirrors coming with all four wheels locked, at a very high speed. He completely missed the braking point by a long way, not just a couple of metres. There was no way I could avoid that, then I felt the impact and flew over Charles' car. Nico played bowling a little bit with us today. It's sad to see this happening, because usually these kinds of accidents have major consequences, but on the positive side, everyone involved is fine, especially Charles, as I flew over his car. Not that we needed any proof, but the halo showed again today it is a very good thing to have on the car."
Kevin Magnussen (Haas – 8th):
"We scored points with both cars, which was the goal for today. We did everything we could. In the race, I lost a lot of time around the pit stops, which was unfortunate but, even so, I don't think I could have fought the Force Indias. It would probably have just been a swap between me and Romain. We're catching up on Renault, and that's the target. I'm really just happy for the team. We can be pleased with the result today. Scoring 10 points on a day when Renault didn't score any points – that's important."
Charles Leclerc (Sauber – DNF):
"It was disappointing to end the race in such a way. Just after the start, I was caught up in an incident between two other drivers and had to retire from the race. I am now looking forward to the next race weekend at Monza. It will be an important one for us, especially with our Title Sponsor, Alfa Romeo, being such an iconic Italian brand. We will do our best to have a positive weekend there."
End of the race in the 1st corner. Frustrating.
Never been a fan of the halo but I have to say that I was very happy to have it over my head today !
📷: @f1gregoryheirman / @fotoformulak pic.twitter.com/QILqoVtjVh

— Charles Leclerc (@Charles_Leclerc) August 26, 2018
Maurizio Arrivabene (Ferrari – Team Principal):
"That was a fantastic win today, with a great race from Seb and the whole team which, both at the track and back in Maranello, fought back from yesterday's difficulties in a strong, calm and determined manner, while the car showed all its potential. What happened to Kimi is a real shame and, but for that, we might have had even more to celebrate and the Constructors' classification would look a bit different. Now, the important thing is to carry on working with determination and humility, without ever giving up. Now we come to Monza and right from Wednesday, we will get the chance to get close to our fans during the event at Darsena di Milano. I am sure that will be able to count on the support of all our tifosi, as the championship goes on, getting more and more interesting. We hope that, come the end of the year, we can give them something to really smile about."
Cyril Abiteboul (Renault – Team Principal):
"Today's race was not a good way to return from the break. We knew this weekend would be challenging with a scheduled Power Unit change and the resultant grid penalty for Nico, then we opted to do the same with Carlos after his struggles in qualifying and this meant we started the race from the back of the grid. From aggressive aero setups to tyre choices, we tried various measures to turnaround this very challenging situation that simply didn't work. On his side, Nico made a misjudgement at the start. He's not known for this type of error and I'm sure he'll learn from it and move on. Carlos made the most of challenging circumstances and finished narrowly outside of the points. Today's result doesn't reflect our actual place so we reset for Monza and remain focused on our development strategy."
Pierre Gasly (Toro Rosso – 9th):
"I'm really happy to score points today! It was supposed to be a difficult weekend for us on a track like this, and to end up with two points is really positive. The race itself was actually quite calm for me, I started in 10th position and overtook Daniel and Kimi on the inside of Turn 1 which put me in eighth. A few laps later Valtteri passed me but we knew there wasn't much we could do about that, so I just pushed as much as I could. In the end we finished in P9, so it's really satisfying. The car felt great all weekend and Honda did a really good job, we definitely made the most out of our package this weekend. We will try and do the same in Monza in a few days, another track that on paper does not suit our car, but It's our home race and I will give it all to get the best possible result."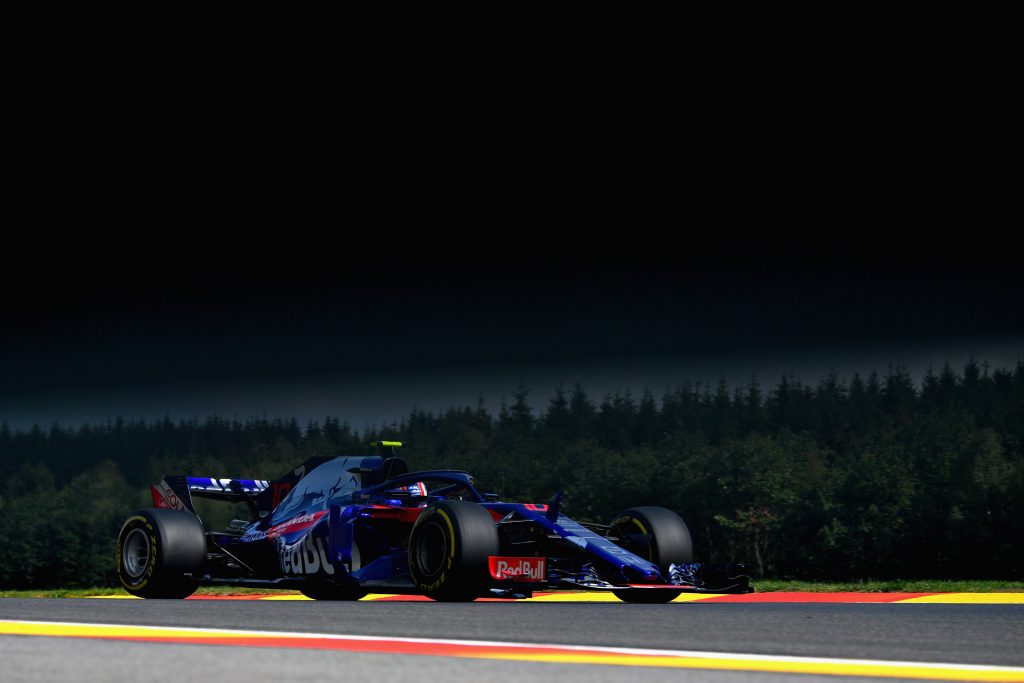 Otmar Szafnauer (Force India – Team Principal):
"To come away from Spa with 18 points feels pretty good. We have been quick all weekend and it was important to convert our potential into a strong result today. It was a very eventful first lap, but we stayed out of trouble in turn one and Esteban was even challenging for the lead on the approach to Les Combes. Once things settled down, both drivers delivered clean and tidy races, but ultimately we didn't have the pace to race for the podium today. Picking up fifth and sixth is just what we needed and it's a credit to all 405 members of staff who have showed great resolve in recent weeks. I congratulate them all and look forward to scoring more points in the races to come."
Marcus Ericsson (Sauber – 10th):
"It was quite a positive race. I had a solid start, stayed out of trouble, and made some good decisions. Throughout the race, I had some interesting fights. The car felt good, and it is nice to finish the weekend with a point. The team did a great job, and we are encouraged as we go into the next race. We are heading to Monza now, which is Alfa Romeo's home race. It will be exciting to see all of the passionate fans there, and I look forward to racing again."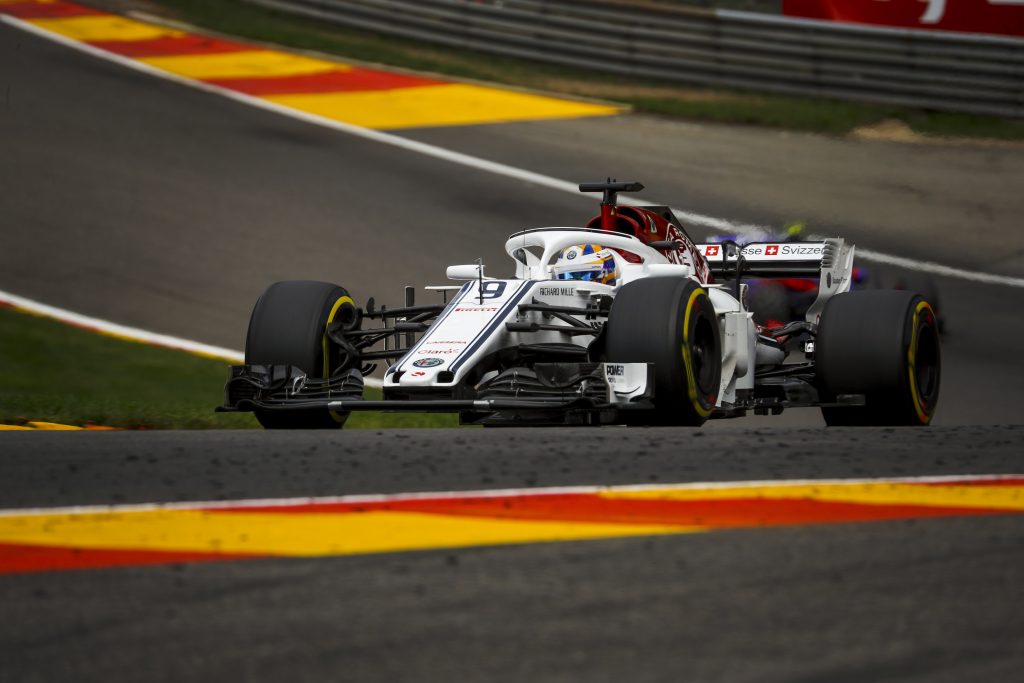 Carlos Sainz (Renault – 11th):
"Overall, it's been a difficult weekend. We struggled in sector two today and overtaking was difficult as we couldn't get into DRS range of the drivers ahead. When you lack confidence and balance in the car, it makes things tough at this track. We have things to analyse and look into. On Friday I was more comfortable with the car, so we have to check what's happened over the course of the weekend. We know what we need to improve. We have a couple of days to work hard and get set for Monza."
Kimi Raikkonen (Ferrari – DNF):
"I don't know what happened at the start: the only thing I know is that somebody hit me from behind and straight after that I got a puncture. I had a lot of damage to the rear wing endplate and the floor; at that point I could not go fast and the DRS stayed open all the times, it was hard to remain on track. It was pointless to continue, the damage was too big, so we decided to go back to the garage."
Sergey Sirotkin (Williams – 12th):
"It was a reasonable race to be honest. Our race pace was closer to our competitors and I was fighting a Sauber for points at the beginning of my stint which showed we were having a proper fight, which wasn't down to just luck. The prospect of getting points was a nice feeling but we just missed it. I enjoyed the couple of laps at the start, I was managing the pace and my stint. I think we had good pace compared to where we are usually. After the pitstop, everything looked even better. I wasn't lucky catching the Toro Rosso at that part of the track, I struggled for a lap and a half with the tyres and that's how Carlos (Sainz) got through, otherwise I think had enough pace to keep him behind. That would have made for a very special race for where we are and what we have but I think we can take a lot of positives from today."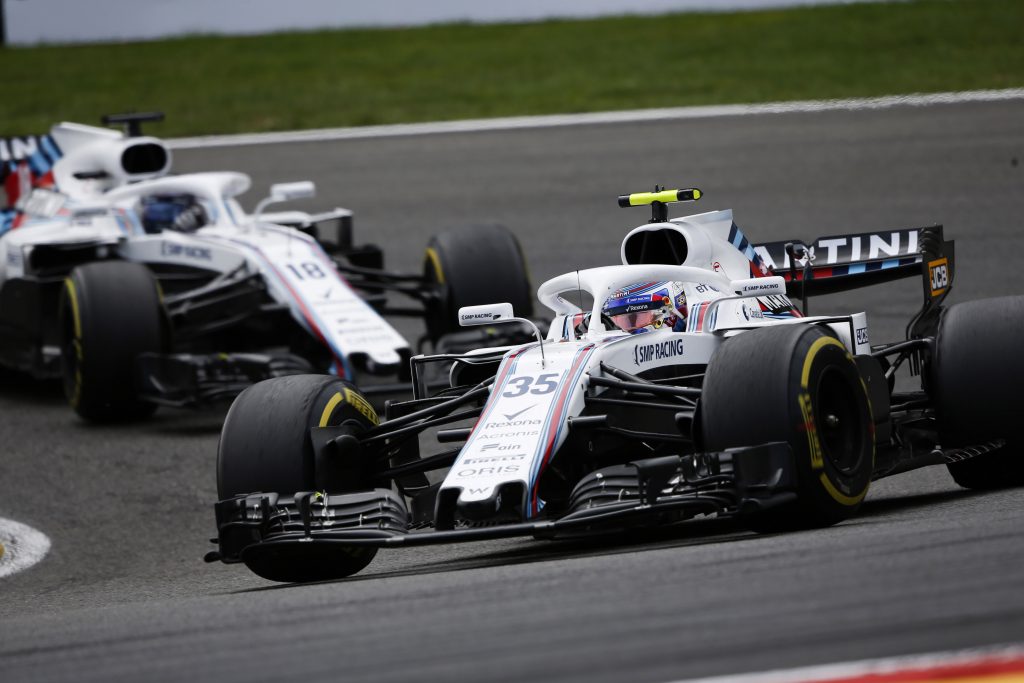 Gil de Farran (McLaren – Sporting Director):
"Overall, a disappointing end to a difficult weekend. We're relieved that no-one was hurt at the first corner accident, which took Fernando out through no fault of his own. With Stoffel, we soldiered on as best we could, but we were unable to overcome our pace deficit. We now have a lot of work to do in a short amount of time, repairing cars and carefully further analysing our performance in Spa. We move on and focus on maximising our performance at Monza next weekend."
Lance Stroll (Williams – 13th):
"I felt we were better compared to the rest of the field today than we have been recently, and that is a positive sign. Renault was a bit quicker than us, but not too much quicker. I think they had that bit better extra pace and undercut us. Carlos was on the mediums at the beginning and we were on the softs, and he was kind of maintaining the pace, but on the supersoft he undercut us quite easily."
Daniel Ricciardo (Red Bull – DNF):
"I don't know exactly what happened at the start, but I felt a tap and to be honest I just remember sliding and the next minute I hit the back of Kimi. It was just a Turn 1 incident and apologies to Kimi if his retirement was down to me, but I'm pretty sure it all started behind me and was a chain reaction. It was a big crash for quite a low speed corner and I think Hulkenberg hit Alonso pretty hard from what I heard. My rear wing was pretty much ripped off and the mechanics tried to get me back out with a new wing before we went a lap down; we just missed that but they did all they could. We tried to stay out and hope for a Safety Car so we could get back on the lead lap, but we couldn't just keep racing and hoping until the end, so we chose to retire with 14 laps remaining to save mileage on the engine and gearbox."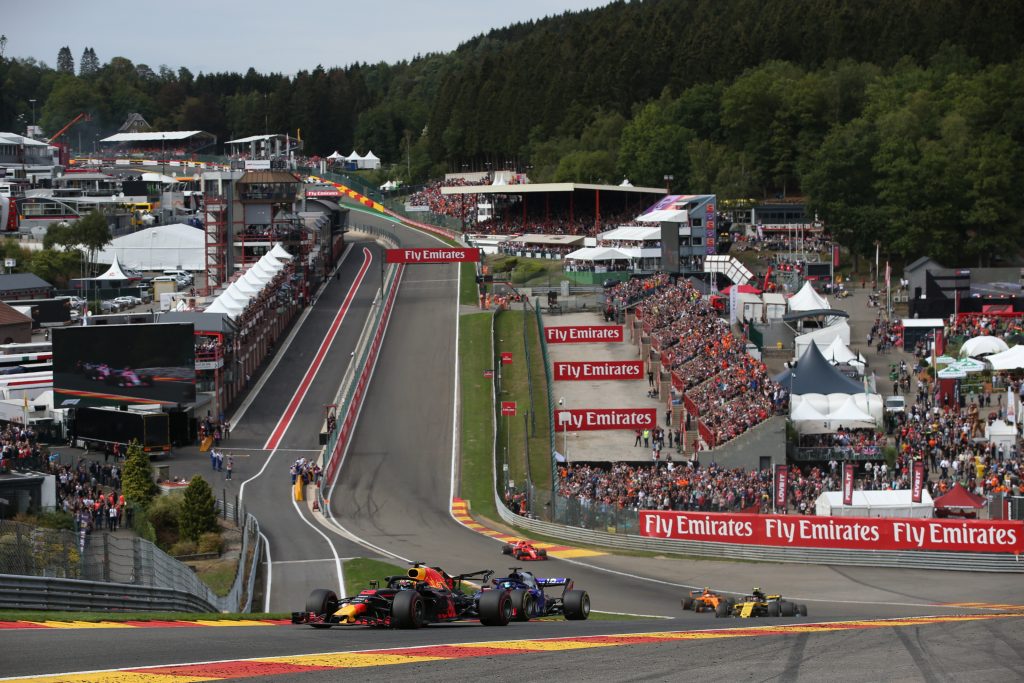 Brendon Hartley (Toro Rosso – 14th):
"I'm not happy with how today's race went. I had a couple of good battles on track, but it wasn't easy out there. I was right behind Daniel on the exit of Turn 1 which would have shaped up to be OK, but then he had contact with Kimi and he lost his wing. I got stuck behind and then both the Williams and a Sauber ended up passing me before Eau Rouge, so I lost out in the mix of the first corner scrap and my race wasn't looking too good at that point. We went really long on our first stint to help the other car to consolidate a points finish, as we knew points were out of reach for me. We ran a different strategy to Pierre's car and started on the harder compound which we knew would be tricky for Turn 1, but it made sense to split strategies. I'm happy as it's a quick turnaround before Monza."
Stoffel Vandoorne (McLaren – 15th):
"It was a pretty boring race to be honest! I was on my own all the way. It was a very unfortunate crash on lap one, luckily everyone was unhurt so that's the most important thing. We tried to do something different with the tyre strategy and pit behind the Safety Car, and unfortunately that didn't really pay off. I think the race in general was quite boring for everyone, there wasn't much overtaking and for us there were no miracles today. Whatever we did there was nothing much we could get out of it. Whether pitting the second time was the right thing to do is hard to tell, but it didn't make much difference. We more or less confirmed our pace anyway and we aren't very quick at all. The only chance we had for a good result was to try something completely different and it didn't work, but I don't think we lost anything by doing it."