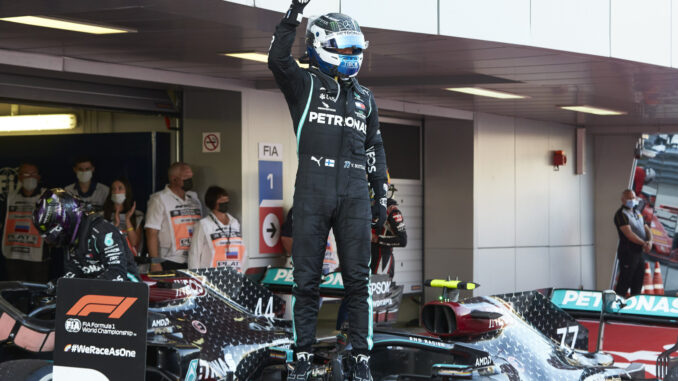 Valtteri Bottas made the most of a Lewis Hamilton penalty to take his second race win of the season, claiming victory at the Russian Grand Prix.
Red Bull's Max Verstappen was second, while Hamilton recovered from two five-second penalties to secure the final spot on the podium.
The result leaves the Finn 44 points behind his teammate in the drivers' championship.
Here's what the drivers said following the race in Sochi:
Valtteri Bottas – 1st (Mercedes):
"What a feeling! It's been a little while since my last win, but I knew there would be opportunities heading into the race and luckily things went my way this time. It was a bit tricky at the start because an insect hit my visor just as I was entering the braking zone, which meant I couldn't really see where to brake and so I went deep. But I knew it was going to be a long race and with the Medium tyre, there would be chances later on. Lewis then had his penalty, and once I was in clean air, the pace was really strong, and I was able to control everything without any real concerns. Now I need to keep this momentum up. There are quite a few races to go and you just never know, so I'll keep pushing, I won't give up and we'll see how it turns out in the end."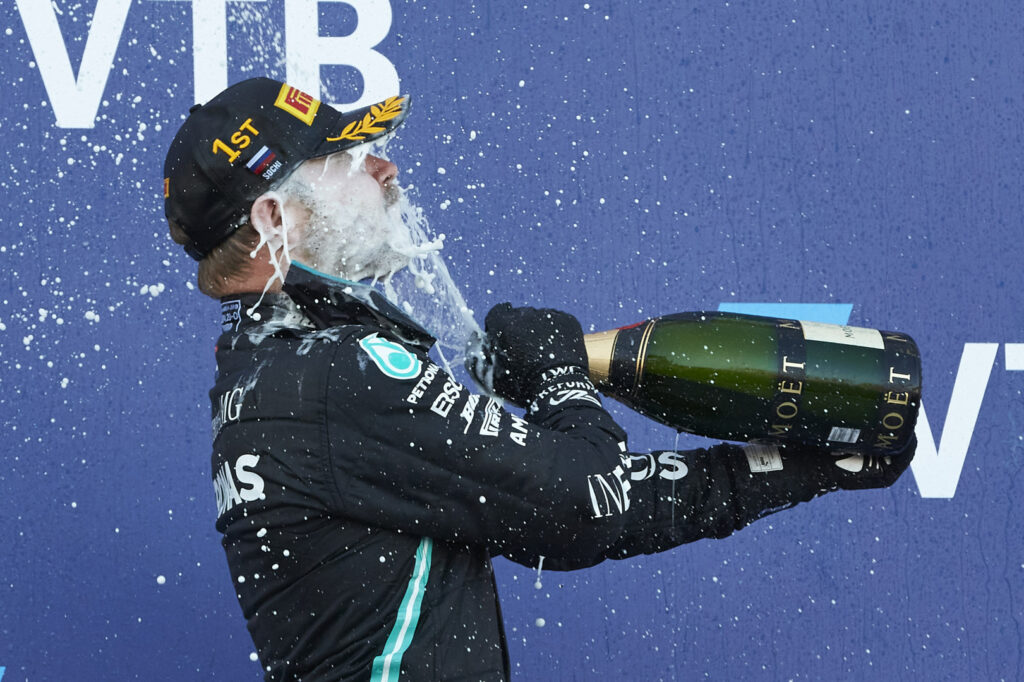 Max Verstappen – 2nd (Red Bull):
"We can be very happy with second place today, especially on a track where we know that we aren't normally so competitive. It is a good amount of points for the team and what we needed after the last few races. There was very low grip on the inside of the grid at the start, which cost us a bit and the first few corners were pretty interesting, but we stayed calm and I quickly moved past Daniel again. I struggled to follow the Mercedes cars on the medium tyre as I had a lot of oversteer, but once I pitted onto the hard we were more competitive and I focused on my own race, which we managed well. It's good to be back on the podium and we can definitely be pleased to finish within eight seconds of Bottas on this track."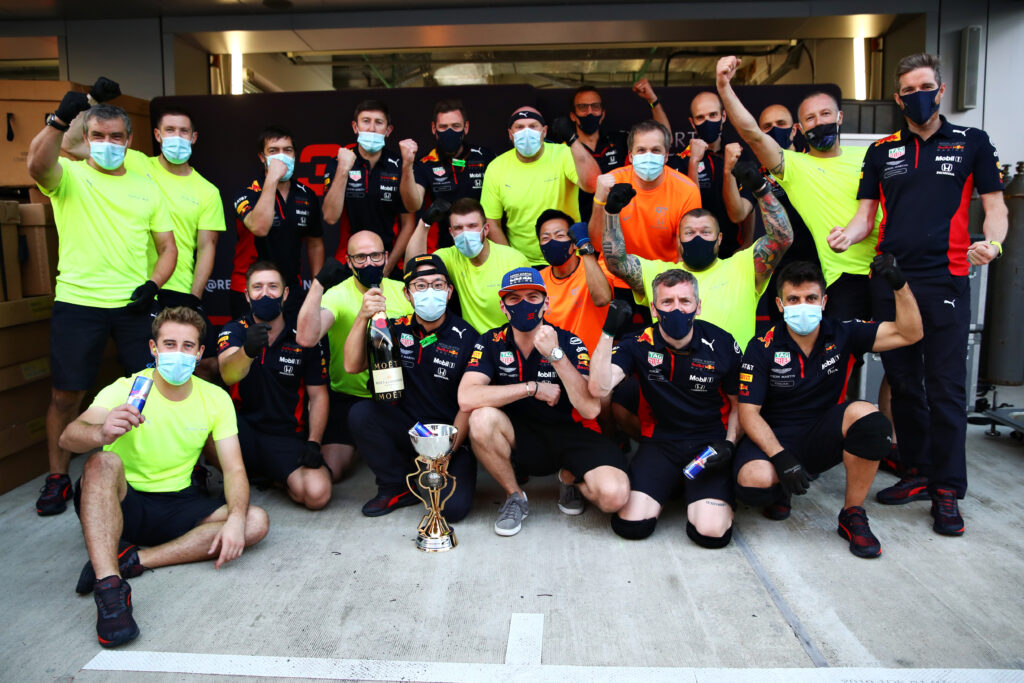 Lewis Hamilton – 3rd (Mercedes):
"Firstly, I want to say a big thank you to all the fans who came out this weekend, I hope you enjoyed the race. It wasn't a great day for me, but it is what it is. We need to go through everything and understand exactly what went on to get those two penalties. That obviously dropped me back and the first stint on the Soft was also challenging, as I was trying to go as far as I could on that tyre. I think I did pretty well on the Soft and from then, it was about trying to recover as much as possible. It was just one of those days, but I'm grateful that I still managed to get a podium, bag some points and didn't lose as much as I could have done. Congratulations to Valtteri on the win, and I'll take the points and move forward."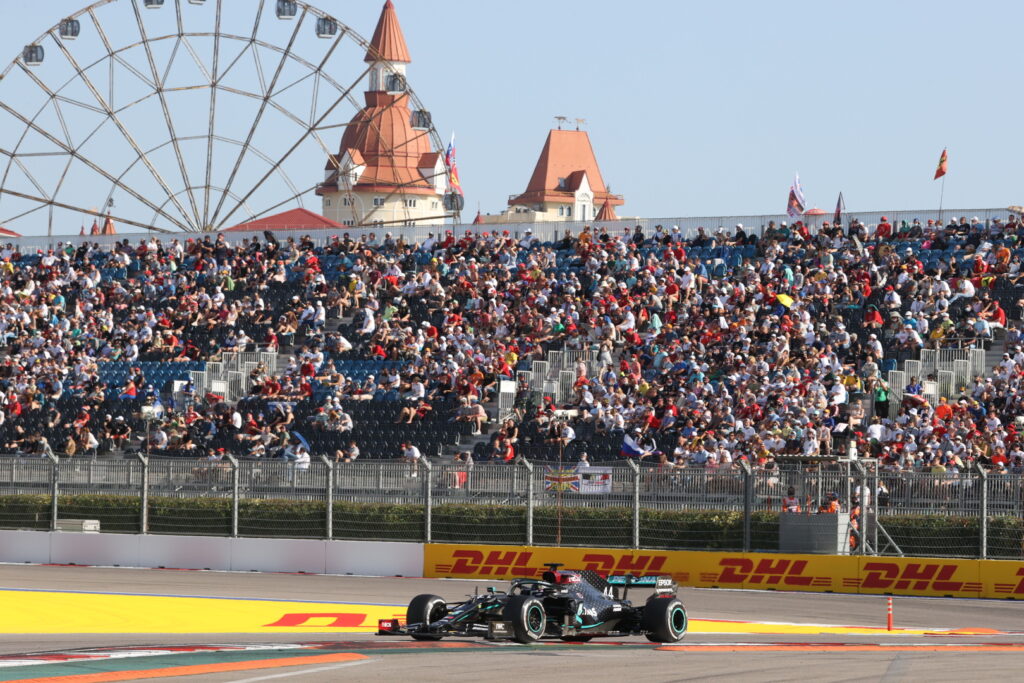 Toto Wolff – Team Principal (Mercedes):
"We've held onto our 100% winning record in Sochi and a one-three finish is a great result for the team, so we're very satisfied. On Valtteri's side, the win was long overdue and he drove a brilliant race. There were no mistakes, he managed the tyres well and controlled it to the very end, cruising across the finish line. On Lewis's side, it was a frustrating race. There is some room for interpretation with the practice start rules, so clearly, we need to analyse why we made the mistake and take the penalties on the chin. Like always, we win and lose together, never pointing the finger but instead trying to investigate what we can do better and how to improve. Clearly, we've had two incidents, here and in Monza, where we have made mistakes, and learning from these will only make us stronger in the long run. Nevertheless, we increased our Championship advantage with a strong result and now look ahead to the Nürburgring."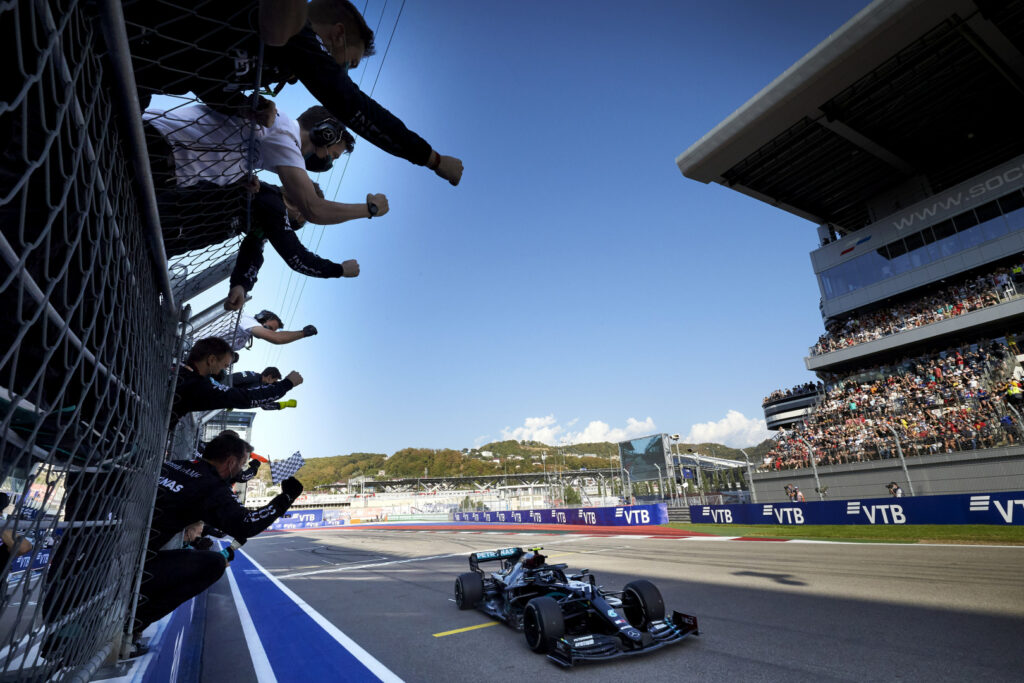 Sergio Perez – 4th (Racing Point):
"It was a lonely race out there! We got the absolute maximum out of the car today and P4 was the best result we could achieve, so I'm very happy. The first stint was absolutely key. We knew the start would be difficult on the dirty side of the grid, but I was disappointed to lose two places to the Renaults off the line. I think we were very similar on pace to them, so the fact we were able to conserve the tyre so well in the opening stint and get back ahead of them was crucial – and we did a great job to execute that strategy. We can go into the next race on a real high, and I'm looking forward to getting the upgrade soon and aiming for more great results in the coming races. We have a strong car this year and I'm enjoying driving it."
¡Nos vamos de Russia contentos! ¡Gran trabajo del equipo! El manejo de llantas en el primer stint de la prueba hizo nuestra carrera después de la mala arranca donde salimos de la parte sucia de la pista.
¡Ya estamos regresando en el campeonato! 👏🏻👍#RussianGP pic.twitter.com/1djgyr9P9C

— Sergio Pérez (@SChecoPerez) September 27, 2020
Daniel Ricciardo – 5th (Renault):
"I'm pleased with the result today and it's a decent one for the team as well. I had a great start and got up to third in the first few corners before falling back to fifth. The race then changed on the Hard tyres, we had good pace but obviously I made the mistake getting past Esteban into Turn 2 and had the time penalty. I locked the front brakes, so I take responsibility for that, but I was able to put that mistake right and recover well. Taking a step back, I'm pretty happy with my day, and the end result, as we take home some good points. The car is working well, and reliability is good, so everything has come together nicely for us."
Charles Leclerc – 6th (Ferrari):
"It was tricky at the beginning, as I had a pretty poor start and lost a few positions by turn one, but then I regained them immediately and from then on the performance was very good. Our pace was not too bad at all today. We were quite strong in our first stint on Medium tyres and we managed to go long on them also because I paid particular attention to tyre management today, after we had seen a lot of degradation on Friday in our race simulation. I worked on it and I am glad it worked out well. We maximized what we had today and that's the most important thing. It's a positive weekend for us and this also helps us mentally."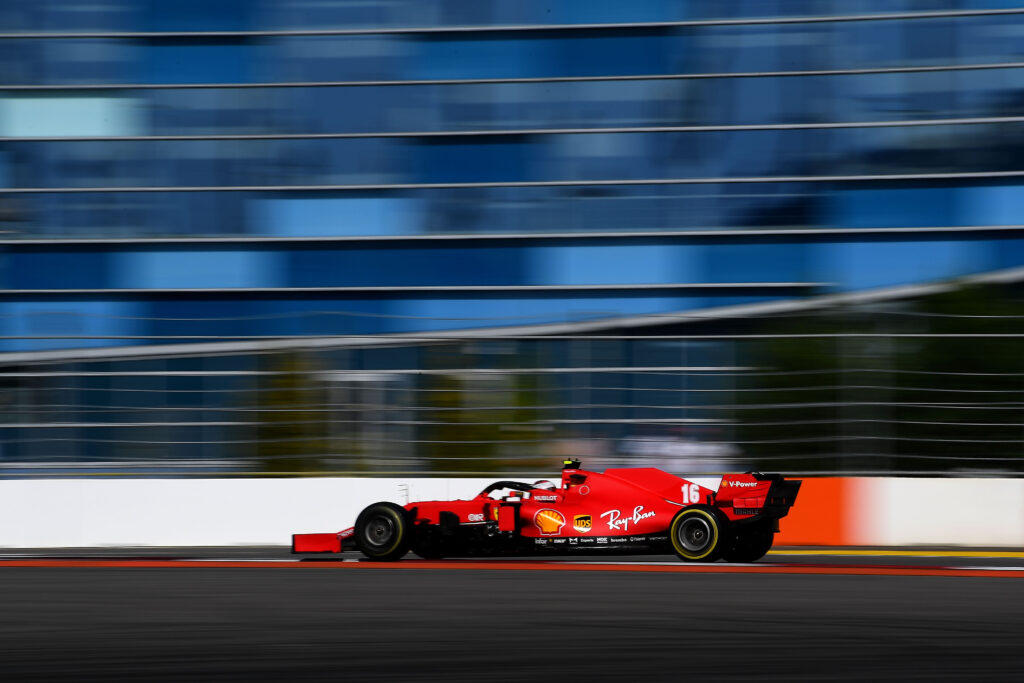 Christian Horner – Team Principal (Red Bull):
"Second place is a fantastic result for Max today and once again he extracted everything he could out of the car with a quality drive. Second was the optimum we could have hoped for and Lewis's penalty did help us out. It was a tough afternoon for Alex, who started in 15th place following a grid penalty for a gearbox change. He lost ground on the opening lap, but with the Safety Car we effectively had a free stop, only conceding one place as we changed Alex from the soft tyre to the hard, which he was more comfortable on. He was then able to make progress through the field with some great overtaking moves. The team once again made some fantastic pit stops and in six years of coming to Sochi this is our best result, with yesterday's front row start and today's second place, so it is great to leave with a trophy."
Esteban Ocon – 7th (Renault):
"It's a great team result, overall, so that's good. When we put on the Hards, the car was not the same. It was a bit tricky to drive and I was struggling with grip and balance and I just wasn't as happy as I was on the Softs. I was almost following Max [Verstappen] on the Softs at the beginning of the race, so that's something for us to review there. Potentially, more points were possible, but we're still happy with the result and how our race went. We know the car is quick and that's good for future races. We're going in the right direction; we're catching the guys in front and that's the target for the Constructors' Championship. We're getting there."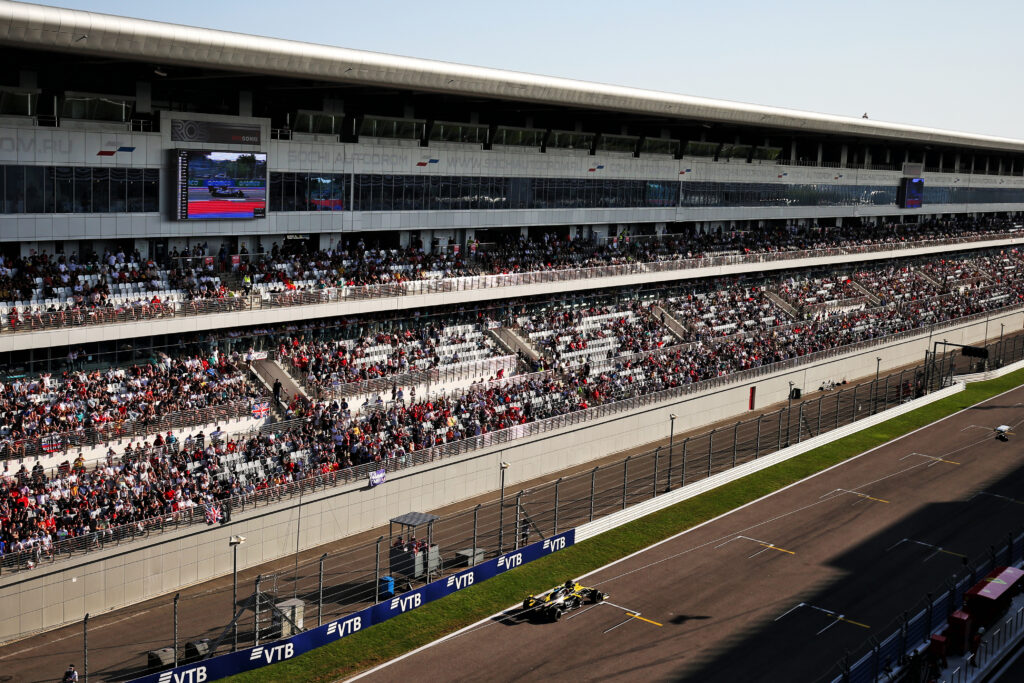 Daniil Kvyat – 8th (AlphaTauri):
"I'm really happy with today, my home grand prix couldn't have gone much better. It was a tough race, I always had to push to make the strategy work, but this is the kind of racing I like. When I saw Hamilton behind me and I was able to keep him behind for a couple of laps, I thought the pace in the race is amazing. I was confident this morning that we could have had a good race as I'm normally quite strong when it comes to Sundays. It's just a shame I wasn't able to force Ocon into a mistake, otherwise P7 was definitely on the table, we were quicker, but it's hard to overtake with these modern F1 cars. I'm happy with my driving and we got some good points for the team. The car is there, the pace is there, so we have to keep pushing for the rest of the season, hopefully we can gain a position in the championship."
I'm really happy with today, my home Grand Prix couldn't have gone much better. It was a tough race, I always had to push to make the strategy work, but this is the kind of racing I like. 1/2#F1 #RussianGP 🇷🇺 #DK26 pic.twitter.com/WxDmq8JUlm

— Daniil Kvyat (@kvyatofficial) September 27, 2020
Pierre Gasly – 9th (AlphaTauri):
"It wasn't an easy race for us. I had a good start and was running in P7, but then we lost quite a lot of time in the middle part of the race when I was fighting with Alex and Kimi. We got overcut by Charles, but I was pretty fast and was trying to catch him. If the Virtual Safety Car period had been a bit longer, it would have certainly helped with a free stop, but it was shorter than expected so I paid for it a bit. However, I tried to recover as best as I could and was able to overtake a few cars. It's a bit disappointing as the car felt great, we had good pace and I think we could have done more today."
Alexander Albon – 10th (Red Bull):
"Today was a lot of work for one point and it wasn't an easy race. We struggled at the beginning to overtake and get through the pack on the hard tyre and so we lost a lot of time. When we swapped to the mediums it was a little better and we did as much as we could, but it was difficult out there and a frustrating race. We were just in traffic the whole time without any clean air, so we couldn't put down any really good laps. After the gearbox penalty, today was about damage limitation and now I'm already focusing on Germany and having a cleaner weekend in two weeks' time."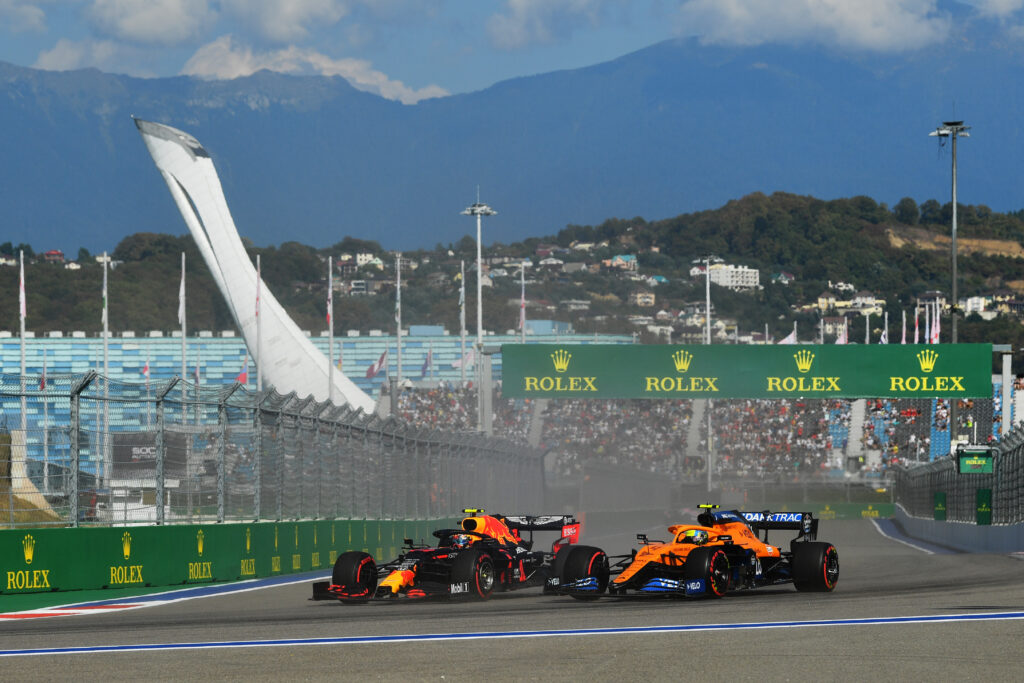 Franz Tost – Team Principal (AlphaTauri):
"It was really nice to see that the grandstands were quite full here in Russia, so congratulations to the organisers as it's pleasant to be racing in front of many F1 supporters. Our race was moderate because I think we could have achieved more today. At the start, Pierre had good pace and was in P7 for quite a long time, but then we pitted him a bit late which put him in traffic and at the end, he was only able to finish in ninth position. Daniil had a good start on the base compound, which was a really good strategic decision. We brought him in for his pit stop on lap 31, but unfortunately, he wasn't able to make an overtake on Ocon toward the end of the race and finished P8. We will now focus on the German GP, hoping to take further steps forward."
Antonio Giovinazzi – 11th (Alfa Romeo):
"It was a positive race in which we achieved the maximum we could, especially starting from 17th. The start was really good, we once again made up a good few places, and I felt I could push and fight the cars around me. I was happy with our pace and for sure we closed the gap a bit more, so we need to continue like this. It's always frustrating to finish just one place outside the points, but I am still happy with today's result and with the confidence it gives us going forward."
A un passo dal mettere un punto su una gara solida.
Un passo che dobbiamo fare sin dal prossimo GP 💪🔥
.
Just a step away from scoring. A step we need to take next time 🔥💪 #F1 #RussianGP #AlfaRomeoRacing #AG99🐝 pic.twitter.com/BFd2GBYTeX

— Antonio Giovinazzi (@Anto_Giovinazzi) September 27, 2020
Otmar Szafnauer – Team Principal & CEO (Racing Point):
"A perfectly executed race by Sergio and the team to convert fourth place on the grid into a race result. Despite dropping back behind the Renaults at the start, he battled back with a combination of overtakes and strategy to score 12 important points. A very strong weekend from start to finish. But it was a bittersweet race with Lance being taken out of the race on lap one – through no fault of his own – when Leclerc hit his right rear tyre. That spun Lance around and into the wall. It's a massive shame because he had made a superb start and was already up in P7 right behind Checo. Given the pace of the car, it's a huge shame that Lance couldn't score the points he deserved today."
Kevin Magnussen – 12th (Haas):
"We absolutely did the best we could today. On a day like this the team deserves points, we maximized the car completely. We weren't quick enough at all to be up there – in and around the top 10, our pace should have been down the back. We were in the running for points for almost all the race, so it was a really good job from everyone. Even though there's nothing really to celebrate I think we still can be really satisfied with the job we've done today and the progress we're making, both operationally and on the set-up of the car."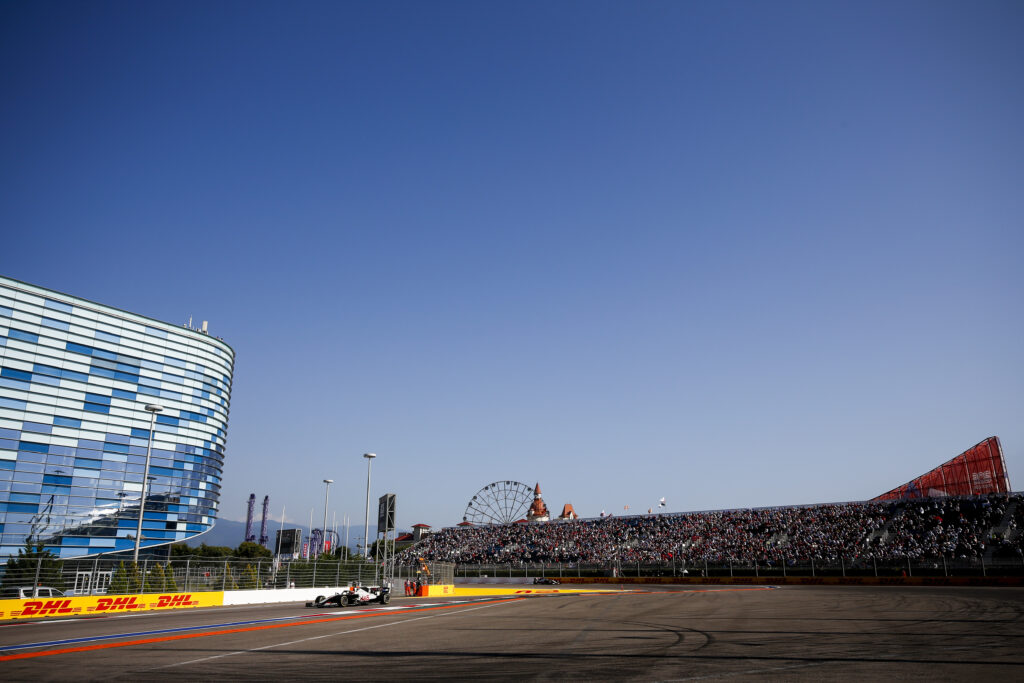 Sebastian Vettel – 13th (Ferrari):
"It was a bit of a boring race, as we didn't have many options in terms of strategy. My start, from the dirty side of the track, was not ideal and so I couldn't benefit from other people's crashes and collisions. After the Safety Car period I was a bit stuck and I struggled to stay close to the cars in front of me. In the middle part of the race the car was quicker than yesterday in quali but I struggled to make the tyres last, partly because following other cars did not help. I did the maximum today but I was just not quick enough."
Kimi Raikkonen – 14th (Alfa Romeo):
"The car was behaving well and we had good speed, but Sochi is a difficult place to pass and we couldn't climb up into the points. Considering where we started the race, we probably got all we could from the race: even the slow stop didn't change the end result too much. Antonio in P11 was just a few seconds ahead of me and I could have probably been around there, but in the end P10 was too far ahead. We showed we have speed during the race and that's a positive for the next rounds."
Lando Norris – 15th (McLaren):
"It was an extremely tough race. My start was alright – nothing spectacular, but not bad. It was difficult on the right-hand side of the grid. I had a decent run down to Turn Two, but some guys just committed a lot more and I ended up having to back out. Anyone that committed just ran off the track and it was tricky to avoid them. Then there was the incident ahead that involved Carlos that I had to avoid. I think it damaged some bits on the car and made it a lot trickier to finish the race. We weren't far away, but on a Hard tyre, which we boxed for at the end of lap one, I just missed out a little bit. We need to improve for next time – it was very tricky to drive the car in the race on this track. We'll try again in Germany."
Laters Sochi ✌️ pic.twitter.com/wzWVed372N

— Lando Norris (@LandoNorris) September 27, 2020
Nicholas Latifi – 16th (Williams):
"The race itself was a difficult one to manage. We thought we were going to be more competitive, but we struggled a lot in the opening stint and then didn't have the pace to come back once we had pitted. I think strategically we did a good job, we benefited from staying out and not pitting straight away. We need to analyse where we could have done better. Overall, I think I drove a good race, a few mistakes here and there, but something that I can learn from."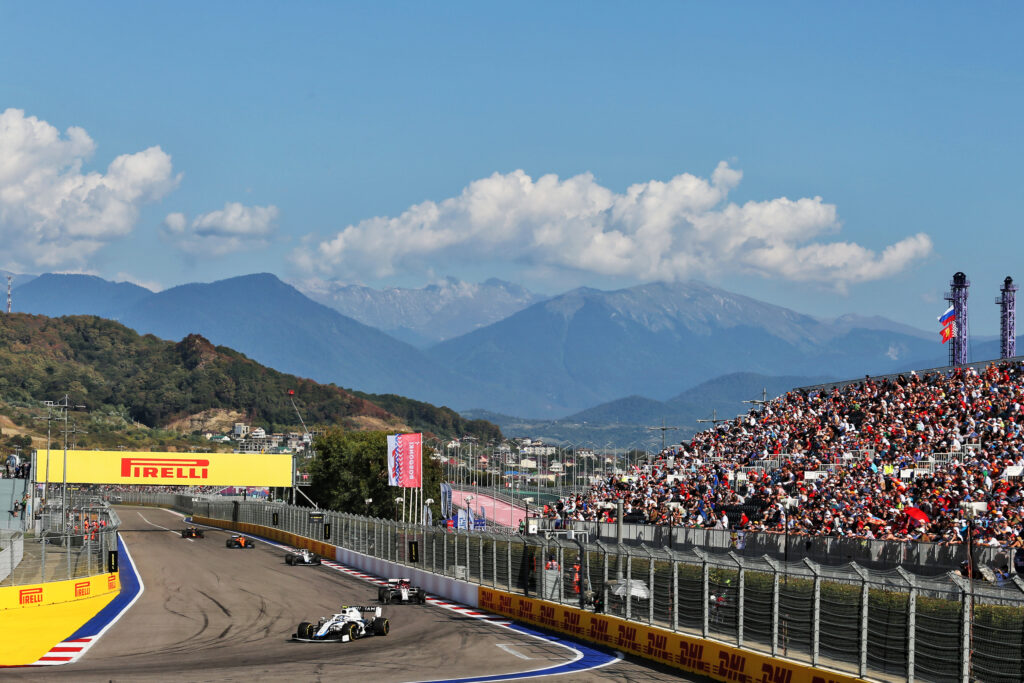 Romain Grosjean – 17th (Haas):
"We managed to get through the first lap quite well, with both cars running up into the points, after that I was hanging in there. With all the problems we've had since Friday, with the car not being so good, sadly they appeared again today. Yesterday, on new tires and low fuel, we could get away with it, but today it was a handful to drive. I could feel from the first few laps that there was something not right, I had no rear-end. I pushed with every tool I had onboard. Let's hope we can analyze everything and be better for the next race."
George Russell – 18th (Williams):
"It was a really tough day in the office with a lot of mistakes from my side. I was struggling with the tyres and couldn't get them working. I have been struggling with the starts a lot this year and I needed to step it up in terms of my confidence, and that's what I did. I made a really good start, but I was forced off as turn two is so tight. It was three abreast, and three into one doesn't go. We have a lot to review and some interesting things to take away from this weekend, but ultimately the points are scored on Sunday and we were not good enough today."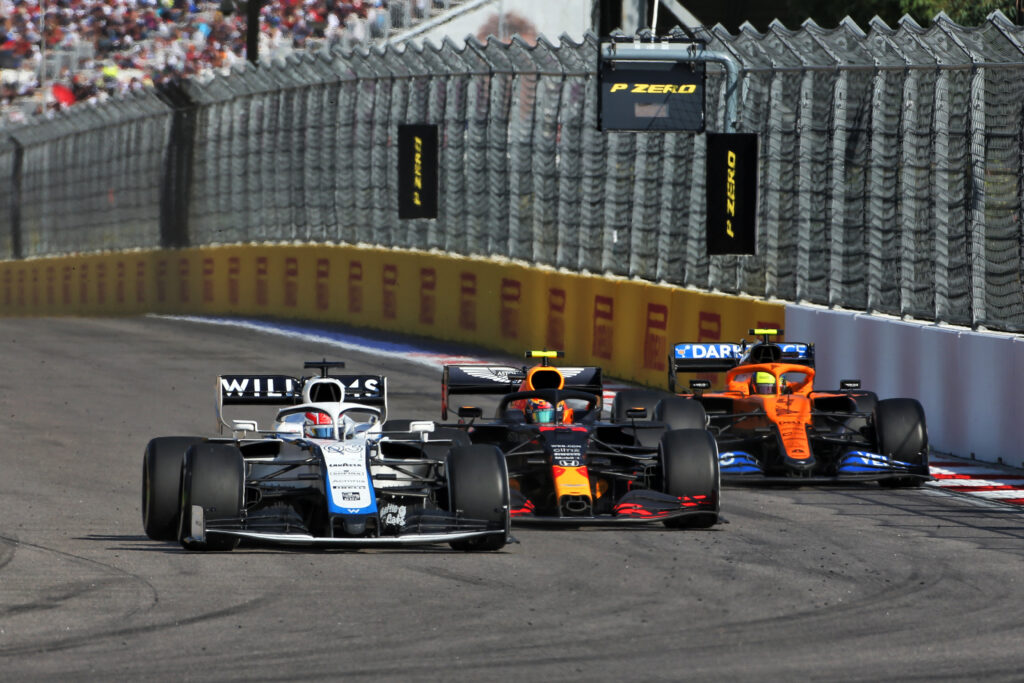 Carlos Sainz – DNF (McLaren):
"First of all, apologies to the entire team. It was tricky to get a good start on the dirty side and by Turn Two we were surrounded by other cars. I went too deep and left the track, so I decided to run over the sausage kerb and go around the bollards to avoid the penalty. It was a quick decision, the angle was very tight and I simply misjudged my speed. It was a pretty heavy impact but I'm fine, just disappointed for the team. Watching the replay of the start, other cars also left the track at Turn Two but kept going and didn't get the penalty, so I might as well have done the same. But anyway, it is what it is. We will reset and go again in Germany."
🇷🇺Not a good way to end the weekend. Sorry to the whole team. Had to run over the sausage to avoid getting the penalty and misjudged the speed through the bollards. Pretty heavy impact but I'm ok, just disappointed for the team.

👉https://t.co/uCK3LbtaAN#CarlosSainz pic.twitter.com/IsMvm1x7Kw

— Carlos Sainz (@Carlossainz55) September 27, 2020
Lance Stroll – DNF (Racing Point):
"I made a great start to the race and I was up to P7 by the time of the collision. Having had the free choice of tyres, by starting outside of the top 10, we were in a really good place to execute a strong race and score plenty of points. Sadly, it wasn't to be because my right-rear tyre got hit by Leclerc on the opening lap. I'm very surprised that he didn't get a penalty because I left him plenty of room and he could have avoided making contact by not going so wide on the exit. I was on the edge of the track and couldn't have done more to avoid him, so I'm disappointed that a careless move cost us a potentially good result. What's done is done, and I'm ready to focus on coming back stronger in Germany next time out."