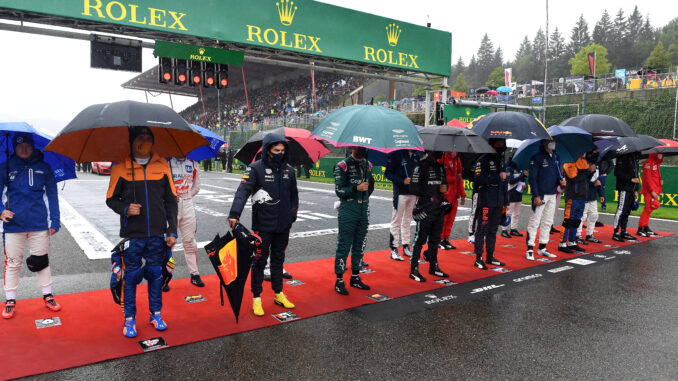 Weather took the headlines at the Belgian Grand Prix as wet conditions ensured nothing more than a few laps behind the safety car could be managed at Spa-Francorchamps.
Max Verstappen is officially credited with winning the race, having started from pole position, while George Russell secures his first podium after mastering the wet track on Saturday.
Sergio Perez was the only driver to lose positions in the race, after crashing on the formation lap, while Lance Stroll was penalised after the race.
Here's what all the drivers said following the race:
Max Verstappen – 1st (Red Bull):
"It is always good to win and the points are important but today is not how anyone wants to do it, especially on our 50th start with Honda. In hindsight it was very important to get pole yesterday and although it's a big shame not to do some proper racing laps, as I really love coming to this track, it was just impossible in these conditions. I thought maybe at 15:30 the conditions were a bit better than just now when we tried to re-start but the visibility was still very low and I understand why we couldn't race today. For me in the lead the visibility was a lot better, even with the Safety Car ahead, but the guys behind me couldn't see a single thing and if someone went off at Eau Rouge and bounced back onto the track they could have been T-boned at high speed which we do not want. It was also extremely low grip and because it kept raining all afternoon it just didn't improve. I think today the big credit goes to the fans around the track who stayed here the whole day in the rain, wind and cold. It must have been horrible to sit in those conditions so a big thanks goes to them and they should be the real winners from today. Now we have to keep on pushing and trying to re-gain the championship lead. I'm confident we have a good car and there is a long way to go so we just need to make sure we get the best performance out of it for the rest of the season."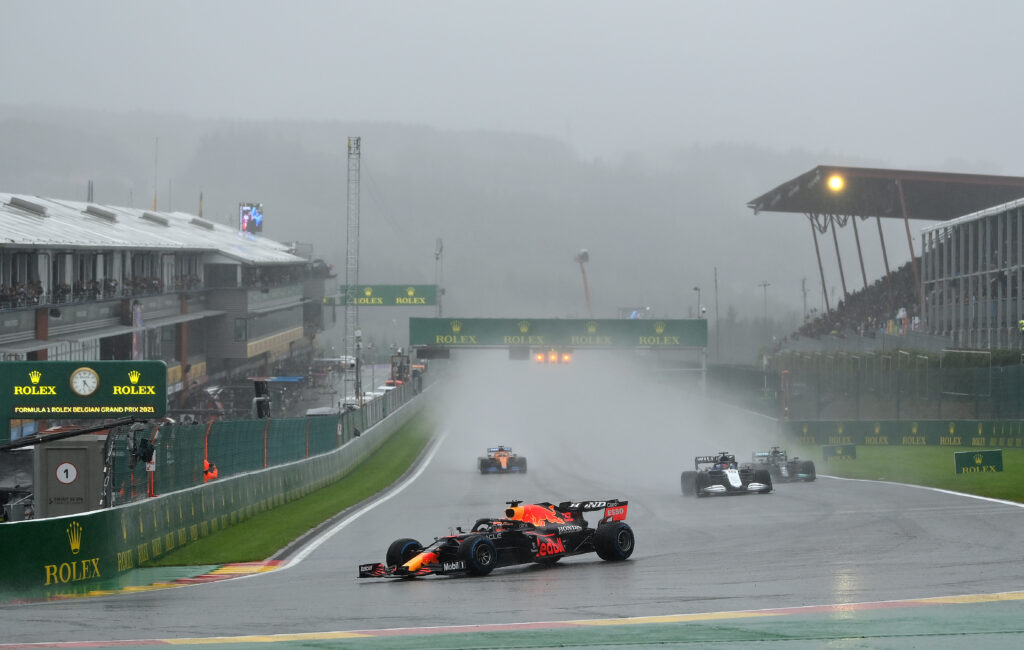 George Russell – 2nd (Williams):
"The conditions were incredibly difficult out there and even in second with only one car in front, sometimes I couldn't even see Max (Verstappen) ahead. I'm really sorry for everyone at the track and those watching around the world that we couldn't race but safety has to come first. It's a strange feeling as I've never had a race finish like this in my career, but a podium is a podium and we will take it no matter what. We were rewarded for the amazing job we did as a team yesterday. Obviously if the race had gone ahead today it would have been incredibly difficult for us to hold our position, but you've got to take it as it comes. It was only last race in Hungary that I scored my first points for Williams and here we are standing on the podium at the Belgian Grand Prix! It is a reward for all of the hard work everyone in the team has put in over these past three years."
Deserved. pic.twitter.com/Mk8vyBZm5D

— Williams Racing (@WilliamsRacing) August 29, 2021
Lewis Hamilton – 3rd (Mercedes):
"Firstly, I'm really disappointed for the fans. It's no one's fault, you can't control the weather, but the fans have been incredible today, sticking with us the whole time, holding out for a potential race, keeping their energy up and creating the atmosphere. They were robbed of a race today, unfortunately. I love racing in the rain, but today was something else. You couldn't see the car ahead, there was aquaplaning, it was so, so tricky out there. It's a shame because of course I wanted to race and I love this track as well. I think it would have been a great race if it hadn't rained so hard, but unfortunately it just didn't stop."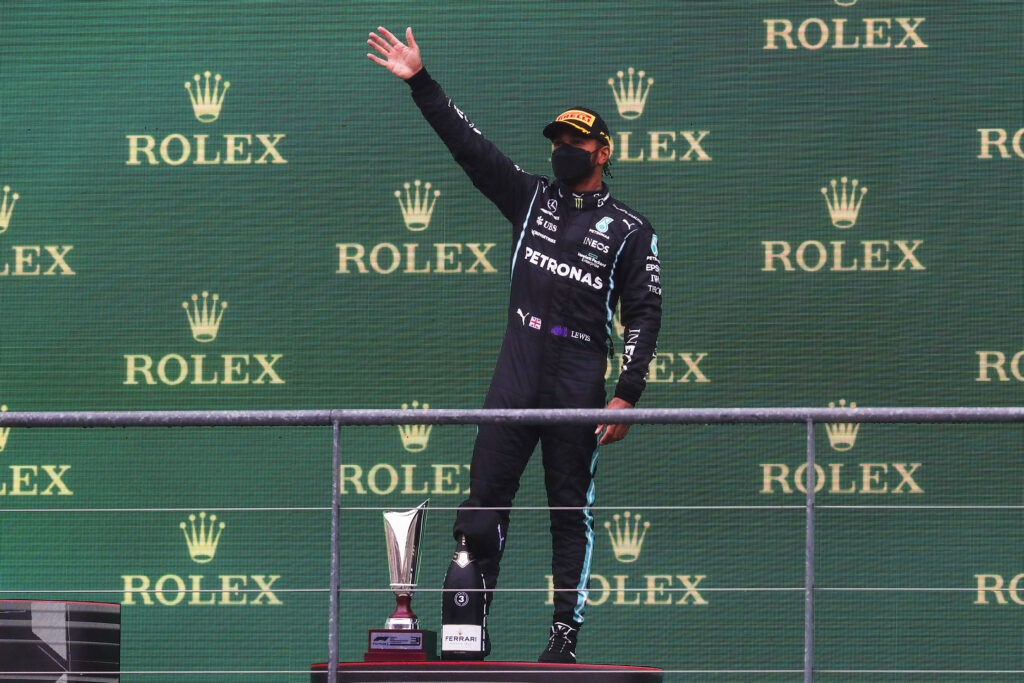 Christian Horner – Team Principal (Red Bull):
"It's frustrating for the teams, drivers and especially the fans that we could not race today, but unfortunately the conditions meant that no matter how long we waited it was not safe to do so. Everybody did their best to try and put a race on and credit must go to the FIA and Liberty who did everything within their power and waited until it became impossible. Ultimately, Max's great work in very difficult qualifying conditions yesterday earned him the win and the maximum half points on offer which importantly enabled us to close the gap in both championships. Following Checo's unfortunate trip into the barrier on the initial out lap it was incredible to see our mechanics in action under pressure once again, fixing his car in the time they did, giving him every opportunity to race should we have been able to get out from behind the Safety Car. It was a massive job as both sides of the suspension and the steering rack were damaged but it was very rewarding to see the teamwork with both sides of the garage working together to get it fixed. We are all feeling a little cold and wet but huge credit has to go to the fans who continued to pack the grandstands today. We truly appreciate the loyalty and I'm just sorry that we couldn't deliver the track action they came for, but hopefully everyone will tune in for next weekend's Dutch Grand Prix so we can provide a great weekend of racing."
Daniel Ricciardo – 4th (McLaren):
"Crazy, crazy day, crazy circumstances. It's lucky we don't get these situations very often but it is what it is. Sorry to the fans and everyone that stayed out here all day to watch us race, they were awesome. We were really hoping to get a race and obviously it didn't happen, but it's no-one's fault, it's just the situation and circumstances today. We've got two races on consecutive weekends now so hopefully that makes up for it. It made quali more important, so I'm happy I managed to earn a good position yesterday."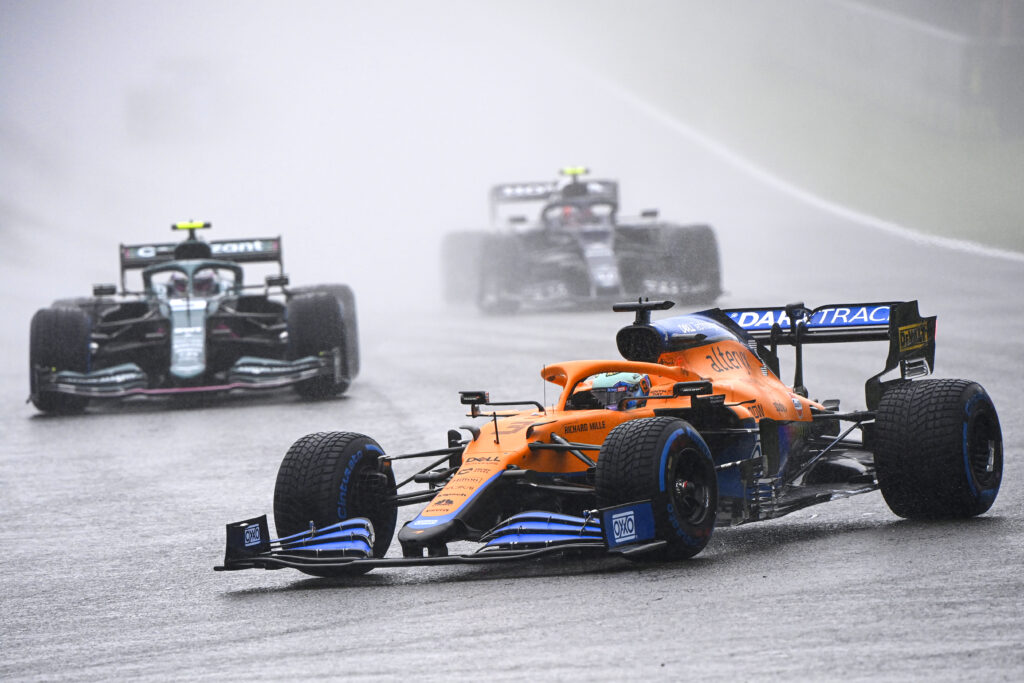 Dave Robson – Head of Vehicle Performance:
"Unfortunately, the conditions were just too bad today and we couldn't complete any racing. It is a real shame for everyone involved and all those that came to watch. Of course, for us it means that we secure a great race result off the back of an excellent day yesterday and a lot of hard work over the last couple of years. We now travel to Holland to take on the challenge of Zandvoort. It is effectively a new track for us and will represent a whole new challenge, which we are looking forward to tackling with renewed confidence."
To the team trackside and all those back home – this one is for YOU 💙 pic.twitter.com/3Ui38n7mWv

— Williams Racing (@WilliamsRacing) August 29, 2021
Sebastian Vettel – 5th (Aston Martin):
"I think it is a frustrating day for all of us and an anti-climax, especially for the fans, who were outside in the wet and the cold all day waiting to see a race. I feel sorry we could not give them the entertainment they deserved to see. The rain just never stopped and, when we did go out, the spray was very bad with low visibility. The FIA had to make some tough decisions today. It is not easy for them, but safety has to be the priority, and even though their decisions may not have been popular they were probably the right ones."
Pierre Gasly – 6th (AlphaTauri):
"It's been a long day and I'm very disappointed that we didn't get to race. I think we all feel very sorry for the fans that have stayed with us in the rain all day, without any racing and I would like to thank them all for staying until the end. However, the conditions were very extreme, I don't think I've driven in conditions worse than this before. I think that the problem was that if anyone spun in the first lap, there was absolutely no visibility and there would've been a big accident. We know how dangerous it can be to race here, so this was absolutely the correct decision."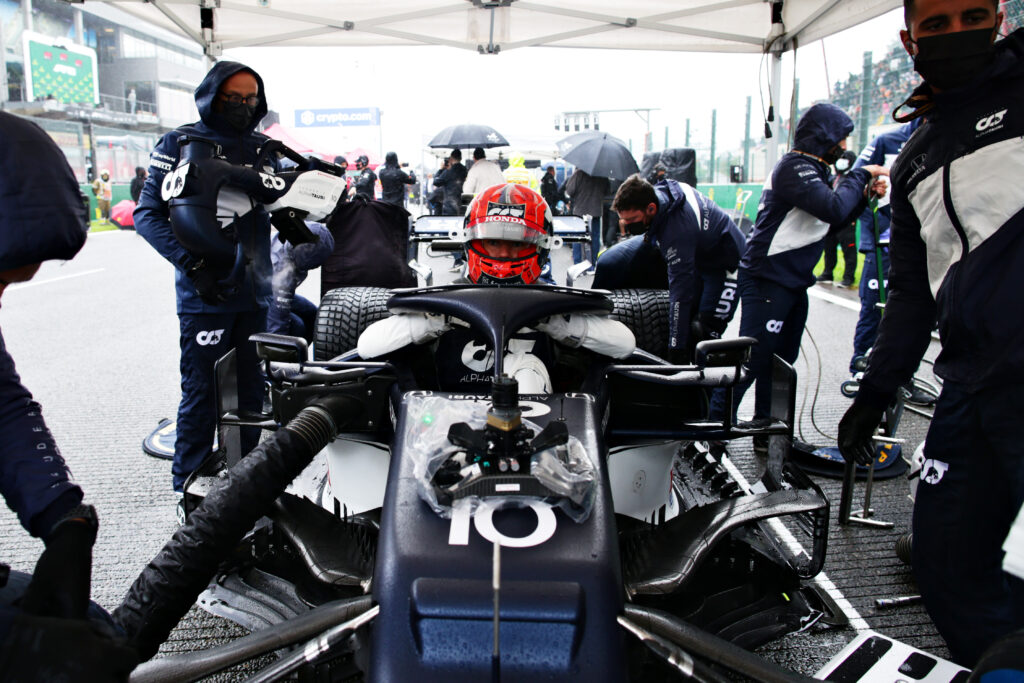 Esteban Ocon – 7th (Alpine):
"Firstly, I feel sorry for all the fans out there at the track today. Thank you to them for their patience and their enthusiasm at waiting all afternoon to see some action. Unfortunately, it just wasn't possible today with the rain, and safety has to be the priority. The correct decision was made to stop the race, so credit to the FIA and Michael Masi for trying their best and making the right call in the end. The conditions were really tough out there, especially the lack of visibility. We pick up three points today, and now we look ahead to Zandvoort where hopefully the weather will be better."
Charles Leclerc – 8th (Ferrari):
"It's a strange end to the weekend, not having had a proper race. Most of all, it's a shame for all the fans who came out to see us race. I'd like to thank everyone who stayed in the grandstands hoping that the conditions will improve. It surely wasn't easy and I have massive respect for every single person who stayed here with us. The track conditions weren't that bad in terms of standing water, but in terms of visibility, it was a disaster. I couldn't see anything ahead and it was a good call to make sure we are all safe given the gravity of the rain today.
Our next race is in the Netherlands in just a few days. A nice challenge, given that we will all have to adjust and try to find the best possible set-up for this new track in the shortest amount of time. I think one of our general weaknesses is the wet, so we will work on improving that over the next few weeks."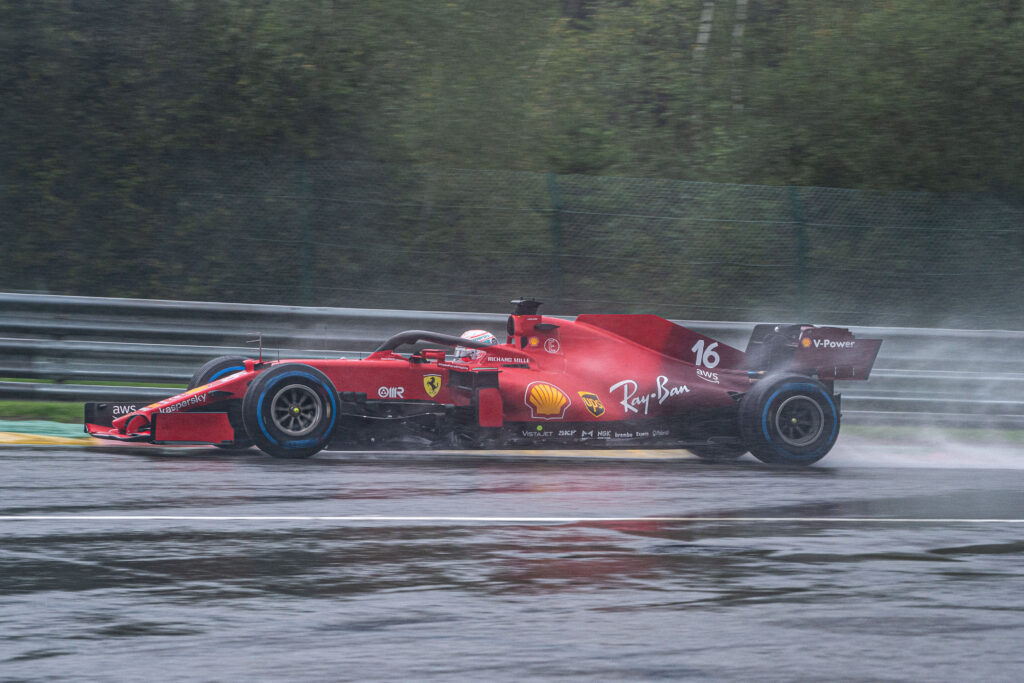 Toto Wolff – Team Principal (Mercedes):
"I really want to take my hat off to all the fans who were here with us over the weekend, in the wet and the cold. And particularly during this afternoon, spending hours waiting for the race to start. It's great to see their enthusiasm and passion, it's just what the sport needs. We are all racers and we want to race, but today it just wasn't possible. It would have been too dangerous to let the drivers race because of a total lack of visibility. In terms of the race result, of course we are not happy that points have been awarded for what was a few laps behind the Safety Car but if the regulations allow that, you have to take it on the chin and move on. Now, we are looking forward to Zandvoort, to hopefully score some big points and continue this fight for the Championship."
Nicholas Latifi – 9th (Williams):
"This definitely isn't the way I would have liked to finish the weekend; I know we all would have liked to get out there and go racing, but unfortunately the conditions made it too dangerous. It's really unfortunate for the fans and I really feel for them having sat out in the cold the whole day, so thank you to everybody who stuck it out. From the team's perspective, it's more points and a podium which should help solidify our position in the championship, so that's a big positive to take away from the day."
Not your conventional way to score a point but a point's still a point! Nice for the team to get rewarded for a strong qualifying yesterday! Just a shame for the fans who waited all day in the rain! We all know that safety has to come first and the right call was made. #NL6 pic.twitter.com/8qjPKMjrXI

— Nicholas Latifi (@NicholasLatifi) August 29, 2021
Marcin Budkowski – Executive Director (Alpine):
"It was a shame we weren't able to race today, especially at such a great circuit. The FIA and Formula 1 tried everything to get the race underway, but the rain just wouldn't stop. Safety has to take precedent in these situations and our drivers confirmed over the radio during the laps under the Safety Car that it wasn't safe to race, especially because of the lack of visibility. The correct decision was made to abort the race. Credit to the fans who remained at the circuit in the grandstands all afternoon and thanks for their fantastic support all weekend. We move onto Zandvoort hungry to resume racing and we look forward to trying out an exciting new track."
Carlos Sainz – 10th (Ferrari):
"Obviously, it's a great shame that we were unable to put on a bit of a show for the courageous fans who braved the terrible weather to come and watch and for the people at home. Unfortunately, there was nothing we could do, as the visibility was too poor for us to race. For me, it's also a shame because we could've tried to make up some places from my grid position, but safety must always be the priority. Now it's time to turn the page and luckily on Friday we will already be back on track at Zandvoort. Looking forward to my first race there in Formula 1."
🇧🇪I'm really sorry for the fans out there, but there was nothing we could do given the conditions we had today. Visibility was zero and it was simply too dangerous. Safety must always be the priority. Looking forward to Zandvoort now.

👉https://t.co/lrN6KcHfXw#CarlosSainz pic.twitter.com/mwGzTuUgtM

— Carlos Sainz (@Carlossainz55) August 29, 2021
Fernando Alonso – 11th (Alpine):
"It was the correct decision to stop the race given the conditions. But I think it's strange that points are scored for this weekend. It was only ever a red flag situation out on track and we only drove laps under the Safety Car, so it wasn't a race. Everyone involved tried their best, so it's nobody's fault, but it's a shame. Despite all of this the spectators were amazing all weekend and it was good to see them back no matter the weather."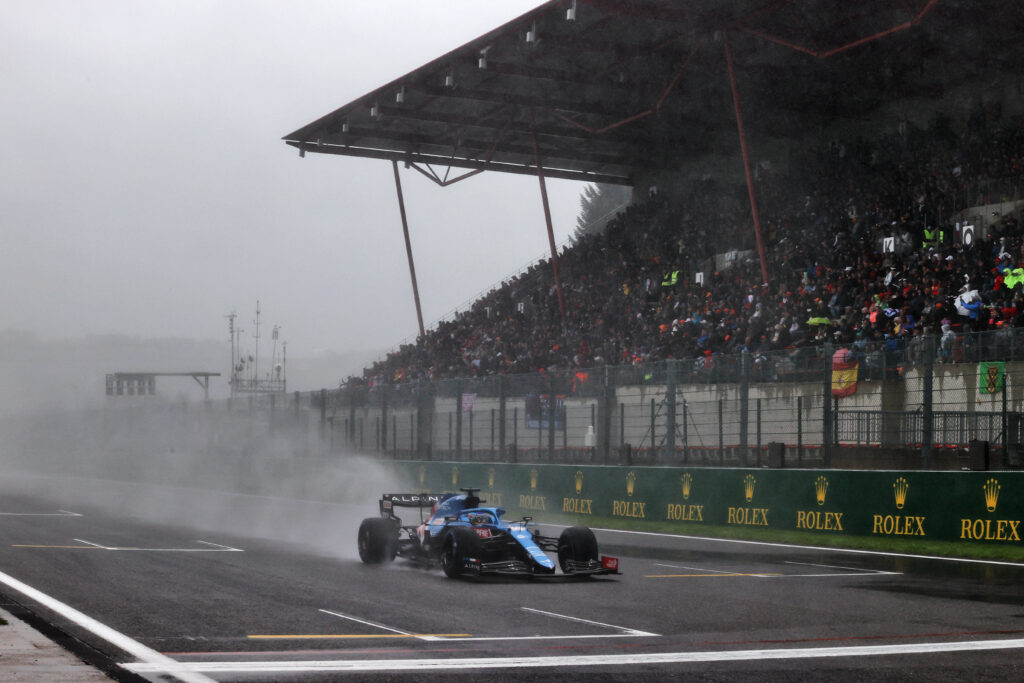 Andreas Seidl – Team Principal (McLaren):
"What a very strange day! Firstly, the spectators have our commiserations. They endured many fruitless hours in the grandstands, out around the track, and stuck it out to the bitter end, cheering on the teams and drivers. We're very sorry F1 could not put on a real race today but the right decision was made. It was simply not possible to start safely. Daniel and his team got their reward for a lot of hard work that went into a very good qualifying effort yesterday. P4 is his best result for McLaren so far. Special thanks also to Lando's crew who did a brilliant job to repair his car after that big impact yesterday. We leave Spa-Francorchamps back up to P3 in the Constructors' Championship. In that sense, this has been a positive weekend. We're looking forward to the Dutch Grand Prix now and hopefully better conditions in which we can give F1's fans a great race weekend on the new Zandvoort circuit."
Valtteri Bottas – 12th (Mercedes):
"It's a huge shame, of course, that we couldn't race and there were many committed fans out there, waiting for us to get started but we couldn't. They were still smiling throughout and in good spirits, so hats off to them. And obviously for me, with the penalty I had and the bad qualifying, being outside the top 10 on the grid meant I couldn't fight for any points. There was a fair amount of standing water but the main thing was the visibility, particularly on the straights. It was really poor and would have been too dangerous. Thankfully there isn't long to wait for the next race, Zandvoort is a new track on the calendar, I have raced there before in Formula 3 back in the day, so I'm looking forward to that."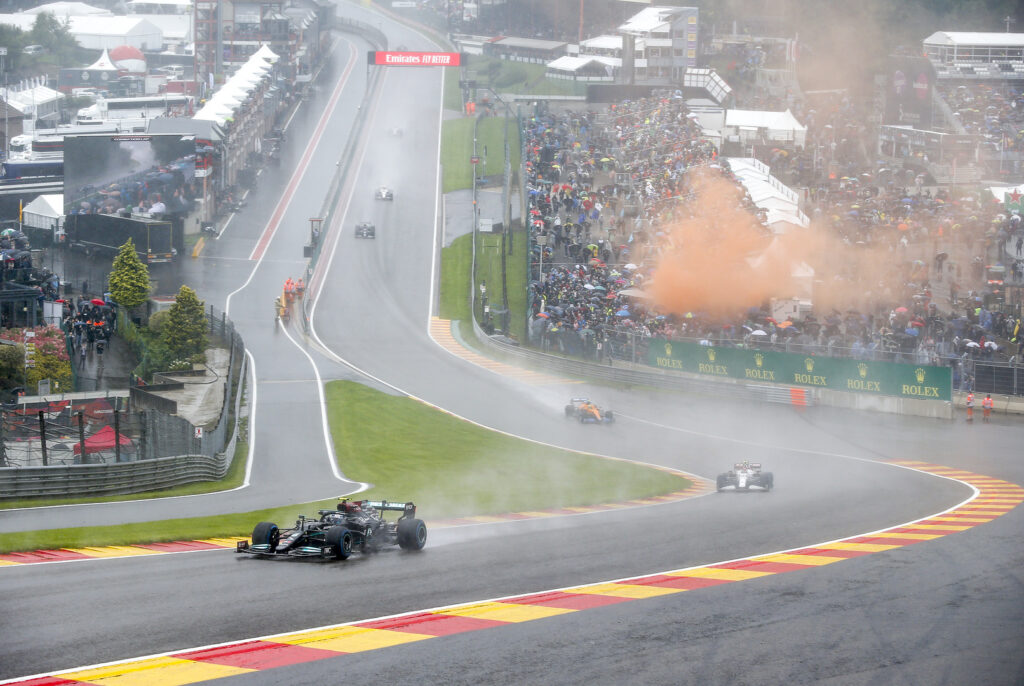 Mattia Binotto – Team Principal (Ferrari):
"First of all, I'd like to thank all the spectators who stayed to the very end at the track, hoping to see what should have been an uncertain and spectacular race. The Race Director did everything he could to try and get the Grand Prix underway, but conditions were never good enough to do so without jeopardising the safety of the drivers and those working trackside. The final result was thus determined from the starting grid positions, which means we come away with two points finishes. Up until yesterday, our weekend had not gone particularly well, but it's a shame that we never got to see how things might have gone in a race where anything could have happened. Now we must concentrate on the next race in Zandvoort, a historic circuit which makes its return to the championship calendar after a very long absence."
Antonio Giovinazzi – 13th (Alfa Romeo):
Alfa Romeo are yet to publish quotes from their drivers following the race.
Today you were the true protagonists of the show. Thanks to your passion, devotion and patience – you're the soul and the best picture of @F1
Thanks to all 🙏#AG99🐝 #BelgianGP pic.twitter.com/jsJXia9Slu

— Antonio Giovinazzi (@Anto_Giovinazzi) August 29, 2021
Lando Norris – 14th (McLaren):
"It was just too wet to race. The fans were amazing, sticking with us all day and I'm disappointed they didn't get to see much action or any racing, but it was the correct decision not to go ahead. I would have loved the opportunity to make up for yesterday, do some racing, do some overtaking and put on a good show. The team in the garage did an amazing job getting the car ready for the race and it's a shame we couldn't make the most of their hard work, so I'm annoyed that yesterday's crash hurt us a lot more than it should have done, but that's the way it is and we move on to the next one."
Sums up today. Race cancelled and not how I wanted this weekend to end. Sorry to everyone who stood out in the rain waiting for us, you're all legends, we'll be back next year 👊 pic.twitter.com/M1Jjp6MI0g

— Lando Norris (@LandoNorris) August 29, 2021
Yuki Tsunoda – 15th (AlphaTauri):
"It was clearly not possible to race today, especially for any drivers from P7 onwards, I think the visibility was just too poor. It would've been far too dangerous to race in these conditions here today, particularly on such a high-speed track like Spa, so for safety I think the FIA made the right decision today. Obviously, it's disappointing on a personal note to not have had the opportunity to race for points today, but safety is far more important."
Mick Schumacher – 16th (Haas):
"It was very frustrating on the one hand, the fact we have been looking forward to the race so much and then not being able to race, but on the other hand, the fans have been out there for so long waiting for the race to go on. They must have been freezing but they stayed out, so thank you very much and sorry that we didn't manage to show what we had to show. Visibility was the main concern as we couldn't see a thing. We'll have more opportunities coming our way in the future."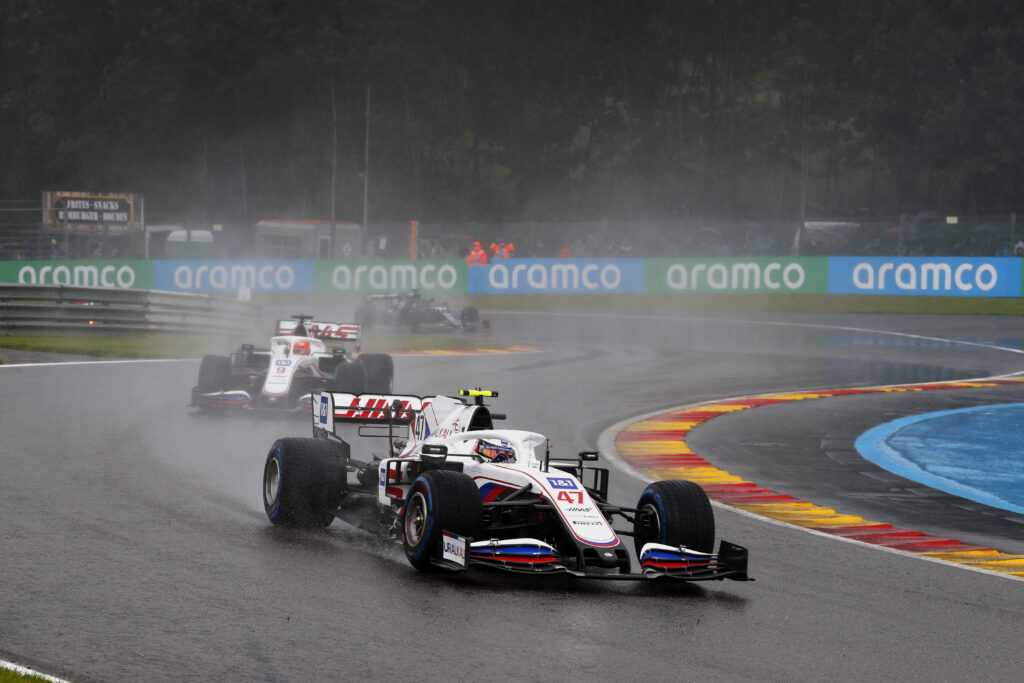 Nikita Mazepin – 17th (Haas):
"It could have gone many different ways today. When there's so much water on the track, the visibility – at least from where I was starting, it was very difficult to see. We weren't going that fast behind the Safety Car, but you just weren't sure where the car in front of you was, I just had to try and always keep my distance before the rain settled in the air. It wasn't the best day for us, but I can imagine for the fans it was even more difficult. I could see that some of them didn't even have umbrellas. With the amount of water falling today they must be soaking wet – but thanks to all who stayed. I had a race end prematurely in Hungary, our race today had a premature end, but at least we're on a tripleheader stint this time with Zandvoort and Monza coming our way. I'm hoping for good races."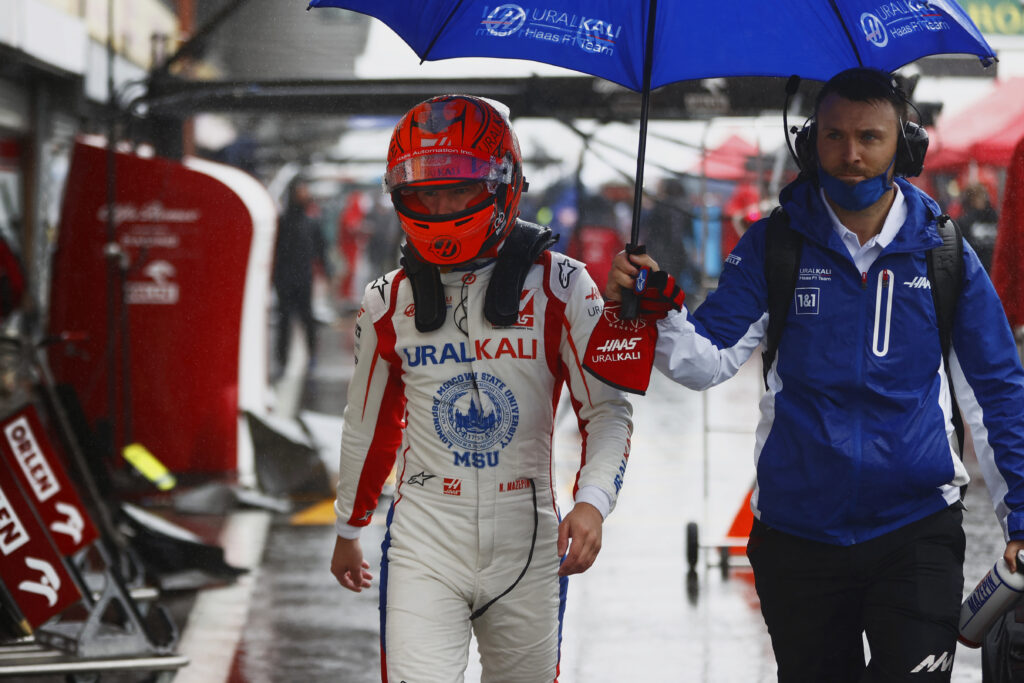 Kimi Raikkonen – 18th (Alfa Romeo):
Alfa Romeo are yet to publish quotes from their drivers following the race.
Sergio Perez – 19th (Red Bull):
"It was a strange afternoon and I have to say thank you to the fans, they were incredible for staying with us in the rain and cold. It's a shame we couldn't put on a good race for them today but we as a sport tried our best to race but it just wasn't possible. The lap to grid was my mistake, the conditions and visibility were extremely poor and I just went on the kerb and lost it. I always knew there was a small chance we could get the car back out and the Team was pushing hard, really showing the spirit of Red Bull Racing which was nice to see. My Team did what they do best and they repaired the car so quickly it was incredible. I really wanted to repay them for their hard work during the race but that didn't happen, luckily we are racing again in a few days and we all look forward to Zandvoort now!"
I just want to say that I'm very proud to be part of this great team, what they did today repairing all the front of my car in such a short time shows the hunger for victory around this group. Too bad that we couldn't race to reward them for all their hard work. #belgiangp pic.twitter.com/WMkprBoFcS

— Sergio Pérez (@SChecoPerez) August 29, 2021
Lance Stroll – 20th (Aston Martin):*
"It is a real shame for the fans today. I am sorry they waited all afternoon for a race that ended in the sad way it did. We cannot control the weather and safety must come first. It is a tough decision for the FIA and Formula One to make, but it was the right one. Visibility out on track was really bad. It is not a nice feeling to be on sections like the Kemmel Straight, where it is so fast, and you cannot see in front of you because of the spray. I would have loved to try and fight my way back up the grid today; I felt confident we could make good progress, but it is over now and we will focus on next weekend's race at Zandvoort."
*Stroll received a 10-second time penalty after the race for changing his rear wing during the red flag period.