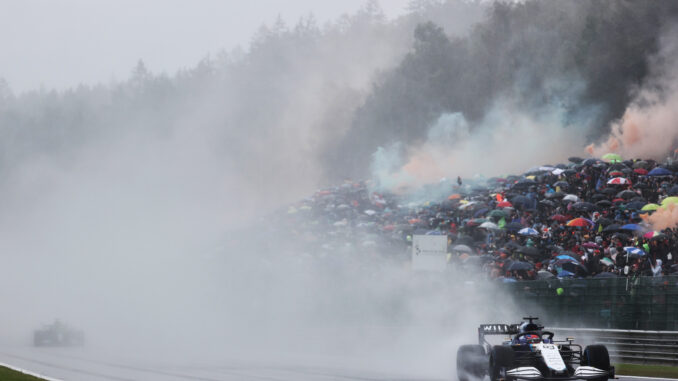 Podcast: Play in new window | Download
Subscribe: Apple Podcasts | RSS
By now the dust and spray has settled on what has been called a farce of a Belgian Grand Prix and with the benefit of a good night's sleep and a chance to calm down a bit we pick over the remains of an even that we hope we'll never see the likes of again.
This week on the podcast we try to make some sense of the decisions that left this weekend's race in complete disarray where it was still counted as an official race, even though the entirety of Sunday's on track action was 2 formation laps and 2 green flag laps behind the safety car, leaving the (half) points to be given out based on positions at the end of Q3, less a penalty for Bottas from Hungary and a will he/won't he race situation for Perez after his trip into the tyre barrier on the way to the grid. Hard to do rockstars and wankers in full this week, but we have a good go at it though (Especially because FOTP George Russell got his 1st ever F1 podium.)
There's the usual other tangents though with a look at the news, now that the Silly Season is starting to show its face and of course we had to get a Who's A Total Shunt in this week, just to lighten the mood a bit.
And while you're online, check out our Discord server where you can sign up for our iRacing league as well as joining in with all the chat on there and you can keep in touch on Facebook & Twitter as always. And don't forget you can click the link to signup at Patreon from £1/$1/€1 per month.
Enjoy
As always, you can listen here or on Stitcher and iTunes and most other podcast apps too along with Spotify, Acast and TuneIn Radio on your smart speakers.