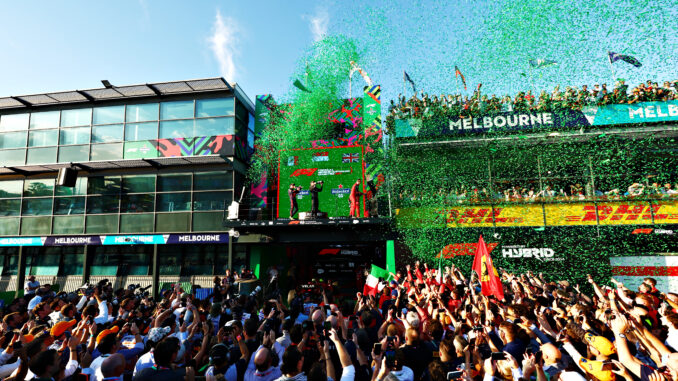 Charles Leclerc extended his lead in the drivers' championship as he secured his second win of the season, without coming under threat for the lead in Australia.
He was joined on the podium by Sergio Perez and George Russell after nearest rival Max Verstappen was forced to retire with fuel issues.
It was the first time F1 has taken place at Melbourne Park since 2019.
Here's all the driver reaction following today's proceedings:
Charles Leclerc – 1st (Ferrari):
"What a great victory this was for us! We managed our pace well and were extremely competitive. We didn't suffer from tyre degradation, even when pushing hard. The car was just amazing and I'm very pleased with how my race went.On paper, this was a track that we expected to be tough for us, so we have to review our data because we were in fact very strong.It's a great way to start the season, but we have to keep in mind that we are only three races into a very long championship. We can't afford to relax at any moment and have to stay on top of things, most of all on development.Congratulations to everyone on our team. What an amazing job you have all done! I'm very proud of how far we've come and can't wait to continue fighting. Forza Ferrari!"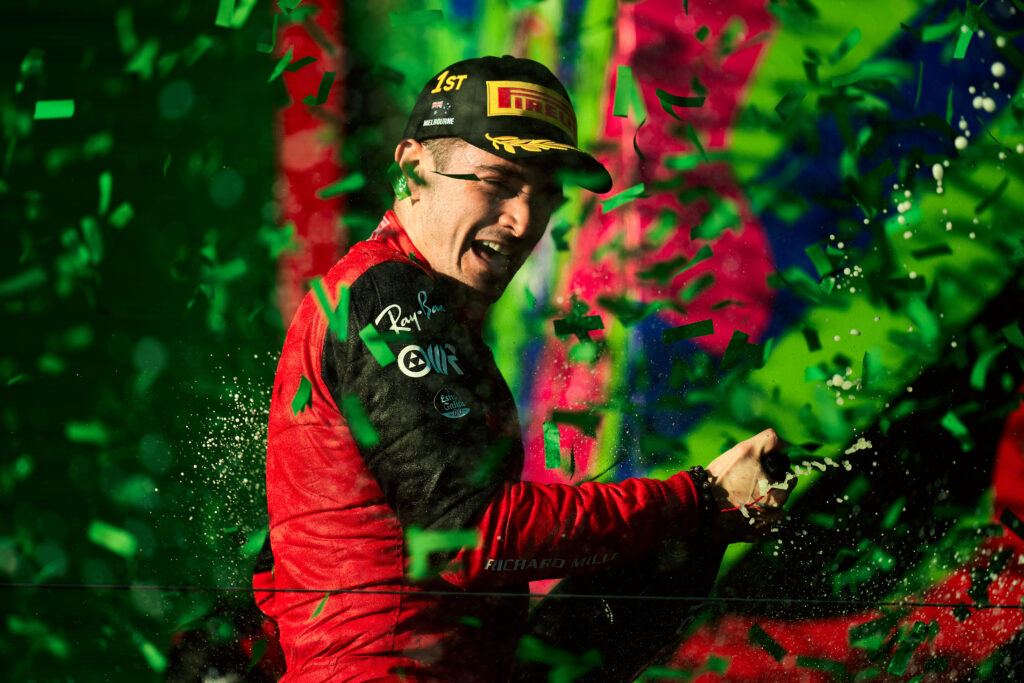 Sergio Perez – 2nd (Red Bull):
"It was a good result but, unfortunately, we lost Max and it would have been great to have a double podium for the Team. On the other hand, it is a good result after so many unlucky moments in the first couple of races for me. It was a very complicated race with the start I had and the safety cars but we managed to overcome it. My first start was very poor, we struggled a lot with degradation on the medium tyre, we were a bit unlucky with the safety car and we lost two positions which we recovered later. We got a few things wrong across the weekend and we were battling more with Mercedes than Ferrari so the pace wasn't where we want it to be, but we will work on it. There is some good analysis to be done from this weekend because yesterday we were close for pole but in the race we were a bit too far off the pace. The fastest guys out there are Ferrari, we want to be up there fighting with them and today that wasn't the case. If we can improve the car a little, then we can be more confident."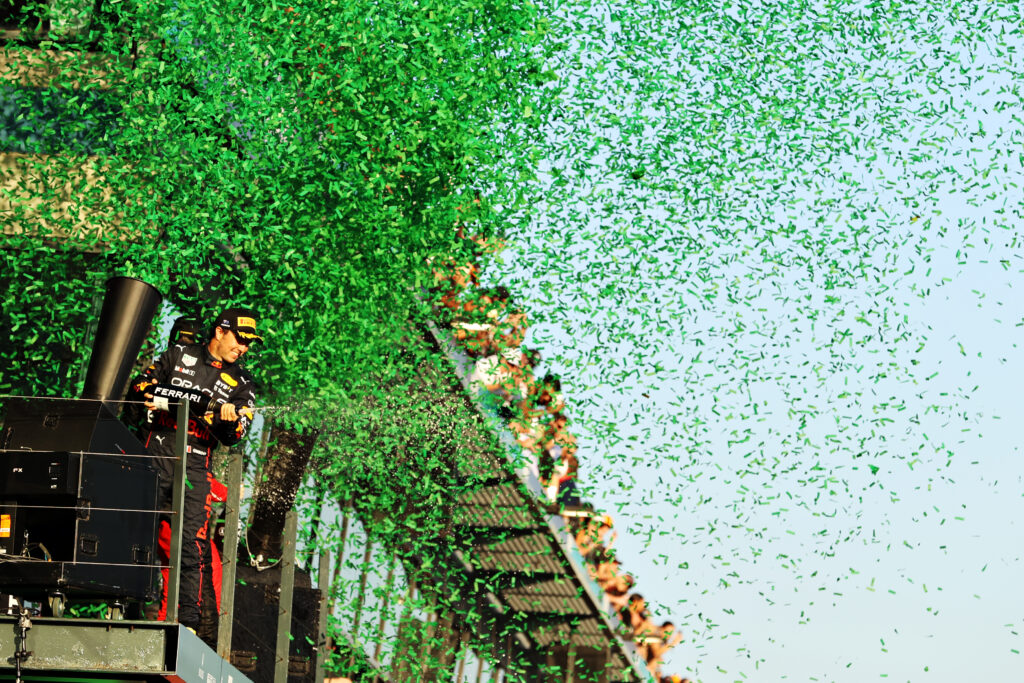 George Russell – 3rd (Mercedes):
"You've got to be in it to win it and capitalise from other's misfortune, and the guys at Brackley and Brixworth have been working so hard on giving us a reliable car. We got a little bit lucky today, probably twice, but we take it. There's so much hard work going on back at base to try and get us back at the front so to be standing on the podium today is special a reward for all their hard work. We're never going to give up, we've got to keep on fighting. This weekend we were a long way behind our rivals but here we are standing on the podium. We've got to keep this up while we are on the back foot, maximise our points opportunities and I am sure we will get there after a few more races."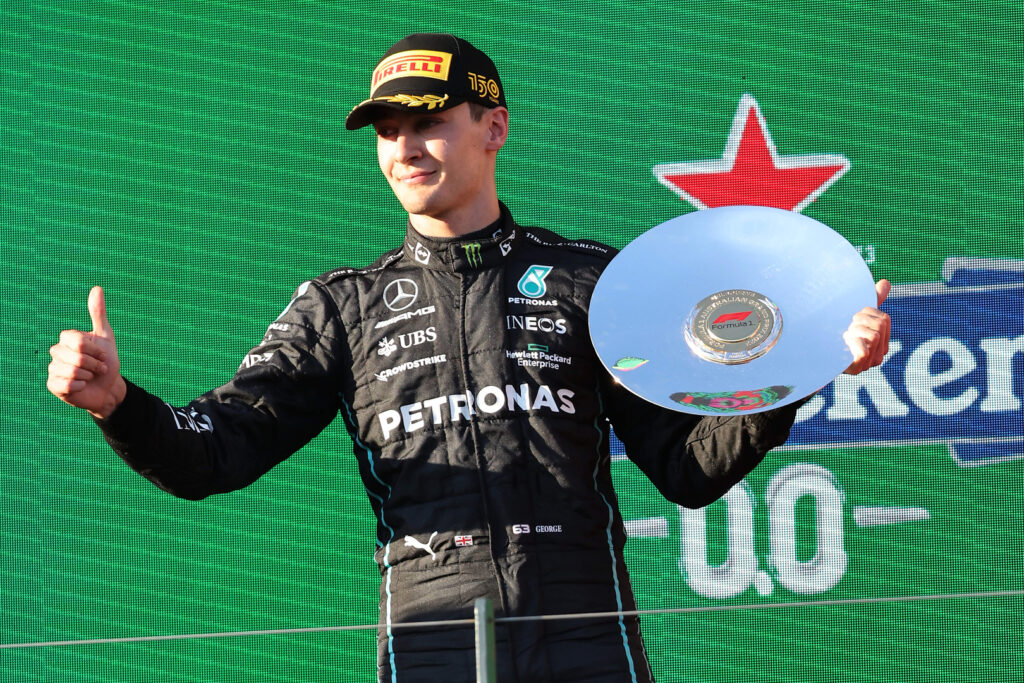 Mattia Binotto – Team Principal (Ferrari):
"I am very pleased. It's always great to win and it also boosts the morale of the team who deserve all this, because they have all developed the right mentality to face difficult moments head on and make the most of any opportunity. We always say that you can only come out on top in Formula 1 if you do everything to perfection and I think today's race proved that. Charles delivered a mature performance, something he is now making a habit of.It's a shame for Carlos, because his weekend was complicated by a series of circumstances in both qualifying and the race, which affected his performance. I know him well enough to believe that he will turn the negatives to his advantage and come back stronger next time he's in the car. The start of the season has been positive and the work of the past few months is paying off. We will continue to concentrate on ourselves and take it one race at a time. We have earned some time with our families over Easter, but then we will get back to it, working on the next race, which being at Imola, takes on even greater importance. We can't wait to be there and we're looking forward to seeing the circuit packed with our fans, to share this good start to the year."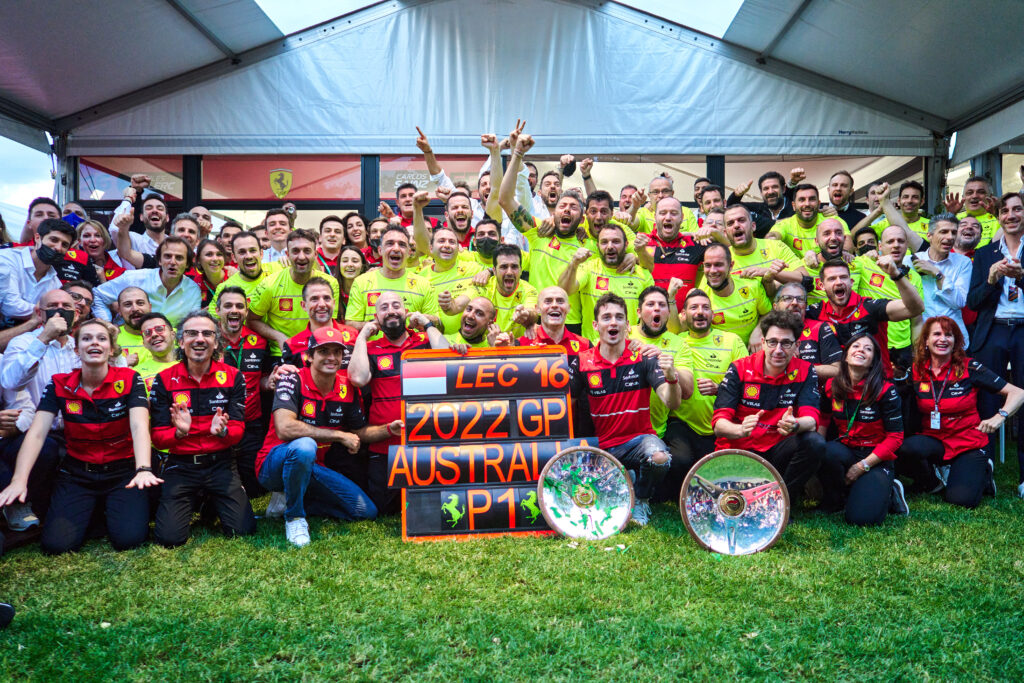 Lewis Hamilton – 4th (Mercedes):
"It's a great result for us as a team, honestly. This weekend we have had so many difficult moments with the car and to get fifth and sixth in qualifying, to have progressed like we have, with the reliability we have, is amazing. We definitely didn't expect to be third and fourth today. George did a great job – I got to see a bit of the battle of him racing Perez and I wish could have been in it but nonetheless, we'll take these points and keep pushing. I couldn't fight for third because the engine was overheating so I had to back off and sit behind, but we bagged as many points we could as a team and that's great."
Lando Norris – 5th (McLaren):
"A decent race. We didn't have the best of first laps but I think by the end we were still in good positions for us as a team, and we couldn't have done a lot more. I think Mercedes had much better pace than us today, so we're happy with where we ended up. Good points for us, a great pit-stop and good progress from the team. We'll take what we've learned today and try to carry it with us into the next few races."
Finished 5th. I like Australia. pic.twitter.com/DiamK4AzUq

— Lando Norris (@LandoNorris) April 10, 2022
Christian Horner – Team Principal (Red Bull):
"Checo drove an exceptional race today with some stunning overtakes to secure his first podium of the season and bag some solid Championship points. But it was very much a day of mixed emotions with Max not finishing. We think it was an external fuel leak and we need to understand exactly what has caused that failure, so it was a very frustrating race in that respect. But we are in this as a team and we will bounce back. We didn't have the pace of Ferrari today, so congratulations to Charles. It's a long season ahead and we have the basis of a quick and competitive car, but we need to get on top of these issues quickly and we will keep pushing."
Daniel Ricciardo – 6th (McLaren):
"It has been a better weekend which is positive for the team. I'm happy with the progress and, as a team result, I think we executed everything we could. I think the first part of the race was positive but there is still a bit to work on. Probably in that second stint I lost a little bit of pace on the Hard tyre. It came back to me a little bit – but we still have a bit of understanding to do. I'll keep working at it but generally, as a whole, the weekend's been smooth. I'm happy to walk away with my first points of the year at home, which is also nice for the all the fans who came out here, so I'm feeling pretty content. We leave Melbourne in good spirits, which feels nice as it's probably been four years since I left here in good spirits."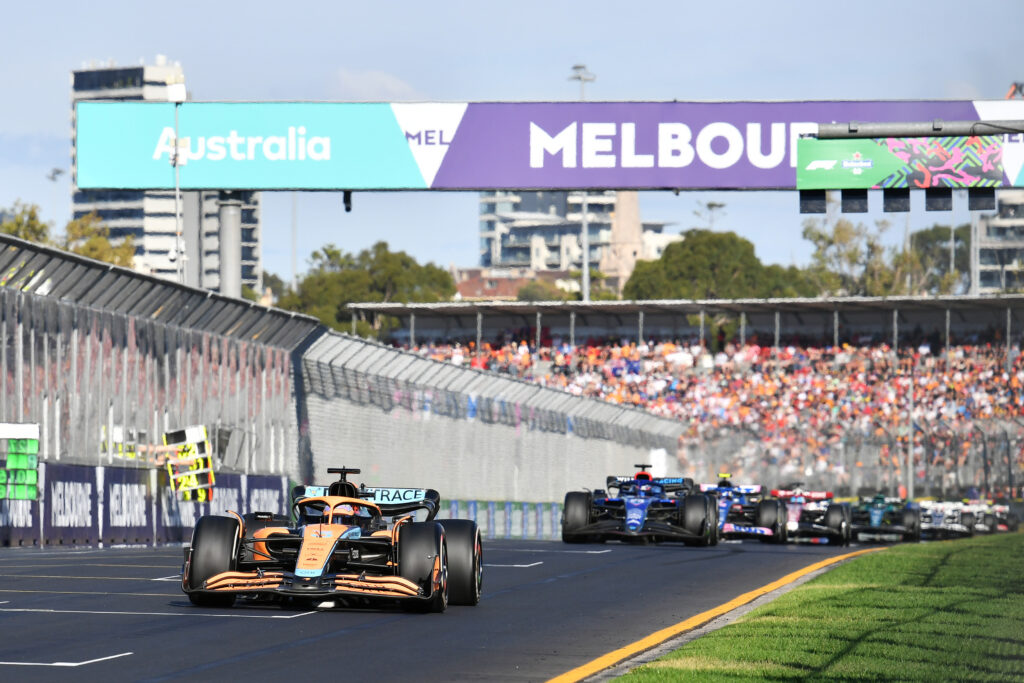 Toto Wolff – Team Principal (Mercedes):
"We are leaving Melbourne in a better state than when we arrived– more lessons learned, more data to analyse and more points on the board. Clearly we haven't got the pace yet to challenge Ferrari and Red Bull but we know where we need to seek performance. One factor that leaves me very optimistic for the future is the mindset and strength of the team. Everyone in the UK, in Stuttgart and in the travelling race team is pulling together every ounce of effort we have to tackle the performance gaps with determination and a deep hunger. Seeing Lewis and George perform at an exceptionally high level today with a tool that is clearly not on the pace of the leaders is another example of the spirit of this team. We are optimistic yet realistic on the timeline for improvement and the advantage our competitors have, but P3 and P4 helps us leave Australia with a good feeling. Both drivers deserved the podium today, Lewis was unlucky with the timing of the Safety Car but the partnership between the two and how they work with one another epitomises the overall spirit of the team."
Esteban Ocon – 7th (Alpine):
"This weekend has ended with some mixed feelings for us. Of course, finishing the race in seventh is a decent result, especially after what was a difficult weekend for me. Yesterday was not our strongest day and that definitely made a difference in how today played out. So, there's lots of learning for us to do from the last couple of days with the team as we know we've got more potential to unlock. All in all, I've been in the points in three out of three races, and I am leaving Australia satisfied with how my season has started. I am hungry for more and excited for the next one."
P7 in Melbourne. More good points but mixed emotions about our weekend as a team. So head down and let's keep pushing, together. Thank you and peace out Straya ✌️ #AusGP pic.twitter.com/Dxc6IYneLz

— Esteban Ocon (@OconEsteban) April 10, 2022
Valtteri Bottas – 8th (Alfa Romeo):
"I really enjoyed the race today, it was a good performance with close racing and battles from beginning to end. Of course, the most important thing is that we brought home some points, and that is due to a good job done by everyone in the team: I am happy with the calls that were made and how we raced – and, definitely, the thinner wing that penalized us yesterday turned out to be the right choice and helped us make progress. I had a fun day even though I had to work hard, pushing all the race: now hopefully we can continue to be strong and improve. We have upgrades coming in the next few rounds so we can continue fighting for points in every race."
Pierre Gasly – 9th (AlphaTauri):
"I'll take those two points today! It's been quite an unfortunate race for me, I managed to pass two cars at the start, but then I got unlucky pitting right before the safety car and dropped to P14. I was pretty mad at the time, but I stayed focussed and managed to come back through to P9. I had a nice battle with Lance which I enjoyed, it was pretty intense on a track like this, but in the end I got the best of him. Objectively, it's been a tough weekend for us, so I think we can be quite happy with the result and to leave with two points. I still feel like we've got a few things to improve on, we've got some new parts coming in the next few races, so we've got to keep up with the others if we want to keep fighting for these positions. We would like to be a bit further up in the order, so we'll keep pushing."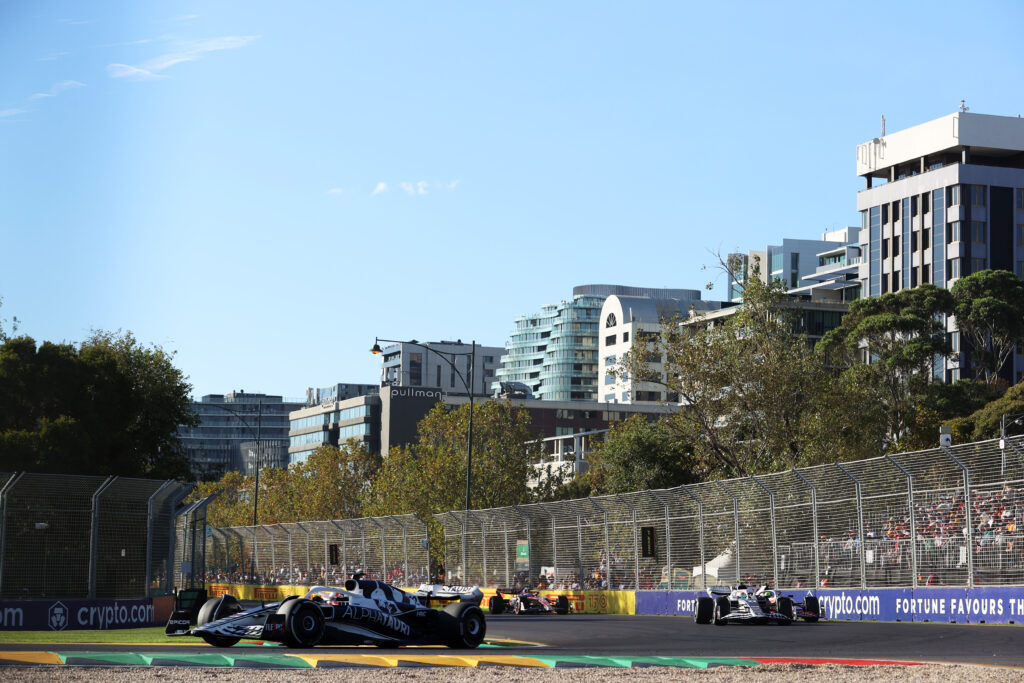 Andreas Seidl – Team Principal (McLaren):
"P5 and P6 today. Two cars home and our first double-points finish of the season. This is a great result for the team, thanks to everyone in the garage, back at the factory for all their hard work and to our colleagues at Mercedes HPP. It was good to see that we could confirm the progress we made in terms of car performance over the weekend also in the race. Special thanks to Lando and Daniel for their excellent work behind the steering wheel all weekend, extracting everything we have out of the car. I don't want to forget to mention our pit crew. Again, two excellent pit-stops today. We take this result as motivation to keep working hard to bring more performance to the car."
Alex Albon – 10th (Williams):
"I am very pleased with how today went. We came in this morning, looked at our race predictions starting from last and felt pretty sad, so to end Sunday with a point is extremely rewarding. It was a race where we took risks and really allowed our tyres to get into a nice window, and from then they just felt better and better. I was putting in what felt like continuous qualifying laps for the last 25 laps of the race! For me, it really highlights the work that's been done at the factory and at the track; this is the result of the team's determination and motivation. It's been a great day and I'm really happy to have played my part in this for the team."
Guanyu Zhou – 11th (Alfa Romeo):
"I am proud of my race, but obviously I am a bit upset at missing out on the points for such a close margin. Our pace was good, but we lost a few positions with the safety car and that made our life a lot harder. I gave it all and pushed so hard at the end, but I had no tyres left when I got to battle Alex and I couldn't make it in front. Still, we solved the problem at the start and the race was good: I am looking back at my first three rounds in Formula One and my worst result is 11th, so I can build on this positive start, aiming to score points in every race."
P11, that was close! Thank you Melbourne, that was fun! 😅 #AUSGP #TeamZHOU pic.twitter.com/c8LtCZvEKm

— 周冠宇 | Zhou Guanyu 🇨🇳 (@ZhouGuanyu24) April 10, 2022
Max Verstappen – DNF (Red Bull):
"It's of course very disappointing to not finish today's race, I don't really know what happened to the car yet, we'll take it back to the factory and regroup. I already knew there was a possibility ahead of the race that we might not finish but I tried not to think about it. This is not what you need when you want to fight for the Championship, the gap is already pretty big. Of course, Checo did well to come second, he scored some good points. Overall it doesn't look like there is an easy fix so we need to work hard as a Team, there are a lot of things to work on. We'll wake up tomorrow and focus on the upcoming races and do the best that we can. It is of course a long season and a lot can happen; I think at this stage we need 45 races! [laughs]."
Lance Stroll – 12th (Aston Martin):
"We did not quite have the pace for points today, although we were able to defend a position inside the top 10 for a while late on. I think we had the right idea with our strategy by running the majority of the race on the Hard tyre, but we will look over the data and see what else we can learn. The five-second penalty was frustrating, even though it did not change our final race position. I caught Valtteri [Bottas] after the Virtual Safety Car and made up a place so it was frustrating to receive a penalty for weaving. I also want to say thank you to the team once again: everybody did a tremendous job to get the cars repaired this weekend. We will keep our heads up and dig deep to try to extract more from the car in the races to come."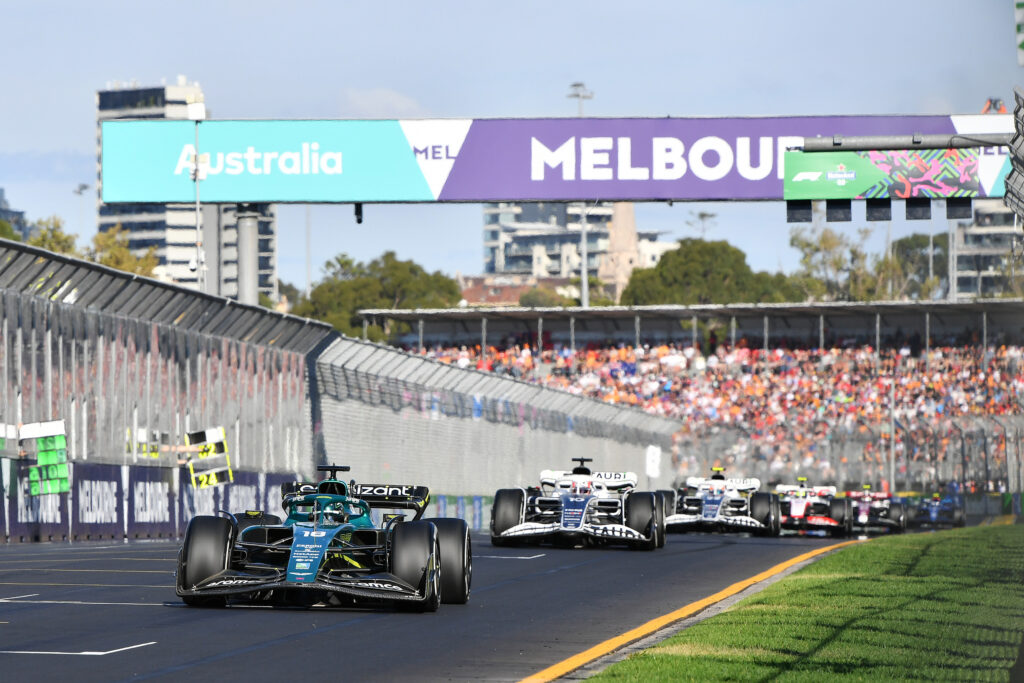 Mick Schumacher – 13th (Haas):
"It was a very eventful one. Right from the beginning with Carlos coming around and cutting back across the track, I think we got missed by a few meters there, and obviously Yuki under the safety car coming quite close together. I think in terms of pace we were not too far off, it's just unfortunate that there's not a huge amount of passing opportunities here. Lots was learned, some positives, so we've just got to take it away with us and hopefully be better in Imola."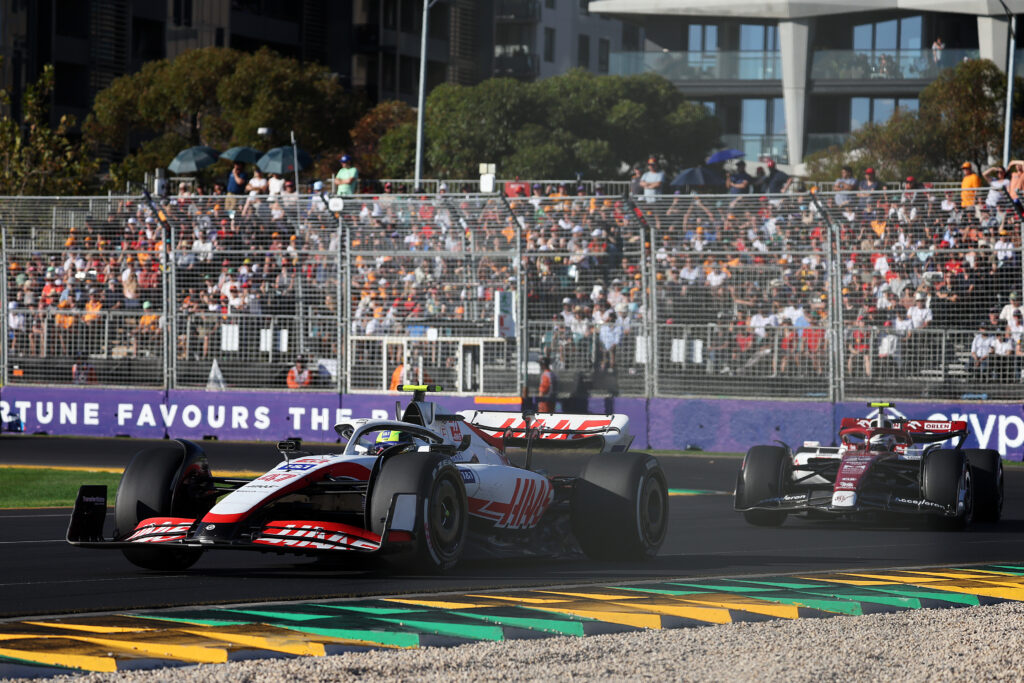 Kevin Magnussen – 14th (Haas):
"It was good fun and a nice track. Disappointed not to get points today but we made a small gamble on the hard tire as we felt we were faster than our position, which we were, but the safety car came and ruined the strategy. The starting set-up that we had here wasn't good and we were struggling a little bit with tires on this new tarmac but we were able to turn it around and get much closer to the pack in the race and have pretty decent pace. We were able to turn things around and we'll score points next time."
Disappointed not to get points today. We gambled on the hard tire, but the safety car ruined the strategy. The starting set-up wasn't good and we were struggling with tires on the new tarmac. But we were able to turn things around and @HaasF1Team will score points next time 👊💥 pic.twitter.com/QMDD1NUaID

— Kevin Magnussen (@KevinMagnussen) April 10, 2022
Yuki Tsunoda – 15th (AlphaTauri):
"There wasn't any pace today. We struggled for the whole race, so we need to work out why to avoid something like this happening again. It was very difficult to keep up with other cars and stay in their DRS, we just lacked performance overall and I didn't expect it to be that bad. It is what it is, we have to stay positive and work on improving for the next race."
Carlos Sainz – DNF (Ferrari):
"This is definitely a difficult weekend to digest. After all that happened yesterday, I was looking forward to the race but we hit problems even before the start. On the laps to the grid we had an issue with some switches on the steering wheel and we had to change it one minute before the formation lap. Unfortunately, at the start, the anti-stall kicked in.Trying to recover and overtake, I made a mistake as I pushed too early when the tyres were probably not ready. Up until Q3 the weekend was going ok but from then on everything just went wrong. We will analyse it carefully, learn and move on. The car felt good so congrats to the team and to Charles for the win. We'll come back stronger in Imola."
🇦🇺 Difficult to digest. Had to change the steering wheel before the start and the new one also had an issue, so the anti-stall was triggered. Trying to recover I made a mistake and that was it. Congrats to the team and to Charles. On to Imola.

👉https://t.co/ReLBPtxsFP pic.twitter.com/oLOj7jw3fC

— Carlos Sainz (@Carlossainz55) April 10, 2022
Nicholas Latifi – 16th (Williams):
"It was definitely a tricky race, but we were expecting that after the FP2 high fuel running that we did. It seemed that we struggled with the tyres quite a lot, experiencing graining on both compounds and struggling to keep them in the right window. There was a lot going on with multiple safety cars and Virtual Safety Car periods. It was great to see Alex finish P10 in the end and I'm super happy for the whole team. It's been a difficult start to the season and there's still a lot to find on my side. If Alex is able to extract that performance out of the FW44 then there's no reason why we can't in the other car. We will now spend a lot of time looking through the data and understand how we can make it work."
Sebastian Vettel – DNF (Aston Martin):
"My lack of race experience with this car did not help today. I was pushing a little too hard and I lost the car on the kerbs at Turn Four and could not prevent the impact, which is very frustrating. Every lap in race conditions counts because this was my first time racing this car, so it is a shame not to have completed the race. We know that the car is challenging, but we are continuing to search for solutions to add more performance. Things did not go our way this week, but it is time to move on and I am confident that we can come back stronger at Imola."
Fernando Alonso – 17th (Alpine):
"I am gutted with this weekend, to be honest. It's hard to accept the result after the bad luck we had in Saudi and again here in Melbourne. Today we were looking good for possibly sixth place, and of course the podium was even on the cards before yesterday's issue in qualifying. The strategy was good today and the car felt strong on the Hard tyre. The pace was there with everyone stopping on the Mediums around us, but then the Safety Car regrouped the field and it effectively ended our race. Overtaking was difficult today and especially with the DRS train towards the end of the race. We degraded our Medium tyres in this train, so we needed to stop again. There are twenty more races to go and hopefully luck will shift in our favour for the rest of the season!"