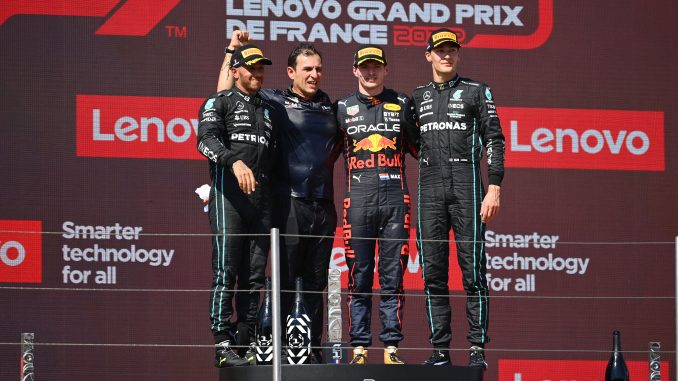 Max Verstappen extended his lead at the top of the championship in Le Castellet, winning after Charles Leclerc crashed out of the lead.
The victory gives the Dutchman his seventh win of the season.
The race also saw Mercedes pick up the team's first double podium finish of the season, with Lewis Hamilton coming second and George Russell in third.
Here's what all the drivers said following the action at the French Grand Prix:
Max Verstappen – 1st (Red Bull):
"We had really good pace from the start, although following around here, the tyres overheated a lot so I couldn't really go for a move but I stayed calm and stayed close. It was really unlucky for Charles and I'm glad he's okay, it could have been a really fun race because both cars were so quick! From there I just concentrated on my own race and looked after the tyres. The pit lane is so long here so that prevented us from having another pit stop. Today was a great day but there are plenty more races ahead of us and I just always aim for the most points possible, the fight is nowhere near over."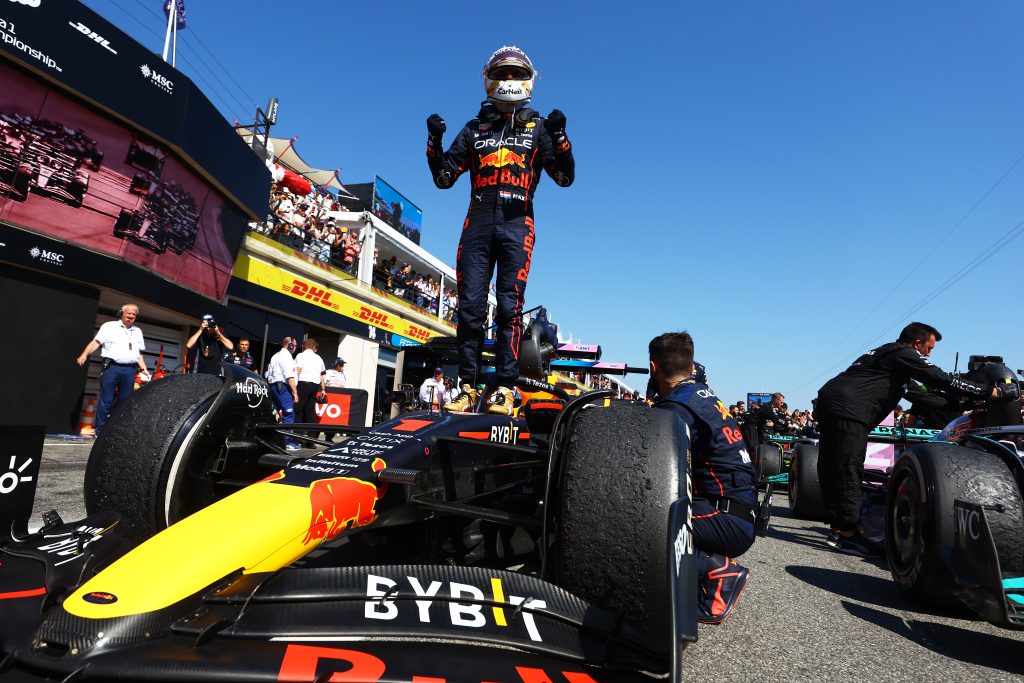 Lewis Hamilton – 2nd (Mercedes):
"What a great result, considering we have been so far off all weekend and that I missed FP1. I wasn't expecting to fight for second place or a podium, so this is a wonderful result for us. Our team has been amazing when it comes to reliability and it shows that with dedication and focus, we can slowly make our way up. We don't have the same pace yet as the two teams at the front but today we were able to keep one of them at bay so a great result for us, everyone has worked really hard. Huge congratulations to the teams back at the factories and the team here. Without them, this wouldn't have been possible and I'm proud of them. And George did an amazing job today, too."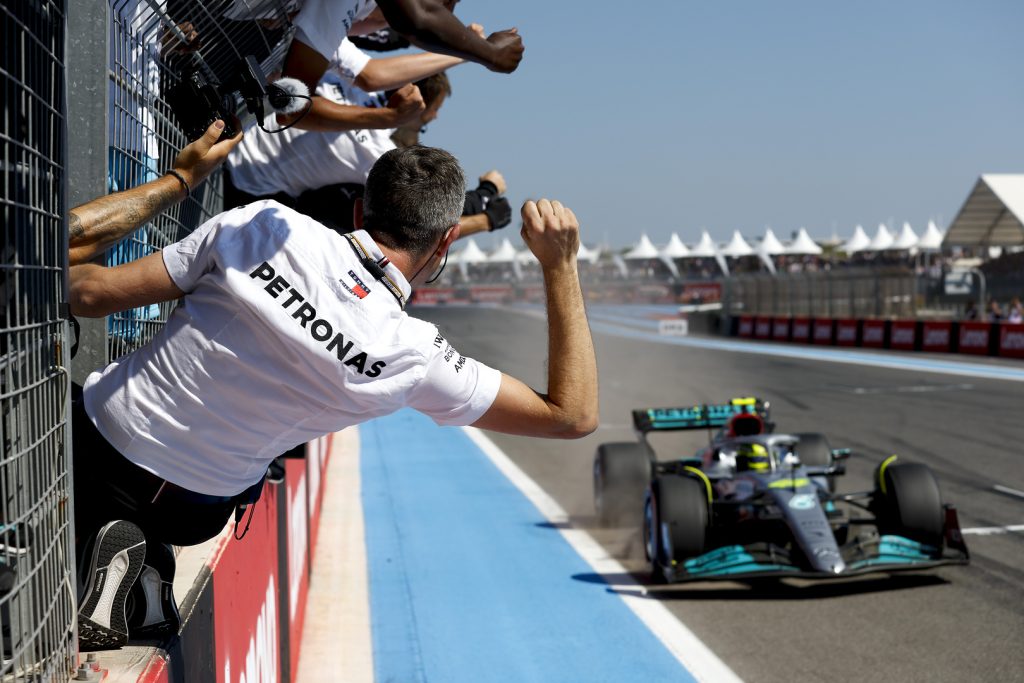 George Russell – 3rd (Mercedes):
"It was a long and tough race. Our pace was strong, but we really struggled with the warm-up of the tyres on the restart and Checo was strong today. I was glad to see the chequered flag and come home P3. We're making a lot of progress and we really need to improve our qualifying performance as we're lacking consistency. We know as a team we struggle with the tyre warm-up and at the restart I struggled with the same issue. Our race pace today was reasonable and we're getting closer to the front. We're doing everything we can to improve the performance of the car and we believe we are on the right path, so we're excited what the next races can bring for us. We're making progress and there is still more to come, thanks to everyone back at the factories in Brackley and Brixworth for their hard work and dedication."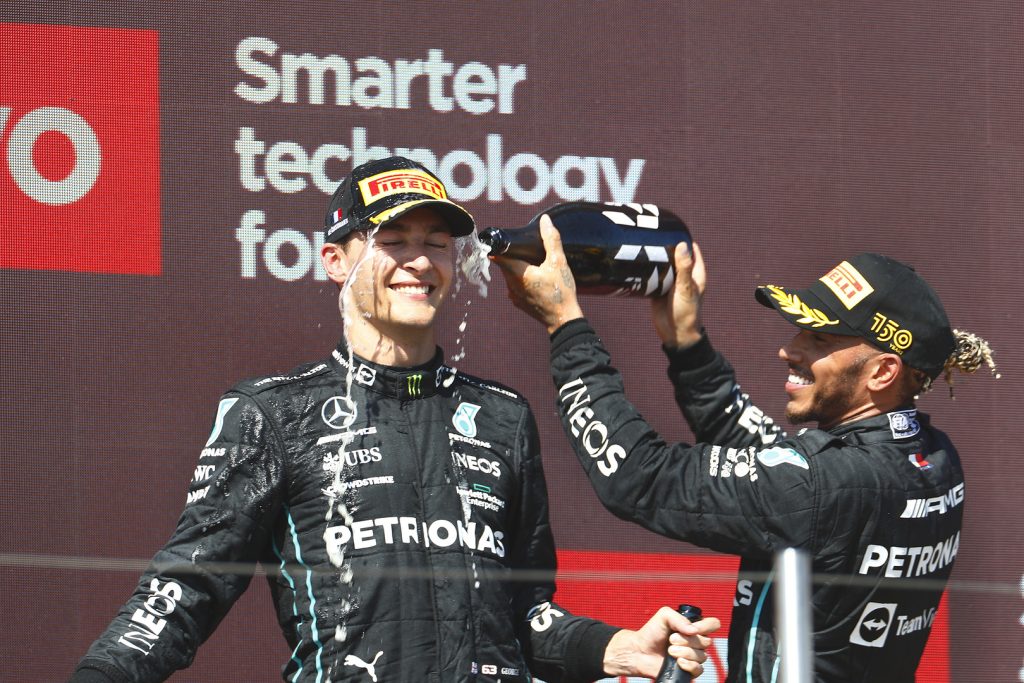 Christian Horner – Team Principal (Red Bull):
"The main thing today is that Charles was ok, it was a cracking race between Max and him in that first stint. We pushed the button early and went for the undercut, Max had effectively taken track position, so it's a shame we didn't get to see how that played out, it would have been a great battle. In the end it was a straight forward victory for Max and a very good point scoring day. It was frustrating we didn't have Checo on the podium too, it was just bad timing for the virtual safety car for him, there was a software error so they were held longer than they should have been. We have to keep pushing this season and look to get the best out of every ounce of performance, there are lots of factors at play but today was a big day for us."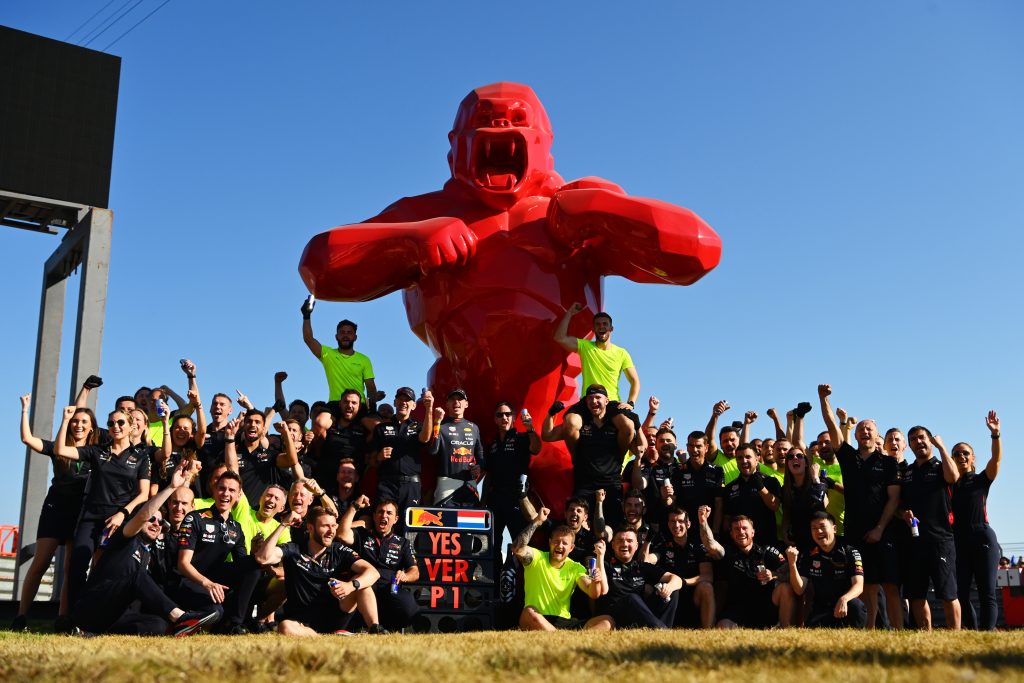 Sergio Perez – 4th (Red Bull):
It was a difficult one out there today, I was off the pace and unfortunately wasn't able to get the podium we wanted. I struggled with tyre management and it was tough to get on top of it. I had a close battle with George but it was a good one, I wish we could have pushed for a 1-2 but Mercedes were very strong and it was difficult to overtake them. There are some bits for us to analyse and hopefully I will recover my pace and come back stronger for Hungary.
We gave everything, we did not had enough pace and in the end we had the wrong message from the control tower with the VSC and it ended up ruining our race.
We will come back stronger for Budapest 💪
Great race @Max33Verstappen pic.twitter.com/tdPKB0NLt8

— Sergio Pérez (@SChecoPerez) July 24, 2022
Toto Wolff – Team Principal (Mercedes):
"Overall, the drivers did a really good job and the team effort was great today. We're extracting the maximum that is possible on race day currently. George was clever and fast, while Lewis was fighting like a lion. Lewis is absolutely on it and keeps pushing the team. He keeps his positive mindset, even on grim days like yesterday and he never stops pushing. But we need to stay humble, because our car is just not good enough to fight with the teams in the front. We're lacking six to seven tenths to the leaders. In qualifying we struggle to bring the tyres into the optimum window and don't manage to extract the most from the first flying lap. And then in the race, we lose three seconds at the start of the race, but once we stabilise, we are actually not so bad. We still have a lot of work to do, but I believe we have the best people to do so. All in all, today was a great team effort at track and back at the factories and we're heading in the right direction."
Carlos Sainz – 5th (Ferrari):
"It was a hard race today but I also enjoyed going through the field, making lots of overtakes. To make places up with the Hards was tricky but as soon as I put the Mediums the pace improved a lot and I managed to make good moves. I gave everything out there today and, even though we were a bit unlucky with the pit stop and the penalty, we managed to fight at the front. Like always, we will review everything these couple of days to see where we can improve and hopefully we can bring home a better result before the summer break. A pity for Charles as he was doing a great race. We'll keep pushing."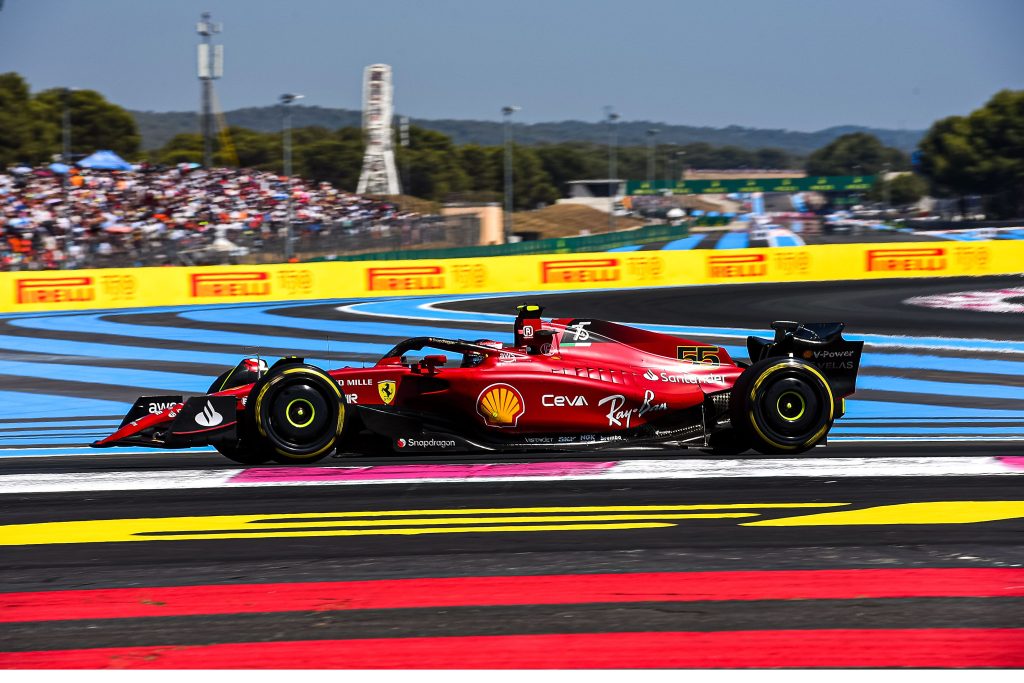 Charles Leclerc – DNF (Ferrari):
"I'm very disappointed. This is not the outcome that I wanted today, as we had the pace to win. I made a mistake and paid the price for it. Now I will head home to reset before the next race in Hungary, where I will give it my all once again."
Fernando Alonso – 6th (Alpine):
"I am pleased with our race today. It was well-executed from our side and we managed the pace and tyres well. We had to work through a lot of things in terms of the car balance this weekend, but we ended up finishing just behind the top five positions, so a very solid race in the end and more points on the board for us. I had a good start climbing up to fifth, but then we dropped to sixth and perhaps resumed our normal position in the race. It shows that when we have a clean weekend like this one, then we can finish in the top six positions. Hopefully we can keep-up this level of consistency throughout the second half of the season and continue our momentum."
Oui…P6…😁! Rocket start and well executed race. Double points for the team . Vamos @alpinef1team 💪!! #alpine #f1 #france https://t.co/PDDgKU9bxA

— Fernando Alonso (@alo_oficial) July 24, 2022
Mattia Binotto – Team Principal (Ferrari):
"Although this result was far from the one we wanted, there are still some positives to take away from this race. First of all, the F1-75 was very competitive, even on this difficult Paul Ricard track. There is no point on dwelling on Charles' mistake. These things can happen, even to great drivers like him and together, we have already put it behind us. Carlos had a strong weekend, starting with qualifying, when he did what was required of him for the team. In the race, he was patient in the early stages and then made up places lap after lap, including some brilliant overtaking moves. Now we look ahead to Hungary where we want to fight for the win once again."
Lando Norris – 7th (McLaren):
"Tough day but I think it was what we expected. It was a long race and we struggled a little bit with the degradation of the tyre but also just with the pure pace. We weren't as quick as we needed to be, so yeah, just tough but I won't say disappointed. It's sort of what we were expecting, so not a surprise. The upgrades did bring performance and we will work over the next event to make sure they're fully optimised. We'll keep pushing, keep trying to improve, and we'll go again next weekend. Thanks again to all the team here and at the factory for their efforts."
Yeaaaah, wasn't bad. P7 is good, yesterday just looked better than it was 🏄‍♂️ pic.twitter.com/b4e8coIP1r

— Lando Norris (@LandoNorris) July 24, 2022
Esteban Ocon – 8th (Alpine):
"The goal today was to score points with both cars, and we've done just that! I'm happy with my race today and it was brilliant to drive in front of the home fans who have been incredible all weekend, so thanks to them for all their support. It was a tough one out there in the heat, and I enjoyed the on-track racing with some tight battles. We're now fourth in the Constructors' Championship, so we leave here feeling very positive and motivated to keep that position. I do hope we race in France next year as there is nothing quite like a home Grand Prix. Merci to all the fans and allez Alpine!"
Daniel Ricciardo – 9th (McLaren):
"It's points so that's a positive. It's only ninth but still important. I had a bit of pace early in the stint and tried to get more out of it, but then it fell away a little too quickly so I definitely struggled from mid-stint onwards and didn't have the pace to run with the Alpines and Lando. I felt like I did the best that I could – but it's not enough to make me happy. Thanks again to everyone for the hard work in getting the upgrades to track this weekend and we'll push to get more out of them over the next few races. Double points but we'll keep working."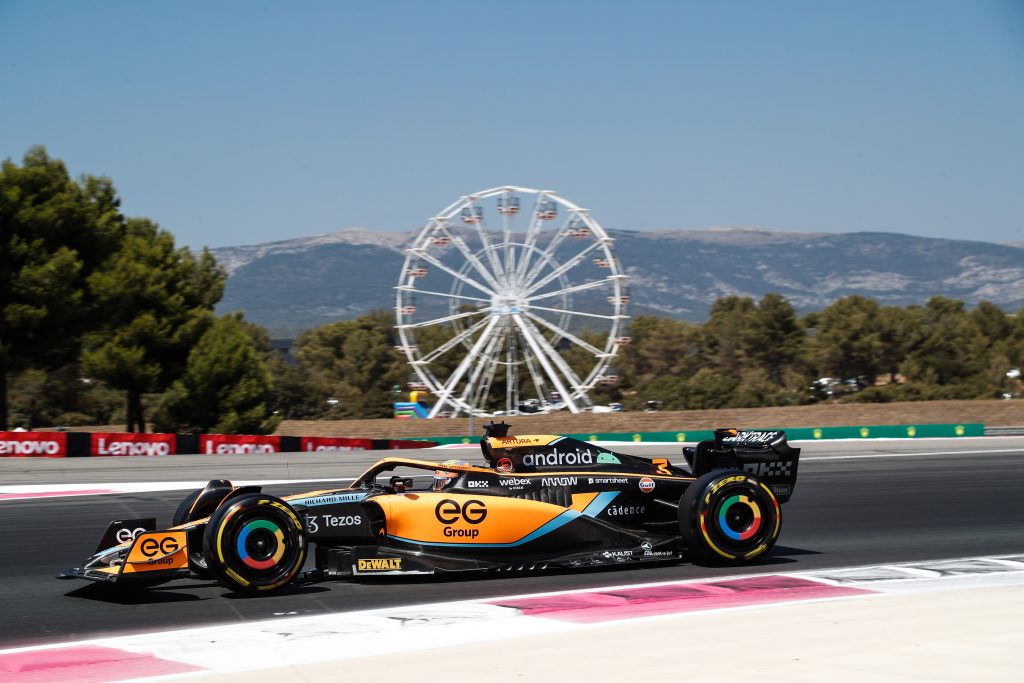 Lance Stroll – 10th (Aston Martin):
"We had a great first lap today that set us up to have a great race. I nearly got [Esteban] Ocon in Turn Nine as well, but it was important to have such a good start. I felt I had some momentum in the closing stages to possibly catch [Daniel] Ricciardo. We are continuing our trend of being more competitive on a Sunday so today is a good platform as the summer break approaches. I had a snap on the exit on the last lap because I was struggling with my tyres at the very end. It was a good fight with Sebastian, but the most important thing was to bring a point home for the team today."
Sebastian Vettel – 11th (Aston Martin):
"My afternoon was frustrating. I was stuck in traffic for the whole race – but you expect that when you start in the midfield. And, with the strategy, I do not think there was really much more the team could have done there. It is clear that we need more grip. In the race, things were not too bad – the cars ahead of us were not disappearing – and we also understand the car a little bit more after this weekend. I had a chance to pass Lance on the final lap; I was a little bit faster but we are not fighting over one point – it is the same net result for the team. It does not make any difference."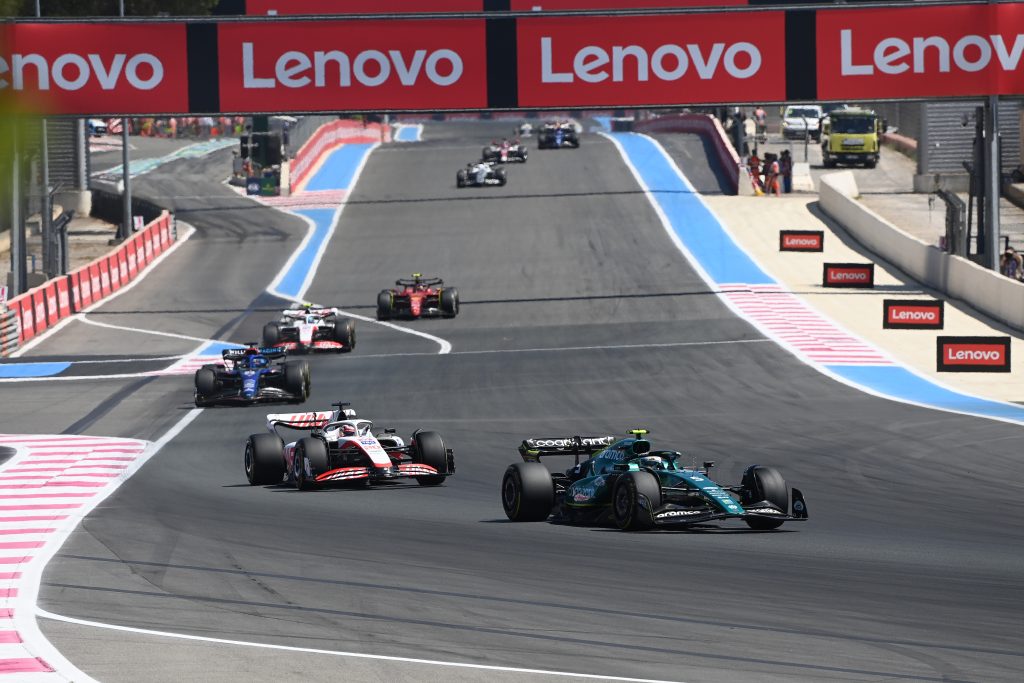 Pierre Gasly – 12th (AlphaTauri):
"We tried to fight to get back into the points and what we managed is P12, which clearly isn't the performance we would have liked. The fans and spectators made it a special weekend to put a big smile on my face, but I am extremely disappointed in the performance we showed. If I knew what the problem was, we could have changed it, but there was just a lot of sliding around and a lack of grip, especially in the high-speed corners. I tried everything I could in the car to push, changing lines, but there was nothing that clicked. Obviously, I don't want to jump to any conclusions, but based on the pace we had today we need to review to understand why Friday went so well and from then on it was a struggle. We finished only 3 seconds behind P10, so we aren't miles away, but there are no points for P11 or P12. It is now important to try to understand this new package. It will take some time, but it is quite tight in the midfield, so we have to find the solutions. There are a couple of days before Budapest so we, as a team, have to stay strong together to find the solutions and make a big step forward."
Alex Albon – 13th (Williams):
"It was tricky out there today but more enjoyable. We were in contention for most of the race and were looking close to the points – we were a bit down on pace and were using a lot of the tyres to try to stay close, and it just fell away from us towards the end. We'll look at the data and hopefully we can improve week on week as we were quite quick in qualifying. We'll look at it and see what we can do better for Hungary."
My 50th @F1 race this weekend and I gave it everything today but it wasn't to be. Lots to review and analyse before Hungary but we won't stop pushing for more 😤 @WilliamsRacing pic.twitter.com/InIMaWzUr9

— Alex Albon (@alex_albon) July 24, 2022
Valtteri Bottas – 14th (Alfa Romeo):
"It was a really long race and it felt like a lot of sweat with nothing to show for it! Of course, you can learn something from every race, so that must be what we take away from this weekend. We dropped a lot of places at the start and that made it very difficult for us: our race pace was not as good as we expected, even though the car improved a lot on medium tyres. Hopefully, some updates we will have in Budapest will help us, we know the team is working really hard on it. To keep in the fight with the cars ahead of us in the constructors' championship, we need to find some extra performance, but I am confident we can do it as a team."
Yuki Tsunoda – DNF (AlphaTauri):
"I got quite a lot of damage early on and it just kept getting worse with each lap. I watched back the onboard and I definitely left enough space, but he lost control. It ruined our whole race and 5 seconds is not enough in the end, when he continued with no damage, even getting some points. I know in racing these things happen, but it is such a shame especially after such a good Qualifying, and I feel bad for the team, also everyone back at the factory, to have it end like this after all the work they've done. We didn't score any points after such a big upgrade, but at the same time I think I did the best I could this week. Even though Quali was good, the race is where points are scored in the end, so it was unfortunate. Top 8 could have been possible, but it is what it is, and we will definitely be back stronger and better in Hungary. We have a good car, so we stay positive."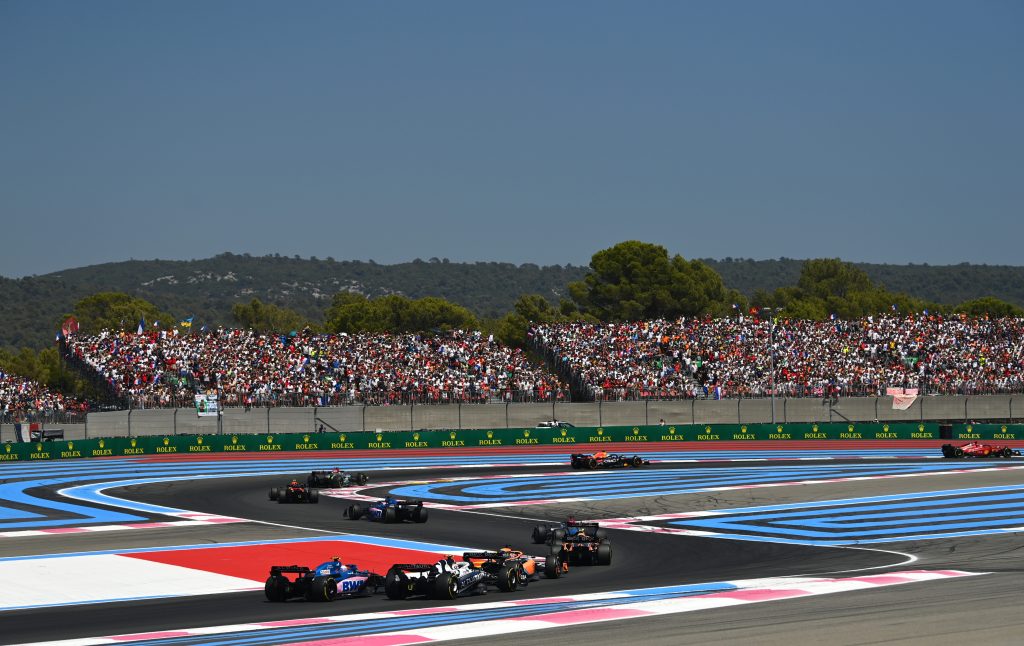 Guanyu Zhou – DNF (Alfa Romeo):
"About 10-15 laps to the end I was suffering with a power unit issue; I tried to do some switching, but eventually that put an end to my race. It was a technical issue, and we will investigate that ahead of Budapest to avoid having it happening again. Apart from that, the race just never went our way, we were struggling all the way through. Regarding the contact with Mick, I was defending my inside in Turn 11, he was trying to go for the outside but then it got to one point where the corner just became too small for me. I think it's difficult to judge for both of us, as that kind of compromised my race. Unfortunately, that happens in racing, we just have to move forward. It was definitely not a day to remember for us, but having another back-to-back race means a whole new weekend of opportunities to get competitive again and put ourselves back where we belong."
Mick Schumacher – 15th (Haas):
"We had a difficult start on the medium tire, it didn't really work as well as we imagined. We knew it was going to be tough, so we came in early but unfortunately there was a safety car, which meant for a lot of people it was a free stop essentially. With a pitlane like we have here, the difference is quite big, so we were quite far behind and then we had contact with Zhou. Overall, it was quite tough but we learned some things and hopefully we have a better weekend in Budapest."
Definitely not the race we hoped for, but racing is never predictable – we'll have a go again next week🙏 #MSC47 pic.twitter.com/cZOGVKwLqA

— Mick Schumacher (@SchumacherMick) July 24, 2022
Kevin Magnussen – DNF (Haas):
"We gave it our best and I tried very hard today, made some good moves, but at the end of the day, the degradation on the tires was too high. The car was great at the beginning of the stints and our pace was fantastic as we saw yesterday in qualifying as well. For some reason we had a lot of degradation and that's why we couldn't really fight today."
Nicholas Latifi – DNF (Williams):
"There are a lot of positives to take from today. The pace was competitive, especially in dirty air, and I was racing cars that I haven't been racing against all year so that's been nice. I definitely don't think I was at fault for the incident with Kevin, it was maybe more of a racing incident. The incident was a shame as our pace was strong and we were racing out of position against cars that we were quite a bit quicker than. Being further up in qualifying would have made a difference, but it's nice to get racing again. I take the confidence in that pace from the upgrade and I feel that the season is getting back on track and we can make a proper start now."