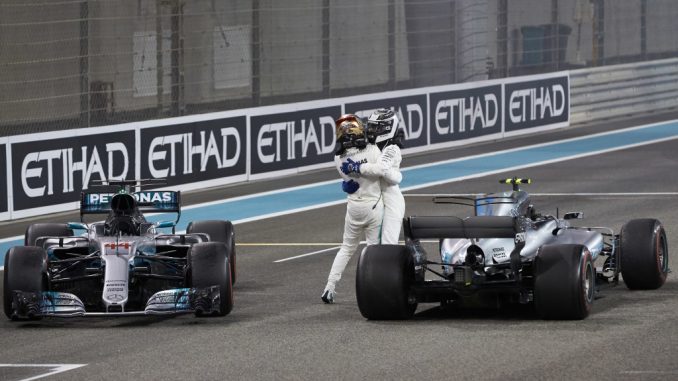 Podcast: Play in new window | Download
Subscribe: Apple Podcasts | RSS
What a gripping, down to the wire, edge of the seat race we watched this weekend. But then after watching highlights of the 2008 season finale we tuned in to the Abu Dhabi Grand Prix which redefined the word "procession"
That wasn't the best season finale we've had, but it about summed up the 2nd part of this season with Mercedes running away and Ferrari behind them, not even able to catch up with each other, let alone anything in front of them. We take a look back at the race as best we can and go through the news and rumours ahead of the tyre test in Abu Dhabi this week.
There's also the launch of the Formula Lee 2017/18 Winter Series and the results of the 2017 season too. There's a Who's A Total Shunt from Wayne Hines and various mailbag comments thrown in for good measure as well.
We'll be back all through the winter with as much as we can fit in (depending on what happens in F1 of course) and all 5 of us want to say a big thank you to everyone that's stuck with us or joined us this season and thanks as always for your Tweets, Emails & Facebook messages and don't forget there's an extra show that you can get access to by pledging on our Patreon Page too.
Enjoy
As always, you can listen here or on Sticher and iTunes and most other podcast apps too along with TuneIn Radio