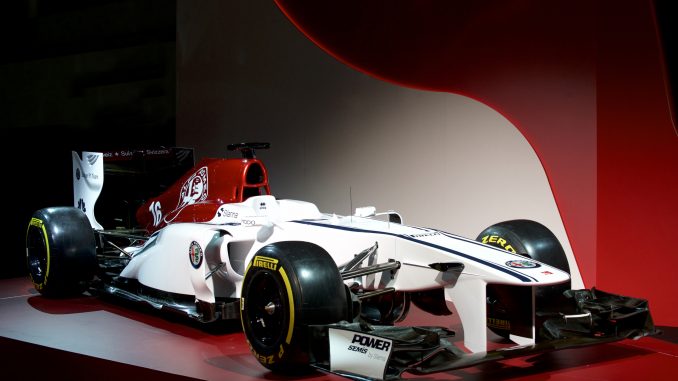 We now know who'll be driving 19 of the 20 cars at the start of the 2018 Formula 1 season, as Alfa Romeo Sauber have confirmed Marcus Ericsson will continue at the team next year, and will be joined by rookie Chares Leclerc. The team confirmed its lineup at the official launch of Sauber's partnership with Alfa Romeo earlier today.
Leclerc's inclusion has been all-but certain for several months. His victory in the F2 championship means he has to move on to another series, and with both Ferrari seats tied up for next year, the Ferrari-owned driver was always likely to turn up at one of the teams with engines supplied by the Italian manufacturer. He's completed four FP1 sessions and two tyre tests with the team in 2017, and has shown strong pace compared with the other car. Leclerc was dominant in F2 this season, particularly when compared to his Prema teammate Antonio Fuoco, who could only managed eighth in the drivers' standings. The speed at which Leclerc has adapted to new cars and new series will surely have impressed Alfa Romeo Sauber, winning GP3 and F2 at the first attempt, and they'll be looking to him to make the most of his opportunities and push for points.
The re-signing of Ericsson may come as something of a surprise though. The Swedish driver has been far from inspiring in his three years with the team so far. His best result came in his first outing for Sauber – an 8th-placed finish at the 2015 Australian Grand Prix. Since then he's had just four further points finishes, the last of which came at Monza two years ago. Financial support from his backers has helped the team through a tricky period, but the deal with Alfa Romeo should mean they're not as reliant on Ericsson for cash in 2018. It had been rumoured that Sauber were looking to move on from Ericsson for next year, but the team obviously sees something worth keeping. With a rookie in the other car, having a driver heading into his fifth season could appeal, while Ross Brawn was very complimentary of Ericsson's feedback during a young driver's test for Brawn GP back in 2009. Having a known quantity in one car could help the team measure Leclerc's performance and set up the car as they head into pre-season testing.
Leclerc and Ericsson's confirmation is bad news for Pascal Wehrlein and Antonio Giovinazzi. For Wehrlein, it looks like he'll spend the 2018 season outside of F1, with only a race seat at Williams available for next year. It's expected the German could return to DTM, having won the title in 2015 before joining Manor. Despite missing the first two races of the season because of the injury he sustained at the Race of Champions, Wehrlein finished two places ahead of Ericsson in the drivers' championship in 2017 and secured all of Sauber's points. Ericsson saw the chequered flag before Wehrlein in just four races this year, and only once in the second half of the campaign. For a driver that was in contention to drive alongside Lewis Hamilton at Mercedes this time last year, Wehrlein has a right to feel aggrieved to find himself in the F1 wilderness.
Giovinazzi might not be in a race seat, but he'll still be part of the team, with Alfa Romeo Sauber announcing that he'll do six FP1 sessions in 2018. Like Wehrlein, who has been superseded by Esteban Ocon in the Mercedes pecking order this year, Giovinazzi will be disappointed to see young Ferrari rival Leclerc getting a full-time drive ahead of him, but this role keeps him in Ferrari and Sauber's minds should a seat open up. Giovinazzi describes himself on Twitter as the third driver for the Scuderia, and would surely expect to be in the running if Kimi Raikkonen retired next year. Assuming Ericsson is being kept on mainly for continuity, this sets up the Italian for a drive in 2019, or potentially sooner if the Swedish driver's performances don't improve!